Why Wesley From The Duff Looks So Familiar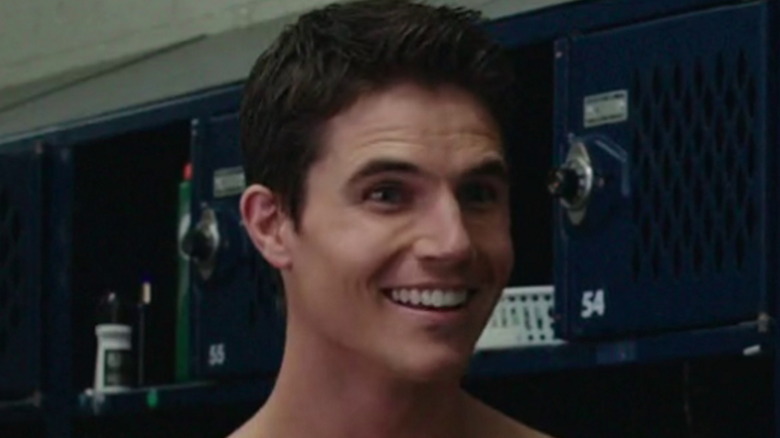 Lionsgate
Netflix recently added "The Duff" to its ever-growing library, and subscribers are rediscovering the 2015 rom-com in a big way. The film follows Mae Whitman as Bianca Piper, who hits back against the stereotypes and cliques at her school when she finds out that she's the so-called "designated ugly fat friend" (aka "Duff") in her friendship group. The film points out the Duff doesn't need to be "ugly" or "fat," it's more about how popular the person is. Ah, teenagers.
The cast also features the likes of "The Hangover" and "Community" star Ken Jeong, as well as "Assassination Nation" actress Bella Thorne. However, when Bianca goes against the social norms of her community, she winds up falling for her neighbor, Wesley Rush. He's set to go to college on a football scholarship, but there's a bit more to him than just being a jock. And if you're wondering why Wesley from "The Duff" looks so familiar, it's because actor Robbie Amell has had a pretty prolific career since he got started in 2005.
Robbie Amell first starred in Cheaper by the Dozen 2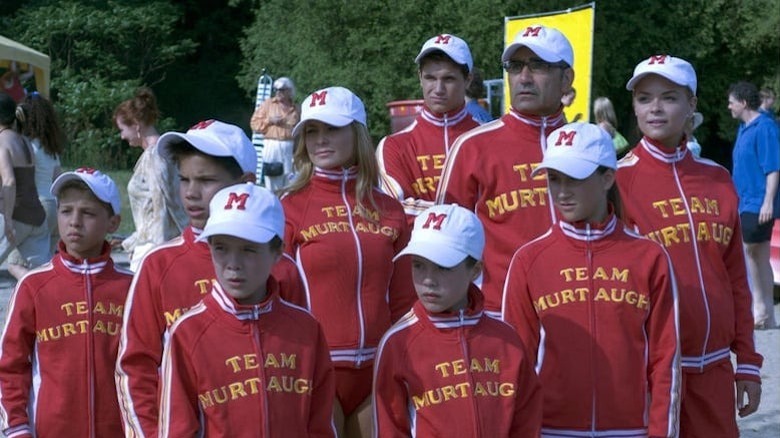 20th Century Fox
Robbie Amell's first role saw him go up against the Baker family in "Cheaper by the Dozen 2." The film sees the Bakers go head-to-head with another large family, the Murtaughs, when an old rivalry ignites between Tom Baker (Steve Martin) and Jimmy Murtagh (Eugene Levy). Amell plays Daniel Murtaugh, and he only has a couple of lines in the family comedy — so it's a small role, but hey, everyone has to start somewhere. And Robbie Amell only went up from there.
The reviews weren't exactly kind for "Cheaper by the Dozen 2" and it currently has a 6% critic rating on Rotten Tomatoes. However, legendary critic Roger Ebert surprisingly liked the sequel, saying "[A]s I watched this sequel, a certain good feeling began to make itself known. Yes, the movie is unnecessary. However, it is unnecessary at a higher level of warmth and humor than the recent remake 'Yours, Mine and Ours.'"
Robbie Amell took some TV 'boyfriend' roles in the early 2010s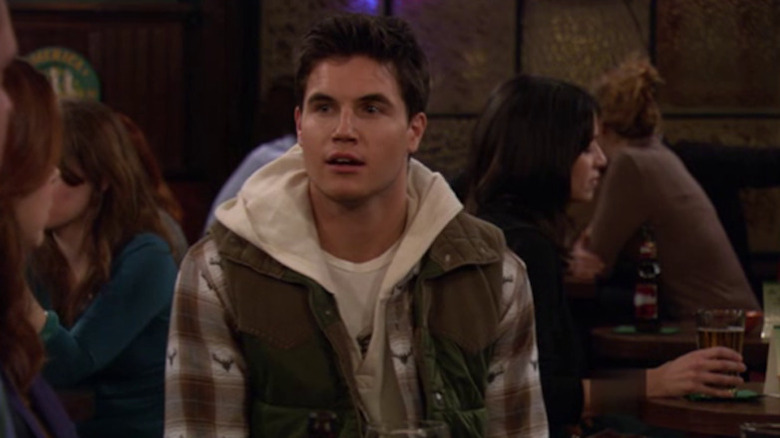 CBS
In 2011, Robbie Amell took on two memorable boyfriend roles in two popular TV shows of the time. 
First, he briefly joined the "How I Met Your Mother" cast in Season 6 to play Nate "Scooby" Scooberman, one of Robin's (Cobie Smulders) boyfriends. The gang nickname him Scooby thanks to his name and the fact that he acts a lot like the iconic cartoon dog — he urinates on a fire hydrant and even licks Robin's face, so it's a well earned moniker. Ironically enough, not long before that, he had played Daphne's mystery-solving boyfriend Fred in two live-action TV "Scooby Doo" movies for Cartoon Network.
Amell later joined ABC's "Revenge" as Adam Connor, Charlotte Grayson's (Christa B. Allen) ex-boyfriend. He's an ex for a reason, since he constantly bullies people and causes trouble. He even beats up Declan Porter (Connor Paolo) for trying to date Charlotte. However, Charlotte uses him for pain killers later on — since Adam's father is a doctor — though he stops this arrangement when his father starts getting suspicious. It's a fun performance from Amell, who gets to flex his bad boy muscles.
Robbie Amell was one of The Tomorrow People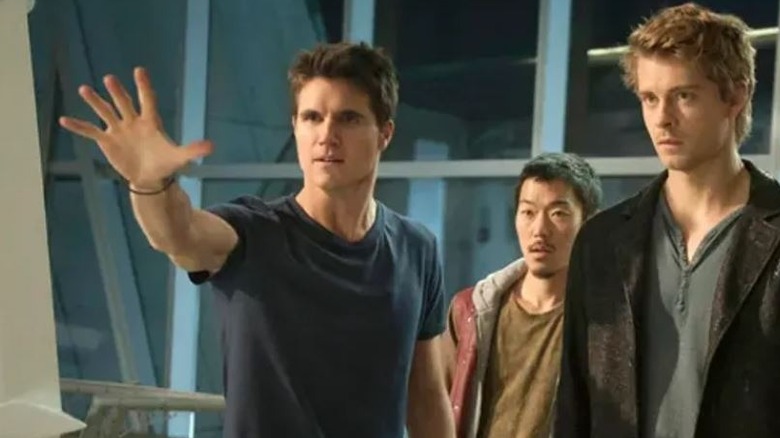 The CW
One of Robbie Amell's most popular performances came when he landed the lead role in The CW's "The Tomorrow People." In the series, he starred as Stephen Jameson, a young man who discovers the human race has started evolving into Homo Superior, and who gains an array of superpowers ranging from telekinesis to telepathy to teleportation. Think "X-Men," but without the colorful costumes. It's a remake of a 1973 British series of the same name.
Stephen becomes the new leader of his fellow Tomorrow People, and the battles weigh heavily on him. In a 2013 interview with Collider, Amell discussed his character, explaining, "He's trying to save everybody and he's trying to help everybody, and while doing that, he's really screwing up everything. I think he's in way over his head. He can't balance all these lives."
Unfortunately, "The Tomorrow People" didn't become as popular as The CW had hoped, and the network canceled it after just one season. But it opened the doorway for another big role for the star on "The Flash."
Robbie Amell joined the Arrowverse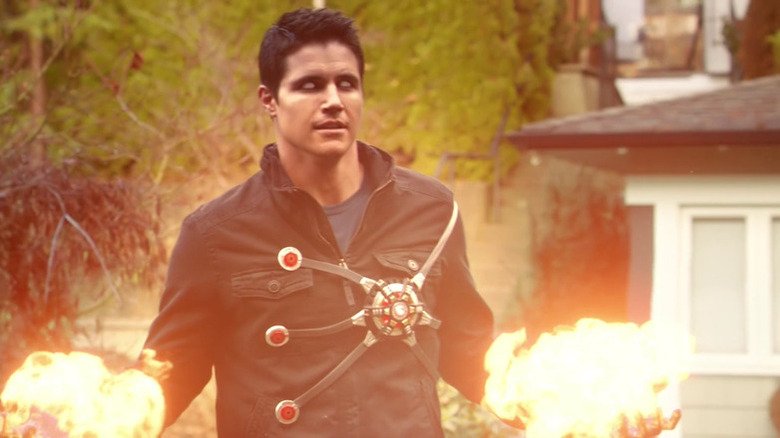 The CW
While "The Tomorrow People" didn't last long, it did pave the way for Robbie Amell to join up with the uber-successful "Arrowverse" on the same network, with his particular avenue to DC Comics fame being "The Flash." 
On this series, Robbie took the role of Ronnie Raymond, better known as Firestorm. When a particle accelerator in Central City explodes, Ronnie merges with his colleague, Martin Stein (Victor Garber) — leading to Stein inhabiting Ronnie's brain. While the hero's name and appearance implies flame powers ala the X-Men's Pyro, he's actually more of a living nuclear reactor, who can also alter the atomic structure of anything he touches (if he wants to). Firestorm would go on to appear in other Arrowverse shows such as "Supergirl" and "Legends of Tomorrow."
He's not the only Amell in the Arrowverse, of course. His first cousin, Stephen Amell, rose to fame playing the role of Oliver Queen aka the Green Arrow on (you guessed it) "Arrow."
Amell will next be seen in Resident Evil: Welcome to Raccoon City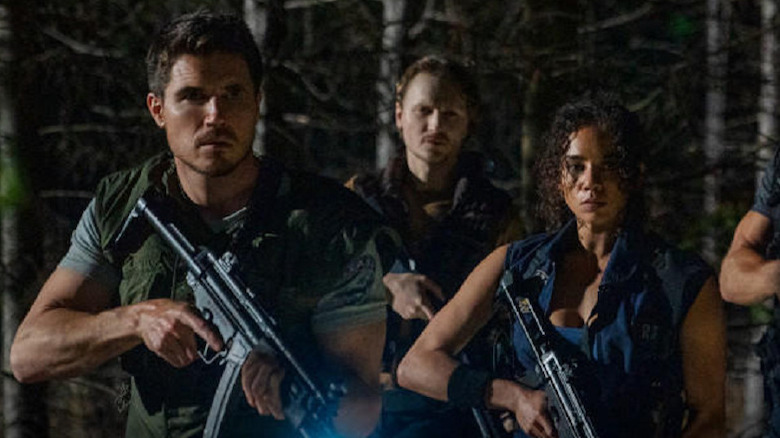 Sony Pictures Releasing
Robbie Amell's career has continued to flourish, starring in "The X-Files" revival as well as a recurring role in Netflix's "A Series of Unfortunate Events." However, his next big project is the reboot of a beloved horror franchise, "Resident Evil: Welcome to Raccoon City." He'll star as one of the main characters in the video game series, Chris Redfield, who goes up against the unspeakable monsters created by the nefarious Umbrella Corporation in a facility underneath Raccoon City. It's been five years since the movies starring Milla Jovovich wrapped up with 2016's "Resident Evil: The Final Chapter" — so it'll be interesting to see how the reboot tackles the fan-favorite horror games.
Amell is joined by an impressive cast in "Welcome to Raccoon City," with Kaya Scodelario as Chris' sister, Claire Redfield, and Hannah John-Kamen as his STARS partner, Jill Valentine. Meanwhile "The Umbrella Academy" star Tom Hooper is playing Albert Wesker, a double agent for the Umbrella Corporation. Rounding out the main cast is Avan Jogia, who will star as another "Resident Evil" hero, Leon Kennedy, a member of the Raccoon City Police Department. Thankfully there's not long to wait, since "Resident Evil: Welcome to Racoon City arrives in theaters on November 24, 2021.