The Best Bloopers In Community That Make Us Love The Show Even More
This content was paid for by Sony and created by Looper.
Even in the modern age of creative, inventive, boundary-pushing peak TV, there wasn't anything on the air quite like "Community" when it debuted on NBC's Thursday night lineup in 2009. At first glance, it was a film-like ensemble comedy about a Spanish class study group at Greendale Community College, a third-rate learning institution. But then "Community" got bolder, weirder, and even more hilarious, descending into self-referential humor and surreal plots. 
It takes a comically agile cast to bring the unique comic vision of creator Dan Harmon to life, and he found one in a group that included future icons like Joel McHale, Donald Glover, Alison Brie, Gillian Jacobs, Danny Pudi, Yvette Nicole Brown, Ken Jeong, John Oliver, and none other than comedy hall-of-famer Chevy Chase rounding out the initial cast.
"Community" was a show that was very funny in a lot of ways, and it was clearly a lot of fun to film, as evidenced by the large volume of bloopers and outtakes the production generated over the course of its six seasons. Here are all the funniest times that actors on "Community" delightfully goofed up.
Alison Brie's freestyle rap fails to impress
Among the large cast of actors on "Community" is a professional, well-known, multiple Grammy Award-winning, Billboard Hot 100-topping rapper who has taken their musical form of choice into dazzling and provocative new places. That's of course Childish Gambino, the name under which Donald Glover (Troy on "Community") performs. But he's not the only person in the collegiate comedy ensemble who's ready and willing to spit a couple of verses — but his probably wouldn't wind up in a blooper reel the way Alison Brie's attempts at rap would.
The Season Two episode "Intermediate Documentary Filmmaking" already has a spontaneous feel to it, presented in the style of as-it-happens footage — captured by a camera-toting Abed (Danny Pudi) — as the characters hang around a hospital waiting room awaiting news after Pierce pretends to be dying. It was during production of one of these scenes when Brie decided to show off her freestyle skills, inspired by co-star Joel McHale's mention of the Ralphs grocery store chain. "Sometimes I shop at Ralphs cause I got a Ralphs card / need a discount yo," she starts. "I'm not hot and brown like the coffee in the show 'Community,' what?" 
After carefully observing the proceedings, Glover critically quips, "You know rapping isn't just saying things on one note, right?"
Gillian Jacobs's sneeze unleashes chaos
Bloopers are innately mistakes — hilariously happy accidents — that result from things going mildly wrong that can provoke almost as much laughter as carefully scripted bits of dialogue and character work. These goofs are often random, and rarely do TV show production bloopers relate so closely to the topic at hand. 
While shooting a scene for a Season Two episode, Actors Danny Pudi (Abed), Donald Glover (Troy), and Gillian Jacobs (Britta) are in line at the Greendale Community College cafeteria. As Abed stands by, Troy explains to Britta that he and his best friend are focusing on eating "fork foods," as opposed to handheld edibles, to cut down on greasy hands. Or at least that's what Glover was trying to say.
During the middle of his stretch of dialogue, Jacobs couldn't help but release a loud and crisp sneeze, all while her head was positioned directly over Glover's prop bag of prop food. Glover instinctively laughs and then rolls right back into character, running away from Britta, her germs, and his now-infected lunch. "Take the food!" Pudi amusingly screams while joining Glover in getting distance from his germ-spewing co-star.
Troy and Abed share the truth about Batman
Almost every year in its six-season run, "Community" pulled out all the stops each October with an over-the-top, extremely memorable Halloween episode. It's a tradition that began in Season One, with the installment "Introduction to Statistics." This episode fell relatively early in the show's history, so writers used the choices of costumes worn to the Greendale Community College costume party to say something about each of the show's characters. For example, pop culture-obsessed Troy (Donald Glover) and Abed (Danny Pudi) arrive as '80s-era Eddie Murphy and Batman, respectively. 
In just the seventh overall episode of "Community," Glover and Pudi have already established their duo act and comic timing that would define further "Troy and Abed" antics. While filming the Halloween episode, the two actors made one funny alternate take and blooper after another while shooting a brief exchange in which Glover, as Troy, peppers Pudi, in character as Abed-as-Batman, with probing questions. It's hard for either performer to maintain composure when Glover asks, "Since you're a big bat, can you turn into a tiny vampire?" and "Are you as strong as my friend Dominic's dad?" and finally, "Are you my uncle?" (The answer to all three is "yes.")
John Oliver makes a big mess and a bigger apology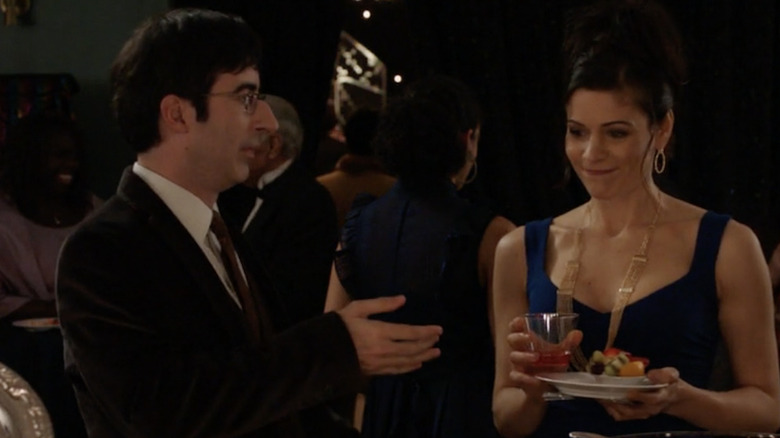 Sony Pictures Television
After he made a splash as one of the most pointedly and caustically funny correspondents on "The Daily Show" — but before he moved up to his own satirical news comedy show "Last Week Tonight" — comedian John Oliver took a rare acting role, portraying Greendale Community College psychology professor Ian Duncan. Most of Oliver's short appearances as the motivation-lacking academic come in the first two seasons of "Community," but he still managed to carve out a few spots for himself on the show's blooper reel. 
In the 2010 episode "Pascal's Triangle Revisited," the Spanish study group attends an end-of-year, school-sponsored dance. Duncan and Professor Slater (Lauren Stamile) stand at the refreshments table, giving Oliver the chance to clown. "Guess who's drunk?" he asks rhetorically, pointing to himself and loudly knocking over a tiered tray full of cookies. "Why else would I have done that?" he reflects before loudly and indignantly offering to clean up his mess.
Speaking of messes, Oliver cracks up his castmates in filming another scene from the same episode. To Gillian Jacobs, Joel McHale, and Stamile, he innocently wonders aloud if his "face is clear of mustard," which, of course, is very much not clear of mustard.
Danny can't do impressions but does them anyway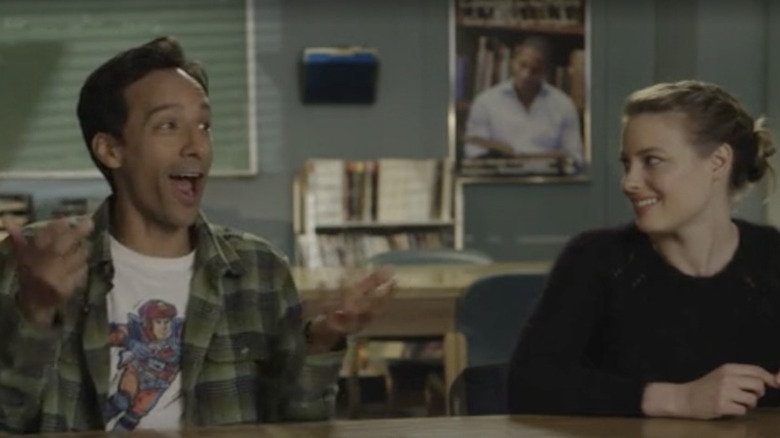 Sony Pictures Television
After Donald Glover left "Community" during its fifth season, his frequent scene and screen partner, Danny Pudi's Abed was often teamed up with Gillian Jacobs' Britta. It made sense and it worked out, because having worked with each other for five years already, the pair had an innate understanding of each other's acting language and comic vocabulary. That can also mean letting the other person just riff when they need to — that makes for some spontaneous and funny television moments, or at the very least, a highlight of the blooper reel. 
It's in a scene acting against Jacobs in Season Six that Pudi felt free to deliver one of the best bad celebrity impressions ever committed to digital film. He rants something silly about a woman who hangs out on couches in a wildly high-pitched approximation of the tone and delivery of Jerry Seinfeld.
This isn't the first time Pudi has trotted out an amusingly exaggerated celebrity imitation. In a Season Five episode, he interrupts Abed's class presentation to deliver some Nicolas Cage-themed riffing.
Donald Glover gives a puppet a snack
In the early 2010s, "Community" led off NBC's Thursday night schedule, which included fare like "The Office," "30 Rock," and "Parks and Recreation." "Community," set at a Colorado community college, was the literal odd man out, usually the only non-workplace comedy all evening and also not afraid to take risks, go self-referential, and get unabashedly weird. Unpredictable and silly ideas are a big part of the reason why "Community" built up such a sizable and devoted fanbase, who enjoyed things like war mockumentaries, epic paintball fights, and the use of the puppets. 
In the Fourth Season episode "Intro to Felt Surrogacy," Dean Pelton persuades the show's main study group to use uncanny puppet re-creations of themselves to work through their emotional and psychological issues. It's also a musical episode, which is a very "Community" kind of extra, but a blooper from the filming of the episode might rank as the most "Community"-defining moment in "Community" history. Donald Glover slowly, deliberately, and suggestively attempts to "feed" the Dean's discarded prop nose to the puppet version of Troy.
Joel McHale's blooper wasn't very old
Jeff Winger just might be the role of a lifetime for actor-comedian Joel McHale. In his standup act and while hosting snarky pop culture review talk shows, he's developed a persona of an immensely sarcastic guy who is basically "over" every possible annoyance and inconvenience. He brought that too-cool-for-school attitude to "Community," where he plays Jeff, a disgraced attorney-turned community college student who actively and openly considers himself smarter, more attractive, and overall just better than his classmates and study group cohorts. 
Reality and fiction blur in an outtake from Season Two of "Community" in which McHale (or maybe Jeff) somehow manages to turn around an embarrassing and unfortunate slip of his own tongue into a dig at someone else's expense. During a gang hang at a bar, a server asks if they want another round, and McHale asks for "another 12-year-old." His co-star leaves plenty of time for him to finish the sentence before saying her line, indicating that McHale was supposed to end his dialogue with the word "scotch." He laughs it off, subtly rolls his eyes and smirks at the others, as if for pointing out his mistake, and only then finally finishes the line.
Chevy Chase doesn't know why he's being watched
The final name listed in the opening sequence of "Community," the person with the illustrious "and" credit, is Chevy Chase, a comedy legend for his work in the first season of "Saturday Night Live" and in classic films like "National Lampoon's Vacation," "Caddyshack," and "Fletch." His career-capping work as fabulously wealthy industrialist (and manipulative monster) Pierce Hawthorne is a slight variation on the kind of roles Chase usually plays to perfection — a smug, aloof, wisecracker who lords over the proceedings. 
That style is on display in the Season One "Community" blooper reel, along with an answer to the show's characters' assessment of Pierce as a useless, doddering old man. While having a conversation with an off-screen co-star on the steps of Greendale Community College, Chase delivers his lines, and it appears he accidentally makes eye contact with the camera, ruining the take. Rather than start over, Chase instead rolls with it and stays in character as the senile and paranoid Pierce, questioning the camera operator over their reasons for filming him.
Ken Jeong faces off with Alison Brie
"Community" cast member Ken Jeong is a comic force of nature. Never one for subtlety, the doctor-turned-comic and actor brings a focused intensity, confrontational approach, and loud voice to his work in films, TV hosting gigs, and especially as the inept, insecure, and irascible Greendale Community College Spanish professor Señor Chang. Filming a one-on-one scene with Jeong when he's all worked up and has his character dialed up to 10 must be a highly electric experience, and one with so much zaniness lurking below the surface that bloopers are almost assured. 
And yet, in this goof captured during the filming of a scene for "Community," Alison Brie (Annie) somehow keeps a straight face and remains unfazed even in the literal face of a Jeong-as-Chang freakout. The teacher gets into his student's face so closely that their noses are actually smushed up against each other. Jeong breaks character and laughs almost immediately; Brie will only allow herself a tiny smile, at least at first.
It's a water war on the set of Community
"Community" is one of the most violent sitcoms of all time, if not the most violent — at least if you count pretend violence meted out by harmless, toy weapons. After all, this is a show with regular paintball war episodes, and an installment about a pillow fight turned pillow war. But before there were paintball guns or Nerf, kids (and adults who needed to blow off steam) resorted to squirt guns, pistols, and hand-cannons that fire streams of water. 
Joining a canon that would eventually include episodes about all kinds of mock gunplay, a First Season "Community" installment revolves around Troy and Abed staging a squirt gun battle. And yet Chevy Chase, as Pierce Hawthorne, makes short work of his opponents. As Troy (Donald Glover) and Abed (Danny Pudi) excitedly prepare their massive, SuperSoaker-style water guns, Chase mischievously gives each a squirt from his tiny, old-fashioned handheld squirt pistol. Hilariously, both actors play along, mugging and yelling and carrying on for a good long time, as if they've been hurt for real.