Chris Pratt Says Star-Lord Is More Grown Up After Guardians Of The Galaxy Vol. 2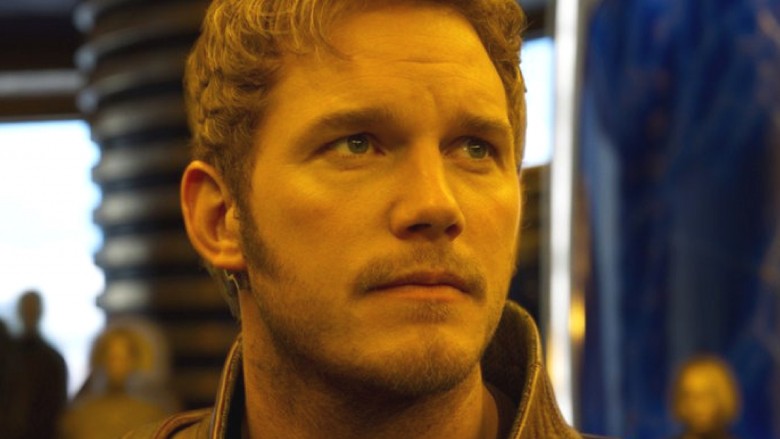 Get ready for a more mature Peter Quill in the future. Star-Lord will have to become a leader in Guardians of the Galaxy Vol. 2, something which star Chris Pratt says will result in him becoming "a different character" by the time he reaches Avengers: Infinity War.
"In the first movie he became the leader of the Guardians and that was his arc: to go from a selfish little kid who's socially stunted as a nine or 10 years old, to someone who's determined to become the leader of this ragtag squad and try to keep them out of trouble, with mixed results," Pratt recently told io9. "In the second movie, he learns some seriously painful lessons about love and loss."
A lot of Star-Lord's emotional growth in Vol. 2 will come from his reunion with his father Ego the Living Planet, played by Kurt Russell. For Pratt, getting the opportunity to work with Russell fulfilled a childhood dream, just as meeting the star would have for Peter as well. Pratt says he pushed writer/director James Gunn to have Star-Lord recognize Russell and reference some of his past works, but Gunn said no. "He's like, 'Just trust me. Don't,'" Pratt said.
Ego isn't the only family connection that Star-Lord struggles with in the film. He also has to deal with his evolving relationship with Yondu, the Ravager who Ego paid to kidnap and deliver his young son to him. Yondu, of course, only did the first part of his duty, and his increasingly obvious soft spot for Peter puts him in a precarious position in the sequel. Pratt was surprised by the Ravager storyline, which he didn't have a part in filming, but says that he loved that it added to the final product. "I think the movie without that Ravagers storyline is a really f***ing cool movie," he said. "When you add that in as well? God, it's really freaking good."
Pratt says that Star-Lord's growth throughout the sequel will carry into Avengers: Infinity War, which is due out in 2018. Pratt says that the superhero team-up film, in which the Guardians will be "supporting" characters, will see "some s**t go down." "It's really powerful," Pratt says. "But [Star-Lord] doesn't go backward. He is a different character, for sure." The character's development will likely also continue through Guardians of the Galaxy Vol. 3, which Gunn is set to return to write and direct.
Guardians of the Galaxy Vol. 2, which critics are loving already, is due out on May 5.