Guardians Of The Galaxy Have 'Supporting' Roles In Avengers: Infinity War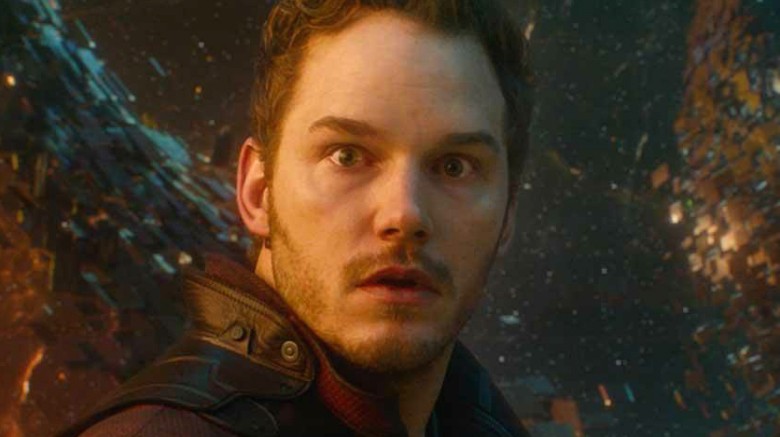 With so many superheroes in Avengers: Infinity War, not everyone can be a star.
Although we've known for a while that the Guardians of the Galaxy would join the likes of Captain America, Iron Man, and Thor in the upcoming Marvel ensemble flick, the extent of their involvement hasn't been entirely clear. But Chris Pratt, who plays Star-Lord, recently told Nerdist that the Guardians might take a little bit of a back seat to the Avengers. After all, it is their movie.
"We definitely will have a strong presence, but we are playing supporting cast," Pratt said. "You know what I mean? We're there to help them tell an awesome Infinity War story. But Guardians is cosmic. It is its own special offshoot of the Marvel Cinematic Universe."
Well, that's a little disappointing, but totally understandable. There's only so much screen time to go around, and the Avengers will also be joined by Doctor Strange (Benedict Cumberbatch), Spider-Man (Tom Holland), and Captain Marvel (Brie Larson). Marvel president Kevin Feige also told Collider that you could almost say that the villainous Thanos (Josh Brolin) is actually the main character in the film.
The Guardians obviously go way back with Thanos. He was in the first Guardians movie and he's the adoptive father of Gamora (Zoe Saldana) and Nebula (Karen Gillan), so it makes a lot of sense that the intergalactic team would show up to lend a hand as Thanos tries to assemble all of the Infinity Stones. But this news means that we might only see as much of them as we saw of Black Panther (Chadwick Boseman) in Captain America: Civil War.
Either way, we know that Guardians of the Galaxy Vol. 3 will be set after the events of Infinity War and Avengers 4, so at least some of the team should survive. (We're guessing that most if not all of them do.)
Avengers: Infinity War is slated to hit theaters May 4, 2018. While we wait, take a look at all the heroes expected to appear in the movie.