The Esme Theory That Changes Everything On General Hospital
Every once in a while in the soap world, a new character pops up and shakes a show's narrative foundation to its core. Think of Erica Kane, Luke Spencer, or Marlena Evans — world-transforming figures who were introduced as bit part players and ultimately make such an impression on their shows they become icons. 
Such is the possibility with "General Hospital" and Esme Prince (Avery Kristen Pohl), the new girlfriend of legacy character Spencer Cassadine (Nicholas Alexander Chavez). A bright and smooth schemer, Esme has already gotten under the skin of Spencer's friend Trina Robinson (Sydney Mikayla) and raised Cameron Webber's (William Lipton) suspicions. 
Don't expect Esme to go anywhere soon — she and Spencer are already bound together by the fact that she aided and abetted his stalking of his future ex-stepmother Ava Jerome (Maura West). For now, fans of "GH" are already speculating about what sort of secrets lie back in Esme's past. One particular theory would connect her to an important (and incredibly dangerous) legacy character whose DNA might do a lot to explain her scheming nature.
Who is Esme's father?
Esme has mentioned onscreen that she's adopted, which means the door's wide open as to who her biological parents might be. After she showed marked interest in Ryan Chamberlain (Jon Lindstrom) during an August 27 visit to Pentonville State Prison, fans started speculating that the two are secretly connected. She has even done research on locked-in syndrome, a condition from which Ryan currently suffers. Curiously, when she volunteered to work at the faculty, Ryan panicked and demanded she leave him allone. 
"If Esme really is Ryan (Chamberlain)'s bio-daughter... then they BETTER make her birth mother somebody we know too," said @SerialDrama on Twitter, echoing the thoughts of many a "GH" fan whose curiosity was piqued by Esme's visit.
Ryan was introduced back in the '90's as Felicia Jones' (Kristina Wagner) stalker and has created quite a foothold for himself in "GH" history. Because Lindstrom is already a regular on "GH" as Ryan's twin brother — Kevin Collins, psychotherapist and husband of Mayor Laura Collins (Genie Francis) –  it's quite possible that Ryan could be revived as a regular character and Esme's dad.
Who is Esme's mother?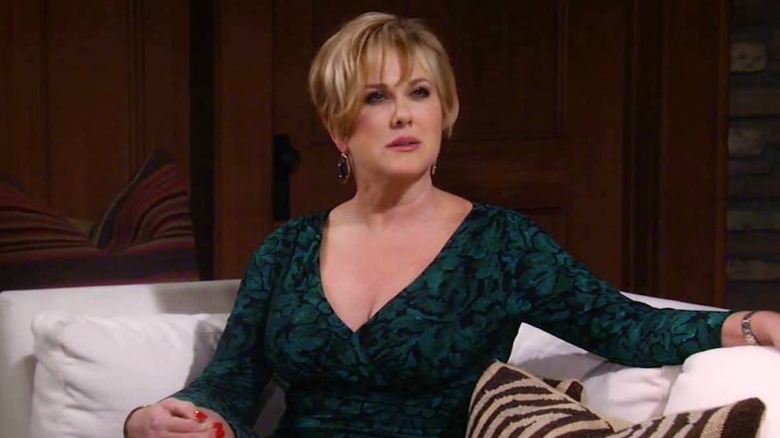 ABC
What about Esme's mother? Some fans have suggested a villainess who would fit the role perfectly. 
"I've always wanted (Olivia) Jerome to have a daughter, and that would be [a] wonderful reason to bring Tonja Walker back as Olivia Jerome. It could happen," @SerialDrama tweeted. It's an admittedly wonderful choice, as it's quite possible that Olivia could have some heretofore unknown children out there. When the grey-hatted mobster was last seen on "GH" back in 2017 when she was arrested for murdering Morgan Corinthos. The character was sent to D'Archam Asylum, a high-security mental health faculty. It might be easy enough to break her out for a visit.
A blood connection to Olivia would improve Esme's motivation to help Spencer stalk Ava. As @bonobochick noted, "[it] would definitely explain [Esme's] animus towards Ava as it isn't just about money & high life as she said to Spencer was her motivation. It comes across more personal."
While other names from the past — Heather Webber and Nelle Benson, to name two — have been suggested by fans as alternate options in the maternal horserace, Olivia seems the most likely candidate. The combination of Olivia and Ryan's DNA in one single person would be quite the frightening concept, but fans will have to keep tuning in to see if their theories come to fruition.