Mars Attacks!: What Ever Happened To The Cast?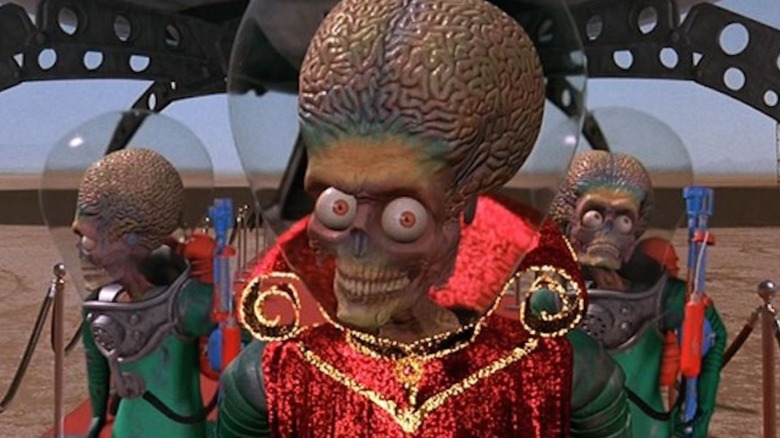 Warner Bros. Pictures
In 1996, director Tim Burton tried to blow up the planet, or at least the aliens in his movie "Mars Attacks!" sure seemed to be trying to. The sci-fi horror comedy saw tiny alien beings from our nearest planetary neighbor arrive on Earth under the auspices of peace, only to vaporize nearly everyone and everything with which they came in contact with their ray guns. With the survival of the planet on the line, a motley crew of castoffs team up to save the planet and its inhabitants from annihilation. 
If that plot sounds familiar, it should — it also doesn't help that the film came out the same year as "Independence Day." In all likelihood, Burton never meant for "Mars Attacks!" to reinvent the science fiction genre. The film, with his trademark camp and charm, comes across as more of an homage and satire of alien invasion fare, much in the way Edgar Wright would treat a certain horror subgenre with the now-classic zom-com "Shaun of the Dead" and Joss Whedon and Drew Goddard would do to the horror genre at large with "The Cabin in the Woods." 
According to the "Mars Attacks!" production notes (via archive.org), the basis for the film is actually a Topps trading card game of the same name from the 1960s, which featured a storyline in which aliens looking much like those in the 1996 movie invading Earth to colonize it after their home planet of Mars is going to explode. As luck would have it, the film's cast itself was exploding with talent as well. Here's what happened to the cast of "Mars Attacks!"
Jack Nicholson played President James Dale and Art Land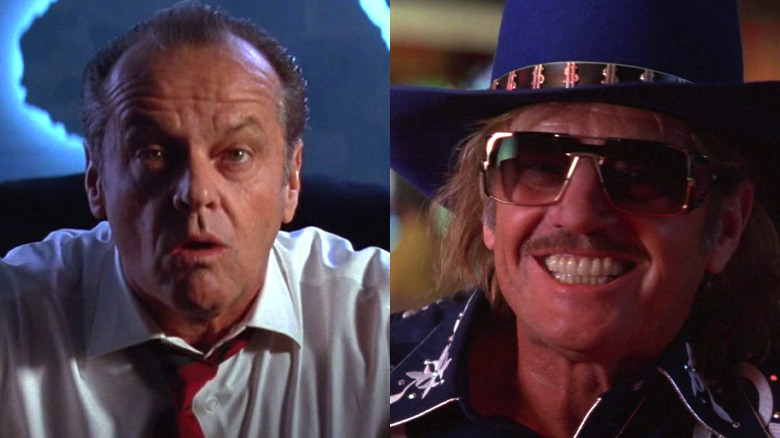 Warner Bros. Pictures
Here's Johnny! Veteran actor Jack Nicholson actually played two roles in "Mars Attacks!"; he pulled double duty as the naive president of the United States James Dale and the scummy Nevada real estate developer Art Land. As the leader of the free world, he's willing to be glass-half-full and interpret the Martians massacring an entire crowd of people as them thinking releasing a dove is an act of war. As an extravagantly dressed Alan Jackson lookalike in Sin City, he just wants to build a space-themed hotel on the Las Vegas Strip, though that was his goal even before recent events.
Following his appearance in "Mars Attacks!" Jack Nicholson took on one of the iconic roles of the latter part of his career, playing obsessive-compulsive curmudgeon Melvin Udall in "As Good as It Gets." His performance nabbed him one of his 12 Academy Award nominations for Best Actor and the second win of his acting career. In the 2003 comedy "Anger Management," Nicholson played eccentric therapist Dr. Buddy Rydell to Adam Sandler's emotionally detached Dave Buznik — admit it, you're saying "goosfraba" in your head. For his turn as mobster Frank Costello in 2006's "The Departed," Nicholson was nominated for the Golden Globe for the best supporting actor award alongside co-star Mark Wahlberg.
According to The Guardian, Nicholson retired from acting in 2010, reportedly due to issues with memory loss. His final credited film role came as Charles Madison in "How Do You Know," a 2010 rom-com also starring Reese Witherspoon, Owen Wilson, and Paul Rudd, who played his character's son, George.
Glenn Close played first lady Marsha Dale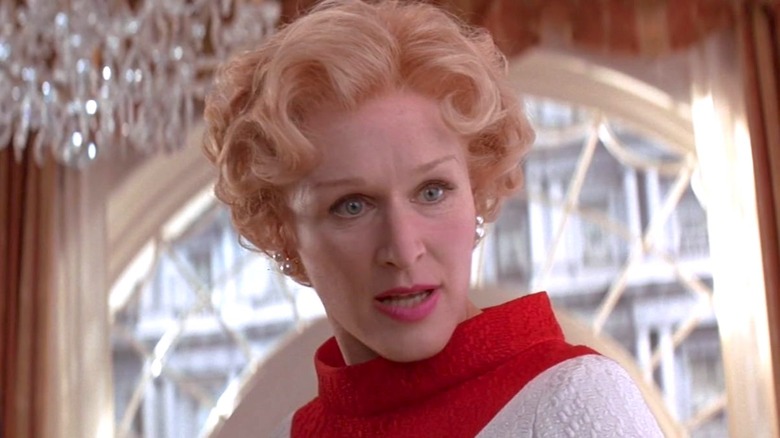 Warner Bros. Pictures
First lady Marsha Dale, as played by actor Glenn Close, might come off as a bit superficial. She's seemingly repulsed by the sight of the Martians and her primary concern is dismay at the prospect of making nice and doing girl time with the Martian ambassador's wife. She meets her end in a similarly shallow fashion, crushed by a chandelier, her dismay at its destruction overshadowing the fact that the Martians made an attempt to kill both her and the her husband.
A year after "Mars Attacks!" came out, Close switched things up from being married to a president portrayed by an acting legend to being the second-in-command to one. She took on the role of Vice President Kathryn Bennett in 1997's action flick "Air Force One," refusing to invoke the 25th Amendment and declare President James Marshall (Harrison Ford) incapable of executing his duties, despite the fact that he and his family were hostages on the hijacked titular aircraft. She reprised her role as Cruella de Vil in "102 Dalmatians," the sequel to Disney's 1996 live-action remake "101 Dalmatians."
For 2004's "Stepford Wives" remake, Close played seemingly perfect bride Claire Wellington, a leader among the titular community's womenfolk, though all was not as it seemed. She joined the Marvel Cinematic Universe in 2014, playing Nova Prime, leader of the Nova Corps on Xandar in James Gunn's "Guardians of the Galaxy." For 2020's "Hillbilly Elegy," Close was nominated for both the Academy Award for Best Supporting Actress and the Golden Raspberry for Worst Supporting Actress based on her performance as grandmother "Mamaw" Bonnie Vance.
Natalie Portman played Taffy Dale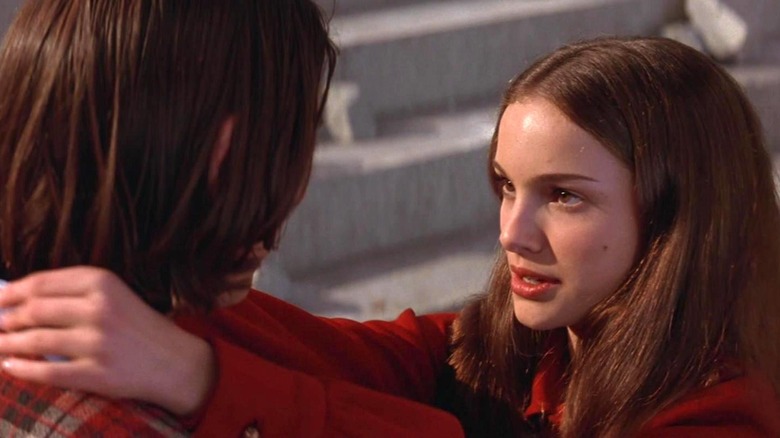 Warner Bros. Pictures
A young Natalie Portman appeared in "Mars Attacks!" as disinterested first daughter Taffy Dale. She's actually one fo the first to suggest that the aliens could be coming in peace, though it's hard to tell how serious she is about anything other than reading the philosophical musings of Hermann Hesse in "Siddhartha" and reminding noisy generals that people actually live at the White House.
Portman appeared in "Mars Attacks!" fairly early in her career. Her next film credit was another alien-packed adventure, though she was among those we would consider alien, playing the role of Padmé, aka Queen Amidala, in 1999's beginning to the prequel trilogy, "Star Wars: Episode I – The Phantom Menace." Portman reprised the role in 2002's "Attack of the Clones" and in 2004 starred alongside writer-director Zach Braff, appearing as Sam in the New Jersey-centric "Garden State." She closed out her role in the "Star Wars" prequels in 2005 — Padmé died while giving birth to twins Luke and Leia — before taking on the role of Evey in the adaptation of Alan Moore's "V for Vendetta."
Taking on the role of Jane Foster, Portman joined the Marvel Cinematic Universe as the love interest for the title character in 2011's "Thor." She reprised the role in the 2013 sequel, "Thor: The Dark World," but was absent from the hero's third solo film, "Thor: Ragnarok" in 2017. After having appeared in 2019's "Avengers: Endgame," Portman is set to return to the MCU once more in the upcoming fourth Thor movie, "Love & Thunder."
Lukas Haas played Richie Norris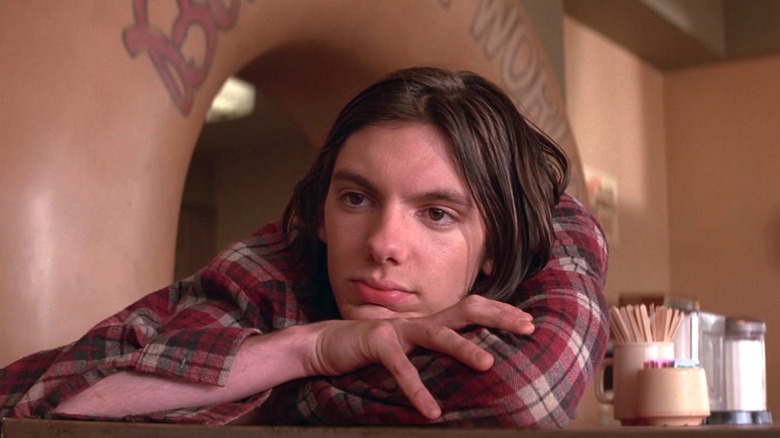 Warner Bros. Pictures
Actor Lukas Haas took on the heroic role of Richie Norris, a relatively average kid who works in a donut shop in the middle of nowhere and lives with his family in a trailer. The most important thing is Richie's heart is in the right place, and he goes to rescue his grandmother when the alien invasion begins en masse, which is how he discovers that her taste in music — specifically, country music star Slim Whitman's yodeling "Indian Love Call" — is fatal to the Martians, a fact that eventually gives the human race the upper hand.
In 2005, Haas took on the role of The Pin in director Rian Johnson's debut feature film, "Brick." He's a local drug lord that Brendan (Joseph Gordon-Levitt) encounters while looking into the death of his ex-girlfriend Emily (Emilie de Ravin) over the titular brick of heroin. For the 2006 crime drama "Alpha Dog," he plays the best friend of the title character, Johnny Truelove (Emile Hirsch), in the dramatized telling of the kidnapping and murder of Nicholas Markowitz.
Haas took on the role of Nash, a dream architect who betrays Dom Cobb (Leonardo DiCaprio) and his team in Christopher Nolan's mind-bending thriller "Inception." He later teamed up with real-life best friend DiCaprio again for "The Revenant," appearing as the shotgun-wielding Jones in the film that finally saw Leo grab the Oscar for Best Actor. Haas portrayed Apollo 11 astronaut Michael Collins in the biographic drama "First Man," which offered a dramatized version of the events leading up to Neil Armstrong (Ryan Gosling) becoming the first man to walk on the moon.
Pierce Brosnan played Professor Donald Kessler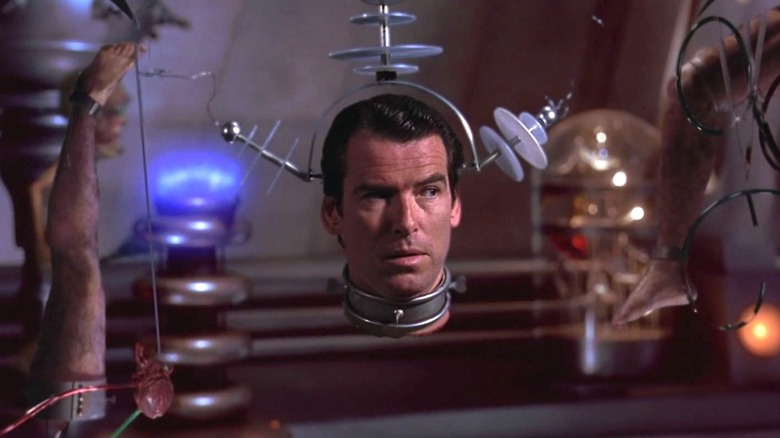 Warner Bros. Pictures
Actor Pierce Brosnan brought to life the smugly naive Professor Donald Kessler, who's so convinced that the Martians are a peaceful race because that's what beings of an advanced society would naturally be. He doubles down on this notion after the dreadful outcome of the first contact with the aliens, chalking it up to a misunderstanding. Dr. Kessler really lost his head with that theory, resulting in him actually losing his head. But don't worry, they kept it alive.
Following "Mars Attacks!" Brosnan appeared in 1997's most successful volcanic disaster film, "Dante's Peak," as volcanologist Harry Dalton, who's assigned to investigate the goings on at the titular, seemingly dormant fire mountain in Washington state. That same year, he made his second appearance as British super spy James Bond — having relaunched the franchise with 1995's "Goldeneye" — in "Tomorrow Never Dies," taking on media magnate Elliot Carver (Jonathan Pryce), whose obsession for being the first to report the news leads him to manipulate world events from a massive submarine base.
Having reprised the Bond role twice more in 1999's "The World Is Not Enough" and 2002's "Die Another Day," Brosnan bid the character farewell, co-starring in 2004's legal rom-com "Laws of Attraction" with Julianne Moore as lawyers on opposite sides of a messy divorce between clients. In 2008, he took on the role of Sam Carmichael as part of the cast of "Mamma Mia!" and reprised his part as Sophie Sheridan's (Amanda Seyfried) maybe-father a decade later as part of the cast of "Mamma Mia! Here We Go Again."
Sarah Jessica Parker played Nathalie Lake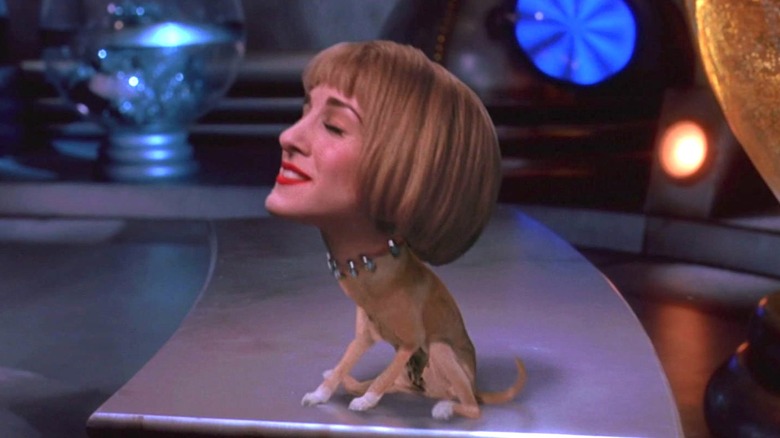 Warner Bros. Pictures
Somehow style TV host Nathalie Lake (Sarah Jessica Parker) locked down an interview with Professor Donald Kessler. How, exactly, we're not sure, because she seems to struggle with even the most basic concepts. But it makes a bit more sense when the good doctor admits he's a longtime admirer of her show — wait, really? — and the sparks start to fly, much to the dismay of Nathalie's boyfriend, serious TV news anchor Jason Stone.
"Mars Attacks!" marked Parker's second outing with Tim Burton, having appeared as Dolores Fuller, girlfriend to the titular filmmaker in the biographical dramedy "Ed Wood." In 1999, she took on the career-defining role of Carrie Bradshaw, part of the ensemble cast of "Sex and the City," HBO's romantic dramedy series chronicling four women's quests for love in New York. Parker portrayed the character for six seasons of award-winning television and two movies and will reprise her role in the upcoming "Sex and the City" revival entitled "And Just Like That."
Parker took on the role of the adulterous Frances Dufresne in HBO's comedy drama "Divorce," starring opposite Thomas Haden Church as her soon-to-be ex-husband Robert, who doesn't take kindly to her extra-marital affair. Reprising her role as witchy Sarah Sanderson, she'll appear in "Hocus Pocus 2" — the sequel to the hilarious 1993 hit — which is currently in production.
Michael J. Fox played Jason Stone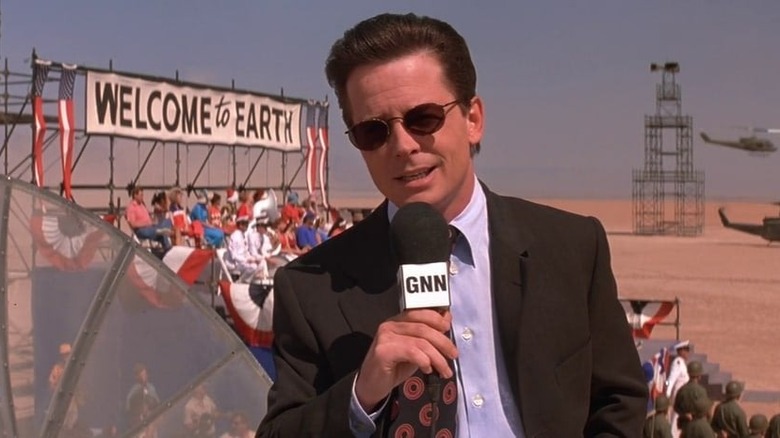 Warner Bros. Pictures
Beloved actor Michael J. Fox portrayed self-obsessed news anchor Jason Stone, lead talking head for the fictional GNN news network. He's astonished to hear his girlfriend Nathalie announce she's interviewing Professor Kessler, feeling himself a much better fit to interview the scientist. Jason is not happy when he notices the pair flirting, though he likely would have gotten over it soon enough if he just looked in the mirror to admire his own hair.
"Mars Attacks!" was the last film role Fox took on prior to announcing in 1998 that he was diagnosed with Parkinson's disease. As the BBC reported, he had begun experiencing symptoms of the degenerative disorder affecting the central nervous system in 1991. Two years prior to his announcement, Fox began starring in "Spin City," an office sitcom following the craziness of a fictionalized version of the office of the mayor of New York City. He portrayed lead role Mike Flaherty, the deputy mayor, leading an all-star cast that also included Richard Kind, Alan Ruck, Barry Bostwick, Connie Britton, and Heather Locklear. When Fox quit the show in 2000, he was replaced by Charlie Sheen.
Fox resumed voice acting — having first voiced the dog Chance in "Homeward Bound: The Incredible Journey" — by lending his voice to the title character in 1999's "Stuart Little." He later voiced Smithsonian linguist Milo Thatch in the Disney animated feature "Atlantis: The Lost Empire." Fox had a significant recurring role on the legal drama "The Good Wife," playing an attorney who used a medical affliction that caused involuntary muscle movements to gain sympathy. Fox retired from acting a second time in 2020, as announced in his memoir, "No Time Like the Future: An Optimist Considers Mortality" (via CNN).
Annette Bening played Barbara Land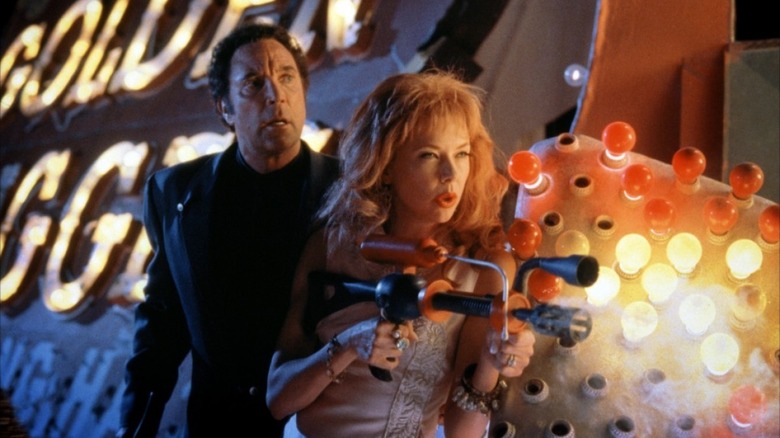 Warner Bros. Pictures
Actor Annette Bening played slightly kooky spiritual empath Barbara Land. To say she's a mismatch for scummy businessman husband Art Land is a bit of an understatement. She's hopeful that the Martians have come in peace and can be seen meditating when they make their first-contact visit in Pahrump, Nevada. Needless to say she's a bit bummed out and she sheds the gentle, kind-hearted exterior to reveal a badass babe who can kick some serious alien butt.
Bening kept up the butt kicking in 1998's "The Siege," appearing as CIA Agent Sharon Bridger, who investigates a series of terror attacks in New York City alongside FBI special agent Anthony Hubbard (Denzel Washington), eventually smoking out the suspect. The following year, she appeared as Carolyn Burnham, the ambitious and shallow real estate agent and wife to Lester Burnham (Kevin Spacey) — who's going through a midlife crisis — in the acclaimed dark comedy-drama "American Beauty"; Bening was nominated for the Academy Award for Best Actress for her performance. 
Bening was once again nominated in 2010, this time for her turn as obstetrician Dr. Nicole Allgood in "The Kids Are Alright," which tells the tale of her life with wife Jules (Julianne Moore) and children Joni (Mia Wasikowska) and Laser (Josh Hutcherson), who want to get to know the anonymous sperm donor their mothers used to conceive them. In 2019, she appeared in "Captain Marvel" as Mar-Vell, aka Dr. Wendy Lawson, the mentor to the title character, Carol Danvers (Brie Larson); Bening also brought to life the Kree Supreme Intelligence, the MCU film's big bad.
Martin Short played press secretary Jerry Ross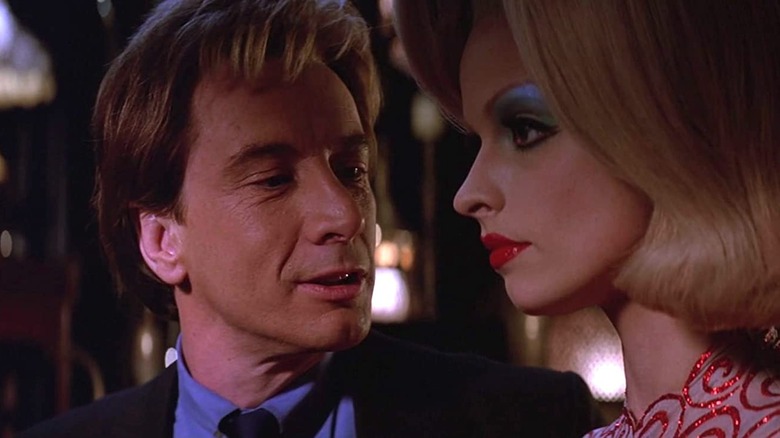 Warner Bros. Pictures
The president's lascivious press secretary, Jerry Ross (played by actor Martin Short), sees this whole Martian arrival as a big opportunity, both for the country and the president himself. He encourages the commander-in-chief to appear on TV and announce the alien presence outside the Earth's atmosphere before any news outlet can beat them to the punch. Jerry's proclivities for taking call girls back to the White House leads to him inadvertently aiding the Martians in their attempt to kill the president. Whoops.
In the 1997 comedy "Jungle 2 Jungle," Short played the role of cranky businessman Richard Kempster, partner to Michael Cromwell (Tim Allen), who learns he has a son named Mimi-Siku (Sam Huntington) with his soon-to-be ex-wife Patricia (JoBeth Williams) in Venezuela. The same year, he played Murray, a fairy godfather to Annabel (Mara Wilson), whose wish is to see her father land a role in a musical version of Charles Dickens' "A Tale of Two Cities" in the film "A Simple Wish." For a single season, Short hosted "The Martin Short Show," which featured his popular character Jiminy Glick, who later got his own Comedy Central show, "Primetime Glick," for three seasons beginning in 2000.
In 2006, Short reunited with Allen, appearing opposite him as Jack Frost in "The Santa Clause 3: The Escape Clause." Beginning in 2010, he voiced the titular Dr. Seuss character in "The Cat in the Hat Knows a Lot About That!" for three spread out seasons and a total of five specials. Short is currently starring with longtime friend and co-star Steve Martin in the Hulu murder-podcast sitcom "Only Murders in the Building."
Jim Brown played Byron Williams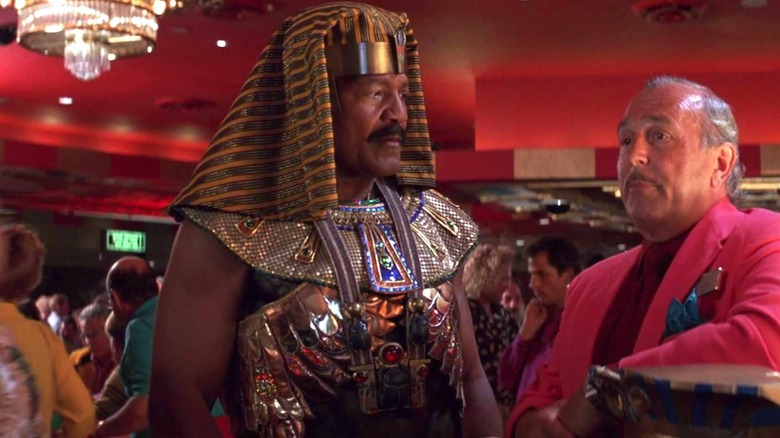 Warner Bros. Pictures
Towering actor and athlete Jim Brown brought to life the former heavyweight boxing champion Byron Williams, who's currently serving as a casino mascot while living apart from his ex-wife and two sons. Art Land would like to bring him on as some hired muscle, hoping to take advantage of his imposing size and pugilistic skills to convince some people who owe him money to pay up sooner rather than later. When the aliens invade, he helps the rag-tag Las Vegas cadre escape, challenging the Martian ambassador to a fist fight and scoring a clean KO win before being swarmed by an army of underlings.
In real life, Brown is a former NFL fullback and member of the Football Hall of Fame — not a former championship boxer — who's acting career dates back to the '60s. In 1998, he appeared as parole officer Spivey, whose job is to follow convicted felon Jake Shuttlesworth (Denzel Washington) around in director Spike Lee's basketball drama "He Got Game." The same year, he provided the voice for Butch Meathook in the animated action comedy "Small Soldiers." Brown got to put his years of football experience to work when he took on the roll of Montezuma Monroe, the intimidating defensive coordinator for the Miami Sharks in Oliver Stone's sports drama "Any Given Sunday." He later appeared in four episodes of the Showtime drama series "Soul Food" as FBI agent Willie White.
Jack Black played Billy Glenn Norris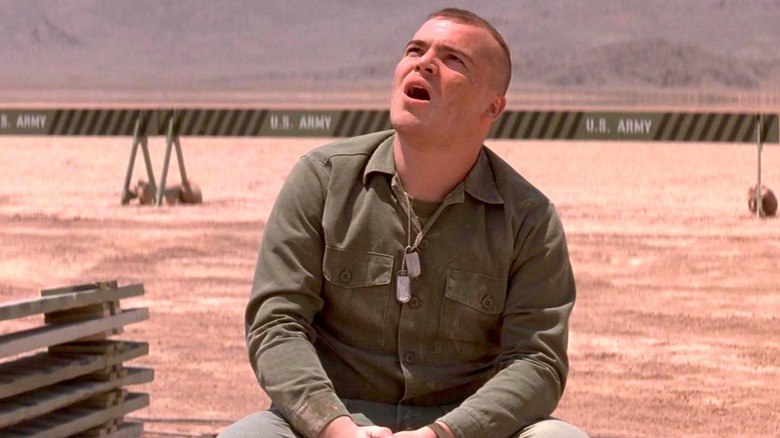 Warner Bros. Pictures
Billy Glenn Norris, as played by actor Jack Black, is Richie's older, dumber brother, but he can field strip a rifle and reassemble it blindfolded in under two minutes, so there's that. He may be the rootinest, tootinest good-ol-boy soldier the Army has ever seen, but all that enthusiasm for alien detail simply gets him put on manual labor duty for the first contact meeting in Pahrump, during which he's slaughtered just like everyone else.
Black may have only had a minor roll in "Mars Attacks!" but he's had a major career in the years since. The following year, he appeared as Ian Lamont, the weapons trafficker who sets the title bad guy up with an impressive hydraulic mount for his sniper rifle in 1997's "The Jackal." Black garnered a ton of praise for his supporting role as music elitist Barry, friend to lead character Rob Gordon (John Cusack) in the romantic comedy "High Fidelity." In 2001's "Shallow Hal," he played the title character, a man with disturbingly high beauty standards who's taught to see the inner beauty within people. 
The 2003 comedy "School of Rock" garnered Black even more acclaim for his performance as musician Dewey Finn, who becomes a surprisingly good music teacher after getting the job under false pretenses. He went on to portray children's horror author R. L. Stine in the 2015 "Goosebumps" movie before taking on the part of Professor Sheldon Oberon in 2017's "Jumanji: Welcome to the Jungle" — a role he'd reprise two years later in "Jumanji: The Next Level."