Marvel Fans Are Celebrating Thor: Love And Thunder Hitting A Huge Production Milestone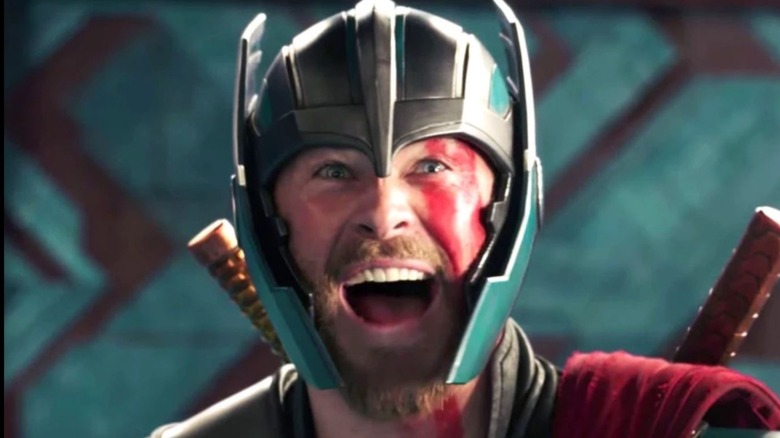 Marvel Studios
With 2020 now firmly in the rearview mirror, the Marvel Cinematic Universe is back in full swing for 2021. Disney+ has so far hosted two miniseries set in the blockbuster continuity, those being "WandaVision" and "The Falcon and the Winter Soldier," with projects such as "What If...?" and "Ms. Marvel" coming down the production pipeline. Also, Marvel Studios looks to have a presence on the big screen once again in the coming months, with "Black Widow," "Shang-Chi and the Legend of the Ten Rings," "Eternals," and "Spider-Man: No Way Home" promising to take over the cinema for the remainder of 2021.
Looking toward the future, the MCU is showing no sign of slowing down as we delve deeper into the 2020s. Aside from the likes of the "Hawkeye" TV show and "Doctor Strange in the Multiverse of Madness," the long-running "Thor" film series is due for its fourth installment. Directed by Taika Waititi of "Thor: Ragnarok" fame, "Thor: Love and Thunder" is primed to premiere on May 6, 2022 — bringing back Chris Hemsworth's incarnation of the God of Thunder alongside Natalie Portman as the next Thor, Jane Foster, Christian Bale as Gorr the God Butcher, Tessa Thompson as Asgard's new king, Valkyrie, and many more. 
Following the neon-colored joy ride that was "Ragnarok," MCU fans have every reason to be excited for "Love and Thunder." Their joy hit a whole new level on June 1, 2021, as Waititi and his team achieved a major production accomplishment.
Thor: Love and Thunder is all wrapped up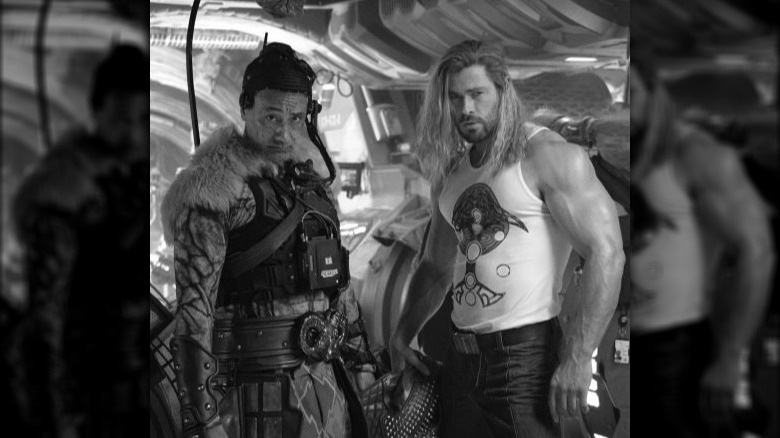 Chris Hemsworth / Instagram
"That's a wrap on Thor Love and Thunder, it's also national don't flex day so I thought this super relaxed photo was appropriate... Lots of love, lots of thunder!" wrote Chris Hemsworth on Instagram (via Marvel Studios on Twitter), fanning the flames of anticipation for the theatrical debut of "Thor: Love and Thunder." Naturally, the MCU fanbase was quick to celebrate the news, proving their eagerness to check out the hammer-wielding feature in 11 months via social media.
"never been more excited for a thor film!" commented @fdfilms19, echoing a sentiment that so many are feeling now more than ever. Meanwhile, @DJARINLOKI said, "pls tell me loki will be in the movie," crossing their fingers that the God of Mischief's upcoming Disney+ series won't be the last we see of him in the MCU. Twitter user @_Alexis__Alexis didn't hide their confidence in Taika Waititi's creative vision, adding, "It's going to be amazing Taika is a genius." Bearing in mind his body of work so far, ranging from "The Mandalorian" to "Jojo Rabbit," it's hard to disagree.
Aside from the general excitement surrounding "Love and Thunder," many had comments on the photo Chris Hemsworth posted, which included him wearing a tank top and supposedly not flexing his insane muscles. "Who put the Hulk arms on Hemsworth? Who did that? Those can't be his real arms... Nope...not believing it," replied @NJRugbyGrl, followed by @ReactionRocket, who claimed, "Chris Hemsworth's arms deserve their own check for this movie." "I hope the canon is, that Thor left, and became Hulk Hogan," responded @dylonrobertson, combining two of Hemsworth's upcoming projects: "Love and Thunder" and the Hulk Hogan biopic he's starring in.
With "Thor: Love and Thunder" now in the can, so begins the long wait for its inaugural trailer. If the announcement of its completion sent the internet into a frenzy, just wait until that first bit of footage comes to light.