Clues About Who Mother Nature Is On The Masked Singer Season 6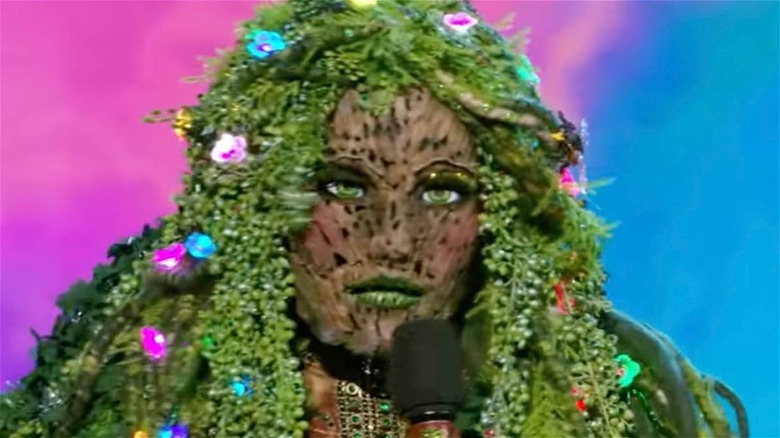 Fox
Fans of singing competition shows — rejoice! Season 6 of "The Masked Singer" is finally here, and it stars an interesting cast of characters as always. The zany series features celebrity contestants who sing songs while dressed in elaborate head-to-toe costumes so neither the judges nor the audience can tell who they really are. As the season progresses, the judges make their best guesses as to each competitor's identity, which is only revealed once the singer is voted off the show.
To make things more helpful — but usually more tricky — each contestant gives the judges and audience clues that have something to do with their personal lives, career, and public image. Since Season 6 has only just started, we only know the identity of one competitor, who was the first to be eliminated: Dwight Howard, aka Octopus. Other mystery contestants still in the running include Bull, Pufferfish, Banana Split, Dalmatian, Queen of Hearts, and a few other random characters.
One of the most whimsical contestants is Mother Nature, complete with a stiff, tree-like face and greenery as hair. Mother Nature was also, unfortunately, voted off on the first episode, and while we usually learn who the contestants are after they're eliminated, we'll have to wait to find out who's behind the mask until Episode 2 later tonight.
For now, let's take a look at the clues we have for Mother Nature's identity and some of the most popular fan theories.
Mother Nature is a force to be reckoned with
In Mother Nature's clue video, she explained that she changes like the seasons, and she's done it all. Assuming this refers to her career, it sounds like she's a multi-hyphenate talent. She went on to say she's never had the chance to be a mother, so that rules out any stars with children. However, Mother Nature made it clear she's protective of her loved ones.
Aside from what Mother Nature revealed verbally, her video clip also featured tons of visual hints as to her identity. Of course, there was tons of foliage in her clip to accompany her outfit, but there were also some more obvious clues added. There was a large penny with the year 1972 on it, a hummingbird, a framed photo of Wayne Brady, some men dressed as various forest creatures, and a holiday sparkler.
So, who could all of these widely-ranging clues point to?
Who is she?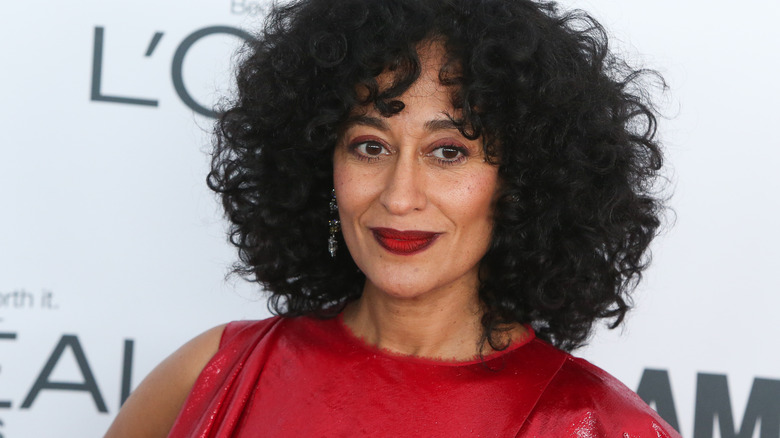 a katz/Shutterstock
One possible theory as to the identity of Mother Nature is none other than Niecy Nash, who notably stepped in for Nick Cannon to host "The Masked Singer" last season. Could Mother Nature's line "as the seasons change, so do I" literally refer to Nash's time on the show? On the other hand, Nash does have kids, so that clue doesn't add up. Another theory is Tiffany Haddish, as judge Ken Jeong guessed. Jeong shared his thoughts that Mother Nature is a comedian, and her dancing was reminiscent of some of Haddish's moves.  
We also think judge Robin Thicke may be onto something with his guess: Tracee Ellis Ross. As Thicke mentioned, she doesn't have children, and it would make sense for her to make her debut on the show singing "I'm Coming Out," which was a big hit for her mother, Diana Ross. Additionally, the penny looked like it had the year 1972 on it, which is the same year that Ross was born; Ross has two nephews and one niece (which is the same number of men dressed as animals that Mother Nature protected from a predator); and she was a guest on Wayne Brady's show over 10 years ago.
Stay tuned for tonight's episode of "The Masked Singer" to find out who Mother Nature really is.