Chloe Bennet Finally Addresses Those Secret Invasion Rumors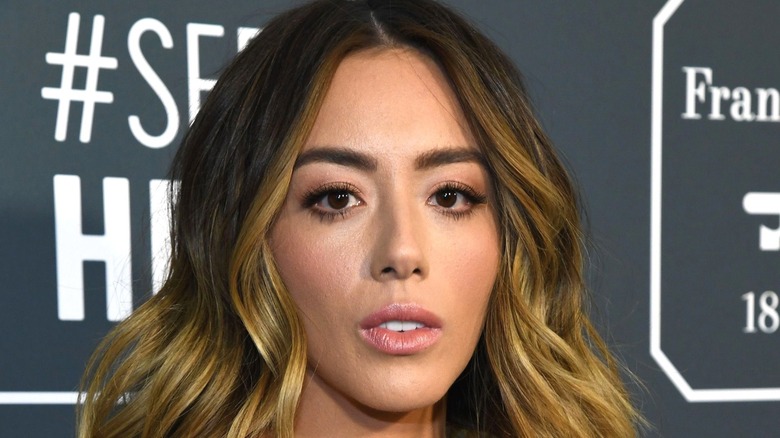 Kevin Mazur/Getty Images for Critics Choice Association
Marvel Studios is really pushing the Marvel Cinematic Universe in new directions thanks to Disney+, as shows like "Loki" and "What If...?" explore the multiverse at large. Soon, though, the streaming service is also going to touch on a popular crossover event from the comics, which vastly changed the state of the Marvel Universe. 
2008's "Secret Invasion" arc reveals that the Skrulls — a shape-shifting race of aliens — have infiltrated every single government on the planet, as well as replacing many heroes and villains in various super-teams. Now, a "Secret Invasion" series is coming to Disney+ in 2022 as part of Marvel's Phase 4, though it's not clear how faithful it'll be to the original storyline. The MCU has already set the stage for the Skrulls after their debut in "Captain Marvel," with appearances in "Spider-Man: Far From Home" and "WandaVision," but thus far, the MCU Skrulls are far more heroic than their comic book counterparts. "Secret Invasion" has already amassed an impressive cast, including Samuel L. Jackson, who will reprise his role as Nick Fury. Kingsley Ben-Adir will star as a "lead villain" (via Deadline), while Olivia Colman and Emilia Clarke are also playing unknown characters. 
Meanwhile, there's been plenty of hearsay about other returning heroes, with one of the most frequent rumors being the return Chloe Bennet's Daisy Johnson (aka Quake) from "Agents of S.H.I.E.L.D." 
The now-finished show, though originally intended to be tightly linked to the MCU, eventually became largely separate from the movies, aside from Clark Gregg's Agent Coulson and the occasional reference to the Avengers themselves. So, if Bennet does show up in "Secret Invasion," it will really pull "Agents of S.H.I.E.L.D." into Marvel's wider tapestry. 
However, the star recently opened up about the persistent rumors.
Chloe Bennet wants to clear the air regarding Secret Invasion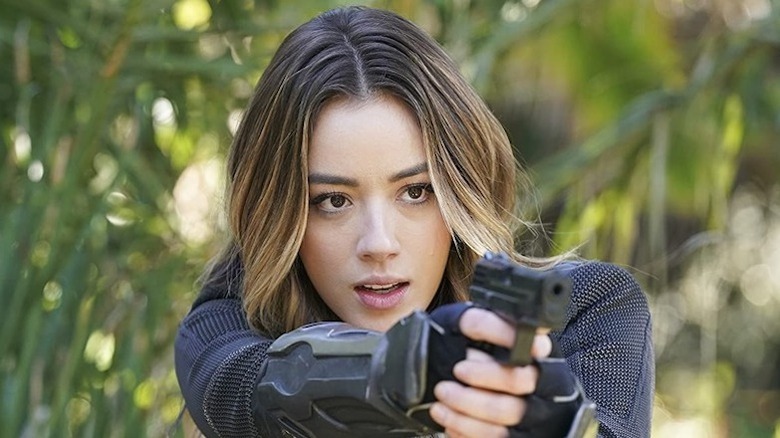 ABC
The rumors about Chloe Bennet returning to play Daisy mainly started when the star dropped out of The CW's "Powerpuff Girls" live-action TV series, with many fans on Reddit assuming that she left the project in favor of "Secret Invasion." But the star recently took to her Instagram story (via ComicBook.com) to squash the rumors, saying "I have avoided saying anything like this in general, on social media or whatever, because I thought maybe it would blow over, but it has not."
The "Agents of S.H.I.E.L.D." star went on to outright deny the "Secret Invasion" rumors: "I am in no way attached or involved, even at all or a little bit, in the Secret Invasion Marvel thing. I honestly don't even know really what that is." 
This sounds pretty definitive — which is understandable, since Bennet is getting harassed by fans about the series. She added, "I am only coming on here to say this because it has gotten to the point that every day I'm getting hundreds of messages about this."
The actress ended the Instagram story by explaining "I'm now getting like approached in person. Today it was in the tampon aisle at Target... So I figured I would just clear the air." 
Obviously it wouldn't be the first time a star has denied their involvement with a future Marvel project: Tatiana Maslany also completely denied being in "She Hulk" before it was later confirmed she'll lead the series. In this case, though, Chloe Bennet's comments do sound convincing.