Emilia Clarke Says Han Solo Spinoff Is More Secretive Than Game Of Thrones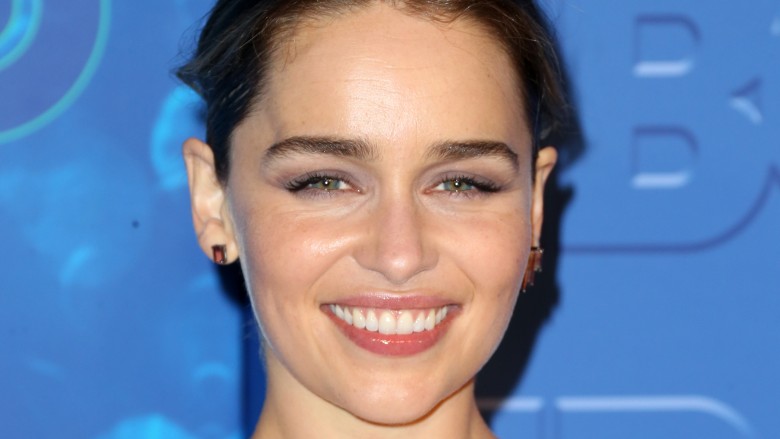 Getty Images
Emilia Clarke says that talking about her latest project is kind of terrifying.
Clarke, who is set to portray the mysterious female lead in the upcoming Han Solo standalone film, told the Independent that she's overwhelmed by the details she's allowed to talk about and which are off-limits from the press.
The actress stated that she can't comment on anything about the Han Solo spinoff, but she can praise co-star Alden Ehrenreich, who plays young Solo. "[He's] magnificent, and it's a delight to do something on that level with really cool actors and nice people," Clarke said.
Though she's primed in the art of secret keeping from her work as Daenerys Targaryen on HBO's Game of Thrones, Clarke mentioned that vaguely discussing Ehrenreich's performance is far more daunting. "It's even scarier talking about that than Game of Thrones," Clarke said.
The HBO series is notorious for keeping a tight lid on details, and actors have even lied to fans about the show. According to Clarke, almost everyone involved in Game of Thrones is kept in the dark, including the cast. "No one knows anything. No one is told anything. It's all crazy," Clarke said. "It's a secret from the cast. We generally can't be trusted. They pretty much have told us so."
While that certainly sounds extreme, it's apparently nothing compared to the Han Solo spinoff. Apart from the overall subject, the movie's executives, and a handful of cast members set to appear, hardly anything about the Han Solo pic has been revealed.
The film co-stars Donald Glover as young Lando Calrissian, Woody Harrelson as Beckett, and Joonas Suotamo as Chewbacca. Thandie Newton, Michael K. Williams, Phoebe Waller-Bridge, Ian Kenny, and Douglas Robson are also slated to appear in yet-unnamed roles. Co-directed by Phil Lord and Christopher Miller from a script by Jon and Lawrence Kasdan, the young Han Solo movie is set for release on May 25, 2018.
In the meantime, check out the things we want to see in it.