Richard Belzer Agreed To Join Law And Order: SVU Under One Condition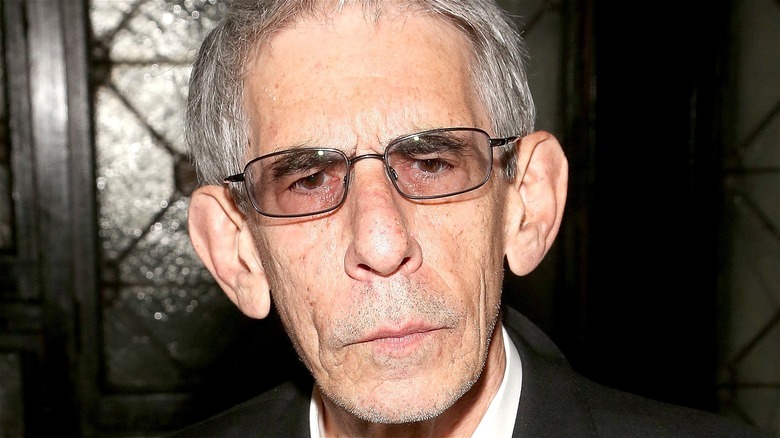 Paul Zimmerman/Getty Images
NBC's harrowing procedural "Law & Order: Special Victims Unit" is prepping for its 23rd season on the air. You may not realize it, but that fact makes "SVU" not only the longest-running "Law & Order" show — the flagship series peaked at 20 seasons — but also makes it longest-running primetime live-action drama in the history of television. Perhaps even more impressive is that "SVU" continues to be one of the most-watched dramas on television, a fact that no doubt helped grease the wheels for a fresh, multi-season renewal from NBC (via Deadline).
Over its more than two decades on the air, "Law & Order: SVU" has also largely been blessed by fronting the same principal cast members with either Mariska Hargitay or Christopher Meloni anchoring most of the action. Along the way, faces too numerous to count have understandably entered and exited their orbit, few more prominent than that of Richard Belzer. The noted character actor joined the cast of "SVU" in the series pilot, and went on to portray Detective John Munch (a character he actually originated on the series "Homicide: Life on the Streets") off and on for the show's first 16 seasons.
Over that period, Belzer's quippy Detective Munch became a legit fan favorite, and the character arguably remains the actor's signature role. However, it seems Belzer could only be convinced to play Munch on "Law & Order" if series creator Dick Wolf brought a specific actor on board to play his partner.
Belzer would only join SVU if he was partnered with Dean Winters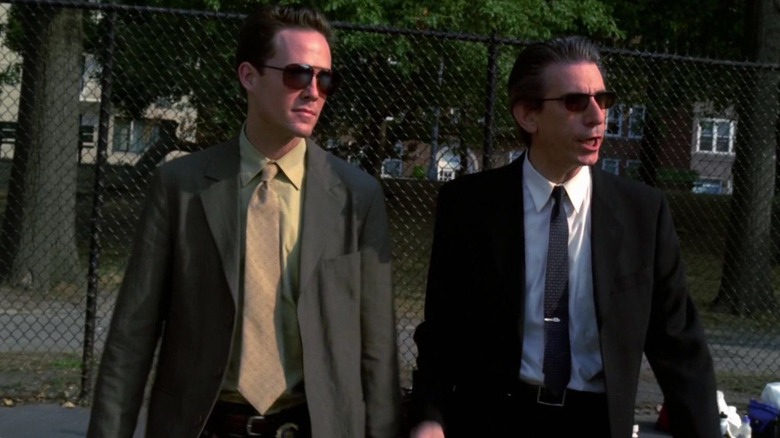 NBCUniversal
That actor is Dean Winters, perhaps best known for his work as the mayhem man in those hilarious Allstate commercials, and for portraying Tina Fey's dimwitted beau Dennis Duffy on "30 Rock." Though he's excelled at playing funny men in his career, Winters has long been renowned for his dramatic work too, first earning raves on HBO's brutalist prison drama "Oz." As it happens, one of Winter's first dramatic gigs came on the very series in which Belzer originated his "SVU" character.
Winters only appeared in three episodes of "Homicide: Life on the Streets," but he clearly made an impression on Belzer. As Winters revealed in a 2012 interview, Belzer apparently went to bat big time for the young actor to get him cast as his partner on the "Law & Order" spinoff, offering that "Richard Belzer told Dick Wolf that he would play Munch if I was his partner. So that's how I got on the show ... he kinda strong-armed Dick Wolf."
Clearly, the "strong-arm" tactic worked, as Wolf indeed cast Winters as Munch's partner, Detective Brian Cassidy. Unfortunately, Winters' time in the role proved brief, as contractual obligations to HBO's "Oz" limited him to just 13 Season 1 episodes of "SVU" before his character was shuffled off to the NYPD's Robbery-Homicide division. In a marvelous bit of happenstance, though, Winters would return to the show in 2012, and much to the delight of die-hard "SVU" fans reprised his role as Brian Cassidy in an additional 18 episodes, last appearing on the show in 2019.