What You Didn't Know About The Allstate Mayhem Commercial Guy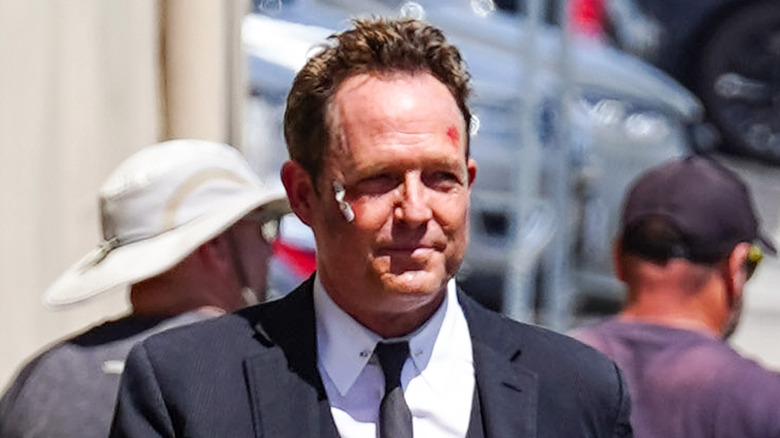 Joce/bauer-griffin/Getty Images
It's rare that selling insurance ranks among the funniest or most entertaining topics, but Allstate's series of "Mayhem" commercials has proven a consistent exception to the rule over its years on the air — in fact, this collection of ads ranks among the most successful campaigns in recent memory. 
It's easy to understand why they've caught on: combining deadpan humor and violent, "Jackass"-style set pieces to illustrate the importance of a dependable insurance company, they take something most people actively avoid thinking about and turn it into something viewers actively look forward to seeing between their regularly scheduled programming. 
If you've watched these spots and felt like the guy playing Mayhem seems familiar, you're right — aside from his steady gig as TV's most violently abused incentive to buy insurance, he's popped up in a number of shows and films over the last couple of decades. Here are some surprising facts you didn't know about Allstate's Mayhem man, Dean Winters.
Don't catch a script to the face
Theo Wargo/Getty Images
Dean Winters came to acting relatively late in life. After knocking around Europe for a few years in his late twenties, his brother Scott, who was already established in the industry, introduced him to New York City acting coach William Esper. Winters took a class with Esper and quickly caught the acting bug, immersing himself in the downtown theatre scene of the early 1990s while bartending to pay the bills. In a 2021 interview with Backstage magazine he recalled the grind of those pre-cell phone, pre-internet years — calling for auditions at the corner pay phone and mailing out copies of his headshot to agencies and theaters around town. 
Even in those early struggling days, Winters was serious about his craft, and expected the same from those he worked with. He recalled one nightmare audition for a film that he had spent days preparing for, but did not receive the same level of attention from the film's director. "I was off-book on five pages of lines, doing my best," he said, "and this guy is in the back on his phone." Rather than finish the audition, Winters threw his script at the director. Needless to say, he did not book that particular role. "I have a lot of integrity and I have a lot of loyalty," he added, "but if you're going to treat me like that, it's coming right back to you in the form of a script to the face."
He actually died (but he's feeling much better now)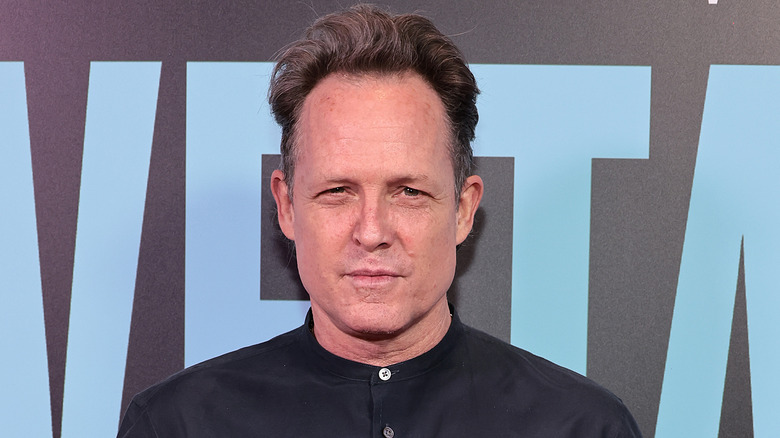 Jamie Mccarthy/Getty Images
One morning in June 2009, Winters awoke with a fever and stayed in bed all day. The next morning, he still felt terrible and noticed he'd turned gray, so he went to his doctor's office. That's where he collapsed. "I was turning black, and my whole head was swelling up," he later told Page Six. An ambulance raced Winters to Lenox Hill Hospital, but on the way, his heart stopped — for two and a half minutes. Paramedics revived him, and he wound up spending three weeks in intensive care to recover from a horrific bacterial infection. Over the next year, he spent a total of 95 days in the hospital and endured 10 operations, including the amputation of two toes and half a thumb — he'd developed gangrene during his ordeal.
Winters was too sick to work for a year. Right before he nearly died, he'd filmed a pilot for an ABC show called "Happy Town," and when it was picked up to series, producers replaced him with Steven Weber of "Wings." "People in Los Angeles think I'm dead!" Winters sort-of joked. However, exactly one year and one day after he almost died, his best-known work hit screens when Allstate launched its "Mr. Mayhem" campaign.
He tried to avoid Mayhem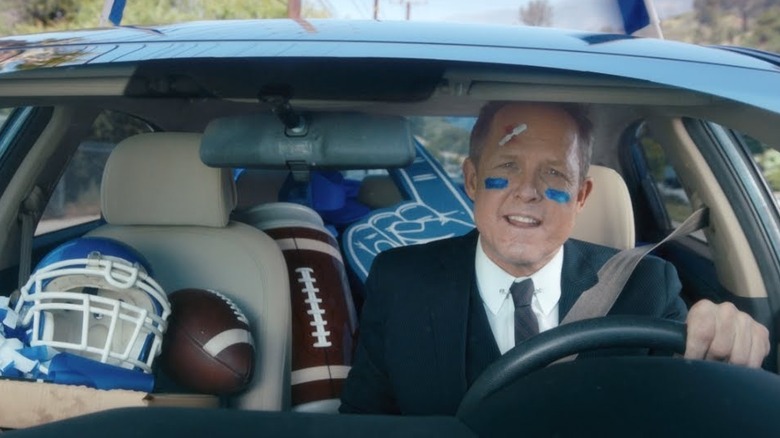 Allstate
Winters almost didn't make those Mayhem ads. First off, after his medical nightmare, he had to re-learn how to walk. "I was feeling sorry for myself — I had lost toes and half a thumb and the tip of my nose fell off — and this nurse took me to the children's burn unit," Winters recalled to the Sioux City Journal. "I saw these eight kids with prosthetic legs playing soccer and I thought, 'That's it.' That's the moment when I turned everything around and decided to learn how to walk again."
Encouragement came from colleagues, and Denis Leary cast him in "Rescue Me." And then Allstate Insurance sought him out to play the Mayhem guy in its huge commercial campaign. But at first Winters turned down what he later called "the best job [he's] ever had." "When they offered me the commercial, I said no," Winters said on HuffPost Live. "My smartass remark was that I became an actor so I wouldn't have to put on a suit and sell insurance. And then my agent slapped me around and said, 'Come on, get real.'"
A Conspiracy Theory believer
Winters landed his first movie role in the 1997 Mel Gibson/Julia Roberts thriller "Conspiracy Theory." Up to that point, Winters had primarily paid the bills with a bartending job, which he held literally up until filming was under way. "My last night of bartending was Thanksgiving '96, and I started filming that movie either the next day or a couple of days later," he told The A.V. Club.
He immediately got a taste of how frustrating the movie business can be. "I had a much bigger part, but it got completely whittled away," Winters claimed. "I spent a lot of time on the set twiddling my thumbs, trying to figure out how I was going to quit the business. It was a tough job!"
Winters actually did try to go back to his old bartending job, and he might have, had he not deliberately burned that bridge. "The owner wouldn't take me back because I told him to go f*** himself when I quit," he recalled. "Because I wanted to make sure when I quit that I wouldn't have a way back in!" He asked anyway ... and was denied.
A guy walks into a bar...and hires Dean Winters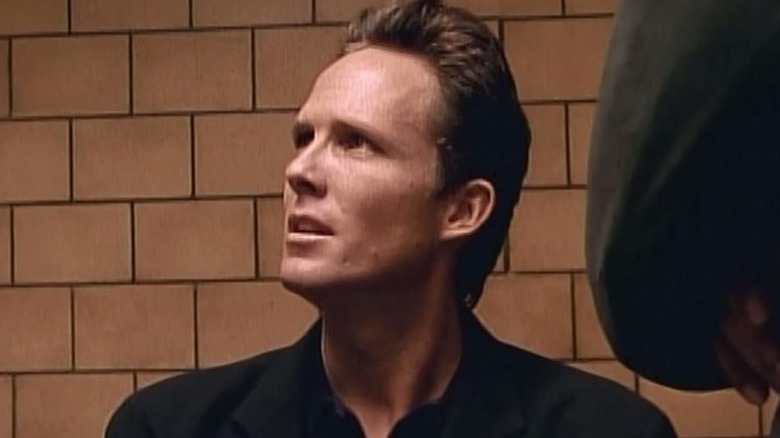 "Conspiracy Theory" wasn't Winters' first screen acting gig overall. During the 1995–96 TV season, he had a recurring role as Tom Marans on NBC's acclaimed police drama "Homicide: Life on the Street," which he landed through his connection with "Homicide" creator and producer Tom Fontana. 
That friendship started when Fontana, during the first season of "Homicide," walked into Winters' Upper East Side bar at about 2 a.m. one night. Fontana offered to write a role into the show for Winters, but he passed; as he recalled to the A.V. Club, "I told him I wasn't ready to be on TV yet, because I was still living downtown and doing theater." Eventually, he relented. When Fontana moved on to create the searing prison drama "Oz" for HBO, he wrote the role of Ryan O'Reily specifically for Winters.
Winters isn't the only guy in his family with an "Oz" connection. His brother, Scott, is also an actor, and he and Dean played brothers on "Oz." And then there's a third brother, Bradford Winters, who served on the "Oz" writing staff.
He's raised a ruckus up and down the dial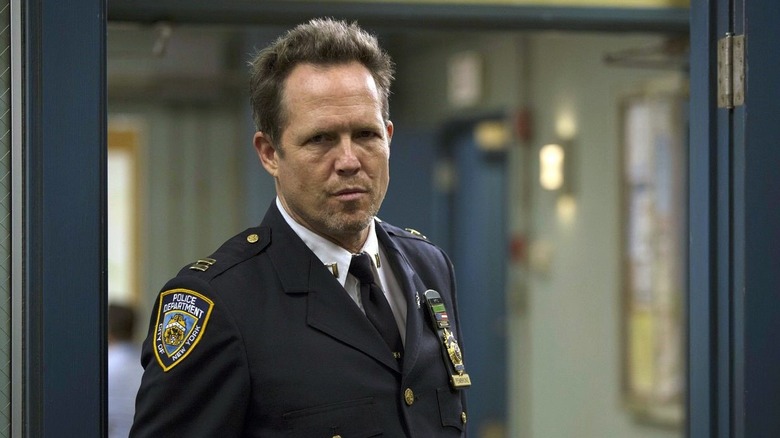 Fox
Shooting a string of 30-second TV commercials is Dean Winters' most widely known gig, but it leaves him enough time to do lots of acting in movies and on TV shows, where he often plays street-smart tough guys and cops. Since the Mayhem campaign began in 2010, Winters has surfaced on sitcoms like "Up All Night" (well cast as the brother of Will Arnett's character), "Brooklyn Nine-Nine" (a recurring role as a hotshot detective known as "The Vulture"), "Divorce" (as a foul-mouthed divorce lawyer), and "Unbreakable Kimmy Schmidt" (as the voice of a cop bunny in a police drama called "Bunny and Kitty"). 
In addition to his recurring roles on "30 Rock," "Rescue Me," and "Law and Order: SVU," Winters starred on "Battle Creek," a short-lived CBS crime dramedy co-created by "Breaking Bad" creator Vince Gilligan. Winters has also appeared in films like "The Devil You Know" and "John Wick."
Only a dummy wouldn't audition for 30 Rock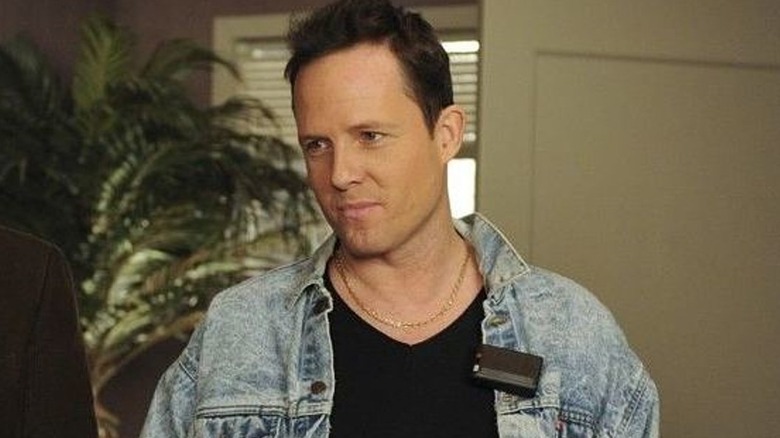 NBC
For viewers of the Tina Fey sitcom "30 Rock," Dean Winters will always be Dennis Duffy, Liz Lemon's arrogant, sleazy, odious, pager-selling, on-again, off-again boyfriend. Duffy's many quirks — including his use of "dummy" as a nickname for Liz — made him a fan favorite, but he almost didn't get the gig.
"I went to the audition for '30 Rock' — I walked in, and there was, like, 30 guys up there reading for my role, and they all — they were the funniest guys in New York City," Winters later told The A.V. Club. "I'm not going to mention any names, but they were all a bunch of funny guys my age." Faced with that level of talented competition, Winters bolted.
Later on, his agent's assistant called to ask how his audition went. Winters lied and said, "It went good." The assistant called him out. "He said, 'Really? That's interesting. Because they're waiting for you. They said they haven't seen you yet.'" The agency also issued an ultimatum: Go back to the audition, or they'd drop him as a client. Needless to say, Winters went back — and got the gig.
Dean and Tina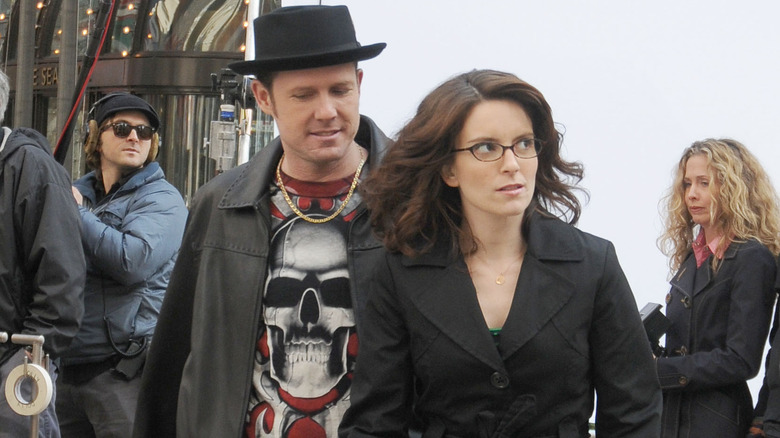 Arnaldo Magnani/Getty Images
In a way, Dean Winters was right to be intimidated by all the comedic actors lining up to audition for "30 Rock." It's hard to remember now, after projects like "Brooklyn Nine-Nine," "Rough Night," and of course, Allstate's Mayhem, but in the early 2000s Winters was not seen by many as a "comedy guy." His best known roles at the time were "Oz" and "Law and Order: SVU," which had their moments of gallows humor, but were otherwise as grim as it gets. "30 Rock" transformed his career, and in the years since, Winters has fully given credit to that show's creator, Tina Fey. "Tina's in my top two favorite people in Hollywood," he told Backstage magazine in 2021. "She's always been in my corner."
What was originally meant to be a three-episode stint in the first season became a recurring role, as beeper king Dennis Duffy appeared at least once in each of the show's seven seasons. Since "30 Rock" ended in 2013, Winters and Fey have remained in each other's orbit: In 2019 they reunited for a pair of Allstate ads promoting the insurance company's new Drivewise app, and over the years he has made guest appearances on the Fey-produced comedies "Unbreakable Kimmy Schmidt" and "Girls5Eva." "I'll do anything for Tina," he said to Backstage. "Just to be part of a Tina Fey production — she knows the quality is going to be good, the actors are going to be good, everything is going to be good."
He had a horrible horror movie experience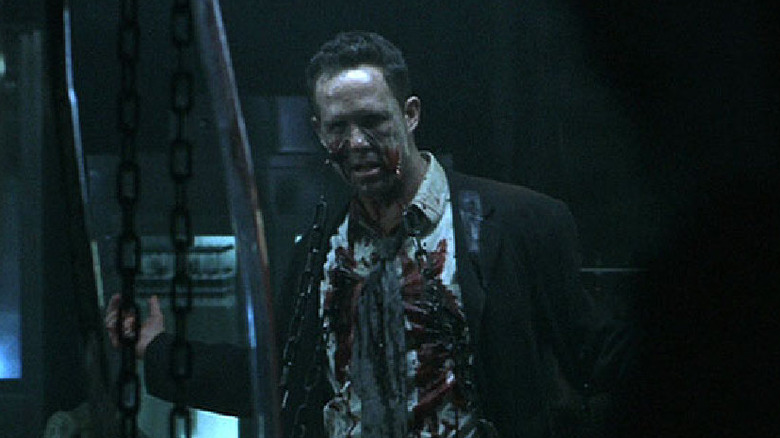 Dimension Films
As a young man, Dean Winters wrote himself an acting "bucket list" of all the different kinds of projects he aimed to perform in someday. "I was, like, 'I want to be in a horror film, I want to be in a Western, I want to be in this, I want to be in that," he revealed to the A.V. Club. 
One item Winters can cross off that list: He's appeared in a horror movie. He played a sleazy businessman mourning his wife and dealing with amnesia in the 2002 direct-to-video release "Hellraiser: Hellseeker." It wasn't necessarily a dream come true, however. In fact, Winters didn't have the best time shooting the movie. 
"I took that movie at the last minute, I got to Vancouver, and if there were 120 scenes in the movie, I think I was in 116. And I got sick, like, at the end of the first read-through." Winters wound up being extremely ill for three weeks out of the four-week shoot, but one bright spot was that the film was shot in a real psychiatric facility. "I was having nightmares and seeing visions in the hospital," Winters said. "It was just bananas."
He's been in and out of the criminal justice system (on TV)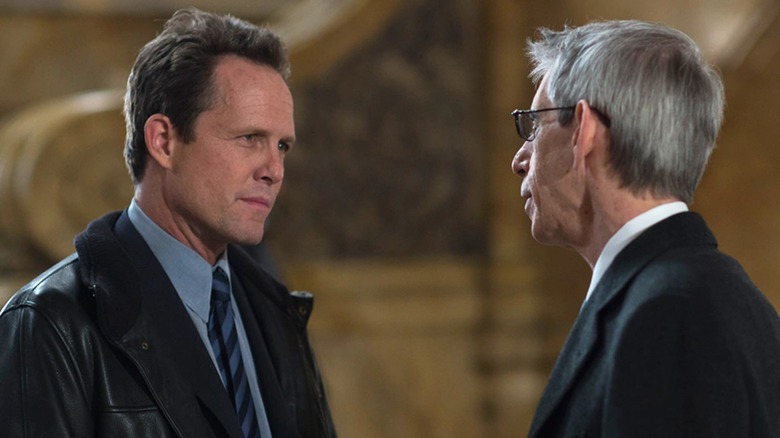 NBC
During his time on "Homicide," Dean Winters developed a friendship with co-star Richard Belzer, who portrayed sardonic detective John Munch. That show ended in 1999, right around the time Dick Wolf was casting for "Law and Order: SVU," a spinoff of his show "Law and Order." He wanted Belzer to reprise his role as Munch, and Belzer said he would under the condition that Winters portray his partner in the NYPD sex crimes division. 
Wolf complied, and Winters got the role of Det. Brian Cassidy. Unfortunately, due to his commitments to Oz, Winters had to leave "SVU" after just 13 episodes. (They wrote him out by explaining that Cassidy grew overwhelmed with the sick, sad world of investigating rapes and murders, and he transferred to elsewhere in the NYPD.)
After years of feeling like he had unfinished "SVU" business, Winters finally returned for the Season 13 finale in 2012 and subsequently remained part of the recurring cast.
Allstate was in good hands with Dean Winters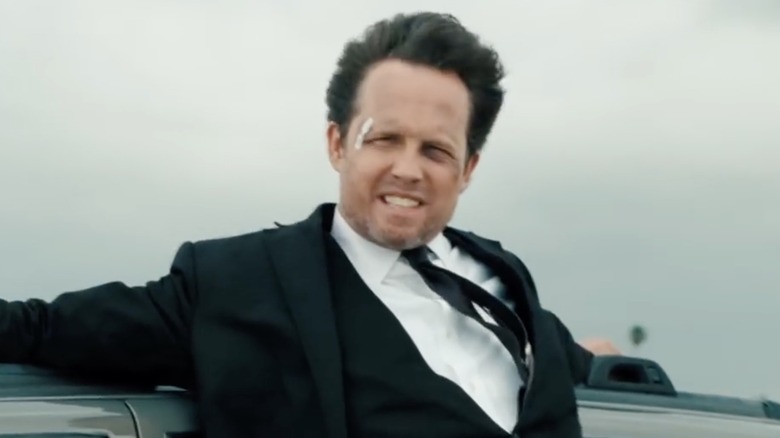 Allstate
The Leo Burnett advertising agency conceived the Mayhem ads, and in 2011, Burnett executive vice president Nina Abnee told Ad Age that one of their inspirations was "to kick Flo's ass." She was speaking about Allstate rival Progressive's extremely popular advertising mascot. Thanks in part to the Flo ads, Allstate's market share dropped for two straight years. Also not helping: the company's previous sober, conservative ads featuring "24" actor Dennis Haysbert calmly and seriously reminding TV viewers of the importance of insurance. Progressive and Geico wooed a younger audience with fun, funny, and memorable commercials emphasizing their product's low cost.
The Mayhem campaign reversed Allstate's fortunes with Winters' character and an emphasis on value over price. (Mayhem frequently belittles "cut-rate" insurance and the fools who buy it.) In 2011, 502 Americans were surveyed on 11 insurance company ad campaigns. After the Geico Gecko and Progressive's Flo, Allstate had the most correctly identified ads, thanks to Mayhem. Considering that the Geico and Progressive characters had been seen on TV for years, and Mayhem had only been around for months, that's some remarkably quick-setting brand awareness.
A revealing claim to fame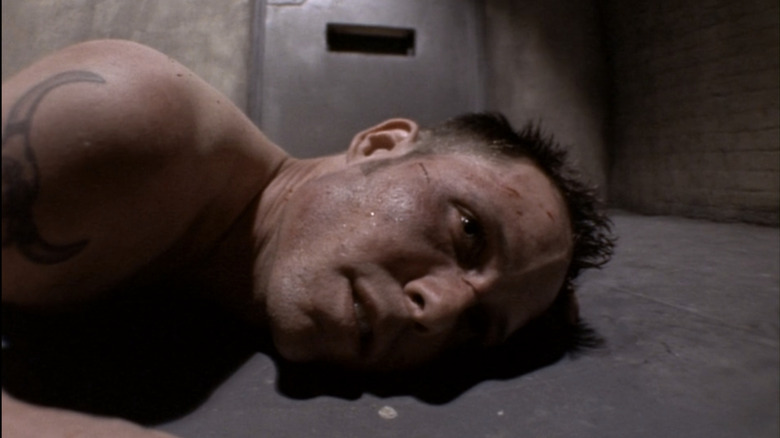 HBO
"Oz" was a landmark show for HBO, bold and theatrical while also punishingly (no pun intended) real. In many ways it was a precursor to the "Prestige TV" era that began in earnest two years later with "The Sopranos." It explored adult themes and serialization in a way that television never really had before, with levels of explicit language, violence, and nudity that would be shocking even in an R-rated film. Thanks to the prison setting and nearly all-male cast, the show was also a somewhat infamous pioneer in the field of male nudity and sexual violence on the small screen. Its first full-frontal scene came in the fifth episode of Season 1, as Winters' Ryan O'Reilly has a mental breakdown while in solitary confinement.
"I was the first male to be full-frontal nude on American television," Winters proudly noted on a 2014 episode of "The Artie Lange Show." While that statistic isn't entirely true — the 1989 Western miniseries "Lonesome Dove" featured a brief moment of exposure, and in February 1997, NBC broadcast "Schindler's List" in primetime uncensored and ad-free — the spirit of the boast is true. "Oz" was a television game-changer, and its sexual frankness paved the way for the next two-plus decades of adult-oriented storytelling. Many men would bare all on the show, literally and figuratively, but Winters was undoubtedly the first.
Mayhem's brother
An Allstate commercial from March 2023 features Winters once again as Mayhem, here taking the form of "your highly competitive older brother," whose overly aggressive basketball playing turns a friendly pick-up game in the driveway into a potentially costly repair job. The other brother — the one whose garage gets wrecked — is mostly kept in the background as Mayhem hogs both the ball and the scene, but it didn't take long for fans to recognize the actor playing him as Winters' own brother and former "Oz" and "Homicide" co-star Scott William Winters.
The two Winters brothers began their on-screen careers at around the same time in the mid-1990s, and Scott, like his younger brother, has played his share of cops and authority figures on shows like "The Dead Zone," "Dexter," and "City on a Hill." But aside from a recurring role on the Netflix renaissance drama "Borgia," his most recognizable role may be one of his earliest, as the Harvard blowhard who gets shown up by Matt Damon in the 1997 drama "Good Will Hunting." 
The scene and its instantly memorable punchline ("How do you like them apples?") was even parodied four years later in Kevin Smith's "Jay and Silent Bob Strike Back," with Damon, co-star and co-writer Ben Affleck, and Winters all reprising their roles. In recent years he has turned his attention to the non-profit foundation Merciful, which he founded alongside wife Jennifer and daughters Faith and Grace.