What's The Song In The Netflix's Midnight Mass Trailer?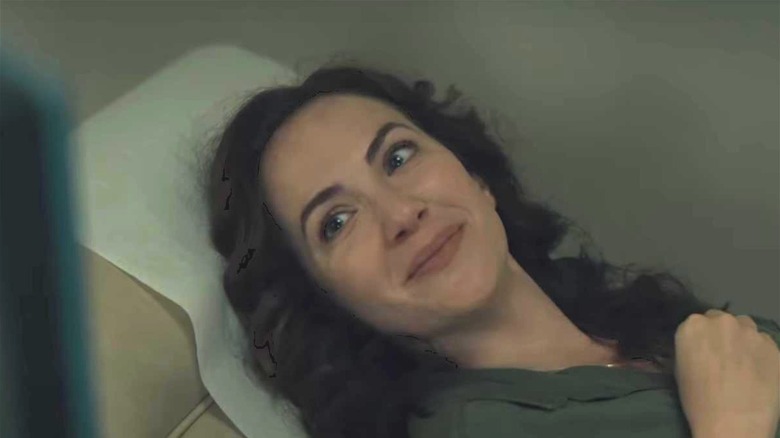 Netflix
The trailer for Mike Flanagan's latest spine-tingling Netflix outing, "Midnight Mass," reaffirms he is one of the best horror directors in recent years. It also follows the trend wherein a song that has no place in a horror trailer shows up and leaves us incredibly uneasy.
Fans of Flanagan's "Haunting" anthology will no doubt be on guard as the trailer lulls us into a false sense of security (as all great horrors do). At the start of the trailer, we see the leading man of "Midnight Mass," played by Zach Gilford, headed back to his hometown and a past he'd rather forget. With glances from familiar faces, like frequent Flanagan collaborators Kate Siegel and Rahul Kohli, and a warm greeting from his mother, a subtle tune washes over this reunion. The familiar earworm seems to be hitting all the right notes and appears to suggest this trip home was the right decision for our protagonist — until it suddenly isn't.
The "Midnight Mass" trailer is littered with bleak, blood-freezing sights, like shadow figures and dead animals washed up on shore, and shows how this island town descends into chaos. All at once, the song that was once heartwarming shifts to a far more sinister tone. So, what is this song in the "Midnight Mass" trailer that has us humming a familiar tune under very nightmarish circumstances?
The Midnight Mass trailer features a Keane song from the early '00s that thrills and chills
The song heard in the trailer for Netflix's "Midnight Mass" is "Somewhere Only We Know," one of the most successful entries from English alt-rock band Keane (via YouTube). The song served as the band's debut single in 2004 but was recorded in 2003. The single was featured on their first album, "Hopes and Fears," and made its way to #50 on the U.S. Billboard Hot 100 chart (via Billboard).
While the original version and notable covers that followed are far more uplifting, the song has had various interpretations over the years. Since its release in the early '00s, popular singers including Kacey Musgraves (via YouTube) and Darren Criss (via YouTube) have performed cover versions for radio and on television. Keane's song was revived in 2013 by English singer/songwriter Lily Allen and reached #1 in the U.K. Singles Chart (via NME). The song was part of a Christmas advertising campaign for British department store giant John Lewis & Partners (via YouTube) and is now synonymous with the song as a result. Almost Disney-like in its delivery, Allen's "Somewhere Only We Know" is a far cry from the haunting way it's applied in "Midnight Mass."
Check out the ad, if only to make you feel a little calmer before Flanagan's new Netflix nightmare arrives on Friday, September 24.