The Latest Trailer For Midnight Mass Will Give You The Creeps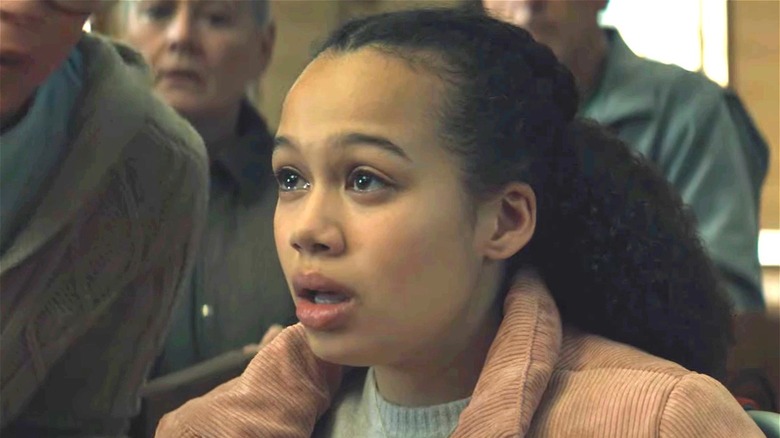 Netflix
Great horror filmmaking is all about assembling the right ingredients. And thus far, it appears that everything in the pot of the upcoming Netflix Original series "Midnight Mass" is fresh, tasty, and 100% certified organic. A dreary, isolated island setting? Check. Unnerving supernatural occurrences? Check. Characters who are haunted by misdeeds of the past? Check. Written and directed by horror maestro Mike Flanagan of "The Haunting of Hill House" fame? Check, check, check.
We already got a taste of what Flanagan's latest tale of terror has in store for us when Netflix dropped an enigmatic teaser for the upcoming series back in August. The short preview gave us a good sense of the eerie tone and desolate setting of "Midnight Mass," but by design, it only left us wanting to know more about the series. The fact that Flanagan has said that "Midnight Mass" is his "favorite project so far" has us all the more eager (via Bloody Disgusting).
Thankfully, we now have a full trailer to get us ready for the show's September 24 premiere. Although this new trailer certainly doesn't give everything away, it does provide a better understanding of what we can expect on our trip to Crockett Island.
Welcome to Crockett Island
Up until now, Netflix has been fairly scant on details regarding "Midnight Mass." We've learned that the series takes place in a fictional island community where our protagonist, Riley Flynn (Zach Gilford), grew up. Riley fled Crockett Island at some point but returned around the same time that a priest named Father Paul (Hamish Linklater) set up shop there and reignited a religious fervor among the locals.
Considering the title and the prominence of a priest character, we can assume that there will be some major religious themes at play in "Midnight Mass." What's potentially more intriguing is the fact that Flanagan has actually been teasing the project for years by planting Easter eggs in his previous works like "Gerald's Game" and "Hush."
The newly released trailer mostly expands on what we've already learned from the synopsis and teaser. It does give some more insight into Father Paul, as well as a more lived-in look at Crockett Island. But the core mystery of exactly what is happening remains.
Toward the end of the trailer, a character says, "I'm so glad you'll be with us for what comes next." We'll be glad, too, when "Midnight Mass" drops on Netflix on September 24.