Critics Just Revealed Their First Thoughts On Netflix's Midnight Mass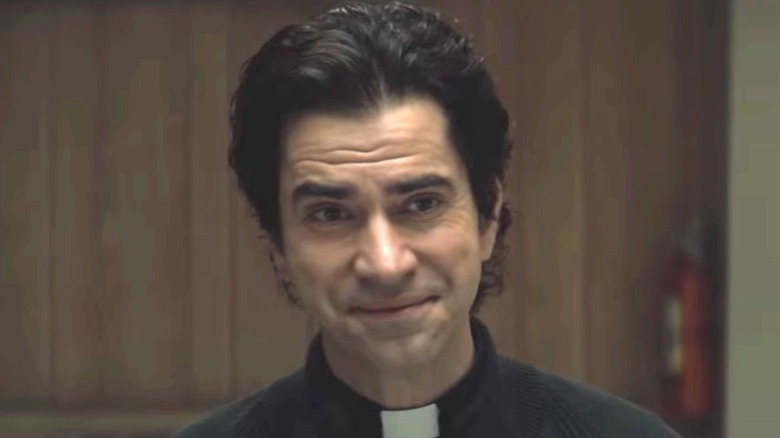 Netflix
People have been excited about "Midnight Mass," the new supernatural horror series from creator Mike Flanagan ("Doctor Sleep," "The Haunting of Hill House"), for months now, but that excitement has only been growing in the days since a creepy new trailer for the show dropped online. The upcoming series focuses on an isolated island town where existing divisions become more pronounced when a disgraced young man (Zach Gilford) and a charismatic priest named Father Paul (Hamish Linklater) arrive. The latter character's appearance also happens to coincide with the beginning of a series of unexplained events that look a lot like miracles to the town's various citizens.
The series isn't due out until September 24, but critics have already started getting access to it. With its themes of religious zealotry, "Midnight Mass" is already making big waves amongst its early viewers as well, who have now taken to openly singing its praises on Twitter. Here's what the first "Midnight Mass" reactions are saying about the upcoming Netflix series.
Critics are in love with Midnight Mass
Critics are falling head over heels for "Midnight Mass." Austin Burke wrote that it "may be the best show of the year," while reviewer Jay Thomas called it "a masterpiece of thematically biblical proportions." Prince Jackson of "Knight Light: A Horror Movie Podcast" labeled the series "astonishingly perfect," and even horror master Stephen King recently weighed in, calling the show "a dense, beautifully photographed terror tale that climbs to a high pitch of horror by the 7th and last episode."
Many, like Nate Adams, specifically praised the way Flanagan blends pure horror with various allegorical elements. Richard Newby, meanwhile, wrote that the series "wrecked and healed me. A stunning, expansive reflection on faith, addiction, death and living. I don't know how @flanaganfilm and co. did it but every single role feels authentic and perfectly captured. Not a single false note. Frightening. Illuminating. Powerful." Shannon McGrew called it "grand" before praising the show for being "beautifully macabre in the way it deals with themes of religious hysteria + addiction while still weaving in moments of pure horror."
Several reviewers took the time to praise the performances given by the show's cast members, with Mark Cassidy writing, "The entire cast is excellent, but Hamish Linklater is the standout." Buzzfeed's Nora Dominick also said, "Kate Siegel made me cry like 6 times, naturally." Elsewhere, others thought the show's story was particularly excellent, with @CriticalOverlo3 adding, "[Mike Flanagan] has crafted a great story about faith being used to manipulate and corrupt."
Based on all these reviews, it seems safe to say that the September 24 premiere of "Midnight Mass" truly can't come soon enough.