The Best Nostalgic Halloween Specials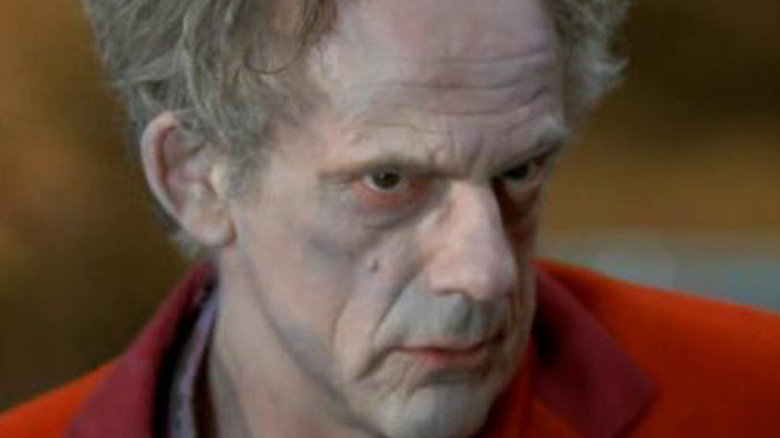 Fox Entertainment
While Christmas might dominate the airwaves on a yearly basis, the best time to watch TV is Halloween time. Mostly every major network goes out of its way to celebrate the holiday with seasonal advertisements and special promotional bumpers. Not only that, but many networks air special marathons dedicated to horror films and, of course, Halloween specials. 
It's always a blast when your favorite live action or animated series does a spooky or supernatural episode. Oftentimes, shows contain multiple Halloween episodes, with some receiving airplay to this day despite airing decades ago. Whether it be hand drawn, live action, creepy or silly, these are the Halloween specials that resonate to this day.
It's The Great Pumpkin, Charlie Brown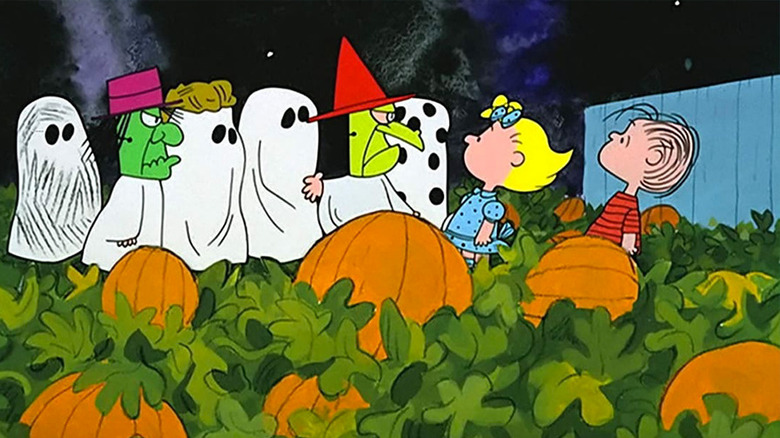 CBS Entertainment Group
If ever there was a Halloween special that everyone and their mother knows, it would definitely be this one. "It's The Great Pumpkin, Charlie Brown" has been a staple of the Halloween season since its original airing in 1966. Alongside "A Charlie Brown Christmas," it's regarded as one of the most memorable Peanuts animated specials.  
This yearly event has the Peanuts Gang getting into the spirit of the season, but the ever-eccentric Linus has his own plans. Instead of trick-or-treating and apple bobbing with the gang, he's making plans to stay up to see the Great Pumpkin. It's said that the Great Pumpkin will rise from the pumpkin patch and bring toys to the children of the world.
It may be as crude and simple as a Halloween special can get, but that's ultimately where the charm comes from. The animation is simplistic, the voice acting is undeniably stiff, but it all works towards creating a cozy atmosphere. This is what you want in the background when you are handing out candy to the last few trick-or-treaters.
Ed Edd n Eddy's Boo Haw Haw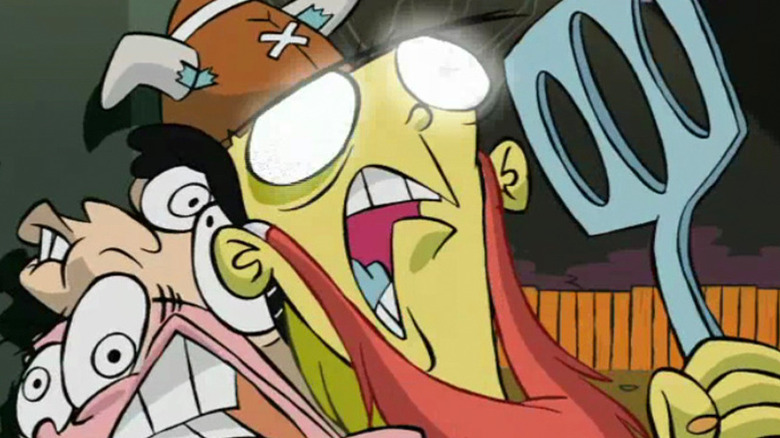 Cartoon Network
You thought "Ed, Edd n Eddy" wouldn't have a spot on this list? Don't mock the son of a shepherd! 
"Boo Haw Haw" is set on Halloween night, as the ever-boisterous Eddy devises a plan to make it the best night ever. He presents Double D and Ed with a map from his enigmatic older brother, depicting a town called Spook-e-ville. Their All Hallows' Eve, however, is hindered by Ed — who, having viewed too many horror movies, is a bit frazzled. So frazzled that he sees the rest of the Cul-De-Sac kids as an army of movie monsters!
"Boo Haw Haw" is regarded by series creator Danny Antonucci as his personal favorite episode. It definitely stands out among the series' most visually impressive installments, packed to the brim with various horror homages. From the trio's personality-appropriate costumes to the monstrous forms of the other kids, it's all a feast for the eyes. The jokes in this special are impeccable, with all the Eds getting a chance for a great line. "Ed, Edd n Eddy" already has the distinction of being Cartoon Network's longest running cartoon, airing for a solid decade. It's only fitting it would also have one of Cartoon Network's best Halloween specials.
Billy and Mandy's Jacked Up Halloween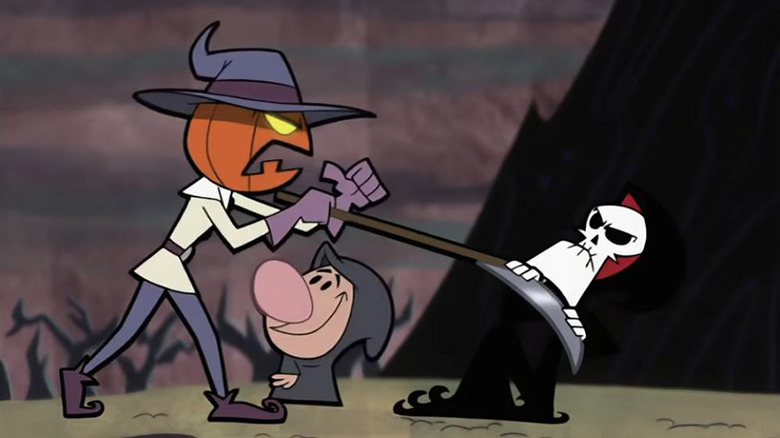 Cartoon Network
"The Grim Adventures of Billy & Mandy" is one of those shows you need to see in order to believe. The series focused on the buffoonish Billy and the cynical Mandy — along with the indentured Grim Reaper — going on various adventures. Over the course of several seasons, the series tackled everything from sickening demons to evil clowns to rubber hose animation. But one of the most memorable episodes was "Jacked Up Halloween," the series' first Halloween special.
The episode has the trio taking to the streets of Endsville for All Hallows' Eve, with Billy taking Grim's scythe for his costume. He eventually runs into the fabled Jack O'Lantern, a pumpkin-headed prankster with a vendetta against Grim. Jack tricks Billy out of the scythe, and unleashes a pumpkin army on Endsville in preparation to decapitate Grim. 
Now, it's up to the ever-cynical Mandy to save Endsville and Grim from Jack on a crazy Halloween night. The highlight of the special is Wayne Knight as Jack, bringing his impeccable comedic timing to the part. Also, the episode is just dripping in Halloween atmosphere from the opening sequence to the design of the pumpkin army. Definitely an '00s classic worth dusting off for the upcoming Halloween season.
South Park - Pink Eye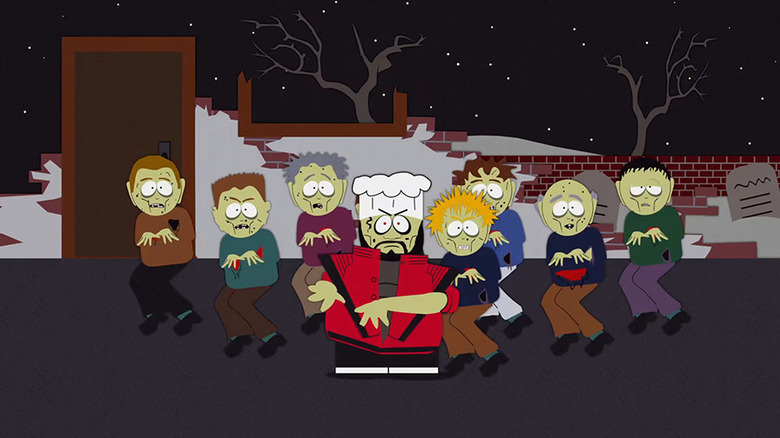 Comedy Central
Leave it to the always irreverent, shocking "South Park" to hit us with a great Halloween special in Season One.
It is Halloween in South Park and, ever the common occurrence, Kenny McCormick has died in an inexplicable fashion. Kenny is crushed by a space station, which causes his remains to be moved to the morgue. After a bottle of Worcestershire sauce makes its way into the embalming fluid, Kenny is reanimated and escapes. In his wake he spreads the zombie plague throughout the town which coincides with Stan, Kyle and Cartman's trick-or-treating.
While not as politically-charged as the more recent seasons, this early outing delivered many memorable moments. From Cartman's on-brand Adolf Hitler costume to the boys getting candy from KKK members, it was a gloriously offensive treat. Not to be forgotten is a brief "Thriller" parody, performed by the zombified Chef (the late, great Issac Hayes). 
"Pink Eye" was also one of the first "South Park" episodes to incorporate horror elements for comedic and satirical effect. The show would follow this with increasingly-crazier Halloween specials like "Hell on Earth" and "A Nightmare on FaceTime," but it is this crude little special from a crude little show that would become the most memorable.
Garfield's Halloween Adventure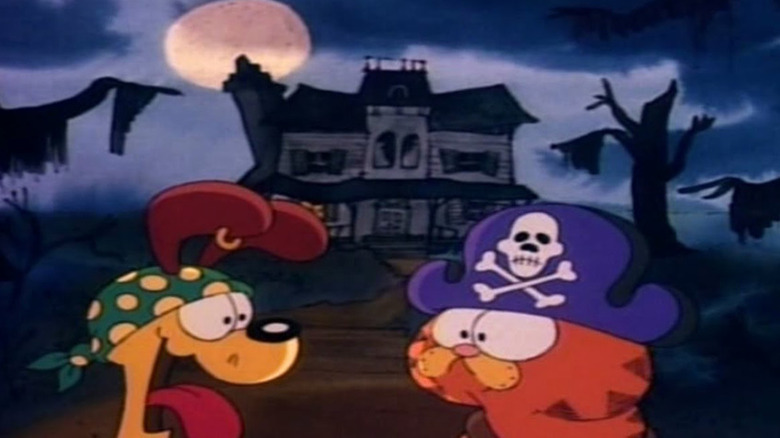 CBS Entertainment Group
It wouldn't be the spookiest time of the year without an appearance by everyone's favorite animated lasagna-loving feline, Garfield. 
In this 25-minute special (also known as "Garfield in Disguise"), it's Halloween time and Garfield couldn't be more excited to go out and pull in a mountain of sweets. Being his typically gluttonous self, however, he has hoodwinked Odie into coming along so he can selfishly double his haul. But after heading to a remote island in search of more candy, they are menaced by pirate ghosts.
This 1985 special is an absolutely wonderful slice of seasonal TV, whether you are a child or an adult, which has always been Garfield's appeal. Children can enjoy the colorful animation and songs, while adults can enjoy the dry delivery and humor of the titular character. Never to be forgotten is the legendary Lorenzo Music, who once again provides the voice for Garfield. Whenever the character is discussed, Music is the first actor to be mentioned, as he is synonymous with the role. He's in top form here, showcasing Garfield's excitement for candy and his fearful reaction to the pirates.
Wonderfully animated and voice acted, "Garfield's Halloween Adventure" is a perfect little treat for the spookiest time of the year.
The Simpsons - Every Treehouse of Horror Special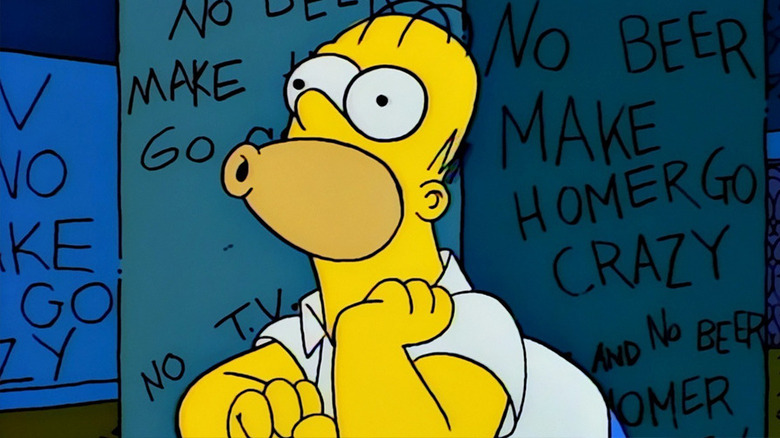 Fox Entertainment
It would be impossible to pick just one annual "Treehouse of Horror" from "The Simpsons." You could make a solid case for just about any of the 31 specials being the best one — and since they typically contain three segments, it's almost the segments you remember more than the episodes as a whole.
The initial "Treehouse of Horror" (which began in Season 2) was the show's first foray into an anthology format. They have often contained some of the series' most memorable gags, ranging from the verbal to the visual. One fan favorite would have to be "The Shinning" from the Season 6 "Treehouse of Horror V" special. While the Simpsons are serving as winter caretakers for Mr. Burns, the old miser cuts off the cable TV and beer. This causes Homer, much like Jack Nicholson in "The Shining," to go crazy and menace his family with an axe. 
Off the top of the head, that is just one vignette out of roughly 90 that stands out, but there are many other great ones to choose from. No fan of "The Simpsons" will ever say no to a "Treehouse of Horror" marathon on All Hallows' Eve.
When Good Ghouls Go Bad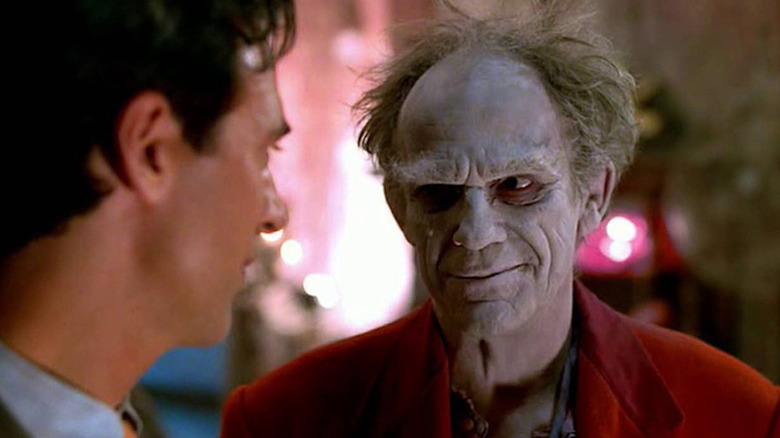 Fox Entertainment
This is one you'll need to dig up (sorry for the pun), but it is an underrated gem that deserves more attention. "When Good Ghouls Go Bad" originally aired in 2001 on the now defunct Fox Family, and it stars the legendary Christopher Lloyd.
The film gives us the Walker family — recent divorcee James, son Danny and eccentric grandfather Frank (Lloyd). The family has recently moved to the small town of Walker Falls, so James can restart his family's chocolate factory. This is not helped by the town having no need for any sweets, because they do not celebrate Halloween — the result of a supposed curse involving a dead artistic boy by the name of Curtis Danko. As Halloween approaches strange occurrences begin to pile up, culminating in a mass rise of the undead. Over the course of one crazy night the dead run amok, love is kindled, and shocking truths are revealed.
From stem to stern, this is a wonderful Halloween TV movie that revels in all of its nostalgic cheesiness. The film is shot surprisingly well for a television production, and the effects are as silly as they are endearing.
Hey Arnold - Arnold's Halloween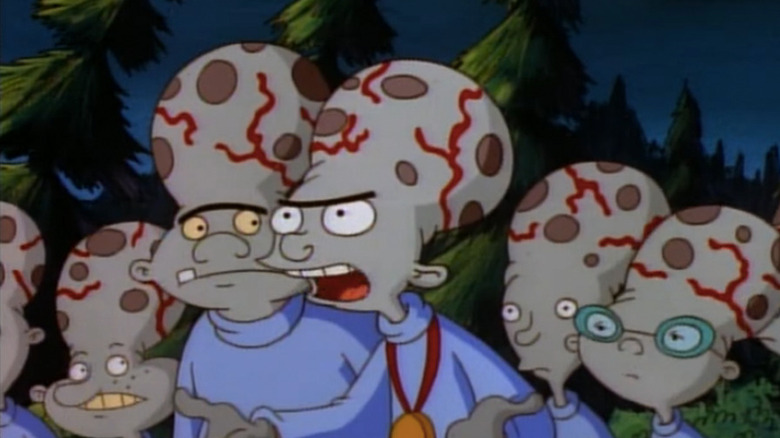 Nickelodeon
"Arnold's Halloween" is quite possibly one of the funniest episodes from the original run of "Hey Arnold". 
In the episode, it's Halloween time in Eren City, and everyone in the boarding house is getting ready for the spooky festivities. However, despite their enthusiasm, Arnold and Gerald aren't allowed to participate in the planning for the annual party. They decide to have some fun of their own by tricking the residents with a faux alien invasion radio broadcast. However, this coincides with Helga and the other kids being mistaken for legitimate alien invaders, due to their costumes. Amplifying the paranoia is alien investigator Douglas Cain, who through his coverage of the boys' broadcast panics the entire city.
The episode is, of course, loosely based on the incident surrounding Orson Welles' infamous 1938 radio production of "War of the Worlds." This episode takes the idea of the public believing the simulated events, then beefs up the cartoonish absurdity. From the broadcast itself to Helga's father leading an alien resistance force, the episode is filled with funny moments. The charm of "Hey Arnold" always came from its grounded nature, but this episode goes a bit wild, and it works.
SpongeBob Squarepants - Scaredy Pants/I Was A Teenage Gary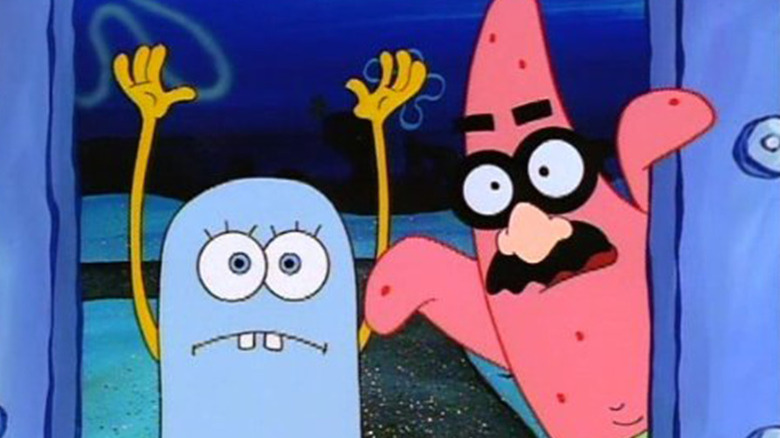 Nickelodeon
"SpongeBob Squarepants" has been dominating the airwaves since the late '90s, capturing the hearts of children and adults alike. In its very first season, it also delivered a delightful double-header of a Halloween special. Fans received a pair of eleven minute episodes, put together with both showcasing spooky tales concerning their favorite pineapple-dwelling yellow sponge.
First there's "Scaredy Pants," where SpongeBob finally looks to shed his status as Bikini Bottom's resident scaredy cat. Dressed as dreaded undersea legend the Flying Dutchman, SpongeBob looks to spook the attendees at the Krusty Krab Halloween party. Things get a bit more complicated, however, when the actual Flying Dutchman shows up to menace the party.
In "I Was A Teenage Gary," Squidward's pet-sitting negligence leads to Gary becoming ill. This results in a visit from the snail doctor, who provides a dose of snail plasma to be administered to Gary. However, SpongeBob accidentally receives the dose and slowly begins taking on snail-like qualities himself. Oh, the horror!
This results in a welcome dose of nightmare fuel, as SpongeBob slowly transforms into a snail. Either episode taken alone is absolutely delightful; together, they serve as cartoon classics and solid Halloween viewing for the whole family.
Cry Baby Lane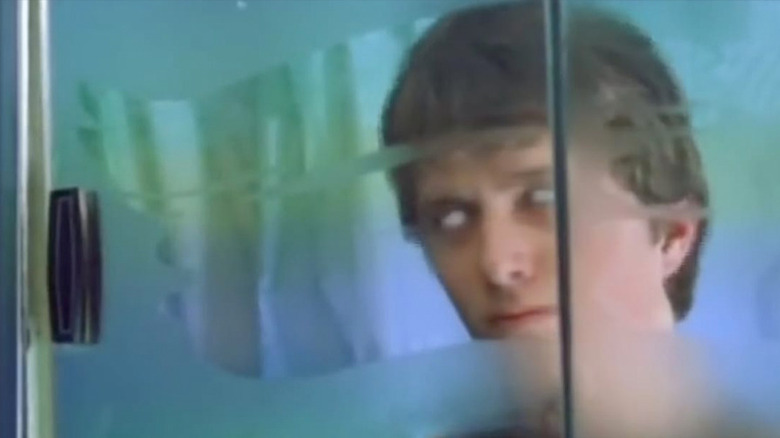 Nickelodeon
Another one that falls into the realm of the obscure, but worth hunting down, minor classics is "Cry Baby Lane," a made-for-television film that Nickelodeon premiered in October of 2000.
The film is about two brothers, Andrew and Carl, who enjoy listening to ghost stories from the local undertaker (Frank Langella). One such tale concerns a local farmer whose wife gave birth to Siamese twins — one being good, the other evil. Following their subsequent deaths, posthumous separation and burials in different locations, they exist solely as a disturbing, dubious legend. 
But as luck would have it, due to a botched séance by Carl and his friends, the evil twin's spirit is unleashed on the town. The film is a darker affair than what would typically be expected from Nickelodeon during this periods, live action or otherwise. In fact, it feels like it could be this dark subject matter that had the movie vanishing from the public consciousness — and most forms of distribution — almost immediately after its release. But in 2011 the network announced they would re-air it, insisting that "Cry" wasn't so much "banned" per se as the network simply forgot about it.
Despite its low budget aesthetic, the film is a legitimately creepy watch, helped in large part by the incomparable Frank Langella. It's a major departure from the normal made-for-television fare of the early 2000s, which is precisely why it's worth a watch.
Sabrina the Teenage Witch - Good Will Haunting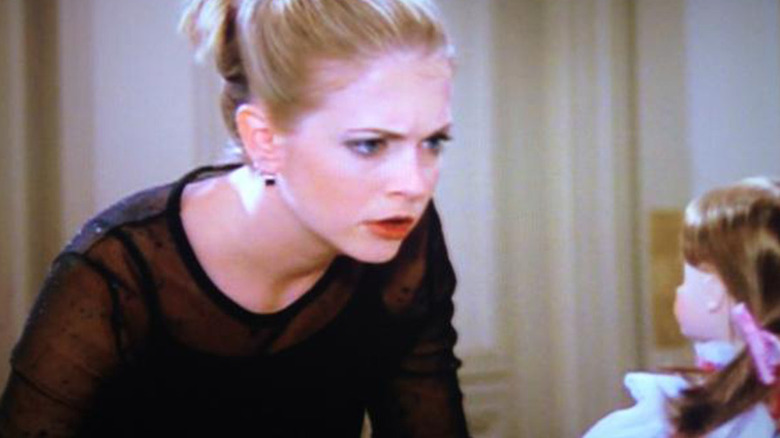 Paramount Domestic Television
"Sabrina the Teenage Witch," the quirky '90s sitcom about a burgeoning young magic-wielder, actually had several great Halloween episodes. But the best was "Good Will Haunting," which arrived as the sixth episode of Season 3.
It's All Hallows' Eve in the Spellman household and Sabrina's aunts, Hilda and Zelda, have an unfortunate commitment to uphold. After coming up with excuses for 500 years, the duo have to finally attend their Great Aunt Beulah's party. Sabrina gets to avoid such a fate, as she already has a double date commitment with Valerie, Harvey, and Justin. However, trouble begins when Aunt Beulah sends Sabrina a talking doll by the name of Molly Dolly. Molly begins tormenting her friends, and soon Sabrina is looking for a way to return her Aunt's unfortunate gift.
"Good Will Haunting" is chock-full of the show's signature humor and quirky supernatural sensibility. The standout performance in this episode might be voice veteran Tara Strong, however, as she brings her bubbly charm to the mischievous Molly Dolly. All in all, it's the kind of cheesy, memorable romp that only "Sabrina the Teenage Witch" could provide.