7 Best And 7 Worst Episodes Of Brooklyn Nine-Nine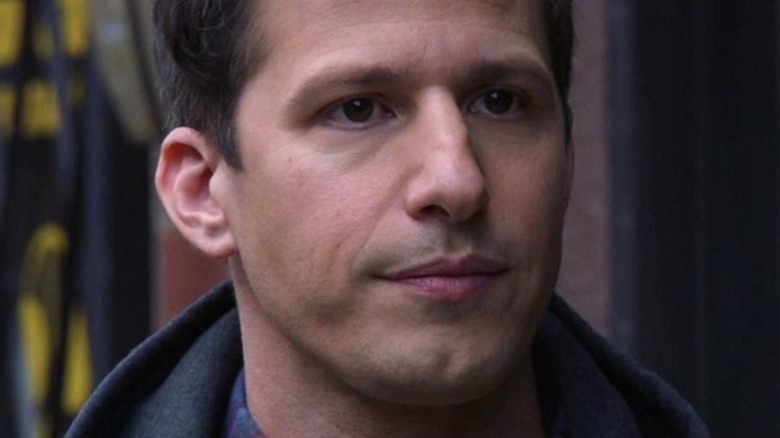 Universal Television
Television comedy has come a long way since the days of "I Love Lucy." Today, a laugh track-infused sitcom is considered old-fashioned. A new breed of comedy has stolen the limelight by combining often-farcical humor with intelligent social commentary sans any laugh track. A great example of this new style of comedy can be found in "Brooklyn Nine-Nine," created by Dan Goor and Michael Schur.
The series features Andy Samberg in the lead role as Jake Peralta, an NYPD detective in Brooklyn's 99th Precinct. A curious case of a man-child who also happens to be an amazing sleuth, Jake finds his work hampered and helped in equal measure by his wacky fellow detectives, all of whom are supervised by the highly straight-laced Captain Raymond Holt (Andre Braugher).
Ever since its first season, "Brooklyn Nine-Nine" was hailed by critics and general audiences for its sharp writing and a hilarious main cast of characters played by talented actors gleefully bouncing off each other. Over the course of eight seasons — and more than one cancellation – the series came to occupy a well-beloved niche in the comedy show landscape. Let's take a look at some of the best episodes of "Brooklyn Nine-Nine" alongside some of the worst, according to IMDb ratings. 
Best: The Box
The best episodes of "Brooklyn Nine-Nine" are loved by fans for a variety of reasons such as their emotional story beats, hilarious dialogue, or exciting action sequences. However, when it comes to crafting a perfectly-written narrative, few episodes in the history of comedy television come close to the Season 5 episode "The Box."
Philip Davidson (Sterling K. Brown) is a wealthy dentist who is under suspicion of killing his partner. It is up to Jake Peralta and Captain Holt to get the exceedingly calm and collected Davidson to confess to his crime. Jake and Holt try a number of strategies to try to break through Davidson's maddeningly tranquil demeanor — but as time starts rapidly running out the two cops find themselves turning on each other. 
"The Box" takes the form of a bottle episode, which means the vast majority of the episode takes place in a single enclosed location with the bare minimum number of cast members. Brown is absolutely magnificent as the affable suspect who keeps you guessing until the last moment as to whether or not he is actually guilty — so much so that the actor was nominated for a Primetime Emmy Award for outstanding guest actor in a comedy series.  
Worst: Four Movements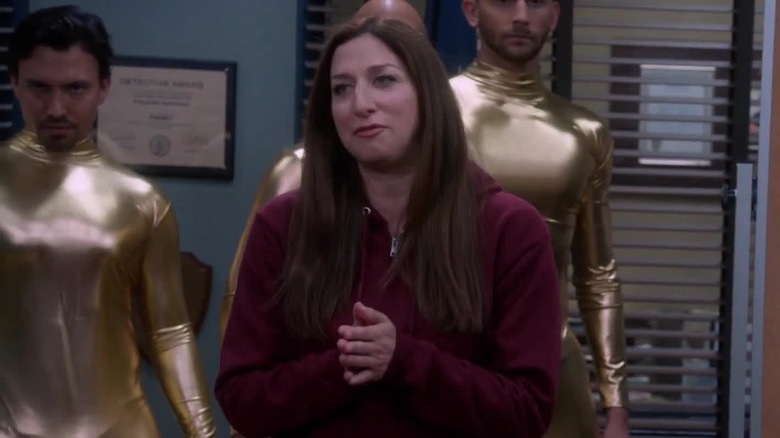 Universal Television
One of the biggest breakout characters from "Brooklyn Nine-Nine" is Gina (Chelsea Peretti), Captain Holt's assistant who does not take anything that happens at the office too seriously. Gina takes self-obsession to breathtaking new levels and views herself as the secret mastermind and puppet master of the entire precinct. 
All these qualities are on full display in the Season 6 episode "Four Movements," which also happens to be Chelsea Peretti's last episode on the show as a series regular. Gina announces out of the blue that she is leaving the precinct to pursue her dreams. Before calling it quits, Gina arranges to have a special "Gina moment" with each person in the office that she is closest with. Naturally, this involves many unexpected surprises as Gina's special moments start taking strange turns. 
Befitting an episode that is all about saying goodbye to Gina in different ways, "Four Movements" gives fans ample opportunity to witness the many quirks of Gina's character in a memorable manner. During the climax of the episode, you even get to see an unexpectedly vulnerable side to Gina. Unfortunately, the scattered nature of the plot struggles to keep to a single tone or theme, which ends up undermining the episode as a whole. "[The episode's] imperfect nature mirrors Gina's run on the show itself," Nick Harley notes for Den of Geek. "Random, funny, occasionally able to be touching, and a little extraneous."
Best: The Last Day (Part 2)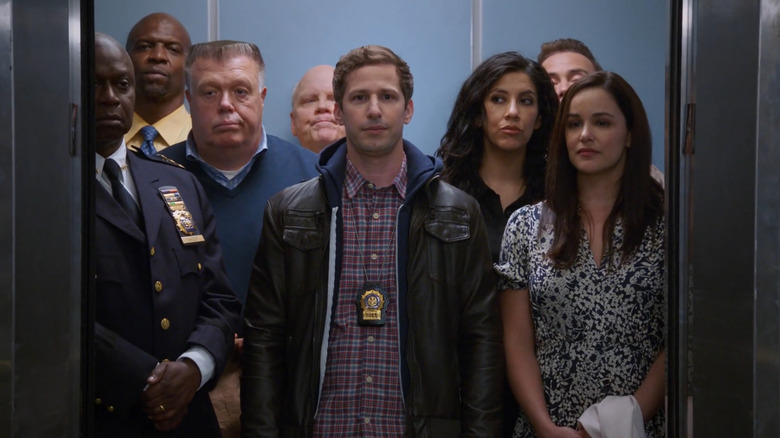 Universal Television
Despite getting strong reviews from its initial seasons and building a dedicated cult following, "Brooklyn Nine-Nine" was never a ratings juggernaut. This already resulted in the show's cancellation once after Season 5 before fan demand brought it back from the brink. After two more seasons, the studio decided that Season 8 of the show would be the last. 
To that end, fans got a two-part Season 8 finale that also doubled as a series finale. The second episode of the two-parter closely follows the events of the first one. Charles is furious that Jake plans to leave the force without telling him. Meanwhile, the heist partnership between Amy (Melissa Fumero) and Jake breaks down as she has plans of her own to celebrate his retirement. In addition, Holt is playing mind games with the rest of the squad while preparing to retire from the position of captain. 
There are some particularly inspired moments of hilarity in the grand finale, including a preposterous throwback to a "Mission: Impossible" stunt, as well as Terry Jeffords (Terry Crews) Kool-Aid Man-ing his way through a solid wall. You also get a genuinely heartfelt moment between Jake and Holt as the latter finally admits that he sees Jake as his son. Better grab some tissues for the last few scenes of the episode.
Worst: Gintars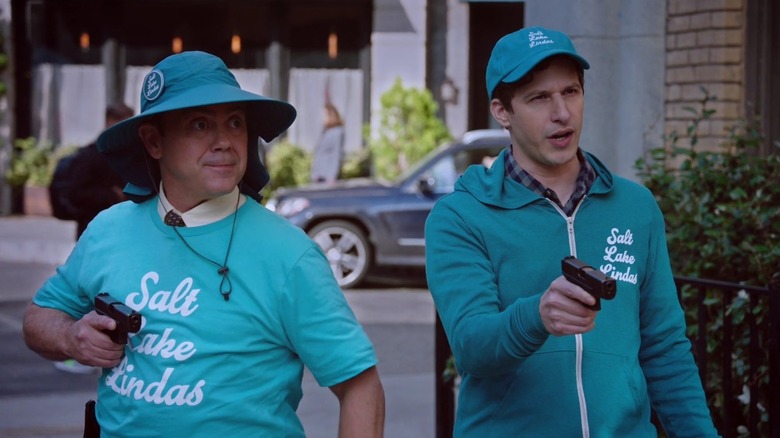 Universal Television
Jake and Charles (Joe Lo Truglio) have one of the best friendships ever seen on television, despite being very different. The unique bond between the duo was highlighted in the Season 6 episode "Gintars" while also giving a sub-plot spotlight to the awkward but wonderful dynamic between Captain Holt and Amy. 
Charles' life is turned upside down with the appearance of Gintars (Ike Barinholtz), who claims to be the birth father of Charles' adopted son. While Charles fears that he might have to let his son return with Gintars to their home country, Jake decides to do something drastic to resolve the issue. Meanwhile, Amy and Holt are beside themselves with excitement over the prospect of working with a famed forensic scientist named Dr. Yee (Reggie Lee) on a murder case.  
"Gintars" offers a refreshing take on the Jake and Charles dynamic, since this time around it is not Charles trying to interfere in Jake's personal life, but the other way around. Amy and Holt also get to show new sides to their characters as they fangirl over Dr. Yee, much to the confusion of Rosa (Stephanie Beatriz). Still, despite the compelling themes of fatherhood and celebrity worship, the way characters act in the episode often feels like you are watching strangers. "Almost everyone is out-of-character, the script sounds choppy, and the main plotline is pretty much nonsensical," writes one IMDb user. "It's like an episode from a completely different show." 
Best: HalloVeen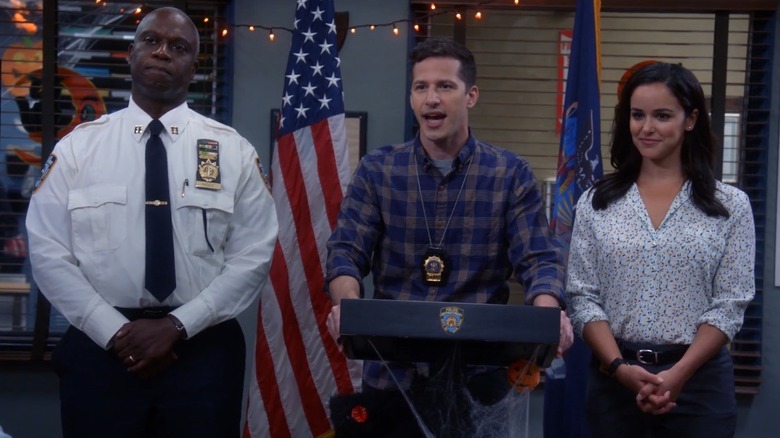 Universal Television
One of the most innovative comedy formulas that "Brooklyn Nine-Nine" introduced through its episodes was the concept of the Halloween heist. Jake starts this tradition as a way to score points over Captain Holt in a battle of wits. With each new season, the stakes are raised dramatically, as is the hilarity that ensues between warring heist teams.
Season 5's take on this recurring formula, "HalloVeen," sees the rest of the squad get in on the action as Terry, Rosa, and Boyle go head-to-head against Jake, Holt, and Amy to procure a championship cummerbund. Naturally, the antics get dialed up to 11 almost immediately when a Gina doppelganger is thrown into the mix and Holt's pet dog embarks on its own secret mission. 
What makes this particular episode of the Halloween heist particularly memorable is the sweet ending, as Amy discovers that there is more to Jake's desperate desire to get the cummerbund than meets the eye. It is also entertaining to watch the entire squad slowly devolve into shouting, paranoid lunatics as the location of the cummerbund changes at the speed of thought.  
Worst: Debbie
Several of Andy Samberg's old pals from "Saturday Night Live" have shown up on "Brooklyn Nine-Nine" in guest roles. One of the longest and most memorable guest roles was played by Vanessa Bayer, who portrays Debbie, a hapless beat cop with severe confidence issues whom Holt initially befriends during his demotion. Debbie appears briefly in several episodes but takes center stage in Season 7's "Debbie."
After receiving a pep talk from Charles about being confident and assertive, Debbie takes that advice to the extreme when she steals a bunch of drugs and guns from the police station with the intention of selling the stuff to a mobster. The squad is immediately aware of Debbie's crime, and Jake and Rosa try to get her to trust them enough to lead the squad to the stolen items as well as the mob gang looking to buy them.
Bayer is excellent in the role of the lost and confused Debbie, who tends to do things without putting too much thought into them but is not really evil. Still, the writing is not this episode's strong point, and the climax feels a bit rushed, with most of the main characters not having a whole lot to do in favor of giving Debbie more screen time before dispatching the character abruptly. "Expectations were high for this episode and 'Debbie' never manages to quite reach them," Beau North wrote for The Spool, adding that "there are a lot of missed opportunities here."
Best: The Last Day (Part 1)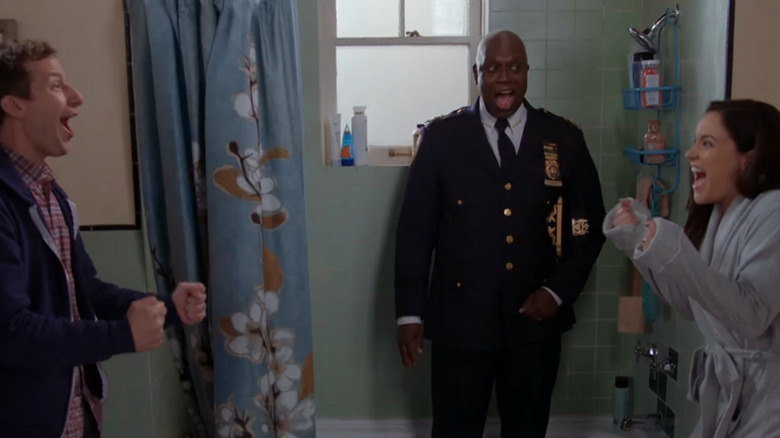 Universal Television
We return to the series finale of "Brooklyn Nine-Nine," this time to talk about the first half of the two-part episode. While the episode serves to set up the main events of the next episode, it still offers plenty of hilarious and heartfelt moments in its own right as the series prepares to wind down after eight seasons. 
After Amy gives birth to their child, Jake decides that the best option for him is to quit his job and become a stay-at-home dad. To announce his withdrawal from the force, Jake organizes one last elaborate Halloween heist for his friends at the precinct. However, little do Jake and Amy know that several other officers have surprise announcements hiding up their own sleeves as well. The episode takes advantage of the heist conceit of the main storyline to provide fans with a special highlights reel of the show's favorite moments and characters. 
Fans also get to celebrate the special bond shared between the main characters of "Brooklyn Nine-Nine," including a surprisingly poignant end where Charles discovers Jake is planning to leave the force without telling him. "The final season of 'Brooklyn Nine-Nine' was rocky," Brian Tallerico wrote for Vulture. "But it was worth the show coming back to say good-bye for this episode alone, a reminder of how funny and quick this comedy was at its best."
Worst: He Said, She Said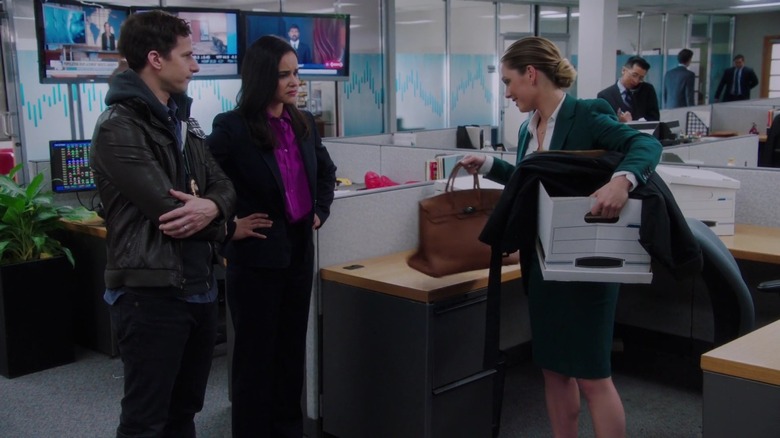 Universal Television
"Brooklyn Nine-Nine" is one of those rare shows that can deal out the zaniest comedy while grappling with the most serious real-life issues in the same episode. One of the best examples of this can be seen in the Season 6 episode "He Said, She Said," which deals with the issue of workplace harassment as seen through Jake and Amy's eyes. 
The episode starts with Jake being assigned a case where a businessman has suffered a genital injury at the workplace. The woman accused of causing the injury, in turn, has accused the man of harassment and claims she acted in self-defense. As Amy joins Jake in the investigation, it begins to have a personal impact on both of them as they try to grapple with the more significant societal issues triggered by the case.
While still offering plenty of comedy, this episode goes to some of the grimmest places in the history of "Brooklyn Nine-Nine." "It's a dark episode," Liz Shannon Miller notes for IndieWire. "One which may invoke a lot of feelings in the women who watch, who recognize their experiences on screen." Unfortunately, the bluntness with which the episode deals with its uncomfortable subject matter also appears to have turned some viewers off, as many of the user reviews on IMDb rate "He said, She said" negatively for inserting political moralizing into a comedy show.
Best: Jake & Amy
Despite starting out as an ensemble comedy, "Brooklyn Nine-Nine" always placed Jake at the center of the narrative. However, once Jake starts dating Amy, the focus shifts to them as a couple, becoming the Ross and Rachel of the squad — just with fewer breakups. One of the best episodes to explore his dynamic is "Jake & Amy" from Season 5.
After years of dating, Jake and Amy are finally preparing to tie the knot. Naturally, the day is not allowed to go smoothly. A bomb threat is called in at the wedding venue, and while everyone evacuates to safety, Amy's ex-boyfriend Teddy (Kyle Bornheimer) comes in as a member of the bomb-disposal squad. Now Jake and Amy must deal with Teddy while also solving the case of the bomb threat and waiting to see if Holt has been made commissioner. Oh, and also getting married — if they can find the time. 
The episode is a great example of the squad operating not just as a professional team but as a work family where everyone genuinely cares about each other. You get a lot of laughs and sweet moments topped off with Jake and Amy shippers finally getting to see their favorite couple walking down the aisle together. "The ceremony itself is beautifully simple and well suited to the characters," Kate Kulzick writes for Consequence. "And with a sixth season assured, a relaxing note on which to end the season."
Worst: The Set Up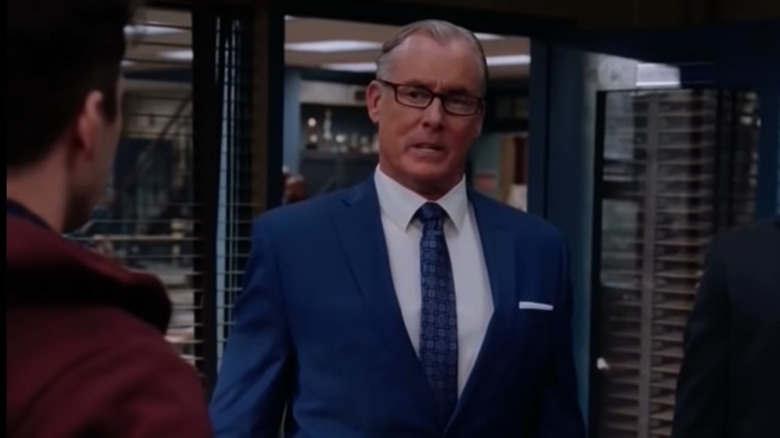 Universal Television
"Brooklyn Nine-Nine" found itself at a crossroads by the time Season 8 rolled out. The world had changed significantly due to the pandemic and real-life incidents led to audiences looking closer at fictional depictions of police officers, especially in the NYPD. This distrust of the police is addressed often in Season 8 including Episode 6, "The Set Up."
After a night of vigilante police work, Jake finds himself in hot water when he catches a man who appears to be a criminal but is later revealed to be innocent. Threatened with serious legal action, Jake finds an unlikely ally in recurring villain O'Sullivan (John C. McGinley). Now Jake must decide whether he should take O'Sullivan's help to get out of trouble or stand by his principles and deal with his mistake head-on.
The episode does a good job of showing how much Jake has matured over the years while also proving once again that beneath his flippant exterior beats the heart of a good cop and human being. Unfortunately, the show's attempt at tackling the problem of corruption in the police force was not appreciated by some viewers, leading to the episode's low score on IMDb and a slew of negative reviews.
Best: Lights Out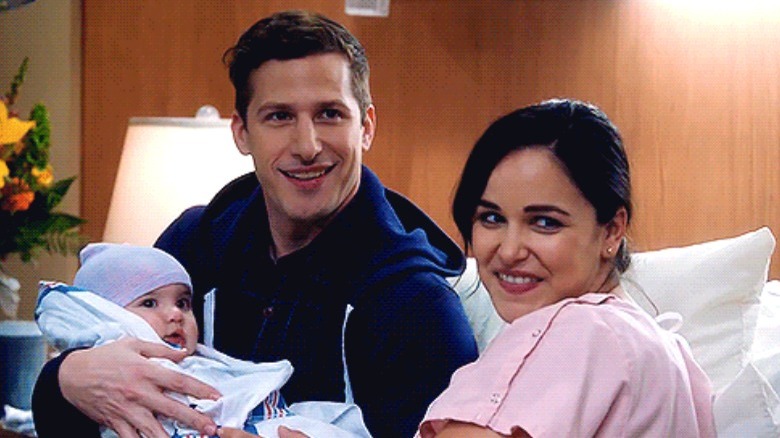 Universal Television
By Season 7, "Brooklyn Nine-Nine" had started to rotate along familiar grooves for many of its main characters. The only ones that seemed to be moving forward in a significant manner were Jake and Amy, who had gone from rival co-workers to awkward daters, then to husband and wife, before Amy finally gets pregnant after an extended period of trying.
In "Lights Out," Jake and Amy are planning to leave for the hospital as her due date approaches. However, the city throws a spanner in the works when a massive blackout occurs. Jake is left literally out in the cold, racing to get back to the police headquarters while Amy goes into labor in the middle of directing search and rescue operations. 
Once again, the show does a good job of adding a ticking time bomb to an emotional situation, as Jake and Amy are desperate to be reunited while their friends rally around them to help ease the birthing process. Holt and Terry, in particular, come up with a groovy method of helping distract Amy from her labor pains, while the normally stoic Rosa finds herself panicking over the prospect of Amy giving birth at the station. 
Worst: Return of the King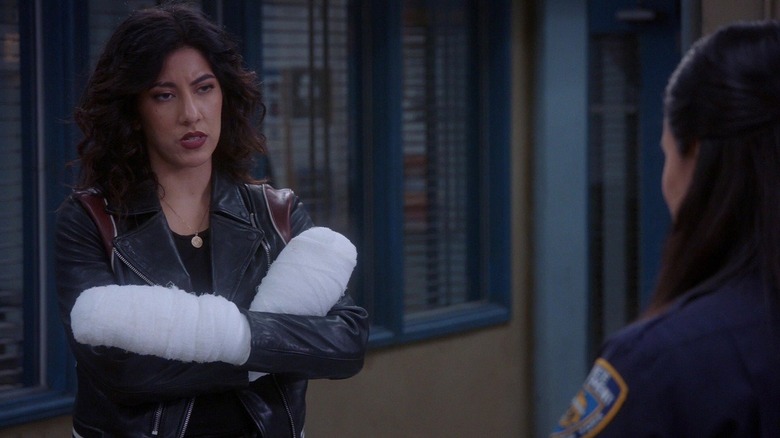 Universal Television
One of the strengths of "Brooklyn Nine-Nine" lies in its ability to juggle multiple storylines that appear completely distinct from each other, only to bring everything together for hilarious overlaps across the episode. An excellent example of this can be seen in Season 6's "Return of the King."
After exiting the show's main cast earlier in the season, Gina Linetti makes a guest appearance. Things have worked out well for Gina — mostly. She has a large online following but is facing a threat of assassination that needs to be checked out by Jake and Terry. Meanwhile, Holt suspects Boyle's young son might secretly be a genius. Finally, Rosa has bandages on both hands but stubbornly refuses any sort of help to live her regular life. 
As YouTuber Nerdstalgic points out in a video essay, the episode does a poor job of bringing Chelsea Peretti's character back for another last hurrah. The version of Gina who shows up in the episode seems to be a confusingly different character from before, as she is openly hostile to Jake and Terry while ignoring everyone else. As LaToya Ferguson notes for The A.V. Club, "the focus on Gina completely blowing everyone off, just to then have her only acknowledge two of these other characters, doesn't sit well."
Best: Johnny and Dora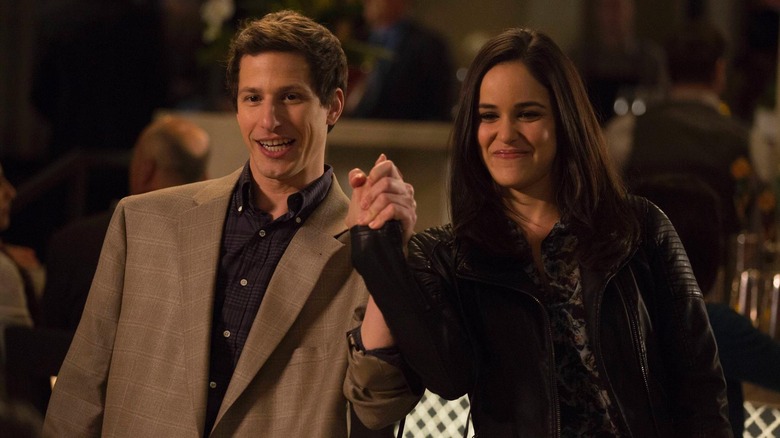 Universal Television
The early seasons of "Brooklyn Nine-Nine" saw the show still trying to find its feet and deciding how hard it wanted to lean into its particular brand of comedy while still telling compelling stories about police work. The Season 2 episode "Johnny and Dora" does a good job of balancing the two elements while also throwing in some nice romantic moments for Jake and Amy fans. 
There is a new identity thief on the block, and the squad needs a plan to lure the person out into the open. It falls to Jake and Amy to pretend to be an engaged couple to bait the thief, even though things are awkward between the two detectives because Jake has already told Amy he has romantic feelings toward her. As the operation begins requiring more and more intimacy between the two, their feelings for each other threaten to spill over and ruin the mission. 
A subplot also involves a tense battle of wits between Holt and his arch-nemesis, Madeline Wuntch (Kyra Sedgwick). The episode is heavier on emotions than usual and ends the season on somewhat of a downer note, but it still manages to make the characters shine thanks to the palpable chemistry among the main cast.
Worst: The Good Ones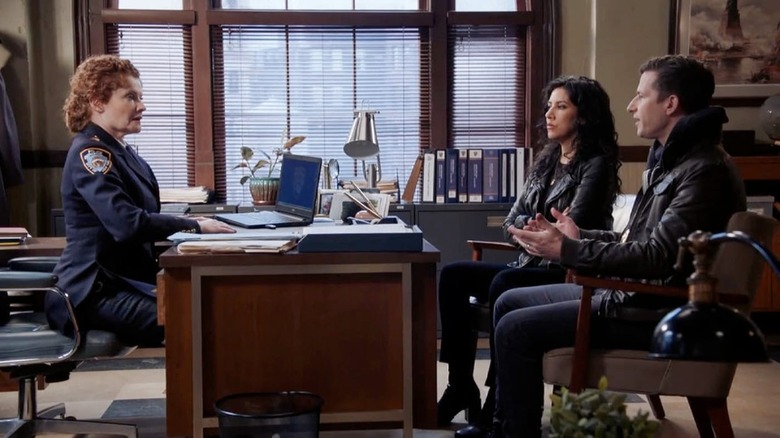 Universal Television
Going into its final season after an extended delay due to the 2020 lockdowns, "Brooklyn Nine-Nine" was juggling many responsibilities. Not only was the show trying to bring the usual dose of humor while taking its main characters on significant character arcs, but the creators also felt a need to address the real-life issues that were brought on by the death of George Floyd. This ended up leading to the first four episodes of the season getting dropped altogether (via The Wrap).
The series takes a big swing for the fences by addressing the issue head-on with its Season 8 premiere, "The Good Ones." In the face of the turmoil gripping the country, Rosa announces that she is quitting the police force and becoming an independent investigator. Jake convinces Rosa to go on one last crime-solving jaunt with him so he can prove their squad is the good guys and she should stay with the Nine-Nine. There is also a subplot about Amy being afraid that she can no longer connect with her mentor, Captain Holt. 
Once again, the show's attempts to tackle serious real-world issues head-on end up alienating some viewers in the process, as shown by the episode's IMDb review page. There, you see a lot of dissatisfaction with the way the plot of "The Good Ones" unfolds. "There was no subtlety in this episode," writes one user. "This isn't necessarily an issue but the execution is so poor."