The Scandal On American Pickers You Didn't Know About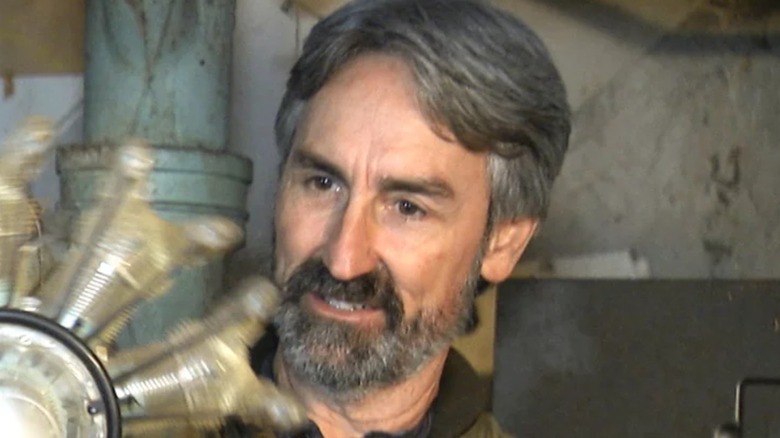 History Channel
For over 10 years, television viewers have been captivated by the wacky and crazy finds made on the History Channel's hit reality show "American Pickers." Countless items have been discovered since Mike Wolfe, Frank Fritz, and Danielle Colby first made their TV debuts in 2010, and they continue to unearth long-lost family artifacts and heirlooms to this very day. Sometimes they have to delve deep into a stranger's garage to find some hidden treasure, but whether they locate old vehicles or antique weaponry, they always tend to find something worth a pretty penny. They're masters of sorting through various memorabilia, but they're not the only ones who enjoy digging up the past.
Viewers have done the research and discovered a number of scandals and secrets, including how many of the items being "found" are actually predetermined and set up by producers. Then there is the controversial firing of Fritz and his reported feud with Wolfe, who is still on the show for its 22nd season. "We were never friends in grade school," Fritz told The Sun in a statement last month. "I don't believe in 10 years he's said five nice things to me, you know? Unless he was cutting somebody else down and we were both laughing." Some fans have even publicly stated that they'll stop watching new episodes until Fritz returns.
It seems like a lot of drama for a show that's essentially about antiquing. But there's one proverbial black eye on the show that many fans might not know about, one which could have potentially landed a cast member behind bars.
How Danielle Colby got into hot water with the IRS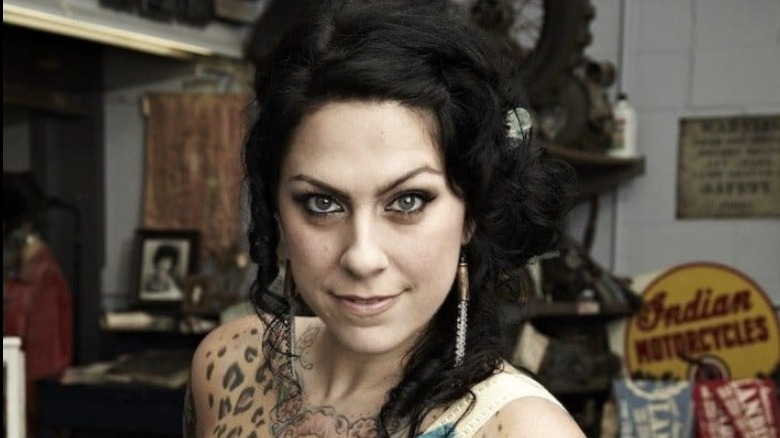 History Channel
Mike Wolfe and Frank Fritz may be the ones who typically jump into the van to rummage through people's stuff, but they're only two-thirds of the "American Pickers" equation. They also owe a massive debt to Danielle Colby, who tends to stick around the group's shop to sell all of the wares they come across.
Anyone who watches "American Pickers" knows that Danielle Colby isn't a person who cares too much about what others think. She's practically covered in head to toe with tattooed and even once worked as a burlesque dancer. She marches to the beat of her own drum, and that's why fans adore her. However, if there's one group of people you don't want to upset, it's the IRS.
In 2013, Colby reportedly received a notice from the IRS saying she owed nearly $6,000 in taxes, per Radar Online. It's unclear if she has paid any of this money off, but if not, the sum has surely grown to an even larger figure. What's strange is how Colby is said to be worth $1.5 million thanks to her earnings from "American Pickers." The back taxes are reportedly related to the reality star's burlesque boutique, dubbed "4 Miles 2 Memphis," which has received at least four notices from the feds. Documents obtained by Radar allegedly show that Colby never filed any returns. In June 2014, she was slapped with a notice of a lien for $5,936 in estimated retail taxes for sales that were made in December 2013.
Danielle Colby should stick around American Pickers for some time to come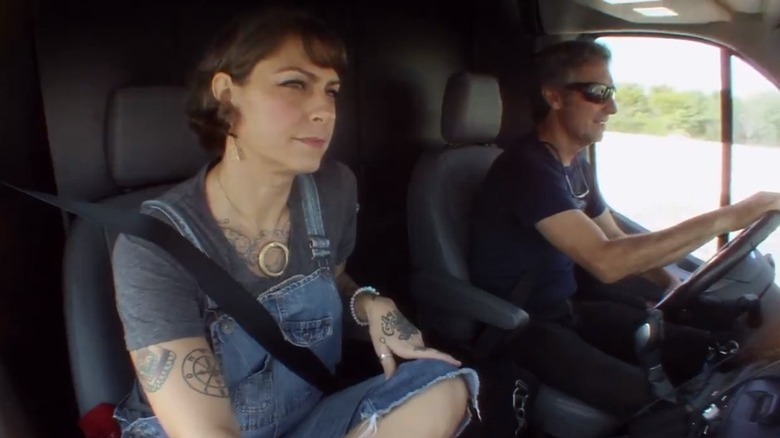 History
There's currently no documentation online proving Colby paid her taxes, but judging from the fact she's not in federal prison right now, it's a safe bet she paid them. However, the scandal is enough perhaps to make some fans worry about Colby's future on "American Pickers," especially in light of Frank Fritz's departure. 
Fortunately, viewers probably won't have to say another goodbye any time soon. Colby is still on "American Pickers" and seems to enjoy continuing to work with her co-star, Mike Wolfe. In fact, she posted a photo of the two of them together on Instagram on August 2, 2021, where she spoke highly of his character.
She wrote, "Thank you for the last decade of advocacy towards myself and others on set. @mikewolfeamericanpicker I'm proud of how you have handled the last 12 years and look forward to many more years of rolling around this big blue marble together." She proceeds to address the Frank Fritz situation but doesn't offer much in terms of details. She just sends positive vibes toward her former co-star. 
She's been thorough with letting the world know that she and Mike Wolfe are still on good terms. Shortly after the August 2 post, she uploaded another photo of them together on Instagram, captioning, "I love getting to spend time with @mikewolfeamericanpicker." It definitely seems like she's on Wolfe's good side; if she could play nice with the IRS, she'd be all set.