Steve From Blues Clues Finally Explains His Sudden Disappearance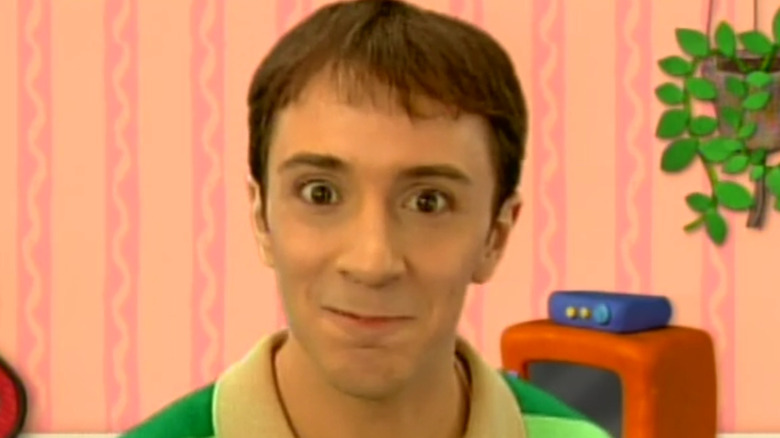 Nickelodeon
Creators Angela Santomero, Todd Kessler, and Traci Paige Johnson changed the kid's television game when they unveiled "Blue's Clues" to the world in early September of 1996. Not only was it a ratings juggernaut that stuck around for six seasons and earned a reboot in 2019, titled "Blue's Clues & You!," but it proved revolutionary in the field of children's programming. It went above and beyond to find new ways of engaging with its young audience while simultaneously teaching them about the world around them, sprinkling in a bit of fun to keep things interesting courtesy of its now-iconic hosts.
Aside from the titular canine who acts as the mascot of the Nickelodeon series, every "Blue's Clues" installment includes a human at her side. The first and arguably most recognizable of the bunch was Steve Burns, or as he was referred to on the show, simply Steve. From Season 1 to Season 4, he joined viewers on thrilling adventures, opened up exciting pieces of mail, and even sang a song or two. In doing so, he made it clear through that small screen that he was your friend, which made it all the more heartbreaking when he suddenly had to say goodbye in 2002. 
It's been nearly 20 years since Steve departed "Blue's Clues," and in that time, speculation has run rampant over his sudden disappearance. Thankfully, the man himself has come forward to finally set the record straight on why Steve had to leave.
It was time for Steve to move on to the next chapter of his life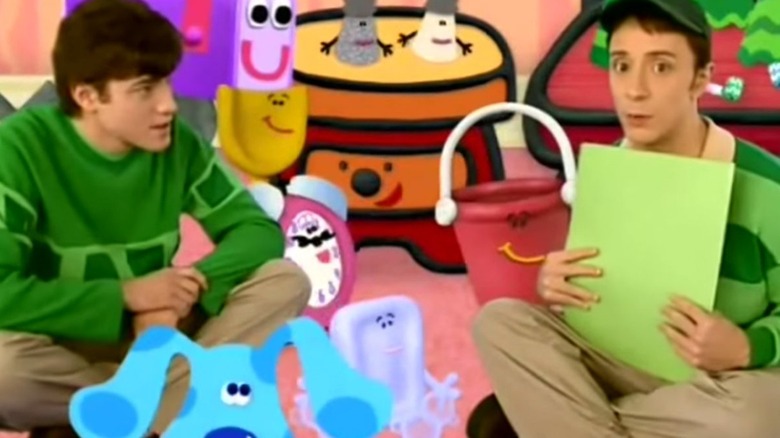 Nickelodeon
To celebrate the 25th anniversary of "Blue's Clues," the Steve character stopped by the Nick Jr. Facebook page to explain his farewell in 2002. As we saw in the Season 4 finale, he introduced the world to his brother, Joe (Donovan Patton), gave a heartfelt parting message, and got on the bus to college. For those who watched it as it aired, it likely remains one of the most emotionally impactful episodes of TV you ever watched, but as Steve explains, his exit was entirely necessary.
"I realize that was kind of abrupt," Steve admits directly to the audience, recalling that his choice to go to college and his subsequent studies were far from easy. Although, his life changes allowed him to use the lessons he learned with Blue and the gang to achieve his dreams, just as those who grew up with "Blue's Clues" have. "Look at all you have done and all you have accomplished in all that time," reminiscing that the viewer base has gone from finding clues to powering through student loans and starting families of their own. 
"I really couldn't have done all of that without your help," he adds, citing his experiences all those years ago with the "Blue's Clues" fans as just as helpful today as they were back then. In quite the emotional gut-punch, both Steve and, to some extent, the real Steve Burns, conclude by saying, "I just wanted to say that after all these years, I never forgot you...ever. And I'm super glad we're still friends. Thanks for listening."
As we now know, these reasons are far from the truth of why Steve Burns left "Blue's Clues," but when it comes to his in-universe alter-ego, he couldn't have come up with a more reasonable and wholesome rationale. We never forgot you either, Steve, and we're grateful to have a friend like you.