Why Steve Burns Was Never The Same After Leaving Blues Clues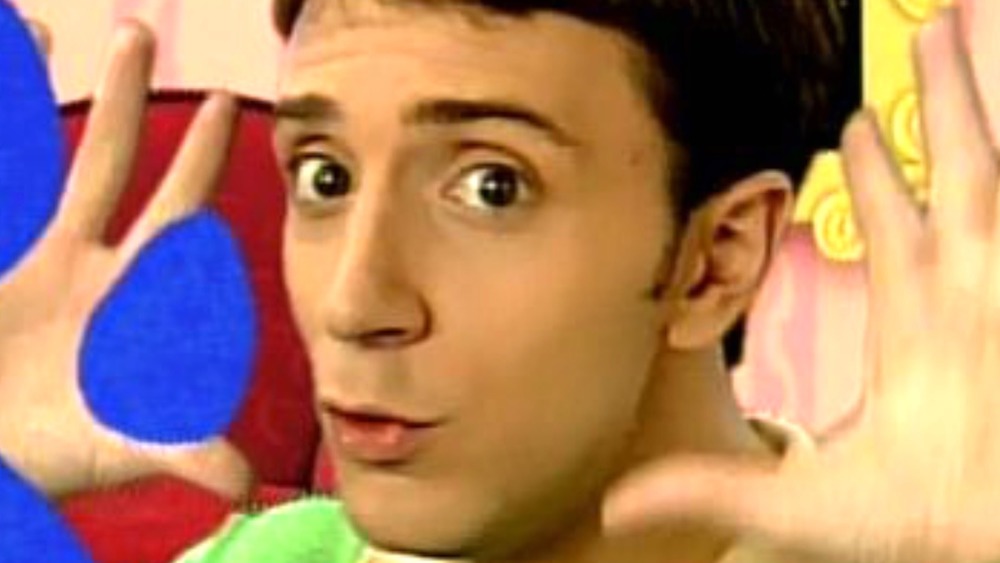 Nickelodeon
Unsurprisingly, as we get older, we tend to forget many of the TV shows of our youth. Once we move on to the likes of The Sopranos or Family Guy, our memories of Teletubbies and The Wiggles naturally fade. However, there are a scant few that stick with us into adulthood, and we never forget about the basic concepts they cued us into and the fun we had with them. For instance, to those who grew up in the late 1990s and early 2000s, there are few more memorable names than Blue's Clues.
Created by Traci Paige Johnson, Angela Santomero, and Todd Kessler, Blue's Clues debuted on Nick Jr. (Nickelodeon's old preschool programming block) in September of 1996, becoming a hit with kids and parents alike. The series stars the titular dog, Blue (voiced by Johnson), who takes the audience on colorful adventures throughout her fictional world. She presents them with puzzles that test their memory, decision-making, and critical-thinking skills while still having fun alongside her friends Magenta the dog (Koyalee Chanda), Mailbox (Michael Rubin), and more.
Of course, any Blue's Clues discussion is incomplete without mentioning Steve Burns, known on the program as just "Steve". For years, Steve was the only live human to appear on-screen, helping the audience along by communicating with them directly, unlike Blue. When he eventually left the show — handing over the reins to Donovan Patton's Joe — it broke the hearts of children everywhere who had made their time with him a daily ritual, and, as it turns out, Burns' Blue's Clues tenure left a lasting impression on him as well.
Blue's Clues changed Steve Burns' outlook on his career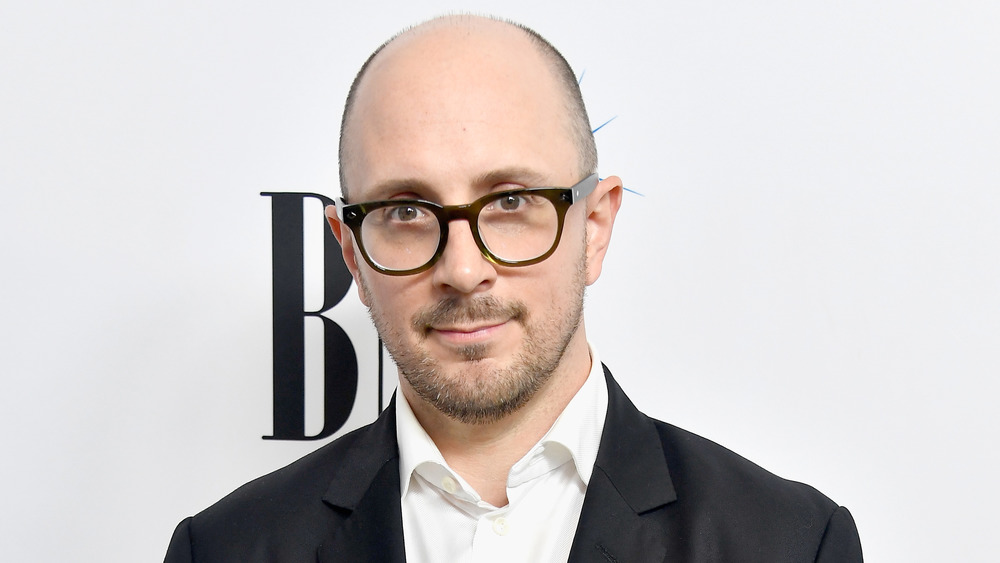 Frazer Harrison/Getty Images
Following his 1995 audition, Steve Burns became the runaway favorite with test audiences, Blue's Clues' showrunners, and eventually viewers worldwide. This may sound like a positive for the up-and-coming actor, but at the time, it put quite a bit of weight on his shoulders. "I'm really worried. Am I the right guy for this job? I took it really, really seriously," he said during a 2011 live performance for The Moth YouTube channel, recalling his thought process at the time. "I was seriously thinking, 'I'm having an identity crisis, and maybe I shouldn't do this.'"
Nevertheless, he ignored the mounting anxiety and remained a constant presence on Blue's Clues until 2002. His fame and popularity only grew in that time, but it didn't prevent his inevitable departure. Burns told The Huffington Post his reasons for leaving in 2016, and it's plain to see where he was coming from. "I was pretty much playing a boyish, older-brotherish kind of character on the show. I was getting older; I was losing my hair[...]the people who created it were all moving on to other careers. It just felt like time."
With Blue's Clues in the rearview mirror, Burns tried out music and other acting gigs, but he could never quite escape his small-screen roots. Although, what began as a source of worry for Burns had grown into something more comforting once he stopped and put it into perspective. In an interview with MTV News, he revealed that even though he hopes to use his talents elsewhere, being remembered as Steve from Blue's Clues is an honor for him. "I hope I'll be remembered for that show for the rest of my life. That will always be a part of my identity, and I'm totally cool with that."
Though it wasn't the big break he'd hoped for, Steve Burns' Blue's Clues experience put his name in the TV history books all the same. The fact that he looks back on that part of his life with fondness rather than regret makes it all the more special.
Steve Burns hasn't forgotten about us, either
It's been a rough couple of years for many people. With a pandemic and ongoing political strife, it's easy to reminisce about the days where all you had to worry about was helping Steve on "Blue's Clues" find his keys. That's why in September 2021, it was the perfect time for Burns to re-emerge to the world and let us all know it's going to be all right. 
Steve Burns uploaded a video explaining his decision to leave for "college." He discusses why it was important to move onto the next chapter of his life while recognizing how a lot of "Blue's Clues" fans may have been upset by his departure. He was more than just a television character for kids watching. He was a friend, and it's always sad to say goodbye to a friend. Burns discusses that while mentioning how he never forgot about all of the viewers that helped him search for clues all those years ago.
It made for a touching reunion and the perfect reminder that everything Steve and Blue taught us can still help us in our everyday lives today. After all, we're willing to bet there are still plenty of adults out there who sing the "Mail Song" any time they go to their own mailbox.