Zoe Saldana Wants To Be In Dune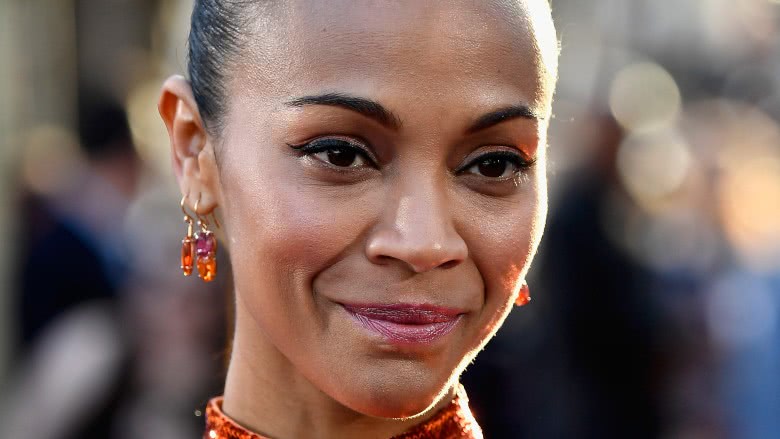 Getty Images
Zoe Saldana is the current queen of sci-fi, appearing in the Avatar, Star Trek, and Guardians of the Galaxy franchises. However, the actress isn't done yet. She has one more big sci-fi property in her sights: Dune.
Arrival director Denis Villeneuve is set to helm an upcoming reboot for Legendary Pictures based on a script from Forrest Gump's Eric Roth. The sci-fi property, based on the popular Frank Herbert novel of the same name, was first made into a movie in 1984, with Twin Peaks' David Lynch at the helm. However, the film was a critical and box office failure, and future attempts to make another movie about the project were stalled due to various production issues. There was a well-received 2000 miniseries that aired on Syfy (then Sci Fi), as well as a follow-up based on the second and third novels in Herbert's series, Dune Messiah and Children of Dune.
Despite the novel's fraught history on screen, many are excited to see the team of Villeneuve and Roth take it on, and it looks like Saldana is no exception. In a recent interview promoting Guardians of the Galaxy Vol. 2, Saldana was asked which sci-fi franchise she would join if she had the choice.
"I was Lady Jessica, and when I wasn't, I was a ninja," she said, after revealing her pick was Dune (via Screen Rant). "I've heard that Denis Villeneuve is thinking... he's revisiting, and I hope he decides to do it because I'm one of those people that, I think David Lynch did a great job, but I was six when I saw Dune."
This isn't the first time Saldana has spoke of her love of Dune, either. She previously told Vulture that she reread Dune while shooting Colombiana, but had to put it down because she was bringing too much of Lady Jessica into her vengeful character. She also revealed to The Daily Mail that she dressed up as Lady Jessica for Halloween when she was 13.
Saldana is a huge name, and if she wants to be in Dune, she can probably make it happen. However, the actress is pretty booked for the foreseeable future, with four Avatar sequels beginning filming this summer, plus the two Avengers movies and the upcoming Guardians of the Galaxy Vol. 3.
Still, considering Dune production still appears to be in the early stages, we hope that her schedule is clear enough by the time the movie goes into filming for the actress to nab a part in yet another legendary sci-fi property. For now, though, prep for the film by reading the untold truth of the novel.