Chadwick Boseman Finishes Filming Black Panther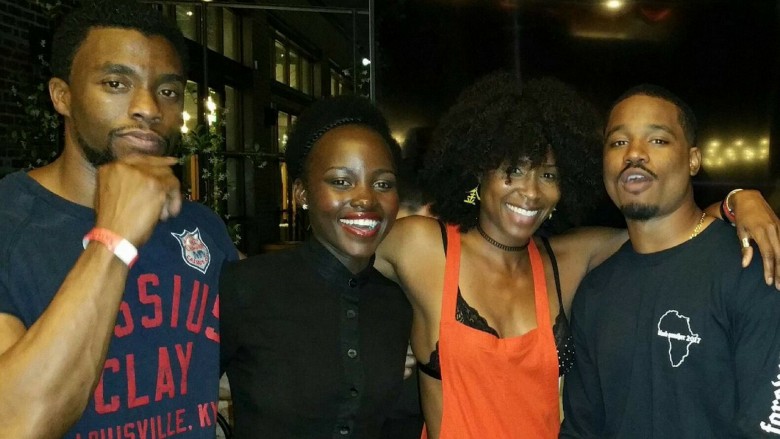 Sounds like principal photography for Black Panther is complete.
Star Chadwick Boseman posted a photo on his Twitter that shows him standing alongside co-star Lupita N'yongo, director Ryan Coogler, and actress Sydelle Noel, with the caption: "We did it, We did it. #WakandaForever #BlackPanther."
Filming for the movie took place in Atlanta and South Korea. Boseman will reprise his Captain America: Civil War role as T'Challa, while Nyong'o plays Nakia, a member of T'Challah's personal guard. Michael B. Jordan plays villain Erik Killmonger, while Martin Freeman and Andy Serkis reprise their roles as Everett Ross and Ulysses Klaude, respectively. Forest Whitaker, Angela Bassett, Danai Gurira, Sterling K. Brown, and Daniel Kaluuya also star. Noel isn't currently listed as a part of the cast for the film, although her presence at the wrap could indicate a mystery role for the rising star.
Here is the full synopsis for the movie: Black Panther follows T'Challa who, after the events of Captain America: Civil War, returns home to the isolated, technologically advanced African nation of Wakanda to take his place as king. However, when an old enemy reappears on the radar, T'Challa's mettle as king and Black Panther is tested when he is drawn into a conflict that puts the entire fate of Wakanda and the world at risk."
Marvel debuted gritty footage during a recent event for reporters, teasing an intense and action-heavy adventure that one of the film's stars has called Game of Thrones meets Marvel.
The film is due out on Feb. 16, 2018, but you can prepare by reading up on Black Panther's dark history.