Why Paula From Impeachment: American Crime Story Looks So Familiar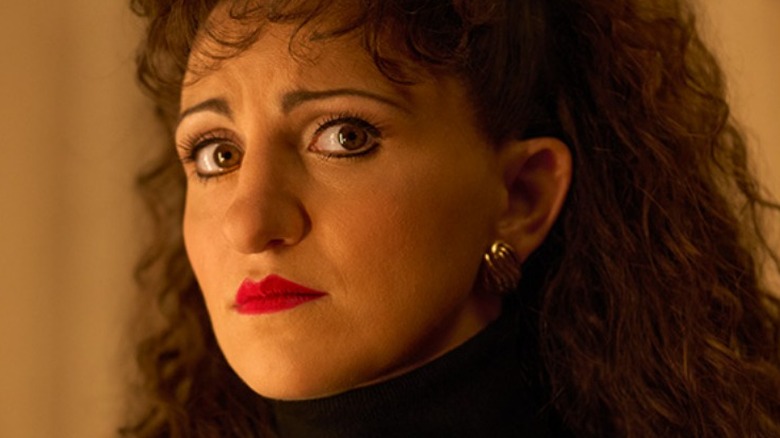 FX
Season 3 of Ryan Murphy's newest vehicle for social commentary and reflection, "Impeachment: American Crime Story," is set to premiere on FX on September 7th, 2021. The season will investigate the Bill Clinton impeachment story with an emphasis on the women most affected by and integral to the scandal. The show will star "American Horror Story" heavyweight Sarah Paulson as Linda Tripp, Beanie Feldstein as Monica Lewinsky (who acted as a producer on the show), Clive Owen as Bill Clinton, Edie Falco as Hillary Clinton, and Dan Bakkedahl as Kenneth Starr. 
Equally important to the narrative of the 1998 mega-scandal is civil servant and sexual harassment plaintiff Paula Jones, portrayed in Murphy's incarnation by a heavily made-up — but no less recognizable — face. 
Fans of the "American Crime Story" series who caught a glimpse of Jones in the trailer for "Impeachment" may have noticed that it was none other than Annaleigh Ashford beneath all that crimped hair and eye-liner. While Ashford's career mostly blossomed and garnered critical acclaim on the Broadway stage, she's also starred in a number of films and television series, both in recurring roles and as single-episode characters. 
Annaleigh Ashford went from Broadway to Betty in "Masters of Sex"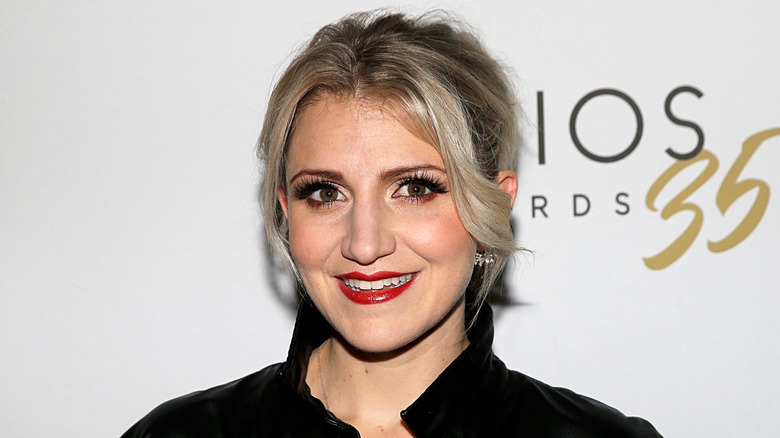 Dominik Bindl/Getty Images
While Ashford may be best known for her portrayal of the dynamic, conflicted, and groundbreaking character Betty DiMello in Showtime's award-winning period drama, "Masters of Sex," she was a successful stage and screen actress well before landing the role in 2013. According to IMDb, Ashford received the Tony Award, Drama Desk Award, and Outer Critics Circle Award for "You Can't Take It With You," and she went on to star in a number of other successful stage productions, and popped-up frequently in prime-time series such as "Sex and the City," "Law & Order," and "The Big C." Ashford also starred in the comedy web series "Submissions Only," which gave fans an hilarious inside look at the casting and auditions process in the world of theater. 
Ashford then went on to act alongside her future "Impeachment" co-star Edie Falcon in "Nurse Jackie," and after playing Columbia in the TV movie reboot of "The Rocky Horror Picture Show" (subtitled "Let's do the Time Warp Again"), she landed her break-out television role as Betty in "Masters of Sex." Shortly thereafter, the actor starred alongside Marvel's Brie Larson in Netflix's "Unicorn Store," and in 2019, she portrayed the character of Shelly Rozansky in four episodes of Paramount+ and TV Land's "Younger." 
Annaleigh Ashford is the star of "B Positive"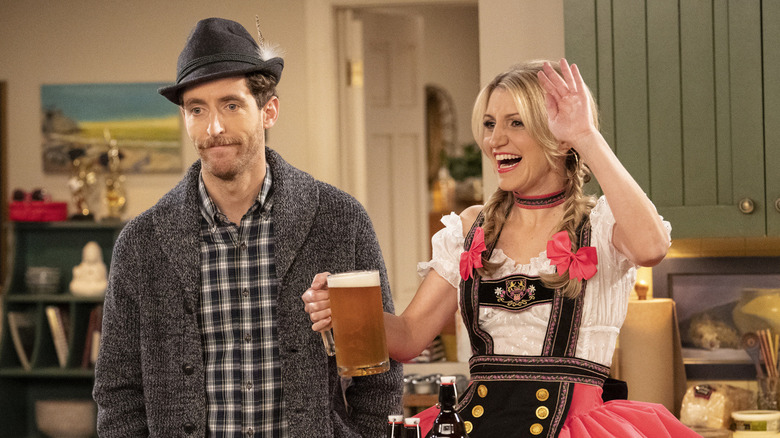 Robert Voets/2020 Warner Bros.
By 2019, Annaleigh Ashford was a recognized face to many television audiences, and though she starred in only three episodes of Netflix's "Unbelievable," her character, Lilly Darrow, represented an important demographic of sexual assault victims. In the show, Ashford's assertive character is blown-off and essentially dubbed hysterical by the police, who chock her report of an attack up to drinking "kava kava tea" before bed (In other words, she's the classic example of the system's "well, were you drunk/high/otherwise intoxicated?" response to any assault victim who doesn't present as a perfect witness). 
Following her role in "Unbelievable," Ashford went on to star as one of the leads in the CBS comedy, "B Positive." In it, Ashford plays the unconventional and "rough around the edges" Gina Dabrowski, who offers to donate one of her kidneys to struggling single dad, Drew Dunbar, played by Thomas Middleditch. In a recent interview with Broadway.com, the actor spoke at length about her love of comedy and sitcoms, and called her role in the CBS series "the dreamiest of dreams come true." The Broadway veteran and television star went on to explain that she has "a real gratitude for the art form of sitcom comedy. It stems back to vaudeville and to all of the great comedies of early Broadway."
While her role as Paula Jones is a far-cry from her Tony award-winning performance opposite Jake Gyllenhaal in "You Can't Take It With You," Ashford will no doubt be calling on her versatility and range as an actor to inject nuance and empathy into one of the many women Murphy seeks to highlight in "Impeachment."