Chumlee From Pawn Stars Opened Up This Surprising Business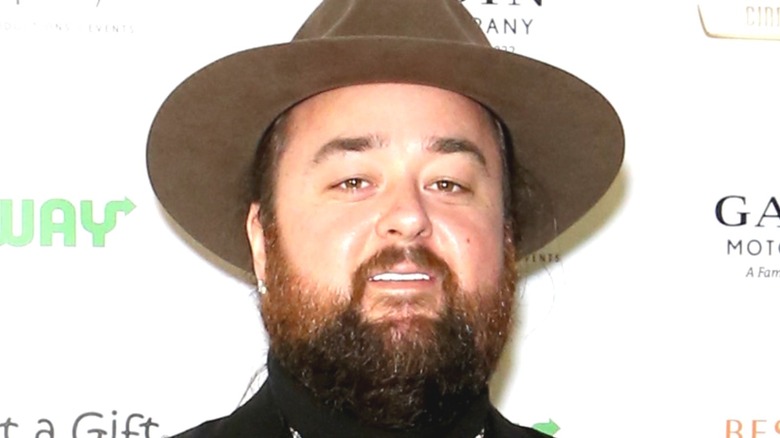 Gabe Ginsberg/Getty Images
Without question, the hit History reality series "Pawn Stars" has made TV stars out of the pawnbrokers at the World Famous Gold & Silver Pawn Shop in Las Vegas, including owner Rick Harrison, his son, Corey "Big Hoss" Harrison, and longtime employee Austin "Chumlee" Russell. The show has been a massive hit for History since it debuted in 2009, inspiring fans to make the pilgrimage to the shop in Sin City to see the pawnbrokers in action (albeit when the show is not filming), and possibly nab an appearance on the show with items they hope to sell for a tidy profit.
Thanks to his friendly demeanor and the mischief he causes to raise the ire of Rick — something he also did with Rick's late father, Richard "The Old Man" Harrison — Chumlee has become a fan favorite. Chum, as he's often called by Rick, is a pop culture aficionado, as he often professes his love for movies, video games, pinball machines, Pokémon cards, and athletic shoes. Sometimes his assignments are pop culture-related, like the time he flubbed the instructions on how legendary musician Bob Dylan should inscribe his iconic "Self Portrait" album.
On top of Chumlee's duties at the shop, "Pawn Stars" occasionally features the sweet gig he has going on the side.
Chumlee owns a candy store located near the pawn shop
As noted by The Talko, one of the behind-the-scenes things going on with "Pawn Stars" is Chumlee's candy store called Chumlee's Candy on the Blvd., which he opened with his brother, Sage, in 2017. The store, which also has an online presence, sells a variety of traditional candy brands and confections, as well as Chumlee-related merchandise. The reason Chum and his brother opened the candy store was simple — for the love of candy, naturally, and because it is "fun."
"I wanted to start a candy shop, and here we are," Chumlee told the Las Vegas Review-Journal in a 2017 interview. "My brother and I wanted to do something fun, and candy is fun."
In an exclusive interview with Looper prior to the 18th season of "Pawn Stars," Chumlee said he would consider doing a spinoff series featuring his candy store, but only if it involved other "Pawn Stars"-related businesses like Rick's Rollin Smoke BBQ & Tavern, owned, of course, by Rick Harrison.
"I would do a spinoff show, but everyone says the grass is greener on the other side," Chumlee told Looper. "But we love doing 'Pawn Stars,' [but it] takes us about seven months to film it out of the year. I just don't know if there's enough in the candy shop ... What I think we should do is a spinoff of the whole pawn [area]. There's the barbecue next to me, [and] I've got the candy shop."