Chumlee Dishes On The Most Surreal Celebrity Appearance On Pawn Stars - Exclusive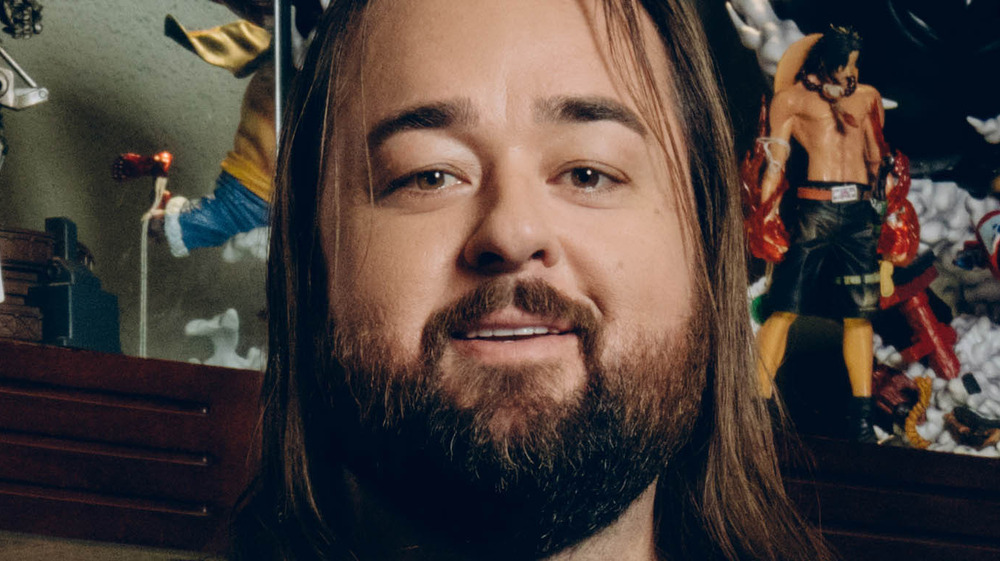 History
Now in its 18th season, the History smash Pawn Stars has had its share of great celebrity appearances over the years, but some are clearly bigger deals to the cast than others.
While there have been big names — including actor Steve Carell, rocker Bret Michaels, broadcast personality Katie Couric, and UFC President Dana White – Pawn Stars star Austin "Chumlee" Russell said one certain impromptu brush with fame 11 years ago tops them all. After all, it's not every day you run into a music icon like Bob Dylan on the streets of Las Vegas — or any street, for that matter. The sheer serendipity of the experience made it the most surreal encounter Chumlee has had with a celebrity since Pawn Stars kicked off in 2009.
"Definitely, it has to be number one for sure," Chumlee told Looper in an exclusive interview. "I mean, it was Bob Dylan and what you saw is what you got there. Literally, we saw him right there walking in the trailer, and didn't have a microphone on him or anything. So, it was pretty cool the way it all happened and how organic it really was right there when we actually found Bob Dylan."
Chumlee scored Bob Dylan's signature in Vegas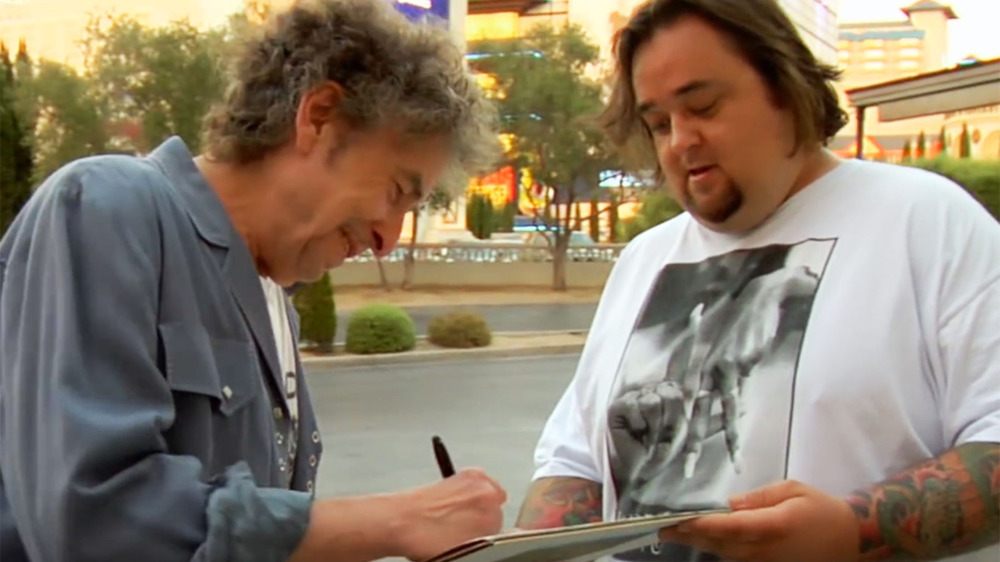 History
Chumlee's rock 'n roll fantasy encounter happened in the September 2010 Pawn Stars episode entitled "Like a Rolling Chum." In the memorable sequence of events, Rick, after purchasing Dylan's classic Self Portrait album from a seller, gave Chumlee the directive to hit the streets to find Dylan to sign the album. It wasn't a totally insane directive. The legendary musician, singer, and songwriter was playing a date in Vegas, so he had to be somewhere.
However, the fan-favorite pawn broker got caught up in the moment when he finally met the famously reclusive Dylan, and the end result led to Chumlee experiencing the wrath of Rick when he proudly brought the signed album back to the shop. You see, Rick had asked Chum to get Bob Dylan's signature on the album — not a Bob Dylan signature inscribed "To Chumley."
"[It] was actually pretty cool because I didn't know, obviously, [that he would agree and] would come up and do something, but the autograph signing was just on a whim," Chumlee recalled. "I was just like, 'Hey, can I get this signed?' When he asked me, I think he said, 'Anything else?' and I think I was like, 'I'll just see what Rick has to say later, sign it to Chumlee.' And the funny thing is he spelled Chumlee wrong, but you don't tell Bob that."
Apart from Chumlee getting to keep his personally inscribed album, much to the chagrin of Rick, the impromptu meeting did yield a silver lining for Pawn Stars. "We actually got to be in one of his music videos, which is really cool, after that," Chumlee beamed. "We did the [Like a] Rolling Stone video [where you flip] through the TV [channels] and you watch all the different [people] singing it."
New episodes from Pawn Stars season 18 are playing now on History.