Pawn Stars' Chumlee Recalls His Favorite Moment With The Old Man - Exclusive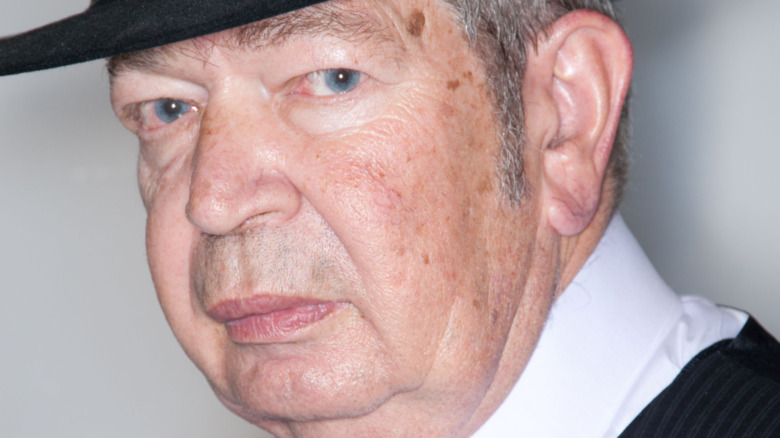 Steve Snowden/Getty Images
History's reality series Pawn Stars has been immensely popular over the years , largely thanks to its colorful array of pawn brokers at the Gold & Silver Pawn Shop in Las Vegas — including owner Rick Harrison, his son Corey "Big Hoss" Harrison, and Corey's longtime friend and shop employee Austin "Chumlee" Russell. Sadly, Richard "The Old Man" Harrison, a staple on the series since its inception in 2009, passed away in June of 2018 at age 77, leaving a tremendous void in the hearts of Rick, Corey, Chumlee, and countless viewers worldwide. A co-owner of the pawn shop with Rick, The Old Man had a lovably blunt "tell it like it is" way about him and is no doubt one of the big reasons Pawn Stars became so hugely entertaining.
In an exclusive interview with Looper to talk about Pawn Stars season 18 and his time on the series, Chumlee said that the elder Harrison's presence can still be felt in the shop, nearly three years after his passing.
"We wouldn't have what we have without him — right from the pawn shop to the television show," Chumlee shared with Looper. "His presence has always [been] felt. We actually have his office decorated, still, how he left it, and we've got lots of pictures of him with the staff on bulletin boards hanging around. He's still very, very well there. We feel him every day there and he's going to be a part of this forever."
Chumlee also revealed his favorite moment with The Old Man.
Lowriding with The Old Man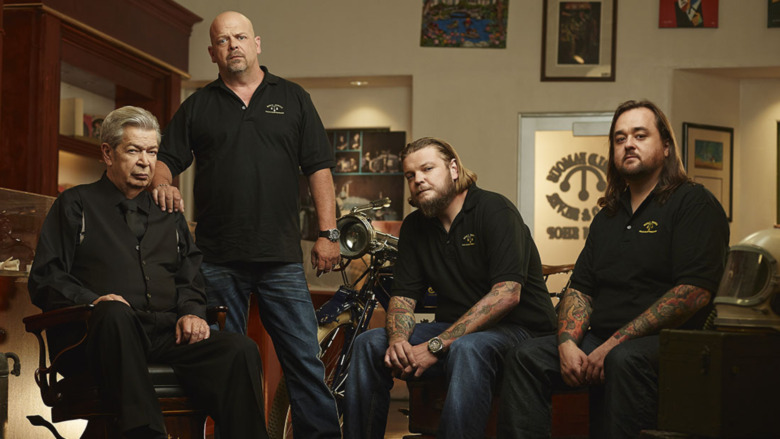 History
Austin "Chumlee" Russell told Looper that he has several fond memories of The Old Man on the air and off, but no moment shines brighter than when Chum got the Harrison patriarch to ride in his '86 Buick Regal after he got it souped-up by Pawn Stars regular Danny "The Count" Koker, owner of Count's Kustoms. "My favorite [moment] is when I had him in the low rider, and I hit him on three motions because he didn't know I was going to do that," Chumlee enthused. "So, that's my favorite memory of all time."
Chumlee added that he didn't need a specific memory to feel warmth and gratitude of knowing The Old Man, "just coming to work" was enough. "I'm sure many people have this memory — he treated everyone who works there like a son, and you just got this real family feeling from The Old Man that you don't really get every time you get a job," Chumlee recalled for Looper. "That was probably one of the greatest things about him, [that] every day knowing you're going to go in and you're going to get the same grumpy old guy — and the reason he's grumpy is because he's happy."
Pawn Stars season 18, as well as all previous seasons of the series, is playing now on History.