The Spider-Man: No Way Home Trailer Just Got An Absolutely Incredible Remix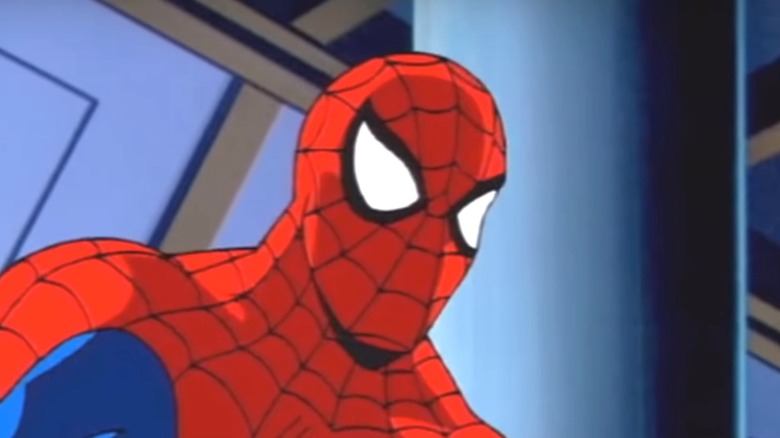 Walt Disney Television/Marvel Enterprises
It's been mere days since Marvel Studios dropped the eye-popping first trailer for "Spider-Man: No Way Home," and the internet is still fully abuzz with the shear narrative possibilities teased in that three-minute marvel. Given the level of anticipation surrounding "Spider-Man: No Way Home," it's hardly surprising the trailer also broke the record previously held by Marvel's "Avengers: Endgame" for most views in a 24-hour period (per Variety).
Thankfully, that trailer did confirm a handful of the billion-and-one "Spider-Man: No Way Home" rumors that've been circulating for a couple of years now, even as it actually opened the door to a few more. Nonetheless, we now know the multiverse is for real, and that certain past Spidey bad guys will indeed be making appearances.
That hasn't stopped people on the web from continuing to dissect the clip frame by frame in hopes of proving even more intriguing details. While we're enjoying the obsessive detective work of internet sleuths as much as anyone, the folks at 100Bombs Studios decided to have a little more fun with the "Spider-Man: No Way Home" clip, releasing a crackling remix of the trailer that blends its audio components with a most unexpected visual source.
Marvel at this Spider-Man: No Way Home trailer mash-up
The visual source in question is none other than "Spider-Man: The Animated Series." That beloved animated affair aired was co-produced by 20th Century Studios (formerly 20th Century Fox) and Marvel, airing 65 episodes on Fox's Television Network between 1994 and 1998. For many superhero fans, "Spider-Man: The Animated Series" remains a touchstone of their comic book education, essentially serving as an introduction to Spidey-lore for an entire generation of viewers, as it pre-dated 2002's Tobey Maguire-starring "Spider-Man" by nearly a decade.
And yes, '90s kids who grew up on Spidey's animated adventures remain both fiercely loyal to and intensely obsessive over every single episode. There's little question the masterminds behind 100Bombs Studios' are among those obsessives, and likely re-visited hours of footage from "Spider-Man: The Animated Series" to cobble together their "Now Way Home" mash-up.
What they've done with that mash-up is truly remarkable, matching audio snippets from the new trailer with clips from the classic cartoon (including appearances from Doctor Strange and Doc Ock no less) in such seamless fashion that one might believe the team who worked on the "No Way Home" trailer had them in mind when assembling their footage. The result is a 2:48 clip that's at once unabashedly nostalgic for "Spider-Man" tales of yesteryear and something uniquely in tune with the character's present-day iteration. If anything, this absurdly clever trailer mash-up has us even more stoked to see "Spider-Man: No Way Home" when it finally swings into theaters on December 17.