This Is How Awkwafina Helped Cast The Lead Role In Shang-Chi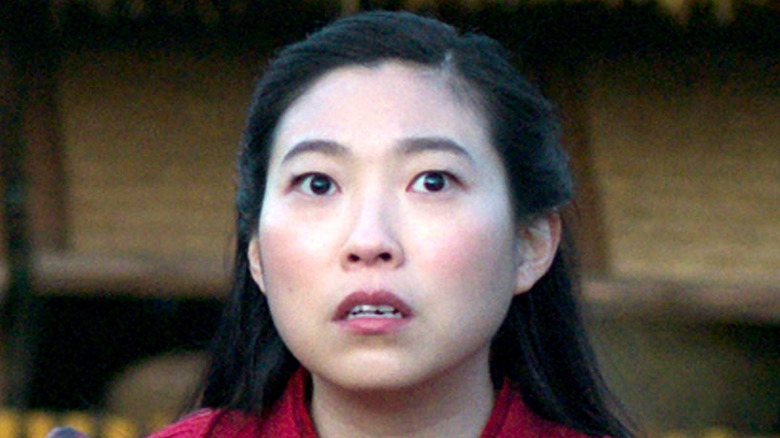 Marvel Studios/Disney
Nora Lum, the actress who's better known by her stage name Awkwafina, was the first person cast in the soon-to-be-released Marvel Studios film, "Shang-Chi and the Legend of the Ten Rings" (via The Hollywood Reporter). The film sees the actress playing the role of Katy, Shang-Chi's (Simu Liu) best friend, who works with him as a hotel valet at the start of the movie and has no idea he's secretly the heir to an international criminal empire.
Shang-Chi and Katy's relationship is a huge part of the Marvel film, so whoever was cast in the role of the reluctant hero had to work well on-screen with Awkwafina, who just so happens to be the second name featured on the movie's poster after Simu Liu. As a result, Awkwafina played a key role in the actual Shang-Chi casting process — performing chemistry reads with the actors Marvel was looking at to possibly play the film's titular hero.
It was a process that Awkwafina felt a lot of responsibility to make sure went right, especially because she knew the role of Shang-Chi had the potential to be a life-changing job for another actor. She also, notably, wanted to make sure she didn't lose her own place in the film before production on it even started.
Awkwafina immediately knew Simu Liu was the right pick for Shang-Chi
During a recent interview with The Hollywood Reporter, Awkwafina opened up about her experience doing chemistry reads during the "Shang-Chi and the Legend of the Ten Rings" casting process and spoke about what it was like working opposite the actors who were up for the film's lead role. "All I knew on that day was that I was a part of finding Shang-Chi," she said. "So I just wanted to do just that. I wanted to come in, do my part, not be distracting and let these actors give probably one of the most important auditions of their lives at that point. So I just wanted to blend in and help them showcase what they could do."
Awkwafina also revealed that it became immediately clear to her when she read with him that Simu Liu was the right actor to play Shang-Chi. "I remember testing with Simu that day, and he was nervous. I was nervous, too. I was like, 'I hope I don't get fired in the process of chemistry reading,' but it was apparent that he was Shang-Chi from the jump."
According to Simu Liu, he and Awkafina developed a "bickery, old couple chemistry right from the get-go" when they met at that fateful chemistry read. Thankfully, early reactions to "Shang-Chi" suggest that the duo's natural chemistry is totally apparent in the final film.