The Hilarious Reaction Simu Liu Had To Meeting Awkwafina For Shang-Chi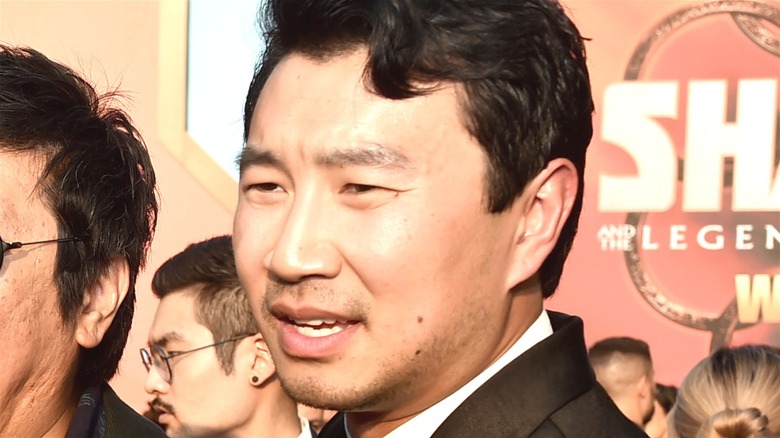 Alberto E. Rodriguez/Getty Images for Disney
"Shang-Chi and the Legend of the Ten Rings" leads Simu Liu and Awkwafina are both rising stars in the Hollywood film world. Simu Liu is, naturally, becoming most well-known for his titular role in the upcoming "Shang-Chi," joining the ranks of Robert Downey Jr., Scarlett Johansson, Brie Larson, and many other big names to lead a film in the Marvel Cinematic Universe. His career prior to "Shang-Chi" includes, on top of a number of acting roles, work as a stunt performer.
Awkwafina, meanwhile, began her career as a comedy rapper, as reflected in her earliest credits on IMDb, which are for her own music videos. Since then, she's become a prolific screen actor, appearing in the likes of "Ocean's Eight," "Crazy Rich Asians," and her own starring television vehicle, "Nora From Queens." She's also a frequent voice actor, lending her talents to episodes of "The Simpsons" and Disney movie "Raya and the Last Dragon," among other high profile projects.
In a press event for "Shang-Chi" attended by Looper, Liu discussed his first time meeting Awkwafina, revealing that they developed a particular kind of chemistry from their first moments working with one another.
Simu Liu and Awkwafina's connection was immediate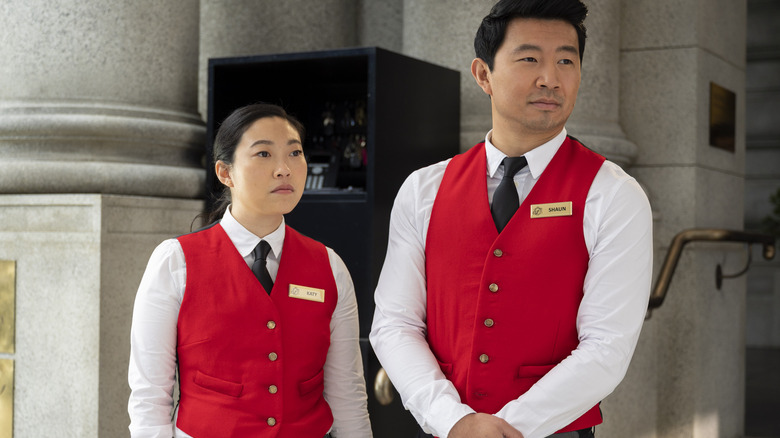 Marvel Studios/Disney
Simu Liu first became acquainted with Awkwafina during the process of auditioning for "Shang-Chi and the Legend of the Ten Rings." His final screen test paired the two actors with each other, presumably in order to assess their on-screen dynamic in advance of final casting decisions. Many of Awkwafina's characters on screen are brash and outgoing, and it sounds like the real-life Awkwafina, at least in her first meeting with Liu, was no different.
According to Liu, he and Awkwafina developed a "bickery, old couple chemistry right from the get-go," which helped put his "sky high" nerves at ease. Liu also had kind words to say about his time working with Awkwafina and the rest of the film's cast from then on, noting that "every day was like waking up to a dream."
In "Shang-Chi," Awkwafina portrays Katy, a good friend of Shang-Chi's who eventually wields a bow, as was first teased in an action figure for the character. The dynamic between the two characters will be on full display for audiences at large when the film is released on September 3.