Here's When You Can Watch Shang-Chi And The Legend Of The Ten Rings For Free On Disney+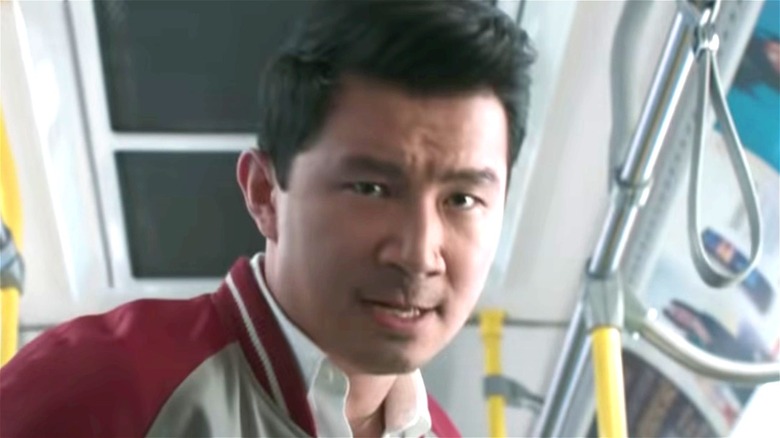 Marvel Studios/Disney
We may receive a commission on purchases made from links.
After going more than a year without seeing a new Marvel film, comic book fans are finally getting to watch new theatrical titles from the studio. Just a few short months after the long-awaited release of Scarlett Johansson's "Black Widow" in early July, Marvel fans are about to be treated to yet another new film from the studio, and this time, it will be a title that actually introduces and follows a character who has not yet been seen in the Marvel Cinematic Universe. The film in question, "Shang-Chi and the Legend of the Ten Rings," which stars "Kim's Convenience" actor Simu Liu, will hit U.S. theaters on September 3.
However, unlike "Black Widow," Disney has chosen not to utilize a hybrid release model for "Shang-Chi." This means the film, which also stars Awkwafina and Michelle Yeoh, will not be immediately available to stream on Disney+ even with Premier Access, which costs an additional fee of $29.99 on top of the monthly Disney+ subscription cost.
While this is unfortunate for those who do not feel safe going to a movie theater right now, the good news is that when "Shang-Chi" does eventually arrive on Disney+, it will be at no additional cost to subscribers. That said, when exactly can you expect "Shang-Chi and the Legend of the Ten Rings" to be available on Disney+, and how can you watch it for free if you're not a Disney+ subscriber?
Shang-Chi and the Legend of the Ten Rings is coming to Disney+ in October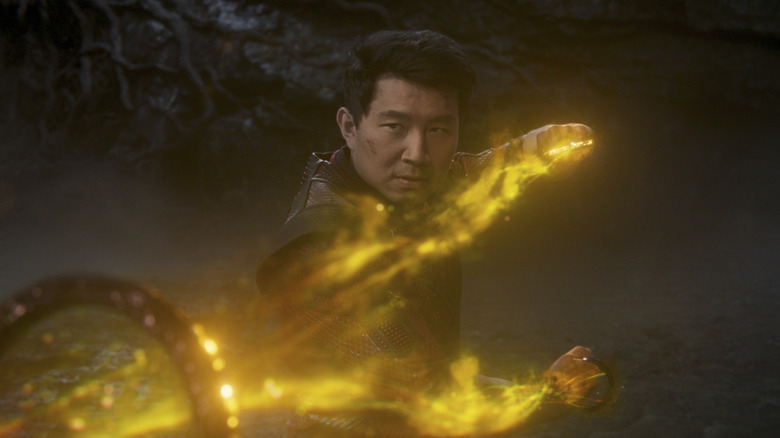 Marvel Studios/Disney
During Disney's recent earnings call, CEO Bob Chapek explained why the company is not using a hybrid release model for "Shang-Chi and the Legend of the Ten Rings" as it has for other films released throughout the COVID-19 pandemic. "When we planned 'Shang-Chi,' that title was planned on being in a much more healthy theatrical environment. At this point, unfortunately, due to distribution agreements that we have, and due to just the practicalities of last-minute changes, it wouldn't be possible [to add it to Premier Access]," Chapek said. The Disney CEO also confirmed that the distribution deal for the movie gives it an exclusive 45-day theatrical run.
In other words, although Chapek did not confirm the specific day when "Shang-Chi and the Legend of the Ten Rings" will arrive on Disney+, knowing that the film has a 45-day theatrical window means that viewers can expect it to be added to the service on or around October 18. Once it does begin streaming on Disney+, there are a few ways you can watch it for free on the service as well (via IndieWire).
Currently, new subscribers to Amazon Music Unlimited ($9.99 per month, or $7.99 for Amazon Prime members) will receive six months free of Disney+ at no extra charge when they sign up for the service. Existing Amazon Music Unlimited subscribers can also get 3 months free of Disney+ through the service. Alternatively, until November 30, Verizon is also offering six months free when customers sign up for select Unlimited plans that start at $35 per month, and current wireless customers who switch to those plans can similarly get up to six months free. Meanwhile, if you already subscribe to Disney+ and want to take advantage of the Verizon offer, you can still get the six months free when you bundle your plans — meaning your paid subscription is paused until the trial ends.