Here's Where You Can Watch Us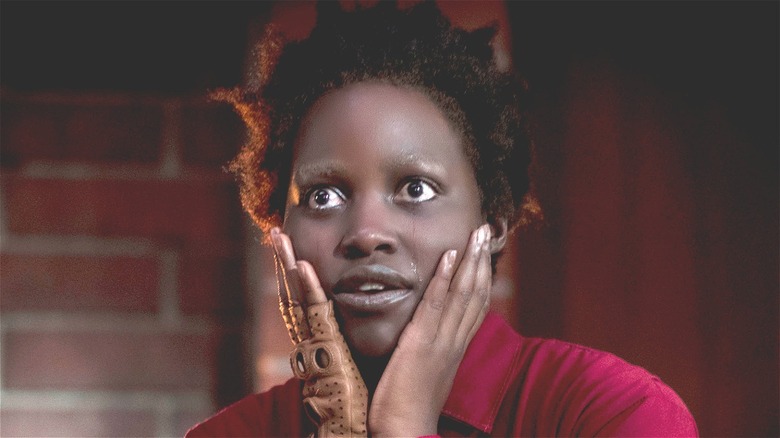 Universal Pictures
We may receive a commission on purchases made from links.
Jordan Peele is widely regarded as one of the best horror filmmakers working today, thanks to his work on immensely popular films like the Oscar-winning 2017 hit "Get Out" and the similarly acclaimed 2019 original film, "Us." Peele's talents as a director and screenwriter have earned him critical acclaim and fans around the world, which has resulted in upcoming projects like "Nope" and "Candyman" (the latter of which he produced and co-wrote) accumulating more than their fair share of hype.
If you haven't yet had the pleasure of enjoying Peele's second directorial outing, "Us," you'll be pleased to know there are several places online where you can stream it. Alternatively, if you're one of the many people who missed the barrage of small details sprinkled throughout "Us," you can give it a second watch and try to pick out some of the Easter eggs you didn't catch the first time.
Here are some of your streaming options if you're in the mood to watch "Us."
You'll have to pay to stream Us
While "Us" is, unfortunately, not currently streaming on sites like Netflix or HBO Max, you can still catch it on several other websites, though, you'll have to pay to watch it. For those who enjoy watching their favorite movies on YouTube, you can rent "Us" on the platform for $3.99, or purchase it for $14.99 and rewatch it as many times as you'd like. Similarly, you can rent "Us" on Amazon Prime Video or buy it for the same amount it costs on YouTube.
Depending on what electronics you have, you can rent "Us" on Apple TV for $3.99 or purchase it for $14.99 and have it available to watch on any Apple device you own. Android users also can buy or rent "Us" on Google Play for the same prices. Finally, you can rent or purchase "Us" on the Fandango Media-run Vudu as well.
You have tons of options when it comes to watching "Us," but no matter where you choose to stream it, it's sure to be worth every penny.