The Teaser Poster For Jordan Peele's Nope Has The Internet Buzzing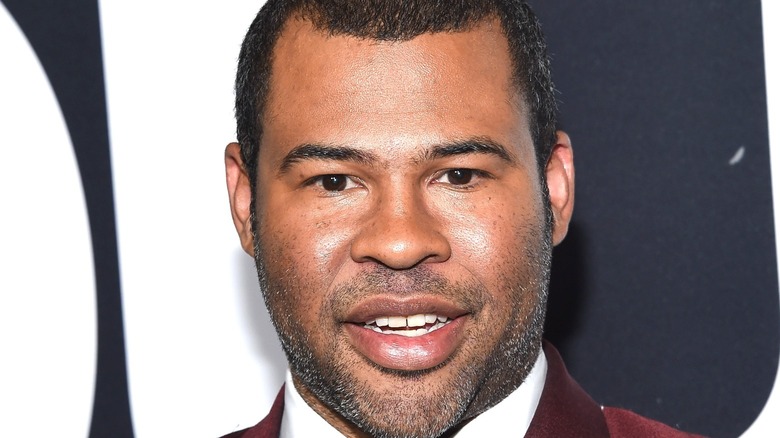 Shutterstock
Many directors receive more attention and acclaim after their first big success, but not as many are able to follow it up with a movie that succeeds just as much, if not more. Jordan Peele is one of the few directors, writers, and actors who was able to pull it off with his one-two punch of "Get Out" in 2017, and "Us" in 2019 — both of which he wrote and directed. The horror films received wide critical and commercial success. Both of them terrified — and, at times, disgusted — audiences, while providing powerful and chilling commentaries on race and privilege.
Rumors about his next film have been swirling for some time. Now, we finally know the name of his third directorial work, although we don't know much beyond that. 
On July 22, Peele tweeted out a poster for the upcoming movie, which is titled "Nope," and while it doesn't give much away, it does leave some intriguing hints. 
Do we know much else about Nope at this time? Nope
The poster for "Nope" features an ominous cloud with a string of flags, perhaps belonging to a kite. The cloud overlooks a small, lit up town, which is surrounded by greenery and mountains in the background.
For now, there aren't many more details present, so the plot of the film remains a mystery, beyond speculation. The title "Nope" could suggest a hint of comedy with the horror, as has been the case in Peele's previous work. Whatever threat our protagonists encounter, they might try to "nope" out of the situation instead of going toward it (as characters in horror films usually seem to frustratingly do). The only other concrete details the poster reveals are the three leads in the film, being Daniel Kaluuya ("Get Out," "Judas and the Black Messiah"), Keke Palmer ("Akeelah and the Bee," "True Jackson, VP") and Steven Yeun ("The Walking Dead," "Minari"). It's a very strong cast selection, however, and we can't wait to see what characters these artists become with the direction and writing of Jordan Peele.
Over on Twitter, fans are already lighting up with excitement. User @LegendOfZelden wrote, "It is incredible to see what Jordan Peele has done for horror like what he did for comedy except with even more impact as horror does not always get the love it deserves. Beyond hyped for Nope." 
Other users, such as @Jzechunoni, got busy speculating about what the poster might mean. "I'd think a killer cloud that somehow can manipulate dreams and consciousness of people. Something Twilight Zone-ish in tone."
"Nope" will come exclusively to theaters exactly a year after this announcement, on July 22, 2022. "Candyman," a horror film written by Peele and directed by Nia DaCosta, hits theaters August 27.