Legend Of Conan Writer Talks Abandoned Screenplay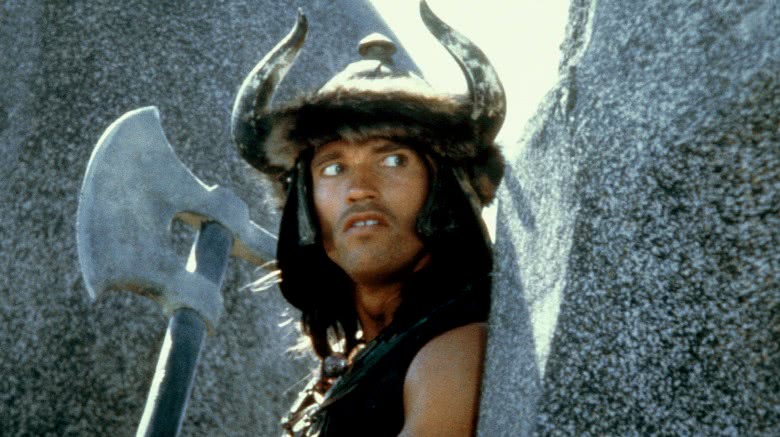 Plans for a Conan the Barbarian sequel starring Arnold Schwarzenegger seemed to fall through recently, only to be declared still in development days later. But whatever ends up happening with the project, it seems unlikely it'll use screenwriter Chris Morgan's script—which is a shame, given the ideas he says he had for the story.
Morgan offered a rough outline for his take on The Legend of Conan during a recent interview with Collider, comparing his vision for the film to the Oscar-winning Clint Eastwood classic Unforgiven, in which an aging desperado is dragged in to one last fight for justice against his better judgment (and fading physical capability). Pledging his love for 1982's Conan the Barbarian, which introduced Schwarzenegger in the role and really made him an international movie star, Morgan said his story would have maintained that story's continuity, picking up the thread decades later.
"Conan is not the strongest guy he used to be, he's not the legend he used to be; he's an old, broken guy. And this thing comes down to where now he's got to find a reason to go on and find a different way to fight other than just with brute strength. It was a great movie that just gave validation to even at the end of someone's life there's real value to them," explained Morgan. "I think at the end of the day it was just probably too expensive, too big, and to the studio ultimately it wasn't in the cards for them."
With cost a likely factor in the studio's decision to pass, Morgan realizes there's a decent chance Schwarzenegger won't be involved whenever cameras roll on the franchise's next phase, but he isn't willing to write for another actor in the role. "I wouldn't have been interested if it was anyone but him," he added. "I don't think that story would have been the same, and I don't think it would've had the importance for me that it did."
At this point, it's getting easier to identify the upcoming movies Schwarzenegger won't make than the ones he's actively involved in. In recent weeks, he's said he turned down the upcoming Predator project, and it also looks like he won't be in Expendables 4, given Sylvester Stallone's recent departure. The star continues to insist, however, that audiences can expect to see him in another Terminator movie at some point—as well as the long-gestating Twins sequel.