Riverdale Creator Addresses Those Zombie Fan Theories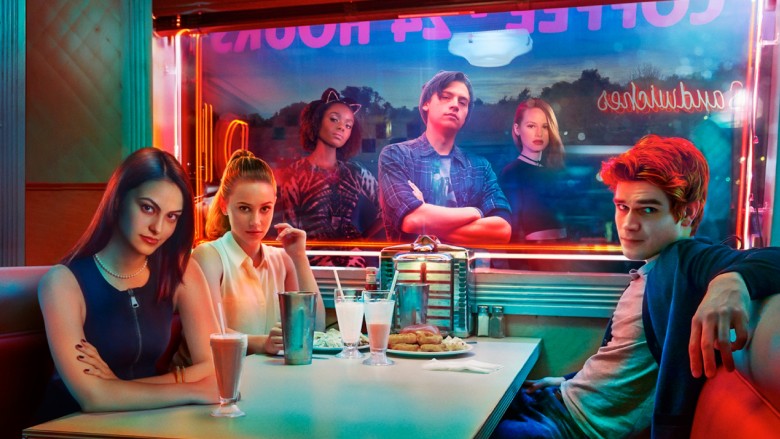 Could Riverdale go full-on Walking Dead in season 2? Showrunner Roberto Aguirre-Sacasa talked to Entertainment Weekly about fan theories that the show will feature a zombie invasion in the second season. While he didn't explicitly confirm them, he didn't deny them either, teasing that the show will definitely feature "a big genre element" in its sophomore outing.
First, the evidence for the zombie theories. Aguirre-Sacasa came into Riverdale having already penned a series for Archie Comics, Afterlife with Archie, which showed Archie and the gang dealing with the aforementioned zombie invasion. The plight started via Sabrina the Teenage Witch, who Aguirre-Sacasa said will likely appear on Riverdale at some point. The man at the center of Riverdale's murder mystery, Jason Blossom (Trevor Stines), was found dead on the side of the river in which Sabrina's hometown, Greendale, is located, and he was killed via the very effective against zombies move of a shot to the head. The theory is further supported by a dream by his sister Cheryl (Madelaine Petsch) in which he appears to be a very zombie-like ghost coming to kill her.
"I'm a fan as much as anyone of all this stuff, so I love Easter eggs and I love inside jokes, and I love little nods to things, but absolutely when we have zombie Jason creeping up on Cheryl, it's an homage to Afterlife with Archie the way that Afterlife with Archie is an homage to Creep Show," Aguirre-Sacasa said of the moment. He also added that there were references to Afterlife in the second episode (when Alice mentions that the Blossoms are probably worshiping "some dark pagan god") and a cut for time reference in the seventh episode, where the kids start talking about the Greendale witches while searching for Polly in the woods.
Aguirre-Sacasa told EW that, while they considered going the Afterlife with Archie route in season 1, they decided against it, theorizing that, if they included supernatural elements right away, they could never take them back, but if they didn't, they could always add them in later. While the supernatural still hasn't been explicitly introduced yet, the creator says that "there's a chance that happens" in the future.
"In my mind, the mythology is this: Riverdale is a non-magical grounded town with weird stuff happening," he said. "Then there's Sweetwater River, where Jason died, and on the other side of that river is Greendale, where Sabrina and the witches traditionally live. On one side of the river, there's no magic, there's no supernatural–that's where Riverdale is. And on the other side of the mythic river, which is sort of like the River Styx, there's magic and witches and dark Lovecraftian horrors."
Sabrina actually appearing on Riverdale, which would probably provide the catalyst for the show's move into the supernatural, could still be a bit of a ways off, though. While Aguirre-Sacasa said that they want to introduce her "hopefully sooner rather than later," the show is still working on finding a way to update her character and introduce her to the audience. This could potentially come in the way of a Sabrina spinoff, which Aguirre-Sacasa likens to Supergirl and the rest of the CW's Arrowverse. "They still cross-over, but they're in a different universe," he said. "I think there's a lot of ways to skin the Sabrina cat, and I'm talking about them all the time basically to anyone who will listen."
While everyone has been distracted by Sabrina talk, Aguirre-Sacasa teases that there will be another character from the comics with a "darker origin and backstory" who we will see in the finale. Aguirre-Sacasa has big plans for the episode, which he says will leave Riverdale changed "in a fundamental way." "And it's probably not going to be for the better," he teased.
Whether or not season two goes the Afterlife with Archie route, Aguirre-Sacasa said that it will feel like a different show than the first season. "It won't suddenly just be a coming-of-age drama," he said. "There will definitely be a very strong, bold genre statement. If season 1 is a murder mystery, it won't necessarily be another murder mystery... So whatever twist in genre element that we add in season 2, it's going to be different from that and probably, I think, it's going to make people go, 'They're not really doing that, are they?'"
The currently zombie-less Riverdale airs Thursdays on The CW. While we wait, ponder these other fan theories that will completely change the way you look at your favorite TV shows.