14 Movies Like Things Heard And Seen Thriller Fans Need To Watch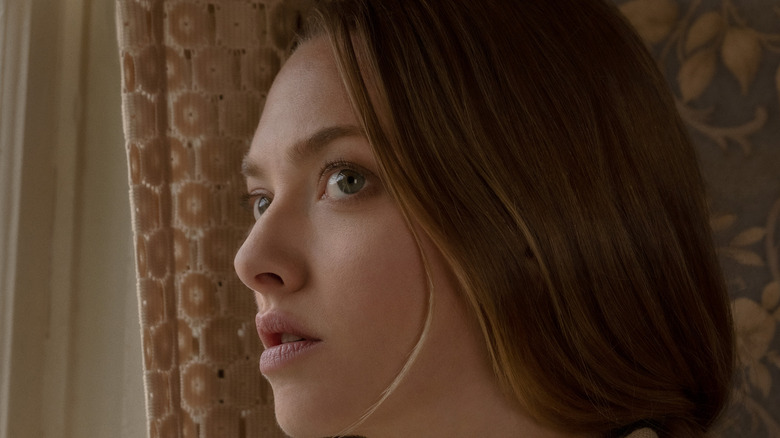 Anna Kooris/Netflix
In "Things Heard & Seen," George and Catherine Claire (James Norton and ​​Amanda Seyfried) and their young daughter Franny (Ana Sophia Heger) move to a house in upstate New York with a disturbing history. Sure enough, almost as soon as they arrive, things start to go bump in the night, and the strange occurrences escalate from there. 
The ghosts haunting the family's new home, however, only serve to magnify tensions that already exist in the troubled marriage, and when Catherine uncovers hidden truths about George, they inevitably lead to deadly consequences. It's a tale of nail-biting suspense where the problems between a husband and wife become even more terrifying than the supernatural forces in their house.
For fans of the thriller genre, at least some of these elements are likely to sound familiar, from the haunted house to the marriage full of secrets. These are plot points that have appeared over and over again in many scary movies — so if you loved the Netflix thriller and want to find similar movies that evoke feelings of unease, shock, and horror, your options are plentiful. With that in mind, here are additional movies that fans of "Things Heard & Seen" can check out for their next freaky, frightful fix.
Rebecca (1940 & 2020)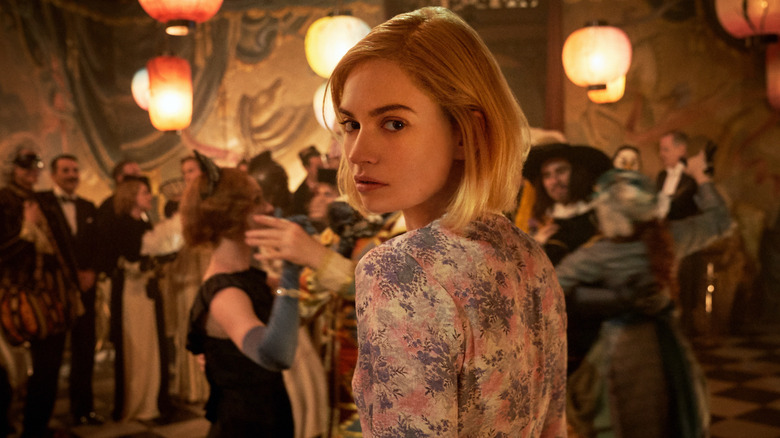 Kerry Brown/Netflix
Daphne du Maurier's novel "Rebecca" has been adapted for the screen twice, first in 1940 by master of suspense Alfred Hitchcock, and then 60 years later by director Ben Wheatley. Both films tell essentially the same story: A young woman (Joan Fontaine in 1940, Lily James in 2020) with limited means falls for wealthy widower Maxim de Winter (Laurence Olivier in 1940, Armie Hammer in 2020) while on holiday in Monte Carlo. While their whirlwind romance initially seems like a dream to the unnamed protagonist, once they marry and she moves to Manderley (Maxim's vast estate), she realizes there are many things she doesn't know about her new husband, including how his first wife Rebecca died. Meanwhile, the new Mrs. de Winter is haunted by the ghost of Rebecca, whose memory is a literal presence in the house.
"Rebecca" is one of the most renowned examples of the gothic horror genre, and each film has something to offer. The newer version restores parts of the story Hitchcock couldn't include due to censorship standards in 1940, making it the more faithful of the two adaptations. On the other hand, even without some of the film's darkest revelations, Hitchcock's version is a truly heart-pounding thriller. Either version will intrigue those who reveled in the drama of a troubled marriage crumbling under the weight of secrets in "Things Heard & Seen."
Gaslight (1944)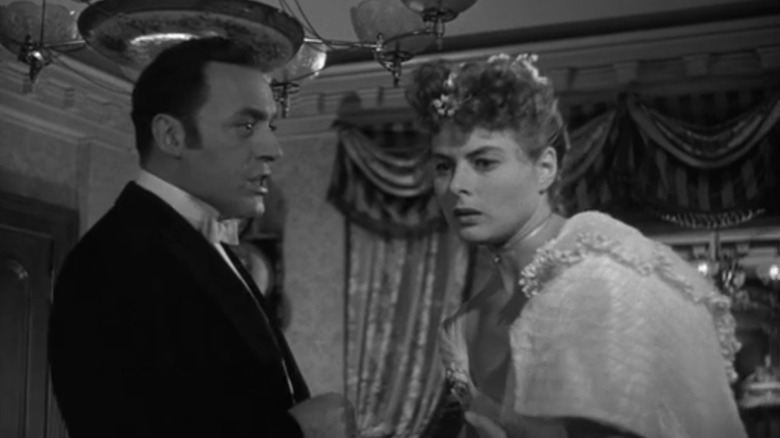 MGM
When it comes to bad movie husbands, there may be none worse than Gregory Anton (Charles Boyer), the man Paula Alquist (Ingrid Bergman), the niece of a murdered opera star, marries in "Gaslight." Adapted from a stage play, the movie was helmed by legendary director George Cukor who creates a chilling vision of what can happen when you invite the wrong person into your home. Soon after they wed, Gregory starts to isolate Paula from the outside world while manipulating her in ways that make her doubt her sanity, all as a means to distract her from who he really is and what he really wants.
The film became so popular that "gaslighting" evolved into a term to describe an attempt to manipulate someone in the same way Paula is manipulated in the film — and the way Catherine is manipulated by George in "Things Heard & Seen." Given how many bad husbands have tried to control their trusting wives throughout movie history, "Gaslight" might feel a little dated today. However, it's still a shocking look at the lengths one unscrupulous man goes to in order to get what he wants.
The Amityville Horror (1979 & 2005)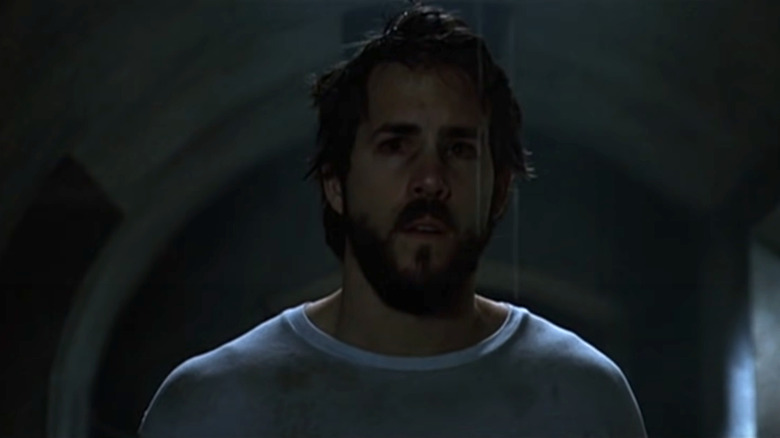 MGM/YouTube
"The Amityville Horror" is based on the true story of George and Kathy Lutz and their three children, who moved into a house in the town of Amityville on Long Island, New York and moved out less than a month later, claiming the house was haunted. No one knows what really happened during the weeks the Lutzes were there, but they were the first people to reside in the house after a man named George DeFeo Jr. killed six members of his family in the house's bedrooms. 
The uncertainty surrounding the family's claims has been ripe territory for moviemakers, and a series of "Amityville" films exist. However, the 1979 original starring James Brolin and Margot Kidder is considered a classic of the horror genre, and the same story was retold in a 2005 remake starring Ryan Reynolds and Melissa George as the Lutz family.
The films share more with "Things Heard & Seen" than the similar first names of the Claire and Lutz families, although "Amityville" is more squarely focused on the horrors of moving into a house where a paranormal presence has already taken up residence. Furthermore, the 2005 version of the story, which is the more graphic of the two "Amityville" films, is also more explicit about the deadly way the house's malevolent beings get under George's skin, which is also the source of much of the horror in "Things Heard & Seen."
The Shining (1980)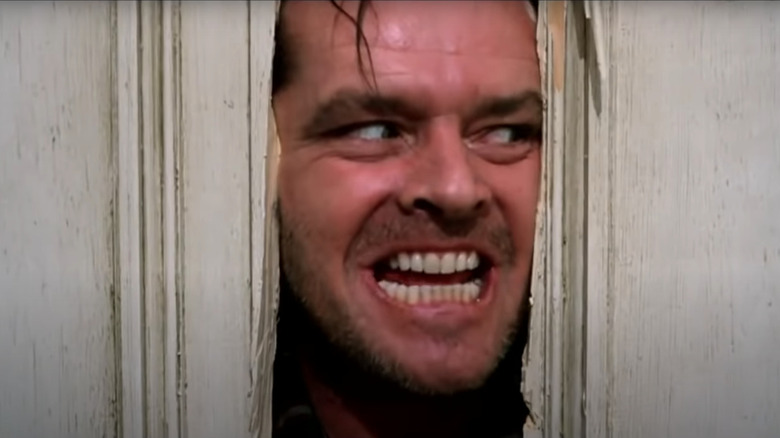 Warner Bros./YouTube
One of the most revered horror films of all time, director Stanley Kubrick's "The Shining" is a masterpiece of the genre. Adapted from Stephen King's novel of the same name, "The Shining" focuses on what happens when Jack Torrance (Jack Nicholson) encourages his wife Wendy (Shelley Duvall) and his psychic son Danny (Danny Lloyd) to take on the duties of caretaking the largely empty, secluded Overlook Hotel. A recovering alcoholic suffering from writer's block, Jack is hoping he'll get the creative boost he needs by staying there through the winter. Unfortunately, the hotel has other plans.
Nicholson gives an iconic performance as Torrance, a man whose descent into madness may be as much the product of his own demons as of the literal demons haunting the Overlook. In many ways, Jack's trajectory parallels that of George from "Things Heard & Seen," and raises similar questions. Over the years, "The Shining" has been analyzed from many different angles, but whether you choose to find deeper meaning in it or not, the film makes for a nerve-jangling ride.
What Lies Beneath (2000)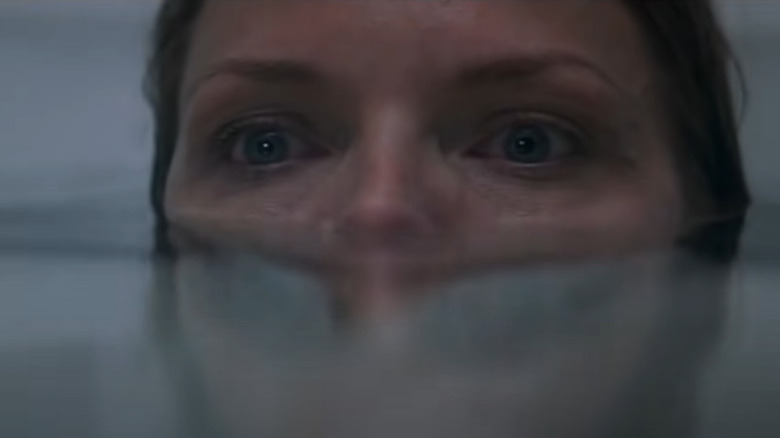 DreamWorks/YouTube
"What Lies Beneath" is the rare haunted house film in which the central couple doesn't move to a new home. Instead, much like the troubles between the Claires in "Things Heard & Seen," it's the secrets and lies between Norman and Claire Spencer (Harrison Ford and Michelle Pfeiffer) that drive the plot of the film. Ghostly goings-on, supernatural rituals, and startling revelations abound in this supernatural thriller directed by Robert Zemeckis.
The film showcases the unnerving experiences of Claire — who, like Catherine, discovers her husband's true nature with the help of an eerie presence. Meanwhile, Norman does everything in his power to thwart his wife's efforts, leading to a terrifying showdown. Norman is cut from the same cloth as George Claire; both are university professors who will do anything to protect the positions they've carved out for themselves, even if it means hurting the people they claim to love.
The Others (2001)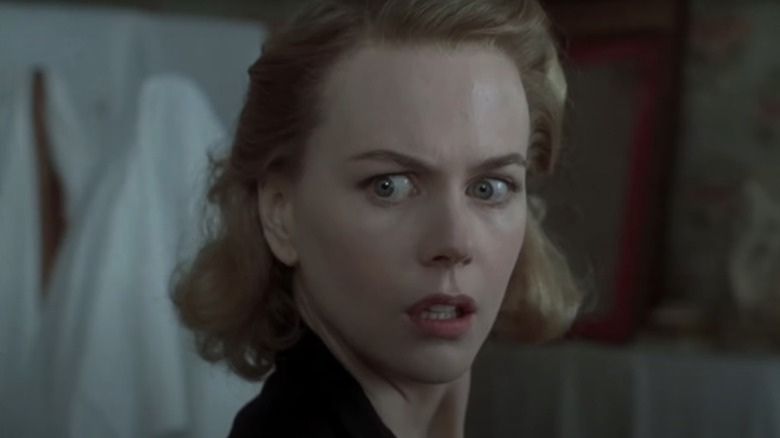 Miramax/YouTube
"The Others" is a screw-turning psychological horror story that will keep you guessing until its shocking twist ending. 
Grace (Nicole Kidman) lives in an isolated home with her children Anne (Alakina Mann) and Nicholas (James Bentley), who suffer from an allergy to light. Grace keeps tight control of the house, locking and unlocking each room as she enters and exits and ensuring the curtains are always drawn to shield her children from the sun. When Anne says she's seen other people in the house, Grace initially doesn't believe her — until she witnesses several inexplicable occurrences for herself. Meanwhile, the three servants Grace has recently hired seem to know more about what's going on than they're willing to let on, as they wait for Grace to figure it out on her own.
"The Others" relies on our familiarity with ghost stories to subvert expectations, which makes it an especially effective entry in the genre. Moreover, Grace — like Catherine in "Things Heard & Seen" — seems to be willfully blind to her circumstances until the evidence becomes too great for her to ignore, leading to a film where the audience is putting together the pieces alongside the main character.
The Conjuring (2013)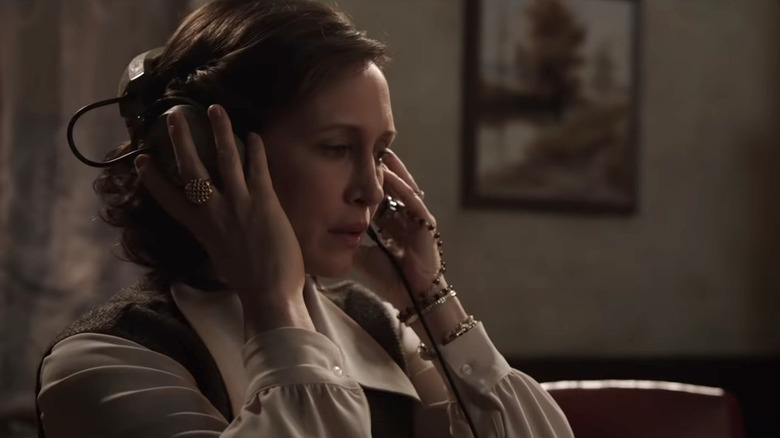 New Line Cinema/YouTube
"The Conjuring" is a haunted house film in the vein of "The Amityville Horror." In fact, the mystery of what happened to the Lutz family at their house in Amityville, New York helped bring "The Conjuring" franchise's protagonists, real-life paranormal investigators Ed and Lorraine Warren (Patrick Wilson and Vera Farmiga), to widespread attention. While that story serves as the prologue for "The Conjuring 2," in the series' first film the focus is the Perrons, a family of seven that moves into a farmhouse in Rhode Island in 1971 only to find themselves confronting increasingly inexplicable events. 
This leads them to seek out the Warrens, who step in to figure out what's really going on and how to stop it. "The Conjuring" takes an old-school approach that prioritizes scares over gore. Plus, Ed and Lorraine are fascinating characters whose basic decency in the face of terrible evil makes them easy to invest in.
To some degree the Warrens resemble Floyd DeBeers, the character played by F. Murray Abraham in "Things Heard & Seen." He's a man whose knowledge of spirits yields an eagerness to uncover the identity of the ghost who resides in Catherine Claire's house. Of course, Ed and Lorraine seem to deal exclusively with malevolent forces, while Floyd says most of the ghosts he encounters mean no harm. Nonetheless, "The Conjuring" is yet another movie that explores the way a house's horrible past can take a terrifying toll on those who live there in the present.
Gone Girl (2014)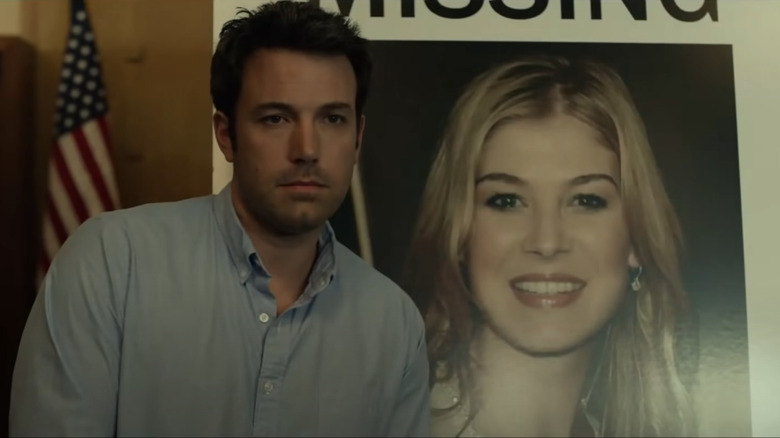 Twentieth Century Fox/YouTube
In "Gone Girl," Amy Dunne (Rosamund Pike) is hiding just as many secrets as her husband Nick (Ben Affleck); there are no spirits or ghosts driving either member of the couple, simply a disintegrating marriage and a warped mind looking for revenge. When Amy goes missing on the pair's fifth wedding anniversary, Nick quickly becomes the main suspect in her possible murder, but the truth is far more complicated. 
Like Catherine and George in "Things Heard & Seen," Nick and Amy moved from New York City to a small town, which leads to Nick's infidelity and Amy's resentment. One of them takes drastic action in response, although what's actually happening is initially open to interpretation, until a series of events sheds light on the reality of the situation.
"Gone Girl" is a psychological thriller in every sense of the word. Director David Fincher plays with the audience just as the story plays with the characters. If the challenges of a marriage with outsized secrets are what drew you to "Things Heard & Seen," "Gone Girl" makes for the perfect follow-up movie.
Crimson Peak (2015)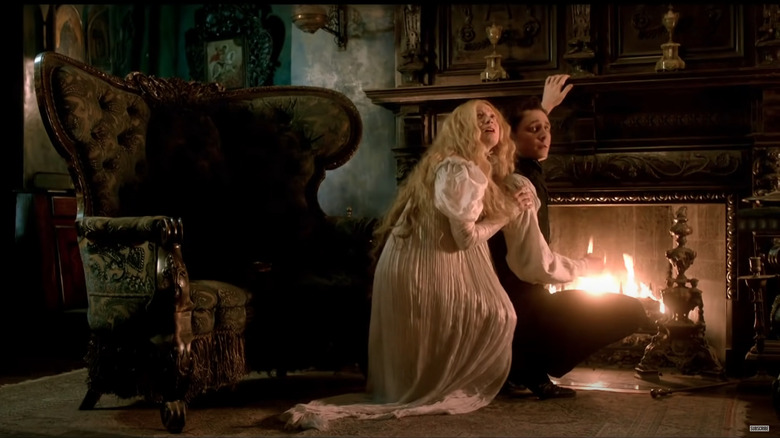 Universal Pictures/YouTube
"Crimson Peak" is visionary director Guillermo del Toro's take on Gothic horror, which means that it looks gorgeous even as it pumps up the macabre horror and ghostly terror. The movie establishes early on that protagonist Edith Cushing (Mia Wasikowska), an aspiring writer and daughter of a wealthy businessman, believes in ghosts well before she meets English aristocrat Thomas Sharpe (Tom Hiddleston). So when the pair marry and Thomas takes Edith to his decaying mansion, she's already primed to notice the spirits that haunt the place.
Much like Catherine Claire's journey in "Things Heard & Seen," what follows is a race against time as Edith works to figure out exactly what's going on in her new home and what secrets Thomas and his sister Lucille (Jessica Chastain) are hiding before it's too late. As is the case for Catherine, the isolation of Edith's house may be just as dangerous as the paranormal entities living there.
Winchester (2018)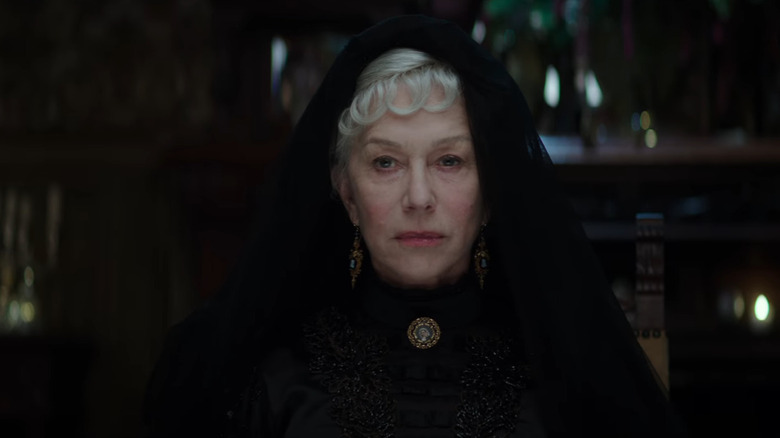 Lionsgate/YouTube
"Winchester" main character Sarah Winchester (Helen Mirren) has a sensitivity to the presence of ghosts, much like the sensitivity Catherine demonstrates in "Things Heard & Seen." But Sarah, the heiress to the Winchester Repeating Arms fortune whose tragic life saw her mourning the death of her young daughter and husband, lives with dozens of ghosts at any given time. The character believes she is haunted by those killed by her company's guns, so she constantly adds new rooms to her increasingly sprawling mansion for each one, insisting that construction continue without end 24 hours a day, seven days a week, in the hopes it will bring them peace — or, in the case of especially vengeful spirits, serve as a prison to keep them from causing any harm to the living.
"Winchester" is an entertaining haunted house flick, but what makes it especially intriguing is that it's based on a real person and place. The movie is inspired by just one of the theories for why the real Sarah Winchester continued to add rooms to her home until her death in the 1920s. The Winchester Mystery House in San Jose, California has been preserved as an historical landmark and can be visited today.
Hereditary (2018)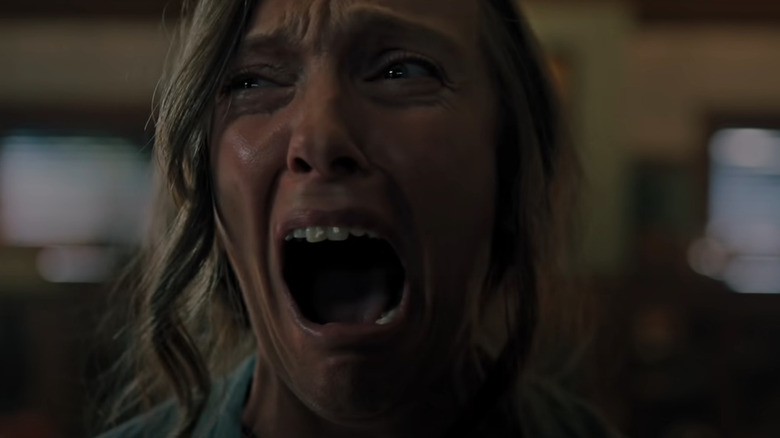 A24/YouTube
"Hereditary" made quite the impression when it came out in 2018. The feature debut of director Ari Aster, who went on to direct "Midsommar," "Hereditary" could be the most singularly terrifying entry on this list — which is really saying something.
Unfolding in the wake of the death of Annie Graham's secretive mother, the film centers on Annie (Toni Collette) and her family, which includes her husband Steve (Gabriel Byrne) and her children Peter (Alex Wolff) and Charlie (Milly Shapiro), as they deal with overwhelming grief. The horrors that ensue could be seen as a metaphor for the power of grief — not to mention the mental-health issues that seem to plague Annie's family. One way or another, the film's supernatural elements lead to a resolution with disturbing implications.
Like "Things Heard & Seen," a key element of the plot is a seance; "Hereditary" includes two of the rituals, both of which are intended to contact benevolent spirits. "Hereditary" also delves into what happens when the secrets a family member keeps lead to dire consequences. In this case, those consequences are so awful, you may not be able to sleep at night.
Ready or Not (2019)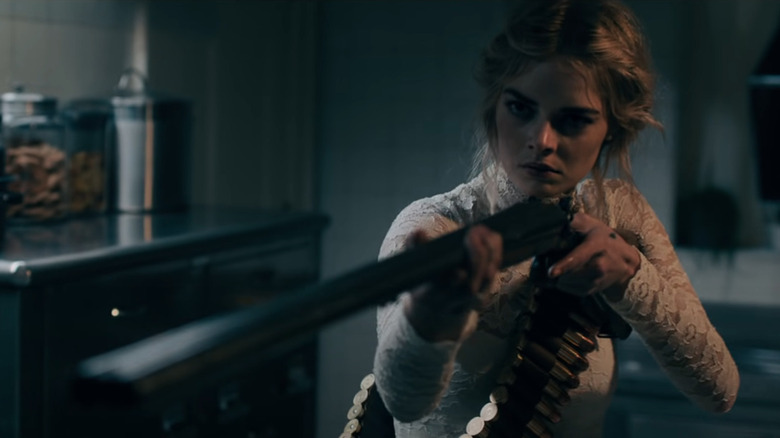 Fox Searchlight/YouTube
"Ready or Not" is the funniest film listed here, but that doesn't mean it doesn't include its fair share of shocks and scares. 
That's because it focuses on yet another bad husband, although unlike George Claire from "Things Heard & Seen," Alex Le Doma (Mark O'Brien) is caught up in a supernatural scheme that has ensnared his entire family for decades. Unfortunately, Alex's new wife Grace (Samara Weaving), an orphan with no relations to speak of, knows nothing about what's really behind her in-laws' vast fortune — that is, not until her wedding night, when she selects a card from a puzzle box that has the name of a game they must all play on it.
After she picks hide-and-seek, what Grace believes is an innocent game quickly turns deadly, and soon she's fighting for her life against the people she believed would be her new family. While "Ready or Not" certainly has its share of class commentary, mostly it's just a wicked, gory good time. Far from a gradual decline, this is a marriage that's undone in one bloody fell swoop.
The Rental (2020)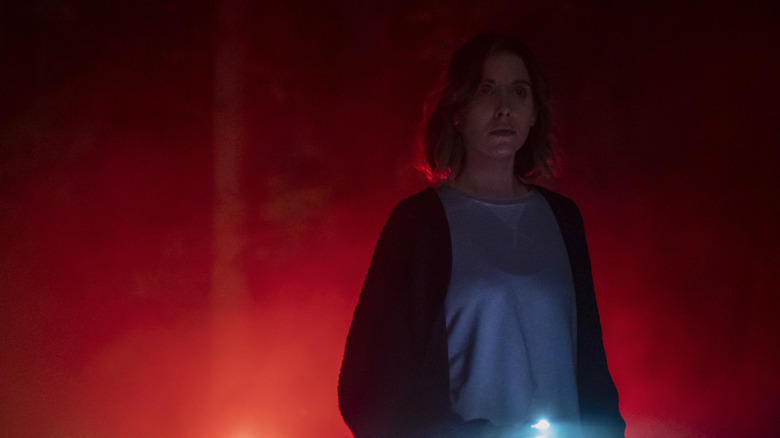 IFC Films
New technology leads to new horrors in "The Rental," a tale of vacation rentals, infidelity, and murder. To celebrate a milestone for their business, Charlie (Dan Stevens) and Mina (Sheila Vand) decide to rent a secluded beach-side home on an Airbnb-like site so they can enjoy a couples weekend away with their respective significant others: Charlie's insecure wife Michelle (Alison Brie) and Mina's hotheaded boyfriend, Josh (Jeremy Allen White), who also happens to be Charlie's brother. However, things quickly go awry, and soon Mina's found a hidden camera in the shower. Is the person they're renting the house from spying on them, or is something more sinister going on?
"The Rental" is the directorial debut of Dave Franco and he ratchets up the tension until the third act, which — much like "Things Heard & Seen" — descends into a spree of shocking violence. Although the plot doesn't include anything paranormal, it still features a malevolent spook, one that feels all too real in our era of easy data collection and violations of privacy.
You Should Have Left (2020)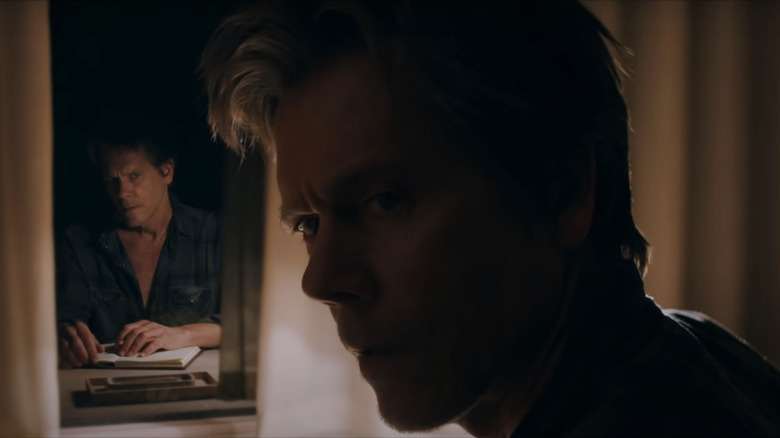 Universal Pictures/YouTube
If you loved Amanda Seyfried's performance in "Things Heard & Seen," you'll be just as impressed with her work in the thematically similar "You Should Have Left," another movie that centers on a couple whose secrets tear them apart from the inside. 
This time, Seyfried plays an actress named Susanna who is married to the wealthy, significantly older Theo (Kevin Bacon). While the couple's age difference is the source of the typical Millennial-Baby Boomer conflicts (she's always on her phone, he constantly listens to tapes in a futile attempt to relax), there's also something more insidious between the pair. When they rent a remote home in the Welsh countryside with their young daughter in order to reconnect as a family, a supernatural force that seems to have full control of the house lays their secrets bare, forcing them to reckon with uncomfortable truths they've long avoided.
Like "Things Heard & Seen," "You Should Have Left" is a suspenseful thriller that's as much about the troubles between two people as it is the spooky happenings in the house where they're staying. And while "You Should Have Left" is an apt title for almost any haunted house tale, in this movie it has a double meaning that makes the story all the more compelling.