The 20 Steamiest Movies On Netflix Right Now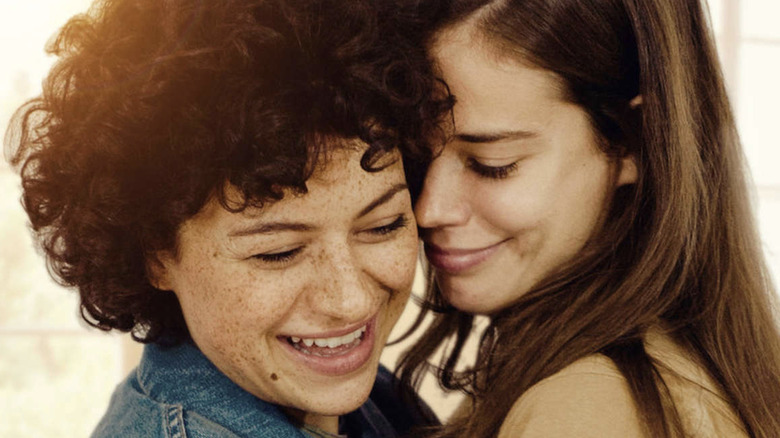 The Orchard
Some nights, you find yourself scrolling through Netflix in a certain sort of mood. Nothing jumps out at you. You don't want a comedy, or an action movie, or some brainy documentary. Then it hits you, you know exactly what you want. You want to watch something steamy. You want a film about sex — or at the very least, a film with sex scenes, preferably lots of sex scenes.
Hey, you're only human; no judgments here. In fact, here's your hook-up with all the steamiest movies you can watch right now on Netflix. Some suggestions are genuinely good films, critical darlings and artsy foreign fare. Others are unapologetic, horny trash. The quality of the film is secondary. What's important is that these are all films about hot people getting naked.
Now obviously, not all of these movies will be for everyone. Depending on your own personal taste and orientation, some are bound to turn you off — but with a selection as wide and varied as this, hopefully one will do it for you. So good luck, you late night scroller, and godspeed.
Cam (2018)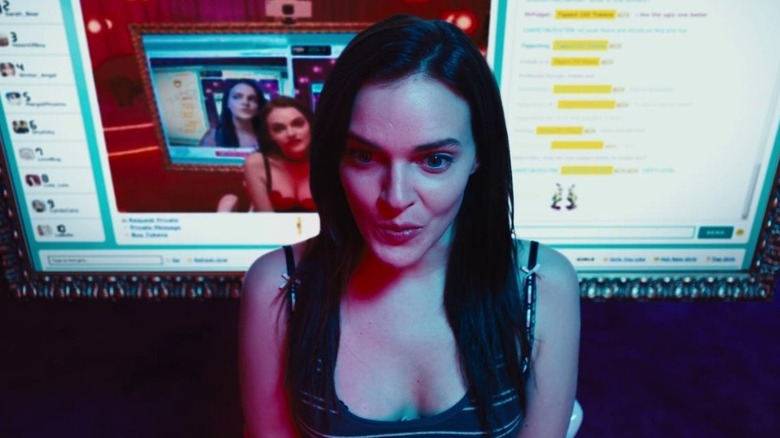 Netflix
Let's face it, historically speaking, most portrayals of sex work on film — especially horror films — haven't been all that great. That's just one of many reasons why the 2018 erotic horror film "Cam" is such a delightful surprise. This intimate character study of a sex worker is refreshingly modern and humanizing, making it a unique entry in the horror film canon.
Alice Ackerman (Madeline Brewer) works as a cam girl, a model who performs erotic acts in real time for an internet audience. Alice's goal is to become the number one model on the website she calls home, a goal she pursues with an obsessive fervor. But one day, Alice discovers she has been locked out of her account, and someone else is now streaming under her identity. But when she tunes into her own channel to see who the culprit is, she sees herself — or, perhaps more specifically, another woman who looks exactly like her. Something about this other woman seems a bit off, perhaps even inhuman. Is she an imposter, some sort of advanced computer program, or could there perhaps be something supernatural afoot?
In less skillful hands, "Cam" could have been truly awful; a clunky, simplistic cautionary tale about the dangers of sexuality and the internet. But thanks to a tremendous screenplay by writer Isa Mazzei (a former cam girl herself), what we get instead is an honest examination of internet sex work and freelance hustle culture from an insider's perspective, not to mention an unsettling, thoroughly original horror flick.
Ride or Die (2021)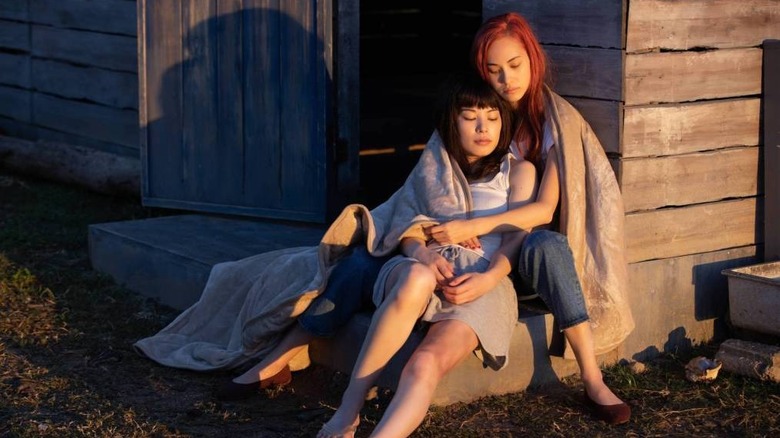 Netflix
If you prefer your sexy noir with a sapphic flavor, you owe it to yourself to check out the 2021 Japanese romantic thriller "Ride or Die." Rei (Kiko Mizuhara), a lesbian in her late 20s living in Tokyo, gets an unexpected call from her old high school friend Nanae (Honami Sato). Back in their school days, Rei had a crush on Nanae, but as far as Rei knew, Nanae was straight. Now it seems that Nanae is being abused by her husband, and she wants Rei's help getting rid of him for good.
Despite her better judgment, Rei agrees to help, and although she succeeds in knocking off Nanae's husband, she also leaves behind some evidence. The two women realize it's only a matter of time before they are arrested, so they decide to flee to the Japanese countryside and enjoy whatever time they have left together as they wait for the law to catch up with them.
With stunning cinematography and a meticulously-crafted script, "Ride or Die" is a one hell of a trip. That being said, if you're expecting a nonstop pulse-pounding bloody romp, you will be deeply disappointed. The majority of the runtime is not filled with sexy violent action, but instead a surprisingly somber story of two doomed human beings contemplating their own mortality. Yes, it's a beautiful story, but it's also a profoundly grim and melancholy one, not for the faint of heart.
Lust Stories (2018)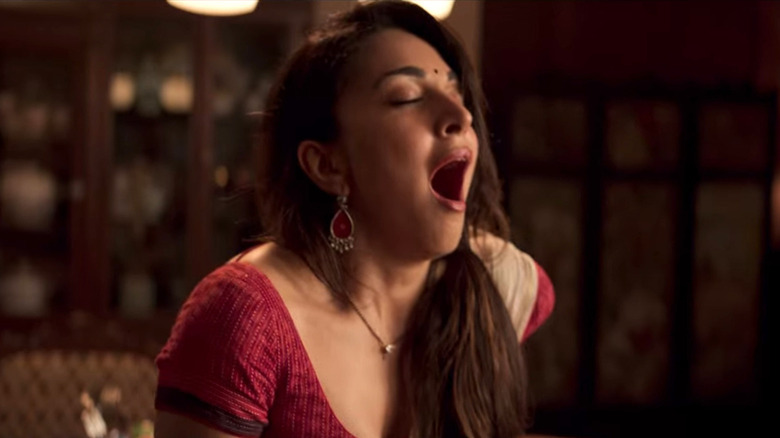 Netflix
If just one sexy story isn't enough for you, how about four? "Lust Stories" is a 2018 Hindi-language comedy drama anthology film composed of four short films, each made by a different director. All are primarily about sex, and unusually, all have female protagonists.
In one story, a confident, assertive college teacher has an ill-advised fling with one of her students. At first she worries that she might lose her job, or that her student might get too clingy, but when neither of these negative consequences come to pass, she soon realizes that her biggest problems are her own unexpected feelings of possessiveness and attachment.
Another story centers on a maid having a fiery secret relationship with her employer, a wealthy young bachelor. One day, she learns that she will have to serve tea for a gathering at her employer's apartment, with guests that include the young man's parents, another young woman, and her family. It soon becomes clear that the purpose of this meeting is to discuss the possibility of an arranged marriage, and our heroine has to silently serve both families as the man she loves plans a future without her.
Some of the tales told in "Lust Stories" are more comedic, and others are more serious, but all of them explore the ways that female sexual desire comes into conflict with modern cultural expectations, and all of them do so with unapologetic honesty. The result is a highly-recommended, smartly written, emotionally complex anthology film.
Duck Butter (2018)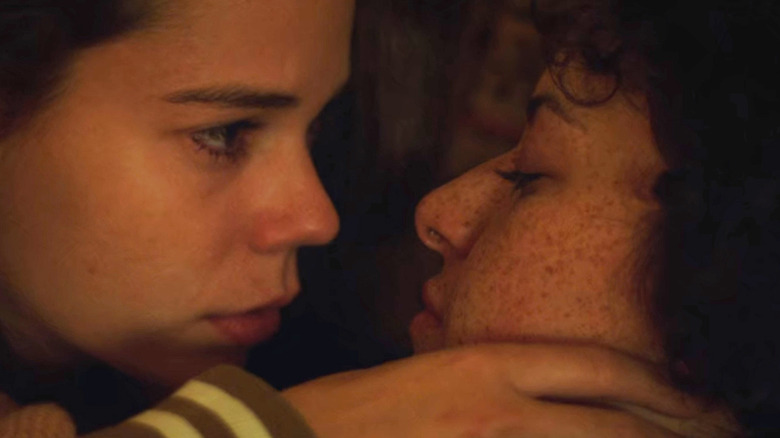 The Orchard
With great actors, a clever script, and a big vulnerable heart, it's hard not to be charmed by the low-key romantic comedy "Duck Butter."
One night in a gay bar, struggling actor Naima (Alia Shawkat) crosses paths with a cute singer named Sergio (Laia Costa). The two women have an instant connection, and end up spending the night together. High on lust, they then concoct a truly unhinged idea. They decide to stay together for an entire day and night, having sex once an hour for 24 hours straight — or would that be 24 hours gay? Either way, the reality of this plan ends up being much more difficult, and far less romantic, than they initially thought, as Naima and Sergio end up getting to know a bit too much about each other a bit too quickly, and end up seeing one another at their worst.
With unity of time, unity of place, and unity of *ahem* action, "Duck Butter" is, for good and for ill, an unusually unambitious story. Yes, the dialogue is sharp, and yes, the sexy scenes are hot, but much like Naima and Sergio, in the end, it's hard to not feel a tad disappointed by the experience. There aren't any big plot twists. They characters' conversations don't lead to any shocking insights into the human condition. So if you liked "Before Sunrise," but thought it needed more sex and lesbians, this one will probably be your jam.
The Girl Next Door (2004)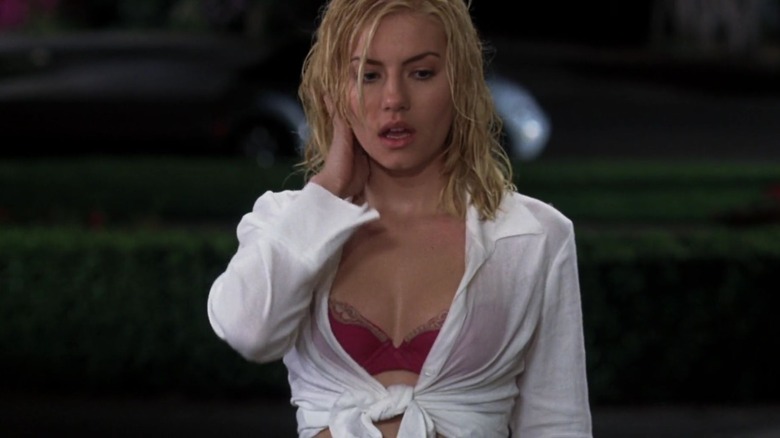 20th Century Fox
As time goes on, Netflix's movie catalog shies more and more away from pre-existing films, and more towards new exclusive content. Because of that, it doesn't offer as many raunchy '90s and '00s sex comedies as you might think. There is, however, one such film still hanging around: 2004's "The Girl Next Door."
Teenage loser Matthew Kidman (Emile Hirsch) has never had a girlfriend. But one day, a gorgeous blonde named Danielle (Elisha Cuthbert) moves in next door, and against all odds, Matthew makes a good first impression. The two begin a friendship that soon leads to romance. All seems to be going well, until Matthew discovers Danielle's dark secret: she makes her living as an adult film actor. Matthew doesn't take the news well and ends up pushing Danielle away. But he soon regrets his decision, and vows to win Danielle back. In doing so, Matthew ends up falling into a world of sexy porn stars, shady porn producers, and genuinely dangerous criminals. Sexy comedy hijinks ensue.
Although the film's sexual politics haven't aged all that great, if you're looking for a fun, sexy time, you could do worse. Surprisingly, "The Girl Next Door" does end up being a bit insightful and even sweet on occasion. Mainly though, it's a vehicle for telling some jokes and showing off some boobs. It can be an enjoyable experience, but you certainly won't feel proud of yourself the morning after.
Your Name Engraved Herein (2020)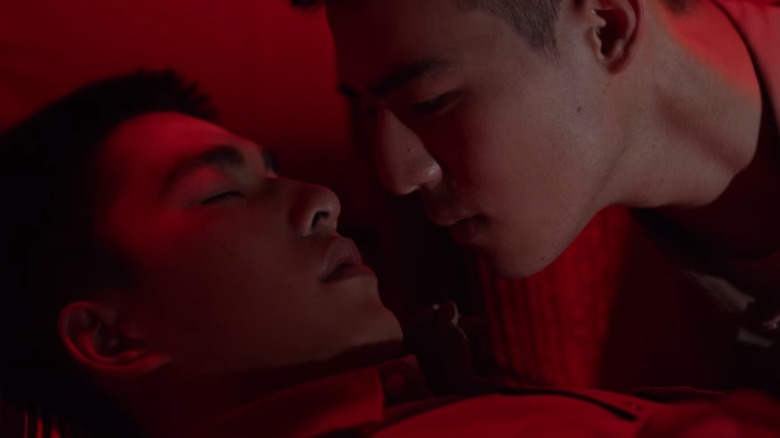 Netflix
There are countless reasons to love "Your Name Engraved Herein." It's an expertly-crafted romantic drama that is as tragic as it is heartwarming. It's the most successful LGBT film in Taiwanese history, and also the most successful Taiwanese film of 2020. It currently has a 100% critical approval rating on Rotten Tomatoes. But most importantly, it's hot as hell.
The film is set in Taiwan in the late '80s, and follows two boys who are on the cusp of graduating from an all-boys Catholic school. The first is Jia-Han (Edward Chen Hao-Sen), a well-behaved boy who does his best to blend into the crowd. The second is Po Te, aka "Birdy" (Jing-Hua Tseng), who is far more willing to break the rules. The two become fast friends due to an immediate mutual attraction that remains unspoken, at least at first. As the two get to know each other better, their desire to act on their feelings only deepens. But given the time in which they live, the prospect of an actual relationship seems like a near impossibility. Will the two eventually part ways, or accept their love for one another, regardless of the consequences?
It's hard to recall the last time a film romance was as deeply affecting as this bittersweet tale of young love. The barely repressed passion between the two leads is palpable. Each longing look and tentative touch sends hearts racing. There's also a scene in which the two leads take a trip to the beach, which may or may not involve some skinny dipping.
Elisa & Marcela (2019)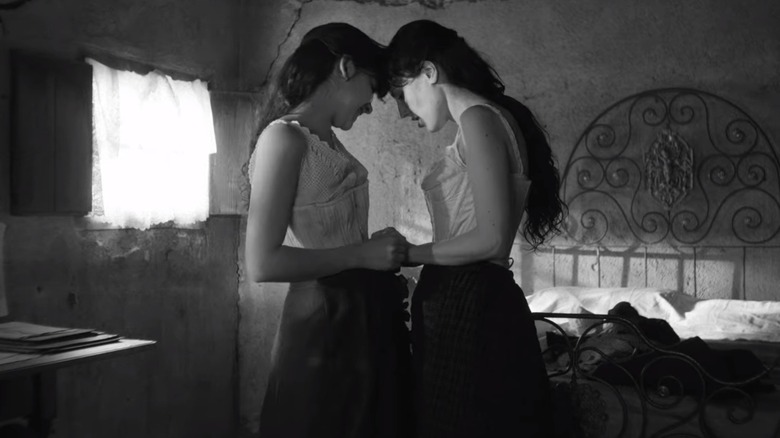 Netflix/Berlinale/EPA
Though it's by no means a perfect film, 2019's "Elisa & Marcela" is certainly a steamy one. Loosely based on actual historical events, the film begins in the late 1800s, in a convent school in Spain. A new student arrives, the shy Marcela (Greta Fernández), and she immediately attracts the attention of the more assertive and carefree Elisa (Natalia de Molina). What starts as a friendship then blossoms into a secret romance. As years pass, and the women move on into adulthood, their relationship continues, always in the dark behind closed doors. But nothing good can last forever, especially for queers in historical dramas — so eventually, their secret is discovered. Elisa decides to disappear for a while, and then returns with a new identity, disguising herself as a man named Mario. The two then are able to get married, but yet again, this is not the end of their troubles.
It would be nice to give this film an enthusiastic, unqualified recommendation, but unfortunately, as the film's rather unimpressive Rotten Tomatoes score shows, this one isn't exactly a masterpiece. Most of it is a bit too slow and moody for its own good, and whenever a big dramatic scene happens, it trends towards the melodramatic. That being said, the sex scenes are smoking hot. If you love a good lesbian period romance, and you've already watched "Portrait of a Lady on Fire" and "The Handmaiden" a dozen times each, consider giving "Elisa & Marcela" a watch.
365 Days (2020)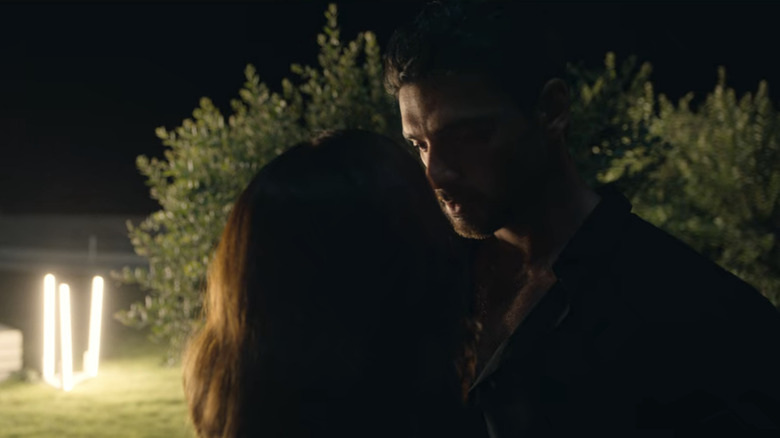 Next Film
Sex, crime, and hotel management collide in the controversial 2020 Polish film "365 Days." Based on the first of a trilogy of erotic novels by Blanka Lipińska, the title refers to the year-long courtship of sorts between Laura (Anna-Maria Sieklucka), a beautiful Warsaw hotelier trapped in a loveless (and sexless) relationship and Massimo (Michele Morrone), the volatile and seductive leader of an Italian crime family. 
After a chance meeting at a Sicilian resort, Massimo drugs and kidnaps Laura. He reveals that they had met once five years earlier, on the day his father was murdered, and that he has been obsessed with her ever since. He plans to hold her captive for 365 days — or until she falls in love with him.
What follows is an hour or so of delayed gratification. Massimo forces Laura into any number of provocative situations — showering together, chaining her to a bed while he receives oral sex from another woman — without actually forcing himself on her. Laura, for her part, alternates between trying to escape her captor and enjoying the luxe life of a mafioso's (literal) kept woman before finally succumbing to his unconventional arrangement. Netflix adapted the other two novels in Lipinska's trilogy concurrently in 2022, "365 Days: This Day" and "The Next 365 Days," with Sieklucka and Morrone reprising their roles.
After We Collided (2020)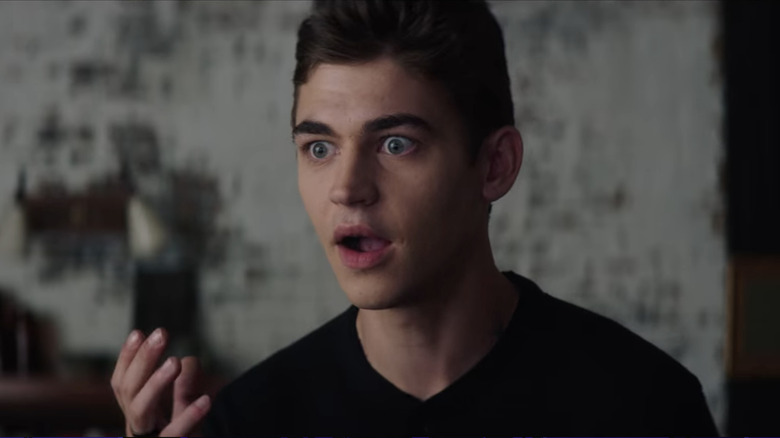 Open Road Films
The tortured love story of Tessa and Hardin continues in "After We Collided," the 2020 sequel to 2019's "After." The film finds Tessa (Josephine Langford) out of college and interning at a big city publishing house while Hardin (Hero Fiennes Tiffin) is still kicking around their college town. After she drunk dials him in the middle of the night, the two once again enter each other's orbit, fighting, having sex, reconciling, breaking up, and then getting back together again over and over again — much to the confusion and chagrin of everyone else who knows them.
Author Anna Todd famously based the "After" novels on her One Direction fan fiction where she imagined the members of the British boy band as college students in the Pacific Northwest. Bad boy Hardin is naturally based on Harry Styles. "After We Collided" expands the world beyond just Tessa and Hardin and their immediate friends and classmates, throwing in a good amount of intrigue regarding their parents and the sins of the past. These two are the way they are, the film seems to argue, because of the trauma inflicted by their fathers. That rationale, however, didn't spare the film from accusations that it glorifies and romanticizes a fundamentally toxic relationship (via The Sun). 
The 2021 sequel "After We Fell" is also available on Netflix.
Call Me by Your Name (2017)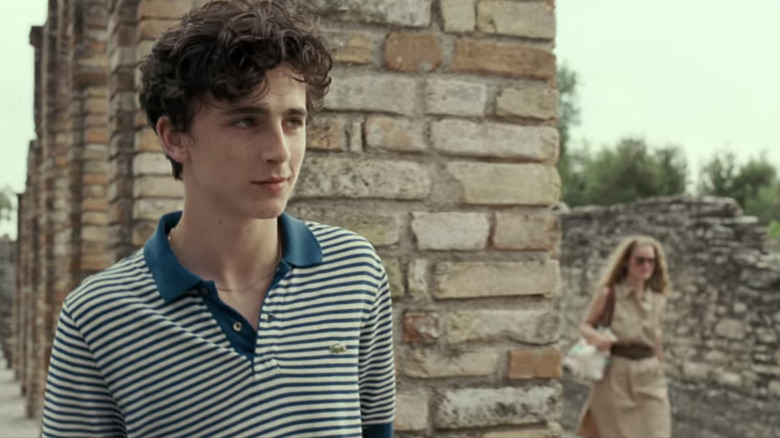 Sony Pictures Classics
We should all be so lucky to have our first blush of love during a summer spent in the Italian countryside. Luca Guadagnino's acclaimed 2017 film "Call Me by Your Name" is set amongst the beauty and ruins of northern Italy in 1983, where American professor Mr. Perlman (Michael Stuhlbarg) lives with his wife (Amira Casar) and 17-year-old son Elio (Timothée Chalamet). When 24-year-old grad student Oliver (Armie Hammer) comes to stay with the Perlmans for the summer, his presence awakens something in Elio. Though both young men pursue relationships with women in these short months, it's clear that their greatest affections are for each other.
Based on a novel by Andre Aciman and featuring a screenplay by James Ivory, the film has a lot going on under the surface. Questions of identity abound, obviously regarding Elio and Oliver's sexuality, but also in relation to their religion. Both men are Jewish, but Oliver's blonde complexion allows him to "pass" more easily. Some elements are intended to make audiences uneasy, such as the age difference between Oliver and Elio, as well as Mr. Perlman's quiet approval of the relationship. There are also elements that were very much not intended, like the very public downfall of Hammer since the film was released. 
The film brings not just an artist's eye to the oft-told tale of the summer fling but an academic's as well. This is a serious, important subject — to Elio if no one else — and deserves serious, important study.
Lady Chatterley's Lover (2022)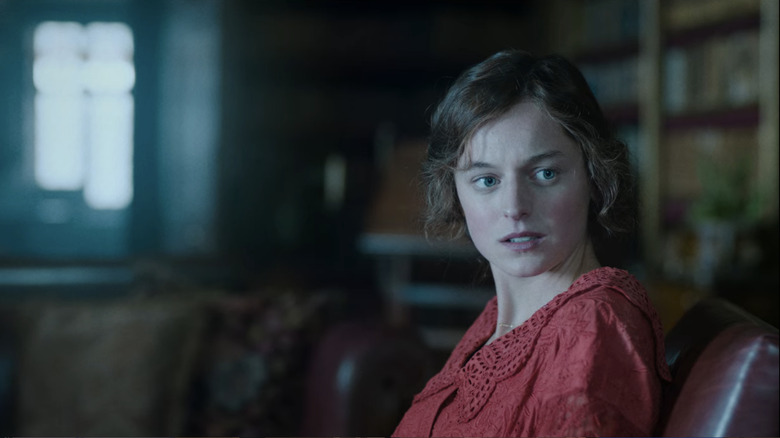 Netflix
D.H. Lawrence's classic novel comes to life once again in the 2022 Netflix adaptation of "Lady Chatterley's Lover." Emma Corrin of "The Crown" plays Connie, the young wife of an English aristocrat (Matthew Duckett) who grows frustrated and lonely when her husband returns from World War I injured and impotent. Wandering the grounds of her husband's estate, Lady Chatterley meets and falls into a passionate affair with gamekeeper Oliver (Jack O'Connell). Their love burns bright and hot, but the difference in their stations means they could never be together. But what if they could?
The novel and the film, directed by Laure de Clermont-Tonnerre, are about transgressions of all sorts, not just the affair between Connie and Oliver. Oliver is also married, though estranged from a wife who refuses to give him a divorce. Connie's husband Clifford, understanding that he can't satisfy his young wife due to his injuries, gives her implicit permission to step outside their marriage but is aghast that she has chosen a man so below her class for a lover. In many ways, Connie's sensuous betrayal of the strict British caste system of the era is the greatest transgression of all. 
Duckett and O'Connell are both fine as the somewhat hapless men in Connie's orbit, but Corrin keeps the film afloat, along with Joely Richardson (a former Lady Chatterley herself) as a sympathetic housekeeper.
Madame Claude (2021)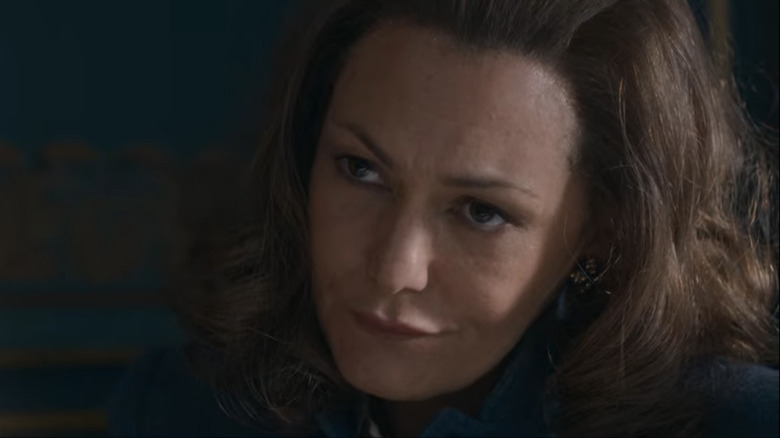 Netflix
Netflix has the 2021 French biopic about famed brothel keeper "Madame Claude" rated TV-MA for, among other things, nudity, sex, and smoking. There is certainly a lot of smoking, as the film luxuriates in its mid-century Paris setting and all the glamour that implies. Karole Rocher stars as the eponymous Madame Claude, perhaps the most famous brothel owner of the 20th century, at least in France. Claude supplied high-end escorts and discretion to the world's wealthy elite for decades — her list of clients apparently included John F. Kennedy, Muammar Gaddafi, and actor Marlon Brando, among many others (via BBC).
The film charts the beginning of the end for Madame Claude, who fled France in the mid-1970s over tax evasion charges. When a cultured young woman named Sidonie (Garance Marillier) applies to be one of Madame Claude's workers, Claude sees her as the ticket to a higher echelon of French society. However, Sidonie is no stepping stone, and her behavior casts an unwanted light on the entire operation, eventually leading to the fall of Claude's empire. 
The first two-thirds of the film examine the perils and pleasures of sex work, accompanied by hip fashions and an effortlessly cool soundtrack of French pop songs before a rushed ending recaps the final decades of Claude's long life in minutes. Rocher is simultaneously imperious and charming as the title character, though even she can't help but get overshadowed by the 1970s production design every so often.
No Limit (2022)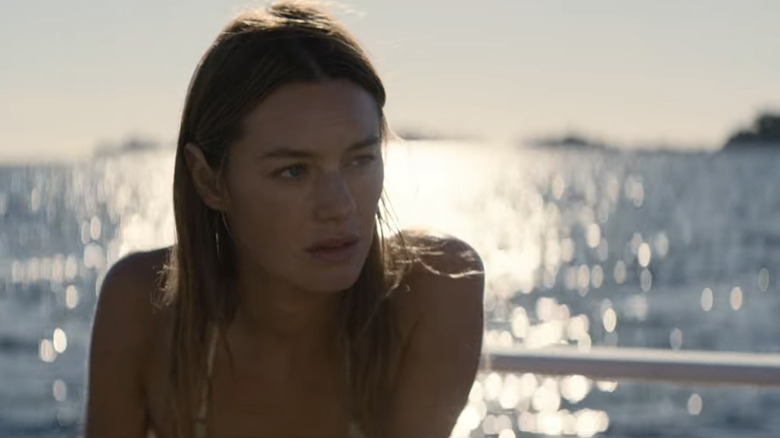 Netflix
The life and tragic death of French diver Audrey Mestre is dramatized in the 2022 film "No Limit." Camille Rowe stars as Mestre stand-in Roxana, a talented college-age swimmer who falls under the spell of both the sport of freediving and one of its stars, the handsome Pascal (Sofiane Zermani) — the film's version of real-life diver Francesco Ferreras. Roxana joins Pascal's team, first as an assistant, then as a competitor herself, and then after Pascal leaves the competitive world to become Roxana's coach, a star in her own right.
The film, directed by David M. Rosenthal, plays fast and loose with the facts of Mestre's life and death, and overall is less interested in Roxana's athleticism than with her palpable sexual chemistry with Pascal, who enters the film shirtless, and only wears less as the story goes on. Throughout, the script hints at Roxana's (and Mestre's) impending accidental death in ways that can feel exploitative. Her professor warns of the dangerous pressures at deep ocean depths, a rescue diver on Pascal's team dies in nearly the same way Roxana will, and during one of their many spirited lovemaking sessions, Pascal puts his hand around Roxana's throat, which Roxana objects to. 
Rowe does what she can with the role, but the film's emphasis on her affair with Pascal makes her feel less of a driven athlete and more like a girl who followed a boy into the water.
Savages (2012)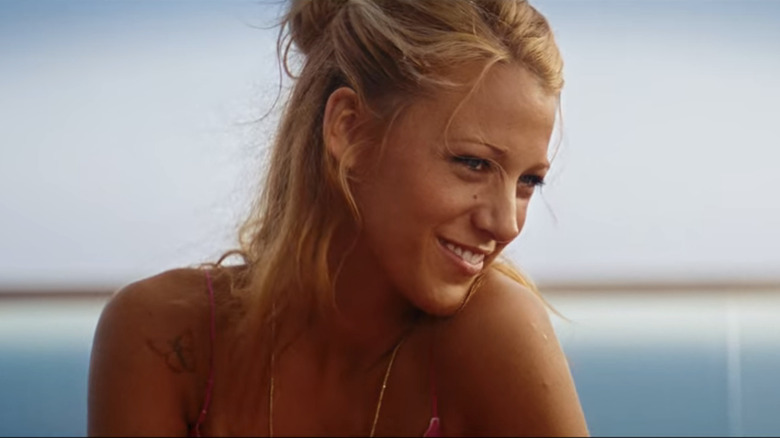 Universal/Netflix
"I have orgasms; he has war-gasms," Ophelia (Blake Lively) narrates at the start of Oliver Stone's 2012 crime drama "Savages." She is referring to her boyfriend Chon (Taylor Kitsch), a veteran who runs a lucrative marijuana business with Ophelia and her other boyfriend, Ben (Aaron Taylor-Johnson). 
Things are going well for the sun-kissed, uncommonly beautiful throuple until their enterprise grows a little too big and draws the attention of a Mexican cartel on the other side of the border. When Ben and Chon refuse cartel lieutenant Lado's (Benicio del Toro) offer of a partnership, the cartel kidnaps Ophelia in retaliation. Suddenly, the two best friends are thrust into the brutal world of cartel warfare, where they must go to uncommon lengths to rescue their shared girlfriend.
If that "war-gasms" line didn't tip you off, this is not a subtle film. It is, however, an exciting one. Stone works in the hyper-kinetic visual style of "Natural Born Killers" with a dash of Latin American politics from his breakthrough feature "Salvador." Stone has a lot of ideas about the damage wrought by the American war machine, whether in Afghanistan or on the streets of Juarez, much of it delivered by Lively in a breathy California purr. Salma Hayek also gets in on the fun as the cartel leader with a sadistic streak and a severe set of bangs.
Chloe (2009)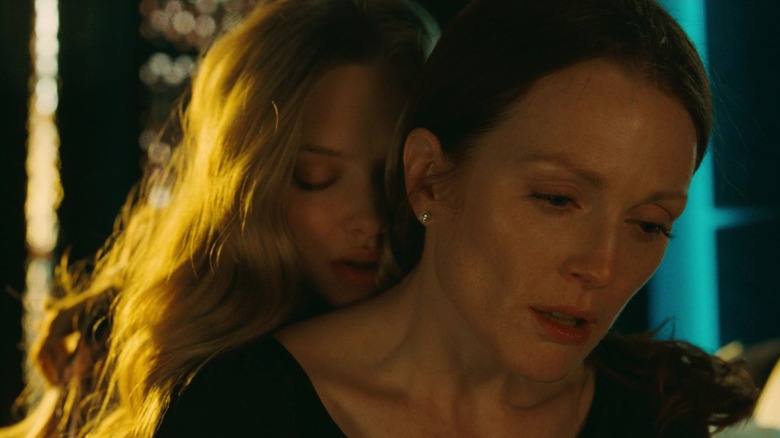 The Montecito Picture Company/StudioCanal
In the 2009 film Chloe, Catherine (Julianne Moore) is a well-respected doctor secretly struggling with the ennui of middle age. She no longer feels desirable, and she believes that her husband David (Liam Neeson) is sleeping around. To confirm her suspicions, she hires a sex worker named Chloe (Amanda Seyfried) to seduce him. However, when Chloe later tells Catherine the stories of her torrid encounters with David, this old-fashioned normie finds herself getting more excited than disgusted, and before she knows it, she also becomes seduced by Chloe's irresistible charms.
Though "Chloe" starts off as fairly standard sleazy trash, at times it gets dangerously close to profundity, especially in the conversations between Catherine and the titular temptress. Catherine has stability but craves real connection and excitement. At first, Chloe seems to have everything that Catherine desires but we see glimpses of her life's hollowness. Chloe lives only to please others, and as such a skilled chameleon, no one knows the real her. Perhaps she doesn't even know herself. In truth, both women are lonely, and maybe not so different. Is this erotic thriller evolving into a pro-sex work and pro-queer film about female solidarity?
Alas, no. From here, "Chloe" descends into a third act positively packed with bland melodrama and tired homophobic clichés. All in all, if you don't mind some sexy feelbad trash, check it out but don't get your hopes up. For all that's enjoyable about this movie, it's not at all smarter than it looks.
Anne+: The Film (2021)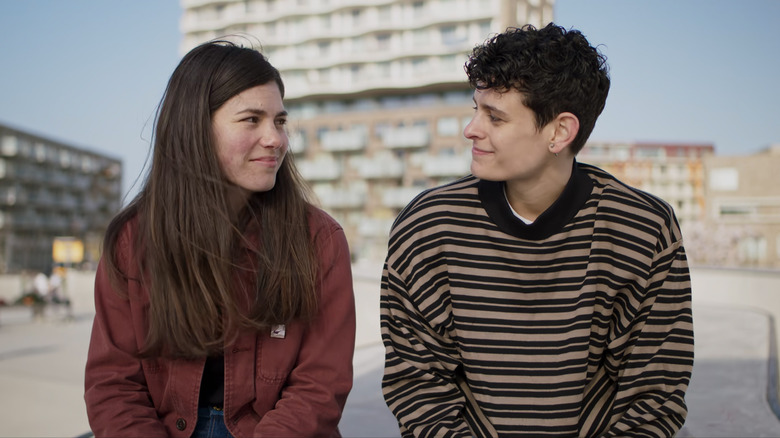 Dutch FilmWorks
Scrolling through steamy films on Netflix, you may come across something called "Anne+: The Film." The title may scare away many less adventurous viewers as it stares back at them, enigmatically, from the Netflix menu, not only because the name itself is a bit unusual, but also because it continues a Dutch-language television series. Well, we're here to tell you, don't let any of this scare you away. "Anne+: The Film" is a gem, and you don't need to watch the show first to "get it."
Anne (Hanna van Vilet), a queer woman in her twenties, and her long-term girlfriend Sara (Jouman Fattal) plan on moving from their home country of Amsterdam to Montreal. Sara has already left, and Anne intends to join her in a few months. In the meantime, since Anne and Sara will be spending the intervening time apart, they've agreed to experiment with an open relationship. At first, Anne isn't particularly interested in dating anyone else but one night at a drag show, someone unexpected catches her eye — a nonbinary drag performer named Lou. Anne soon finds herself falling for this charming and confident stranger, and she starts to doubt whether or not she wants to follow Sara to Montreal at all.
With wonderfully naturalistic acting throughout, especially in the cuddly and vulnerable love scenes, "Anne+: The Film" is a cozy queer delight that will ‌only break your heart a little bit.
Mr. Roosevelt (2017)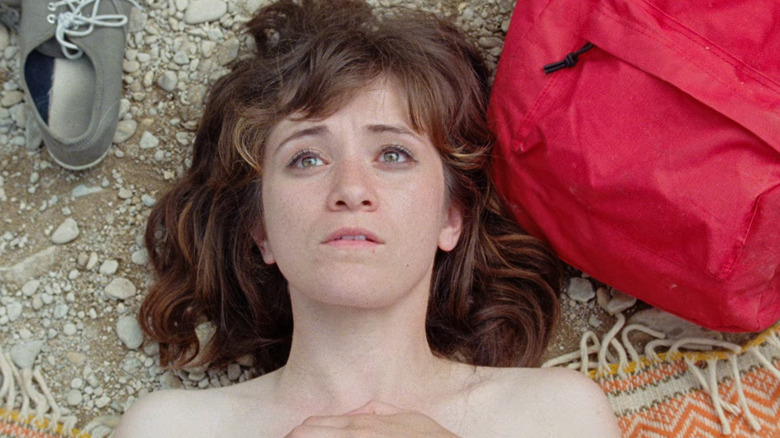 Paladin/Netflix
In "Mr. Roosevelt," Emily Martin (Noël Wells) is a struggling comedian living in Los Angeles. One day, she gets a call from her ex-boyfriend Eric (Nick Thune), who still lives back in their hometown of Austin, Texas. Eric tells Emily that the cat they once shared together, Mr. Roosevelt, is terminally ill, so Emily travels back to Austin, hoping to see her little kitty one last time.
While there, Emily ends up staying with Eric and his new girlfriend, Celeste. Now awkwardly wedged between her ex and his new love, Emily has a series of bizarre sexual misadventures, including walking in on her ex-boyfriend naked, going skinny dipping, and hooking up with random strangers. Although most of Emily's sex-capades lean more towards the comedic than the erotic, there are still quite a few rather lengthy nude scenes and a bit more heat than one might expect.
Overall though, "Mr. Roosevelt" is just a genuinely compelling and hilarious movie — a beautiful portrait of a young woman slowly coming to terms with just how much of a disaster she truly is. With an almost unprecedented 100% positive critical reviews on Rotten Tomatoes, no matter what you're looking for, it's definitely worth a watch.
Hard Feelings (2023)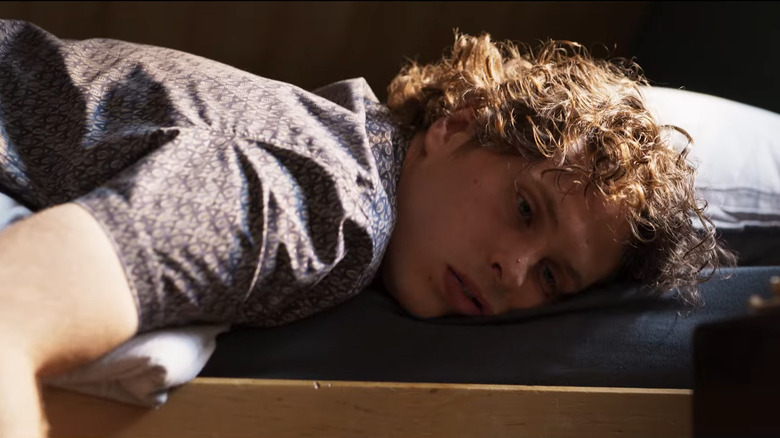 Netflx
If you find yourself getting bored with the sometimes same-y tropes of Netflix's erotic offerings, and you're in the market for something completely different, you might want to check out the truly absurd German sex comedy "Hard Feelings." Although not always an amazing work of cinema, there's certainly nothing else quite like it.
Our protagonists are two teen friends named Charly (Tobias Schäfer) and Paula (Cosima Henman). Unlike the rest of their socially and sexually active peers, these two late-blooming wallflowers find themselves on the fringes of high school society. One night, while sitting on the roof, looking at the stars and talking about life, a bolt of lightning suddenly strikes Charly and Paula. They are totally unharmed but the next morning they find that something miraculous has happened. Their genitals can speak to them.
A pair of obnoxiously horny commentary tracks now plague these teens throughout their every waking move, urging them to lose their respective virginities as soon as possible. So Charly and Paula vow to do just that, eager to exorcise their newly haunted nether regions. It's juvenile, ridiculous, and an experience you'll never forget.
Dude (2018)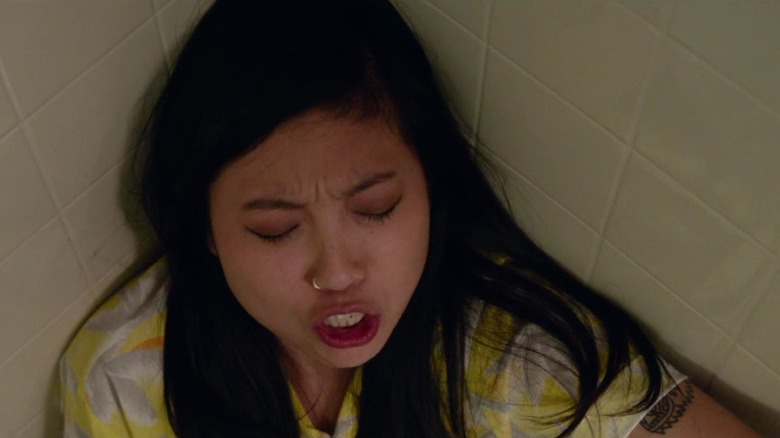 Netflix
Though Hollywood has cranked out countless films about teens trying to get laid, they're usually always told from the point of view of boys. This trend started to reverse a bit in recent years but before "Bottoms" and "Booksmart," we got "Dude," the original stoner sex-dramedy which proved that teen girls can also be just as horny as their male counterparts.
The film follows four female friends who, after a classmate's death, spend a year wallowing in the depths of stoned apathy. Now, with two weeks left until graduation, they feel lost, uncertain of their future, and most importantly, without prom dates. They all agree to attend the event together. However, when new romantic prospects arise for some of them, this once unbreakable group starts to drift apart. Are these four losers actually still good for each other, or only keeping each other in stasis, preventing one another from moving on to something better?
Just because "Dude" is a movie about stoners, that doesn't always mean it's a good trip. It's a largely solemn film, more often gloomy than funny. That said, there are still plenty of solid laughs and a handful of sex scenes that are definitely steamy, or, at the very least, smoky. Also, fair warning, the film features a scene of sexual assault.
‌If you or anyone you know has been a victim of sexual assault, help is available. Visit the Rape, Abuse & Incest National Network website or contact RAINN's National Helpline at 1-800-656-HOPE (4673).
Happy Ending (2023)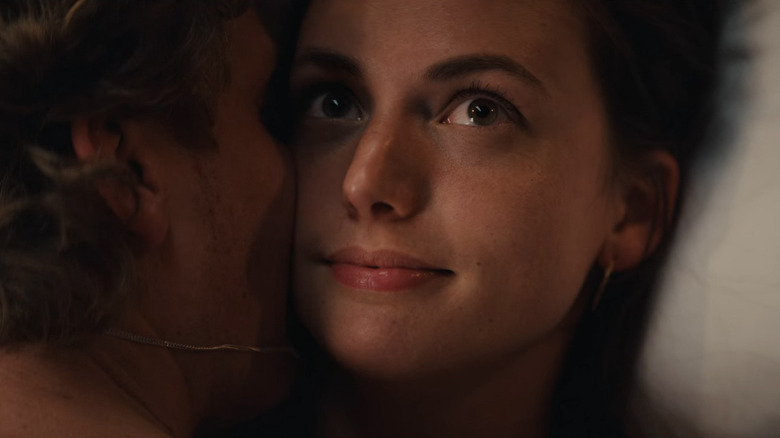 Netflix
The first time that Luna (Gaite Jansen) had sex with Mink (Martjin Lakemeier), she couldn't orgasm. However, she decided to fake one anyway, figuring that soon enough, he'd figure out how to give her one for real. Unfortunately, he never did. Now, a full year into their relationship, Luna's little lie has become a huge problem. Deeply unsatisfied with her sex life, she doesn't know how to break the news to her otherwise wonderful partner.
Welcome to the Dutch sex comedy "Happy Ending." So, what happens next? Does Luna confess the truth to Mink and work through the problem together? Of course not! Instead, she proposes spicing things up by adding a third person to the mix. Soon, Luna and Mink find themselves having a threesome with an intriguing new woman named Eve, and much to Luna's surprise, this new partner has no trouble making her climax. Luna now must make a difficult decision. Should she finally tell Mink the truth? Is it an issue of poor communication, or is Mink simply not right for her?
All in all, "Happy Ending" ranks as a fun little romp, with some delightful acting and rather spicy sex scenes that mostly compensate for the occasionally so-so script. Much like Luna's relationship with Mink, you'll probably enjoy it just fine, but... let's just say you may not feel the Earth move.