The Ending Of American Horror Story Season 5 Explained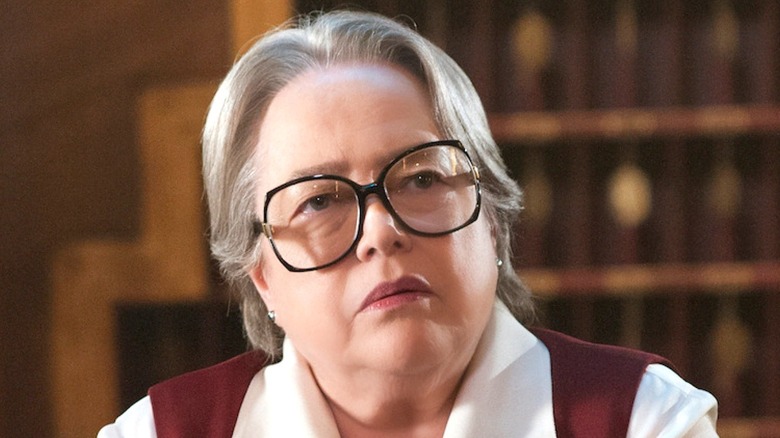 FX
The finale of FX's fifth installment of "American Horror Story" ("Hotel") may wrap up the various storylines of its cast of guests and ghosts quite tidily, but it stops short of providing concrete answers to a number of the questions posed throughout the season. Like its predecessors, Season 5 poked and prodded at the definition and importance of both love and acceptance, our preoccupation with filling voids, the narcissistic/possessive nature of the human condition, and the symbiotic relationship between revulsion and fascination. All, of course, while having a thing or two to say about the numerous, often toxic shortcomings of contemporary society. 
Its finale, titled "Be Our Guest," manages to investigate each of these themes, but — as is so often the case in "AHS" — each wrap-up unravels to reveal a more complicated subtext. The season revolves around a hotel (the Hotel Cortez) that draws its inspiration from two different storied, real-life buildings — the Cecil Hotel in Los Angeles and a Chicago hotel eventually dubbed "The Murder Castle," built in the 19th century by America's first famous serial killer, H.H. Holmes. Like the Murder House in Season 1 and Briarcliff Manor in Season 2, the Hotel Cortez is as vital a character as those made of flesh and blood (or ectoplasm?). It's in Episode 12, however, that the Cortez's ability to trap souls for all eternity plays most integrally into the season's overarching themes.
Looking for love in all the wrong places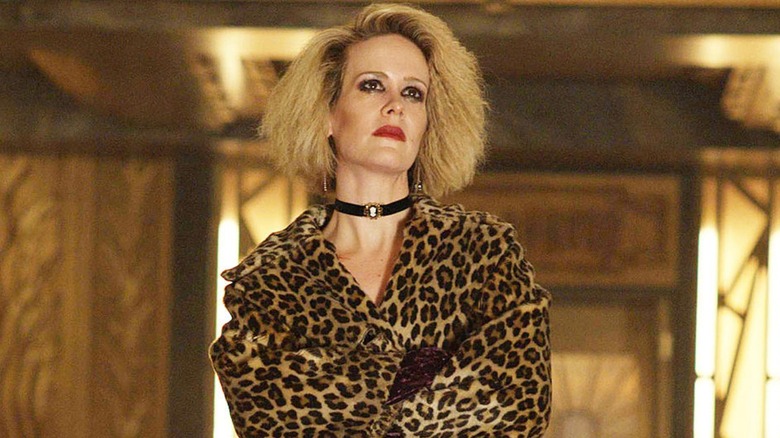 FX
Throughout the season, Sarah Paulson's literally heroin-chic "Hypodermic Sally" is abject loneliness and fear of abandonment incarnate. Her desperate, insatiable hunger for companionship both mirrors and rivals her vampire neighbors' desperate, insatiable hunger for blood. But thirst isn't the only thing Sally has in common with her glamorous, undead foil, the Countess (Lady Gaga): Both women go through partners like the living go through underwear. The difference is that Sally is perpetually trying to get them to stay, while the Countess constantly grows bored with them and trades them in for new models. Both women's physical needs (heroin for Sally, blood for the Countess) and emotional voids are eventually "remedied" in the season finale, but the fact that they are never truly met is telling.
While Sally is given a way to succor her loneliness when Iris (Kathy Bates) introduces her to the wonders of social media, it's an artificial love. Sally still can't leave the Cortez and interact in any real way with the outside world. And yet, "In the modern age," Iris tells her, "no one ever has to be alone, even for a second." As @SallyThatGurl, the long-suffering songstress' brand takes off, and she earns an unending stream of love and affection in the form of followers. "Are you okay?" we see a fan comment, followed by, "Cheer up." Naturally, Sally eats it up, and we're led to believe she gets her own happy ending — complete with newfound sobriety. That said, as anyone who's ever so much as sniffed social media fame well knows, synthetic adoration can wane as easily and as instantly as it once waxed. 
Just because Sally's story ends on a high note doesn't negate the fact that — as with any high — she'll eventually come down hard. Sally hasn't actually found love — she's merely found a shiny new addiction. 
As for the Countess, her restless quest for the perfect eternal soul mate also comes to an end in "Be Our Guest," though it's not quite what she envisioned.
Terms of endearment and ownership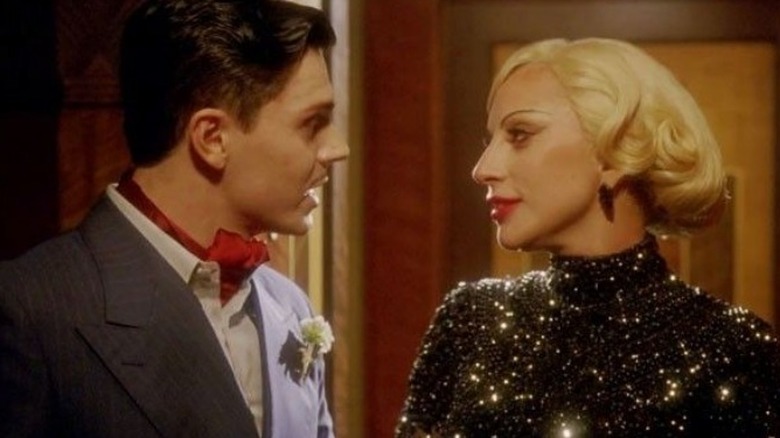 FX
Although "Be Our Guest" treats fans to at least a handful of happy endings, they're almost exclusively reserved for the dead. When the Countess finally dies, however, rather than finding eternal love in the hereafter, she finds herself trapped by a husband she never loved: James Patrick March (Evan Peters). March's obsession with Elizabeth (the Countess) leads him to have her killed in the Hotel Cortez so that the two can be together for all eternity. In the flashback to the pair's initial meeting in Episode 7, March says to Elizabeth, "I may never let you go" — a promise he ultimately keeps in the season finale. 
Although the episode's conclusion reveals the Countess will simply continue her quest for a soul mate — "You've got a jawline for days," she tells an unsuspecting guest/victim in the final scene — her transformation from vampire to ghost means she'll never again be able to do so on her own terms. For better or worse, she's trapped for all eternity in the Hotel Cortez. It's an important distinction for the series: the notion that love — real love, as opposed to need, or want, or possession — requires both parties to move through the world on their own terms.
If you love something, let it go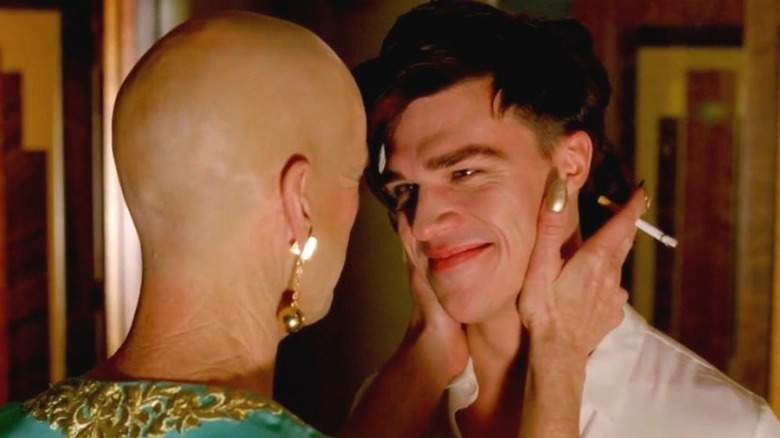 FX
In Episode 12, we learn that Liz Taylor (Denis O'Hare) has been reunited with her son and has become both a mother-in-law and grandmother. Of her newborn granddaughter, she says, "She was being born into a world more accepting than the one I was born into," before noting that kindness and acceptance "transformed me in ways nothing else ever could." Transformation and rebirth aren't just metaphors for Season 5: The living transform into the undead, the undead into the truly dead, and every so often, if they're lucky, certain characters are "reborn" in death. 
Such is the case for Liz Taylor, who finally finds love and acceptance in life, then must accept her own mortality after being diagnosed with a terminal condition. After the ghosts of the hotel help her to pass on within its walls, Liz is reunited with the love of her life: Tristan Duffy (Finn Wittrock, who also plays Valentino). Since Tristan never made himself visible after dying in the hotel, Liz assumed he hated her. "I love you," Tristan tells her, before explaining that he felt she had more living to do, and he just didn't want to get in the way. Their reunion is one of the finale's only straightforward happy endings. 
Similarly, Iris (who struggles to win her son's affection throughout both his life and his vampire un-death) finally makes peace with her son Donovan (Matt Bomer) only after he dies outside the hotel, forcing her to let him go. She gets rid of every trace of his ashes and later learns that he's happy at last — in death. Via television personality and medium Billie Dean Howard (also Sarah Paulson), Donovan finally tells his mom he loves her. 
Once again, AHS calls viewers out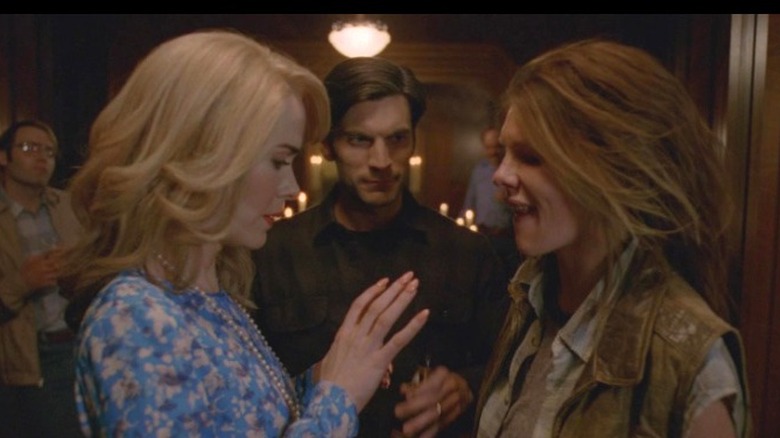 FX
After originally hiring Billie to help Liz contact Tristan, Iris grows tired of the medium and her television show's continual exploitation of the spirits in the Hotel Cortez. In a moment of characteristic "AHS" irony, she explains to Ramona Royale (Angela Bassett) that the types of people Billie's show attracts to the hotel — "those freaks and weirdos who want to be plowed by a ghost" — are bad for its "brand." The permanent residents of the Hotel Cortez decide to do something about it, and on Devil's Night (October 30th), they resolve to take care of Billie Dean Howard and her sordid fan base once and for all. 
Devil's Night is the one night a year when those who died outside the hotel can cavort with those who died within it. The Ten Commandments Killer (aka Officer John Lowe, played by Wes Bentley) is one of the former, and he shows up to lure Howard into the ghosts' trap. Howard ends up in a room filled with the world's most notorious serial killers, including the Zodiac Killer, John Wayne Gacy, Richard Ramirez, Aileen Wuornos, Jeffrey Dahmer, and, of course, James March, who is based on H.H. Holmes. While they don't kill her, they do scare her into leaving the Hotel Cortez forever. 
It's a self-referential, ironic moment. On the one hand, viewers find themselves rooting for the serial killers, who, after all, are only trying to protect the Cortez and their fellow ghosts. On the other hand, the "types" of people Billie Dean Howard's show attracts are the exact same people who would find a show like, say, "American Horror Story" compelling. 
While Howard's encounter may be truly terrifying at times, it's also a genuinely hilarious moment of pure meta indulgence that highlights an ongoing theme in "AHS."
A complicated season with a simple message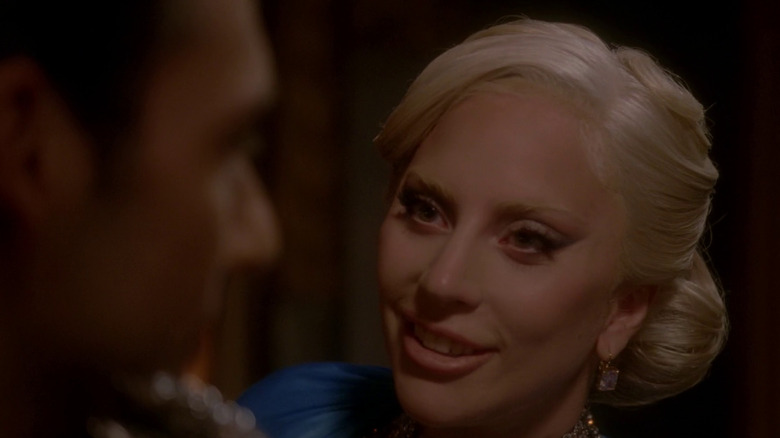 FX
"Hotel" openly connected itself to both "Murder House" and "Coven" and introduced fans to a seductive new assortment of ghosts, killers, and creatures of the night. It echoed a number of the themes that ran through "Freak Show" and gave fans a treasure chest of allusions upon which to speculate. It introduced "AHS" fans to Lady Gaga in a lead role and was the first time the show dipped its toes in something akin to classic film noir. Finally, it reiterated some of the universe's rules that were first established back in Season 1 and further refined the language through which the series would continue to deliver its ethos and social commentary. 
Nevertheless, for a season that did so much legwork and set up so many threads for future storylines to pull, its finale delivered some simple reminders: that love is acceptance and selflessness, not possession and self-interest; that filling a void isn't the same as healing a wound; that anyone can be reborn if they're willing; and, finally, that revulsion and fascination are two sides of the same coin.