Movies Like Nightcrawler Psychological Thriller Fans Need To See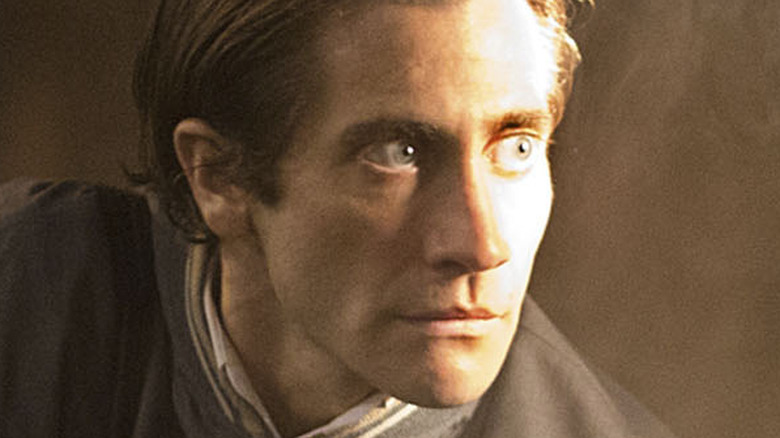 Open Road Films
Director-writer Dan Gilroy's 2014 thriller "Nightcrawler" is a cynical masterpiece. Jake Gyllenhaal utterly inhabits the character of Lou Bloom, a budding photojournalist who also happens to be a sociopath willing to do whatever it takes to advance himself in a profession where amorality and a lack of empathy are features, not bugs. This is the mark of a great thriller; the ability to be both enrapturing and tense on a moment to moment basis, and also provide the audience with a point of view and a message. "Nightcrawler" hits this mark with chilling precision.
All the following thrillers, like "Nightcrawler," contain both style and substance — although some lean more heavily in one direction. Whether they are inspirations or contemporaries to Gilroy's moody character piece, each one of the thrillers on this list contains a similar darkness at its core. So keep the lights on if you have to, but don't go to bed tonight without giving one of these masterful works of suspense a try. 
Drive is one of the most stylish thrillers of the 2010s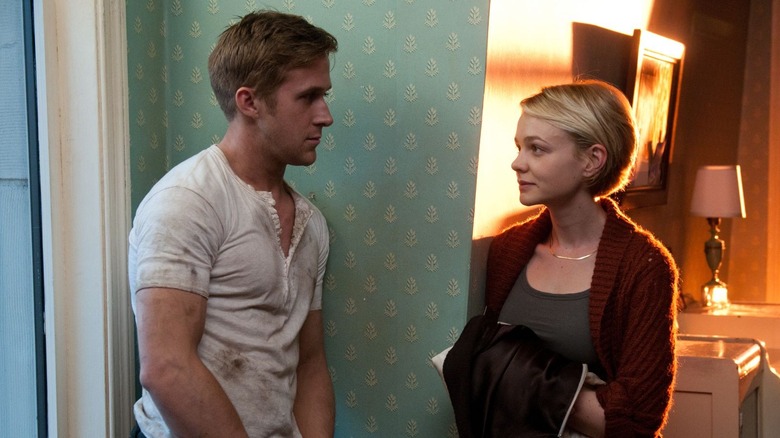 FilmDistrict
It's not that "Nightcrawler" wouldn't have existed without "Drive," it's just that it may have been a lot less popular. Nicolas Winding-Refn's breakthrough film is a stylish, moody thriller with a kickass soundtrack. It stars Ryan Gosling mostly just looking very cool in a jacket. If you were a teenager in 2011, you probably saw this movie and thought that jacket was cool. You probably loved it and watched it multiple times over.
From the opening scene, two things are clear. First, "Drive" completely owns its sense of coolness and style. Second, Ryan Gosling is absolute perfection as the Driver, a nearly-silent protagonist that gets tangled up with a woman (Carey Mulligan) who deserves far better than this lifestyle. "Drive" is a slow burn that pops off halfway through. Come for the vibes, but stay for the stylish violence and the tragic love story that ends up being way more touching than you expect by the end.
The Game is a David Fincher classic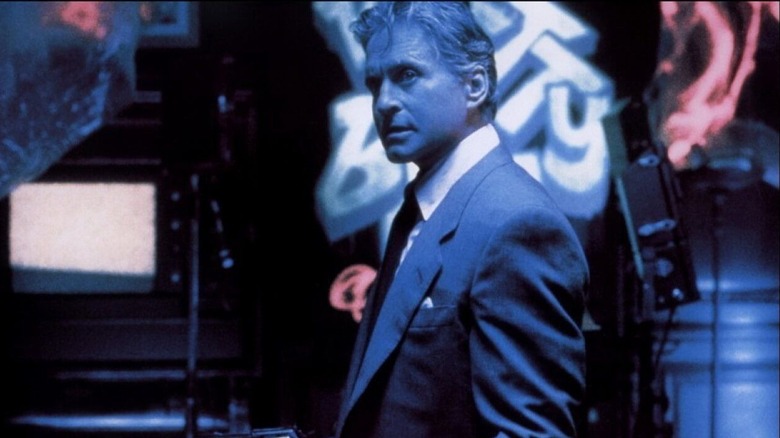 PolyGram Films
A sometimes forgotten entry in David Fincher's excellent catalog of dark '90s thrillers is "The Game" with Michael Douglas and Sean Penn. The two play a pair of brothers who were once close but have become estranged through the collective trauma of their father's suicide. When Conrad (Penn) visits his wealthy, grieving brother Nicholas (Douglas) he gifts him a voucher for a game. ​​Offered by a company called Consumer Recreation Services (CRS), the experience is promised to be immersive and life-changing unlike anything else.
After becoming irritated with a process that results in his application to play the game being denied, Nicholas starts to be terrorized by CRS. The lines between game and reality break down for the characters and the audience, keeping you on your toes the entire film. "The Game" is a thriller that twists and turns at every other minute, but never feels convoluted. The ending too, without giving anything away, is a stunner. Whether you predicted it or not is irrelevant. It simply works. 
Travis Bickle from Taxi Driver is the OG Lou Bloom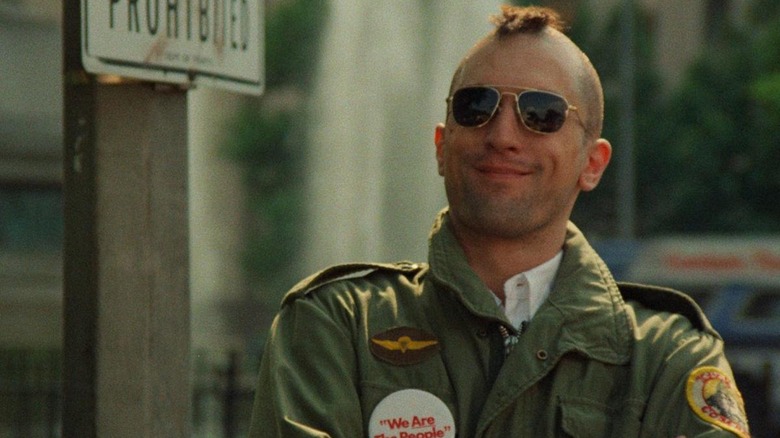 Columbia Pictures
It is a fact that if not for the genius pairing of Robert De Niro and Martin Scorsese we wouldn't have "Nightcrawler." "Taxi Driver" and its bedraggled protagonist Travis Bickle set the template for the anti-hero story and did so in an immensely moody and stylish way that is still influencing filmmakers decades later.
Robert De Niro is Bickle, a burnout taxi driver who cruises around searching for purpose in the seediest corners of New York City. He is completely delusional and hard to love, and yet the character is a reflection of the ever-growing unease of the average man that has only been exacerbated by society in the decades since. Bickle's unease grows into an urge for violence, but "Taxi Driver" never really tells the audience what to think of him. Is he a psychopath or a revolutionary? Years later, this specific ambiguity is still deployed in many psychological thrillers.
Joaquin Phoenix is at his best in You Were Never Really Here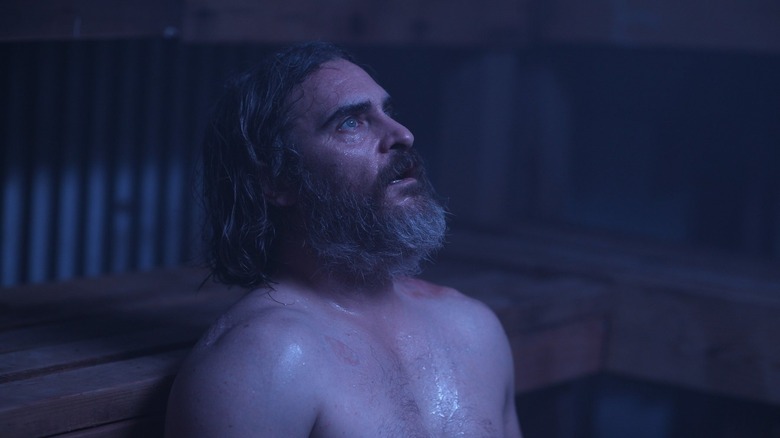 Amazon Studios
Director Lynne Ramsay earned recognition for her traumatic psychological drama "We Need to Talk About Kevin" in 2011. Her next film wasn't released in most markets until 2018, but "You Were Never Really Here" established Ramsay as one of the most provocative directors working in the thriller space. 
Joaquin Phoenix is Joe, a hitman who targets human traffickers that kidnap young girls. As he takes on a job to rescue the daughter of a state senator, his dark and abusive past is slowly revealed to the audience. Once again, Ramsay is focusing on the effects of trauma. The ways trauma breeds both violence and compassion is on display in Joe, as Phoenix plays the character with nuance and grace. "You Were Never Really Here" is a tender movie, but it is set in such a dark place and punctuated with such brutal violence. It is that contrast that makes it worth watching.
Adam Sandler shines in Uncut Gems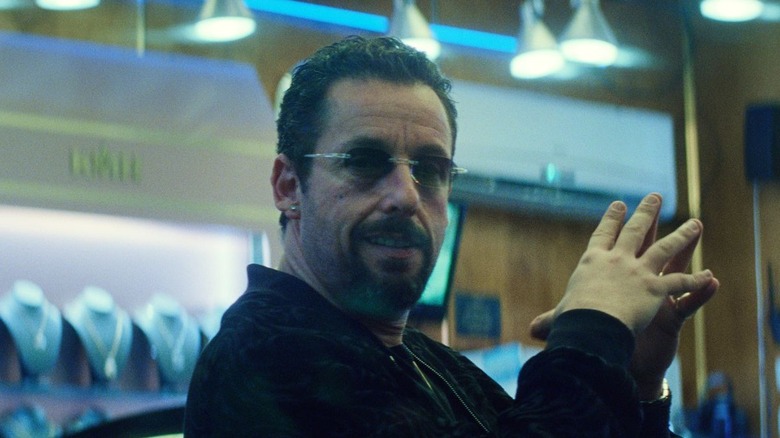 A24
There is a certain kind of thriller protagonist that gets thrown into the thick of things and then there are the ones who find trouble for themselves. The latter, the Lou Blooms and Travis Bickles of the world, are ostracized and outcast. These are the types of people the Safdie Brothers are so excellent at making movies about. Adam Sandler's turn as Howie Ratner in "Uncut Gems" is the latest and greatest from the kings of the New York indie film scene.
"Uncut Gems" follows an off-the-rails Sandler in a relentless movie that blends dark comedy with drama. Howie is a gambler who runs a jewelry store in the Diamond District. He has it all, a wife, family, a good steady job, but Howie's problem is he will never stop wanting more. Watching Sandler inhabit the character as he succumbs to his fatal flaw can be anxiety-inducing at times, but the tale of Howie Bling is one of the most compelling thrillers to be released in recent years.
Dune director Denis Villeneuve made the star-studded Prisoners in 2013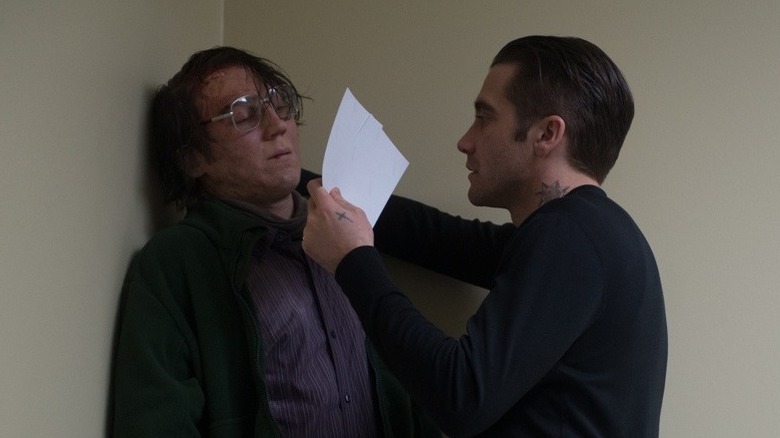 Warner Bros. Pictures
Another thriller for Gyllenhaal fans to devour, "Prisoners" is the English-language debut of now-acclaimed French-Canadian director Denis Villeneuve. And what a rousing entrance the "Dune" director made. "Prisoners" is long, dark, and complex. More importantly, it was a sleeper hit both at the box office and with critics. Without its success, Villeneuve would probably never have got the budget and influence to make "Blade Runner 2049" and "Arrival." 
It starts simply when two little girls go missing. Detective Loki (Gyllenhaal) is on the case, but one of the parents, Keller Dover (Hugh Jackman), doesn't trust him and takes matters into his own hands after Loki releases the prime suspect. It sounds formulaic, but where "Prisoners" goes is anything but predictable. The supporting ensemble here is absolutely killer, too. With Viola Davis, Terrence Howard, Melissa Leo, and Paul Dano, it is hard not to find a compelling, nuanced performance around every one of this film's dark corners. 
Gone Girl turns the murder mystery genre on its head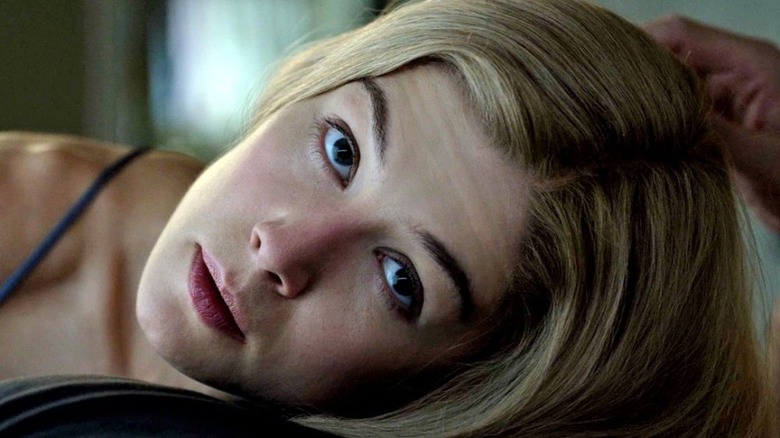 20th Century Fox
Over 15 years after "The Game" was released, David Fincher proved he's still the master of the gritty mind-twister. Based on the best selling novel by Gillian Flynn, this 2014 thriller was Fincher's last movie before he began experimenting in TV with series like "House of Cards" and "Mindhunter." For years fans wondered if this would be his final film, but if it was, it was certainly a terrific send-off. This taut thriller begins slow, but a midpoint twist leads to a strong second half full of nonstop harrowing moments, all topped off with a mysterious slow burn ending. "Gone Girl" definitely earns the reputation it has.
When his wife Amy goes missing, Nick Dune (Ben Affleck) becomes the center of a media circus and soon the number one suspect in his wife's disappearance. Of course, Rosamund Pike as Amy is the shining star in this — one of her most devilish roles — but without giving too much away, we will just say that nothing is quite as it seems in this murder mystery.
The King of Comedy inspired Joker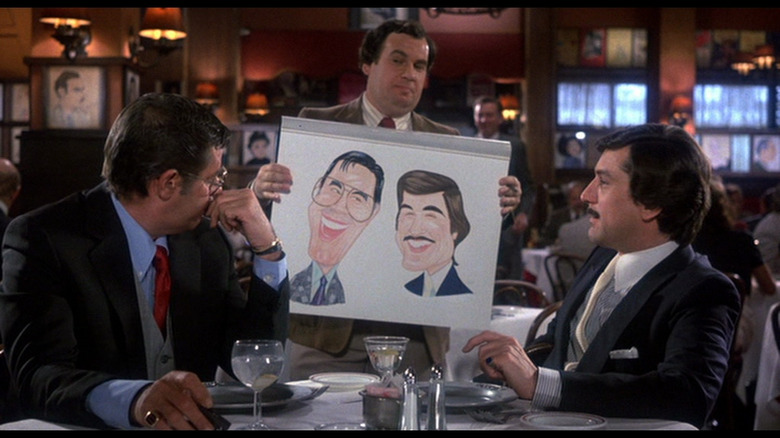 20th Century Fox
Another classic collaboration between Martin Scorsese and Robert De Niro, "The King of Comedy" is not a comedy, but one of the most underrated thrillers in both renowned artists' respective filmographies. To this day, Rupert Pupkin remains one of the most charismatic and deeply unsettling characters De Niro has ever brought to life.
"The King of Comedy" is all about Pupkin, an amateur comedian with delusions of grandeur. After not landing a spot on a talk show with Jerry Langford (based on and played by Jerry Lewis), Pupkin hatches a kidnapping scheme to force Langford to give him his big break. The plot escalates to increasingly tense heights and ends in a spectacular manner.
If you have seen "Joker," you might be familiar with a lot of the beats here. Todd Phillip's take on Batman's arch nemesis is an homage to the New York films of the '70s and early '80s, but specifically references "King of Comedy," even casting De Niro as the Jerry Lewis figure to Joaquin Phoenix's Pupkin-inspired Arthur Fleck.
Velvet Buzzsaw was Dan Gilroy and Jake Gyllenhaal's next team-up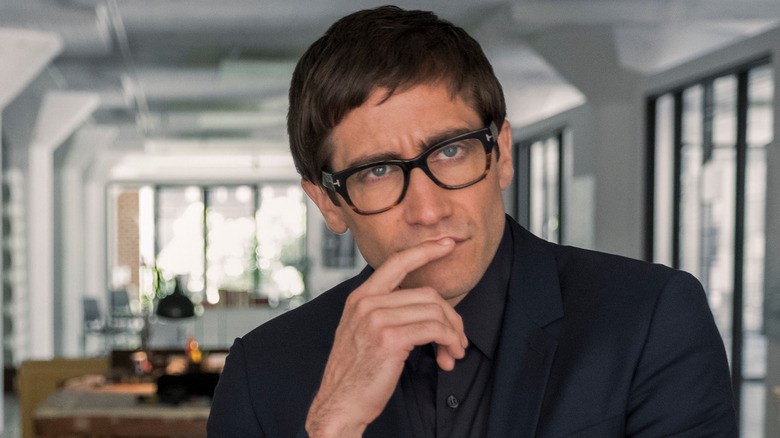 Netflix
While it isn't in the same "cinematic universe" per se, it is apparent writer-director Dan Gilroy wanted to recapture the energy and vibe of "Nightcrawler" in a slightly different form. "Velvet Buzzsaw" takes the cynicism "Nightcrawler" displayed towards exploitative journalism and turns it on the art world. While it is primarily a critique of fine art and the bougie world that surrounds that scene, the movie's message can be also read as a critique of Hollywood and the film industry. 
The movie is more heightened and intense than their previous collaboration, beginning with Gyllenhaal, who turns it up to 11 as pretentious art critic Morf Vandewalt. The performance is as campy as the name makes it sound but it fits the film to a tee. "Velvet Buzzsaw" is a heavily stylized critique of Hollywood and the vapidness of art in all its forms, with plenty of blood, sex, and murder to keep horror fans satisfied as well.
Jake Gyllenhall starred with Amy Adams in Nocturnal Animals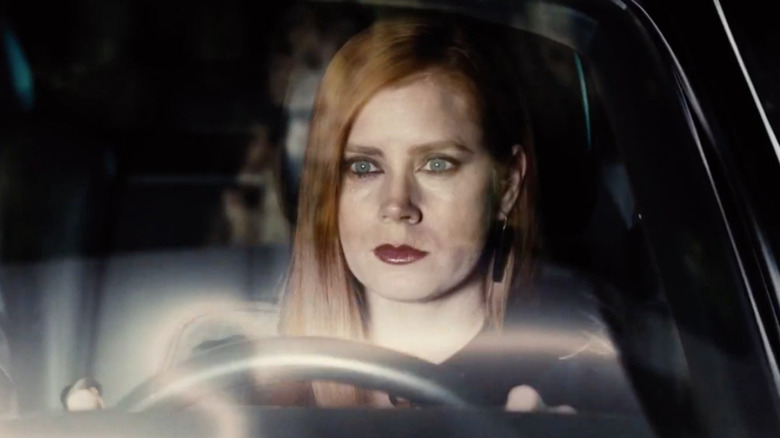 Focus Features
Director Tom Ford's unsettling "Nocturnal Animals" featured a knockout cast that included Amy Adams, Jake Gyllenhaal, Michael Shannon and an Oscar-nominated performance from Aaron Taylor-Johnson that you may have forgotten about by now. "Nocturnal Animals" is deeply impressive — if you can make it through it. The film's plot is heavily centered around lust and sexual violence and it can be a hard watch for some. Even among the other thrillers on this list, this one is extreme. 
The story switches between the real-life relationship of successful art gallery owner Susan Morrow (Adams) and her ex-husband Edward Sheffield (Gyllenhaal) and that of the fictional world inside a novel that Edward has written, titled "Nocturnal Animals." The film is an occasionally confusing, yet enticing romance in which Edward communicates his raw feelings about the wreckage of his marriage to Susan through the bleakness of the novel — which is an unbearably intense thriller all on its own.
Brick is a neo-noir set in a high school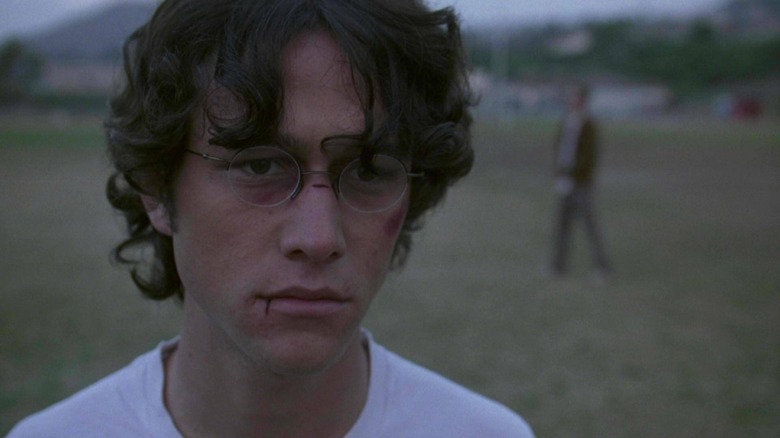 Focus Features
The debut feature from writer-director Rian Johnson, "Brick" is a stylish neo-noir set in a California high school. Starring a very young Joseph Gordon-Levitt (the movie came out in 2005), this film is a love letter to the hardboiled detective movies and film noirs of yore, many either inspired or written by Raymond Chandler.
The movie starts with a cold open, when burnout and shockingly bright detective Brendan (Gordon-Levitt) gets a panicked phone call from his ex-girlfriend Emily. Like all great hardboiled fiction heroes, he is dragged unwittingly into a world of drugs, crime, and sexual deviancy. And yes, this is all set to the backdrop of a public high school and it is absolutely a perfect choice. The setting and tone give "Brick" a unique sense of identity and a gleeful excuse to tick off all the boxes on the noir trope list without it feeling derivative or spineless. It is instead a brilliant debut picture: an exercise in both style and homage that showed off Johnson's skills from the get-go.
Caché is a subdued French thriller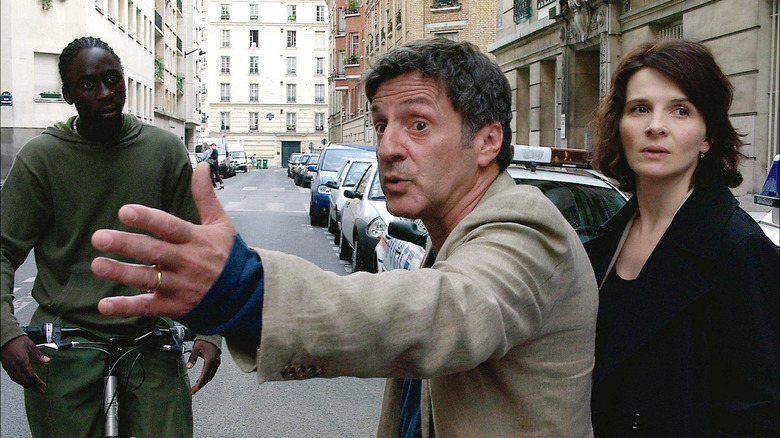 Sony Pictures Classics
"Caché" (also titled "Hidden") is a French film by Austrian writer-director Michael Haneke, who made both the extremely dark 1997 thriller "Funny Games" and its English-language remake 10 years later. With great leading performances by Juliette Binoche and Daniel Auteuil, it is easy to recommend this French-language feature to any fan of the thriller genre.
It follows a middle-aged married couple who begin receiving anonymous videotapes of their own home. As the frequency of invasive tapes increases, the family's internal relationships come under more strain and secrets from the past start to make their way to the surface. Tension builds between the parents and the children as it becomes increasingly uncertain if they will ever solve the mystery. The movie is slow and intellectual, but any movie fan who liked "Nightcrawler" for its nuanced performances and creeping sense of dread should give this French thriller a shot.
Side Effects is one of Steven Soderberg's most underrated movies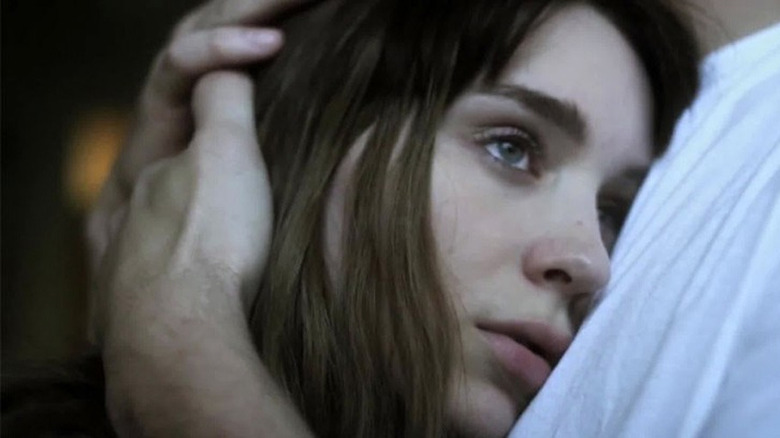 Open Road Films
Steven Soderbergh is so prolific as a filmmaker it might be easy to forget a little movie he directed in 2013 that was actually pretty darn good. "Side Effects" is a tight psychological thriller that is led by a star-studded cast featuring Rooney Mara, Jude Law, Channing Tatum, and Catherine Zeta-Jones.
When Emily (Mara) attempts to kill herself, she is given a new experimental prescription drug — the only thing that is working for her. But of course, given the title, this drug has a big side effect — sleepwalking. One night in her sleep Emily kills her husband Martin (Channing Tatum) and gets off by pleading insanity.
Emily's psychiatrist, played by Law, has some suspicions about the whole situation. What follows is a dive into a world of conspiracies and pharmaceutical companies. "Side Effects" is a perfect weekend afternoon thriller, full of entertaining performances and twists that make it more than the sum of its parts.
The Killing of a Sacred Deer is disturbing and darkly funny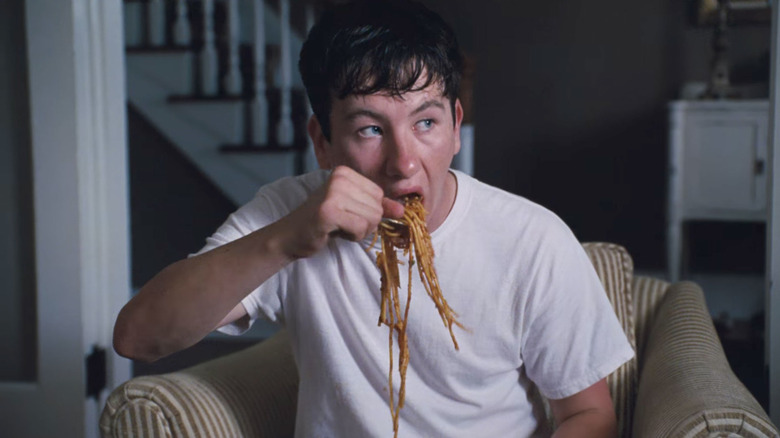 A24
Another off-kilter thriller from "The Lobster" writer-director Yorgos Lanthimos, the dark and enigmatic "The Killing of a Sacred Deer" is actually the Greek filmmaker's most straightforward movie to date. Still, it is full of Lanthimos trademarks, including deadpan line readings, morbid humor, and a general air of unease that lingers throughout the movie's run time.
"The Killing of a Sacred Deer" stars Colin Farrell and Nicole Kidman as a married couple with three beautiful children who must deal with a strange young man who appears in their lives. Steven (Farrell), a rich, successful surgeon, meets a grieving boy (Barry Keoghan) one day and takes him under his wing. As the young man starts to become more and more manipulative and frightening, his true purpose in this family's life begins to come into focus. It is an unsettling thriller that isn't for the faint of heart, but if you can grin and bear it you'll find a tale worth mulling over for weeks after.