Hollywood Remembers Jerry Lewis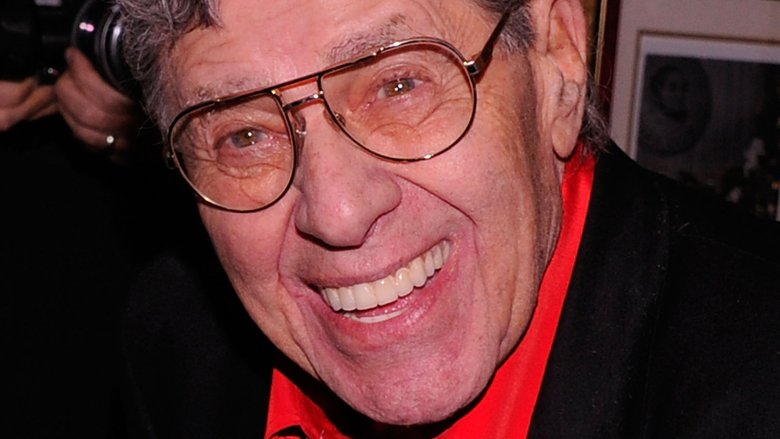 Getty Images
Jerry Lewis, a comedy legend, iconic collaborator of Dean Martin, and star of films like The Nutty Professor and The Bellboy, died at the age of 91 on Sunday, August 20. With a career that spanned over 60 years and a passionate dedication to charity and humanitarian work, particularly on behalf of the Muscular Dystrophy Association, Lewis left a mark on the film, television, and stage worlds for life. In light of his passing, celebrities have come forward to express their condolences to Lewis' family and to remember his impact on Hollywood and beyond. 
"Jerry Lewis just died. When I met him, I feel apart, just sobbed. I guess it's time for that again," comedian Penn Jillette wrote on his Twitter, accompanied by many photos of him with Lewis. "We will miss Jerry so much. I can't believe I got to meet him and spend time with him. How did my life get good enough that Jerry Lewis would smile at me? And how sad to lose him. Goodbye to the real, no irony, king of comedy." 
Another comedian and actor Dane Cook wrote in a series of tweets: "My mentor and friend Jerry Lewis has passed away. A visionary. A pioneer in all forms of entertainment. A charitable human. A father. He meant the world to me and I will forever cherish the time I got to spend with him and his family. At a dark time in my life, he brought me joy. Always funny. Always helpful. Always honest. I will miss you, Jerry Lewis. The world has lost a true innovator and icon."
"Goodbye Jerry. You invented the whole thing. Thank you doesn't even get close," wrote actor Jeffrey Tambor on Twitter. 
Actress Jamie Lee Curtis remembered Lewis' presence in her own family: "Jerry Lewis loomed large in my family. Many movies with my mom and he made home movies with Janet and Tony. He made me and many laugh."
Marlon Wayans wrote a heartfelt tribute to Lewis on Instagram: "Man... I'm just floored. Growing up, all kids have super heroes... Jerry Lewis was mine. Such a funny man. A brilliant physical comedian. My brother Shawn and I grew up watching Jerry Lewis and Dean Martin. These two helped us dream. He was hilarious and charitable. You will forever be remembered with a smile. We can look at your films and your work and we can momentarily feel better about life. That is why I work as hard as I do. I'm a fool, I'm a clown, I'm a crusader for people's smiles. We do what we have to do to make the world feel better. Thank you for the many smiles you put on my face and thank [you] for being a light for a little boy with big dreams to follow. Rest well. Make God laugh." 
"It was incredible knowing and laughing with the amazing Jerry Lewis!" Samuel L. Jackson said. "He'll keep 'em [laughing] in the ever after!"
Jim Carrey called him "an undeniable genius, an unfathomable blessing, comedy's absolute," and credited Lewis' work as a major influence on his own career. Funnyman Josh Gad wrote, "One of the greatest of all time. A legend. A showman. A comedic icon. A movie star. An activist. A one of a kind. RIP Jerry Lewis."
"Jerry Lewis was a genius comedian, actor, director, inventor, humanitarian and, as a Las Vegan, what I miss most," said Jimmy Kimmel. Larry King honored the special friendship he had with Lewis: "I mourn the passing of my friend Jerry Lewis. He was the Friars Club's Abbott and I, its Dean. He could always make me laugh."
"As a kid, I'm pretty sure I was the biggest Jerry Lewis fan in the world. Truly. RIP Jerry Lewis," The Big Sick star Kumail Nanjiani shared on Twitter. Star Trek legend George Takei said, "We have lost a great comedian and even greater heart. Thank you for the laughs and the feels, Jerry Lewis."
Our thoughts are with Lewis' loved ones during this time of mourning.