Mindhunter Season 3 - What We Know So Far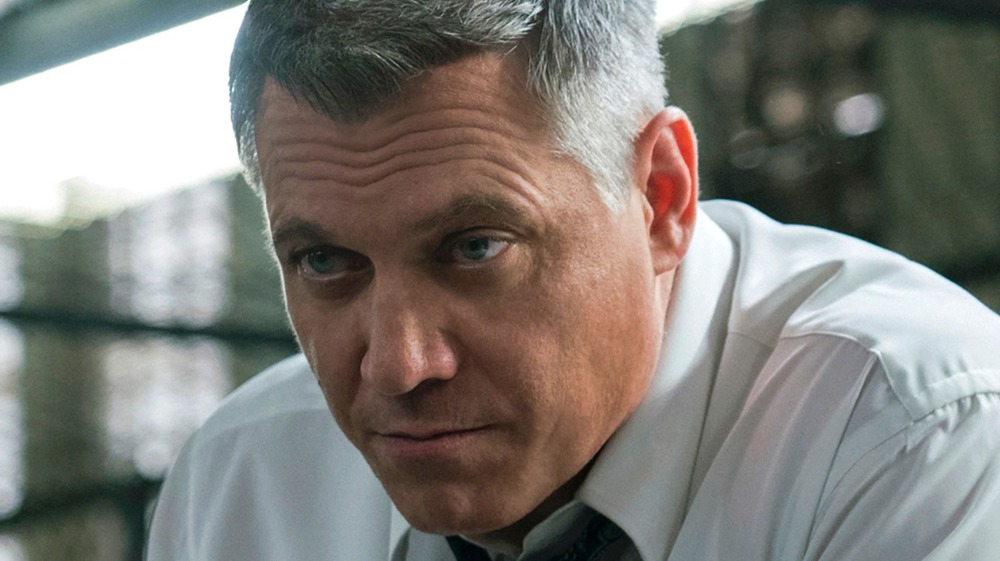 Netflix
It's the fall of 2017. Little does the world know it, but cinematic master David Fincher is about to unleash one of his most thrilling and unsettling projects yet on the streaming masses. That project was a 10-episode series simply titled Mindhunter. It arrived on Netflix in mid-October to critical raves and promptly proved to be not just one of the best shows the streamer had ever produced, but one of the best to ever drop in the past decade-plus.
Set in the late-70's, Mindhunter also proved to be one of the heaviest dramas around as it followed the early days of the FBI's criminal profiling program. Therefore, it spent a lot of time exploring the grisly crimes and fractured psyches of some of history's most notorious serial killers. Loosely based on actual events, those explorations were conducted by an ambitious young agent (Jonathan Groff), a stoic veteran (Holt McCallany), and a whip-smart psychiatric consultant (Anna Torv), who'd use their findings to lay the groundwork for virtually every serial killer investigation from the 1970s on.
As utterly enthralling as season 1 of Mindhunter was, it still didn't quite become the hit Netflix might've hoped for. Despite that, the streaming platform greenlit a second season, which arrived in the summer of 2019, and proved to be every bit as binge-worthy and brilliant as the first, with many expecting Fincher and Netflix to deliver a third season sooner rather than later. That season has yet to arrive, but it's still very much a possibility. Here's everything we know so far about the possible third season of Mindhunter. 
When will season 3 of Mindhunter drop on Netlflix?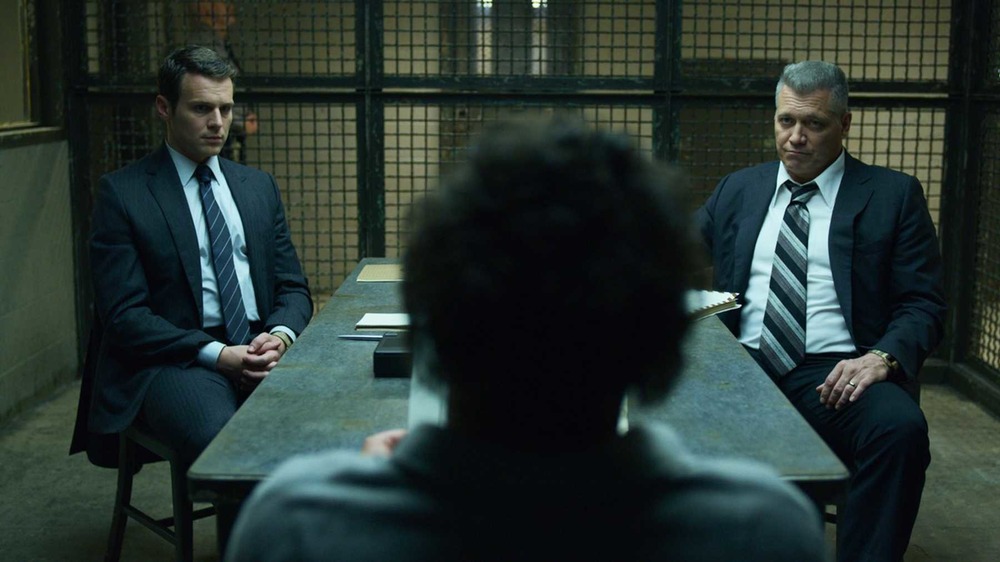 Netflix
As it is, the details on when Mindhunter's third season is dropping are very much unknown at the moment. And at least for now, they'll remain that way, because David Fincher apparently doesn't have the time or energy to keep the show going. Fear not, because Mindhunter technically hasn't been canceled by Netflix, with the show merely being on what the streamer is calling an "indefinite hiatus." That means Fincher might "revisit" the series again in the future.
That most perplexing news broke in 2020, as the infamously detail-oriented director was promoting his now Oscar-nominated Netflix film Mank, with Fincher telling Vulture part of the reason season 3 of Mindhunter hasn't materialized is that the show is simply too taxing on him. "It's a 90-hour work week," he explained. "It absorbs everything in your life. When I got done [with season 2], I was pretty exhausted, and I said, 'I don't know if I have it in me right now to break season three.'"
Though he didn't offer a definitive "no," Fincher went on to say that the third season of Mindhunter "probably" wouldn't happen, noting that on top of the time-suck of doing it, the show is also a pricey production that isn't exactly breaking any viewership records. "Listen, for the viewership that it had, it was an expensive show. I honestly don't think we're going to be able to do it for less than I did season two. And on some level, you have to be realistic about dollars have to equal eyeballs."
And if that news isn't grim enough, the filmmaker has also been busy lining up even more directorial gigs in the interim, having already gone into pre-production on The Killer for Paramount Pictures — which likely means at least another year will pass before Fincher even considers a Mindhunter return. 
Who will be in season 3 of Mindhunter?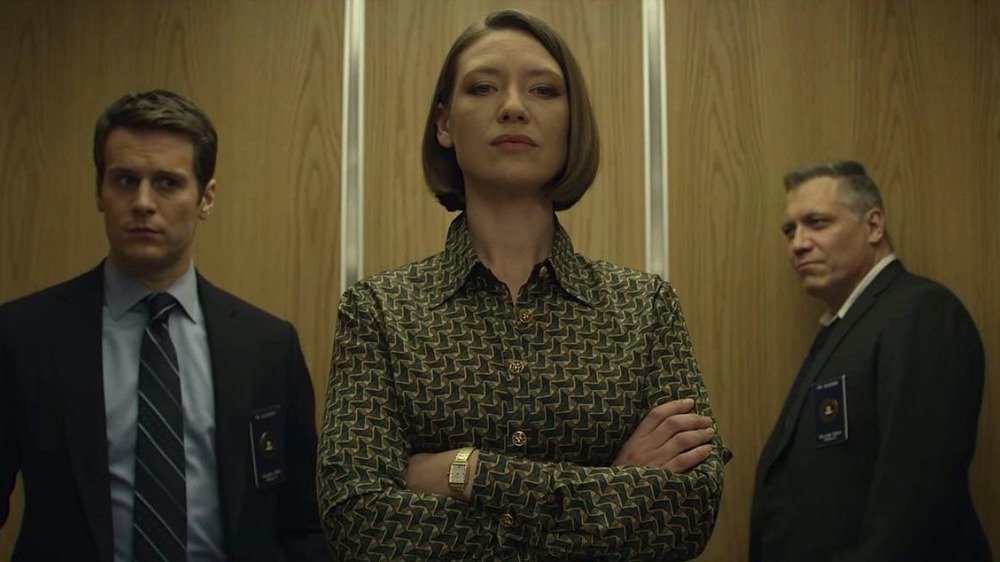 Netflix
As if that "indefinite hiatus" news wasn't bad enough news for Mindhunter fans, it came on top of even more grim developments — Netflix had indeed released the series' central cast members from their contracts, which apparently included clauses for possible fourth and fifth seasons of the show. Even still, with the show on "indefinite hiatus," company officials wisely decided it wouldn't be fair to Mindhunter's in-demand stars to possibly prevent them from booking new gigs while everyone waited to see if season 3 would materialize.
Even if the prospect of re-assembling the Mindhunter cast (including Groff, McCallany, Torv, Joe Tuttle, and now Michael Cerveris) down the road might prove exceedingly difficult, it's a safe bet the entirety of that crew would be eager to return as the show is easily a career highlight for each. McCallany — who counts himself among Fincher's few frequent collaborators — is clearly game for another turn in the shady world of Mindhunter, telling Popculture.com in 2019 that he was "hopeful" that a third season will happen. 
McCallany also admitted that the cast and crew of the show initially went into production with a five-season arc in place, "We did have a bible, a five-season bible, that existed when we began rehearsals for season one," he said.
And while it remains to be seen exactly how the great pandemic production freeze of 2020 might've affected work schedules for Mindhunter alums, it's quite likely they've all been keeping more than busy booking new jobs even with the downtime. That makes a return all the more difficult — even if they're almost certainly chomping at the bit to get back to work on more Mindhunter madness. 
Which serial killers might appear in season 3 of Mindhunter?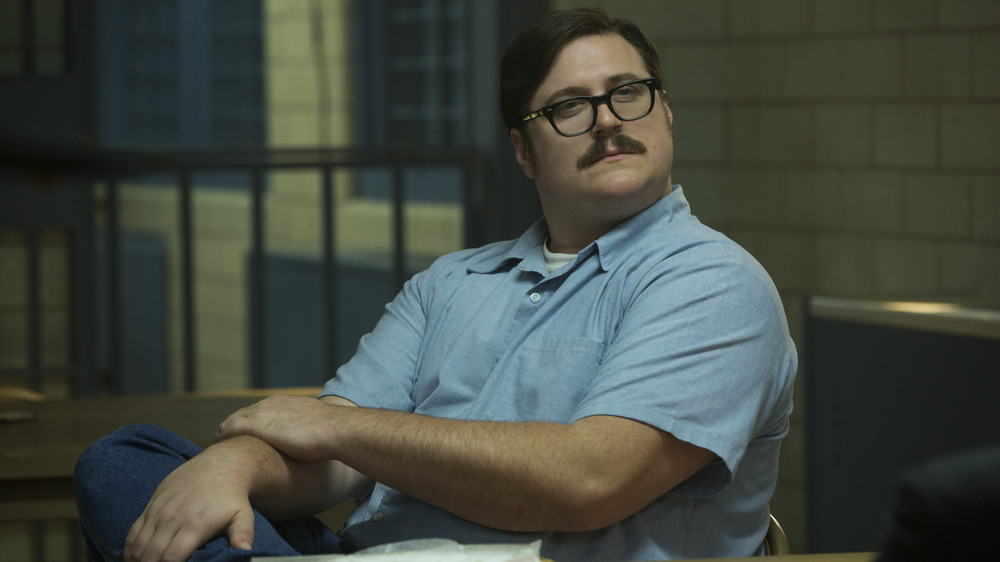 Netflix
It's easy enough to figure which regulars might return should season 3 of Mindhunter happen, but it's far more difficult to figure which bad guys they might be interviewing and/or investigating. Much of that conversation likely has to do with exactly what decade the new season would be set in, with the original plan for the show being to run all the way through the '80s, '90s, and early '00s. And yes, that timeline opens the door to a lot of possible narratives. But before we go any further, it's likely that wherever the new season goes, Holden and the gang will undoubtedly spend more time with the nefarious "Co-ed Killer" Ed Kemper, as Cameron Britton's bone-chilling work on the show has led to some of its most electrifying moments.
Likewise, the return of Sonny Valicenti is all but a guarantee, as the investigation and eventual capture of his character — the as-yet-named "BTK Killer" Dennis Rader — is shaping up as the clear endgame for the series. As for who else the FBI crew might encounter moving forward, the infamous likes of Ted Bundy, the "Night Stalker" Richard Ramirez, and the cannibalistic killer Jeffrey Dahmer are all in play, as is the infamous ".22-Caliber Killer" case, and an explosive investigation involving Ted Kaczynski, aka the "Unabomber."
Those cases are in play as the man who wrote the book that inspired the series (former FBI Agent John Douglas) worked or assisted on every one of them. But if Fincher and company wanted to play for maximum dramatic effect, they'd delve headlong into Douglas' work on the "Green River Killer" case, which very nearly killed him. Here's hoping we get a glimpse of that thrilling story in a future season of Mindhunter.