The Latest Trailer For Denis Villeneuve's Dune Is Finally Here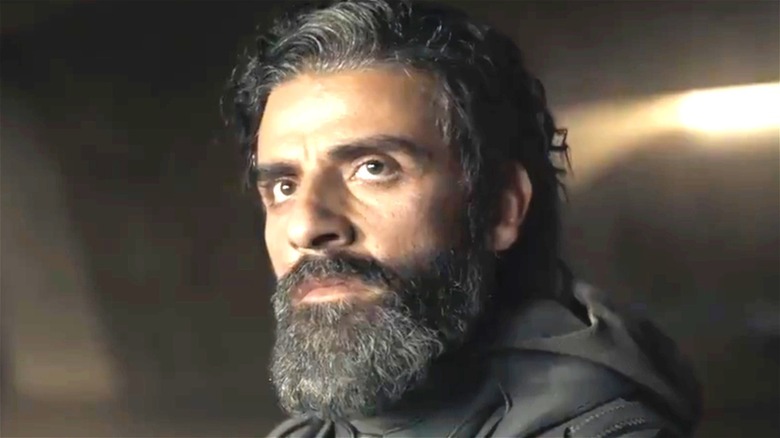 Warner Bros. Pictures
After the first trailer for Denis Villeneuve's "Dune" impressed audiences across the world with its atmospheric look at the desert world of Arrakis, many were wondering whether a second teaser would offer a better glimpse at the film's story. This grand tale is taken from Frank Herbert's 1965 classic book "Dune," in which House Atreides takes over stewardship of the planet key in the production of an all important substance known as "Spice." Not only is it an important component used for space travel throughout the galaxy, it can also be used to extend someone's life-span as well as granting them superhuman-like abilities.
Thankfully, the second trailer for the science-fiction epic has revealed more of Paul Atreides (Timothée Chalamet) and his battle against the sinister Baron Harkonnen (Stellan Skarsgård). The film boasts a hugely impressive roster of stars, as Chalamet is joined by Oscar Isaac as Paul's father Duke Leto and Rebecca Ferguson as his mother, Lady Jessica. House Atreides is full of more iconic actors, with Jason Momoa starring as the master swordsman Duncan Idaho alongside Josh Brolin's dedicated advisor, Gurney. 
Director Denis Villeneuve is no stranger to helming grand, sweeping science-fiction stories — just look at his previous works in "Arrival" and "Blade Runner 2049." He has a clear sense of how to bring an epic-scale to the big screen, and that's never been more clear than in the latest trailer for "Dune."
Welcome to Arrakis
This new trailer shows more of the dynamic that Paul Atreides has with other characters, including a surprising comedic moment in his friendship with Momoa's Duncan Idaho. But most importantly, the footage makes it clear who is plotting against House Atreides to keep themselves in a seat of power in the universe: Skarsgård's Baron Harkonnen. He and his violent nephew, Grassu Raban (Dave Bautista) wage war on Arrakis, violently massacring Paul's family — which pushes him towards the blue-eyed Fremen, a group of natives on the planet.
The Fremen are tied with Paul's own messianic destiny on Arrakis, as he's shown to have prophetic dreams of one mysterious individual, Chani (Zendaya). Clearly, they'll be a useful ally in the war against House Harkonnen — something that's definitely going to escalate throughout the film considering Paul's impressively brutal hand-to-hand fight at the end of the trailer. Although "Dune" is heading to HBO Max, the sheer scale of Villeneuve's latest offering clearly deserves to be seen on the biggest screen possible.
Just picture how intimidating the Sandworms will look in IMAX. Because the trailer certainly does a good job of delivering a nightmarish vision of the behemoths that live below Arrakis' sandy surface. The original series of books by Frank Herbert are particularly dense with mythology, but the details in first "Dune" trailer look like the film might deliver something truly special. Hopefully the epic will be worth the wait when "Dune" hits theaters on October 22.