Saved!: What Happened To The Cast?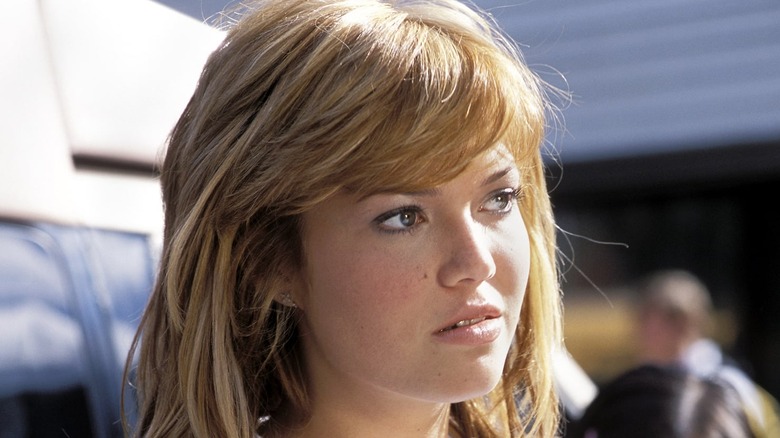 MGM Distribution Co.
Oh "Saved!" There's nothing quite like the 2004 comedy that mashes up a unique coming-of-age movie with a light-handed religious satire. Mary Cummings, a teenage student at American Eagle Christian High School, conks her head on the ladder in her backyard swimming pool when her boyfriend Dean comes out to her — y'know, because they tell each other secrets underwater. As she's drowning, about to be rescued by a carpenter with serious abs, she has a vision in which Jesus tells her she must do everything she can to help Dean. As a devout evangelical Christian, Mary interprets this to mean curing Dean of his homosexuality, and there's only one way she can come up with at a teenage girl's disposal: they have sex.
Unfortunately for Mary, Dean's parents finds some dude magazines under his mattress and ship him off to a Christian treatment center ironically called Mercy House. Dean's homosexuality becomes the talk of the school, even among Hilary Faye, Tia, and Veronica, Mary's friends in the Christian Jewels clique. Mind you, Hilary Faye's paraplegic brother Roland isn't even fazed — calling figure-skating Dean a "one-man gay Pride parade" — and it doesn't bother his eventual girlfriend Cassandra, both of whom help Mary cover up her unexpected-but-totally-predictable pregnancy. The real catch is how the cool new skater kid Patrick, who happens to be the school principal's son, feels about the whole thing.
It's been nearly two decades since the movie first came out — no, we're not making the same pun Hilary Faye did when Mary first told everyone — and here's what the cast of "Saved!" has been up to.
Jena Malone played Mary Cummings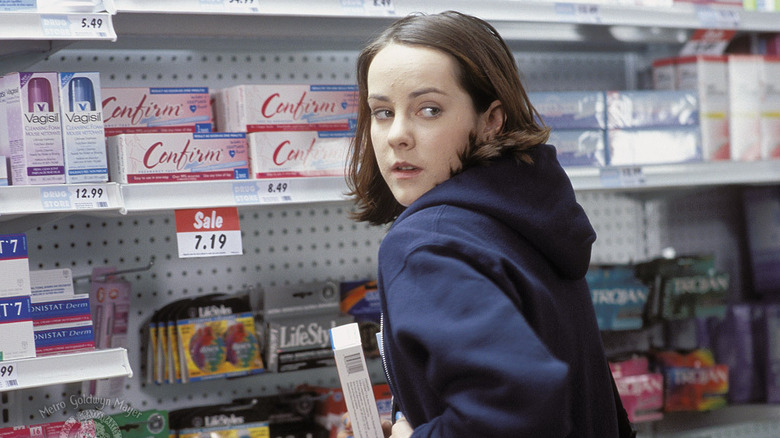 MGM Distribution Co.
Ah Mary, the sweet and naive poster child of abstinence-only sex education played by actor Jena Malone. She's only doing what she thinks is the right thing after suffering a concussion and potential lack of oxygen to the brain. Of course, it doesn't help that — on a trip to the Christian gun range — Hilary Faye (Mandy Moore) tells her Jesus can restore her spiritual and physical virginity — it sounds like it's just another form of being born again. Unfortunately for Mary, human biology doesn't work that way, no matter how much praying she does.
Malone has enjoyed a successful career in the years since the release of "Saved!" The following year, she appeared as Lydia Bennet, the headstrong youngest sister who runs off to get married in the 2005 adaptation of "Pride and Prejudice." In 2009, she appeared as Rocket, one of Babydoll's (Emily Browning) fellow mental patient's in Zack Snyder's fantasy superhero film "Sucker Punch." And fans of a certain young adult franchise should recognize Malone as District 7's Quarter Quell tribute Johanna Mason from "The Hunger Games: Catching Fire," a role she reprised in the series' final two installments, "Mockingjay" parts 1 and 2.
"Sucker Punch" wasn't Malone's only time working with Snyder; she took on the role of S.T.A.R. Labs scientist Jenet Klyburn in the Ultimate Edition of his "Batman v. Superman: Dawn of Justice." According to IMDb, she's set to appear in eight episodes of the Billy Bob Thornton-led Amazon Original "Goliath" in 2021 and will provide the voice of Zeta as part of the voice cast of "Army of the Dead: Lost Vegas," the anime spinoff of Snyder's 2021 zombie heist flick.
Mandy Moore played Hilary Faye Stockard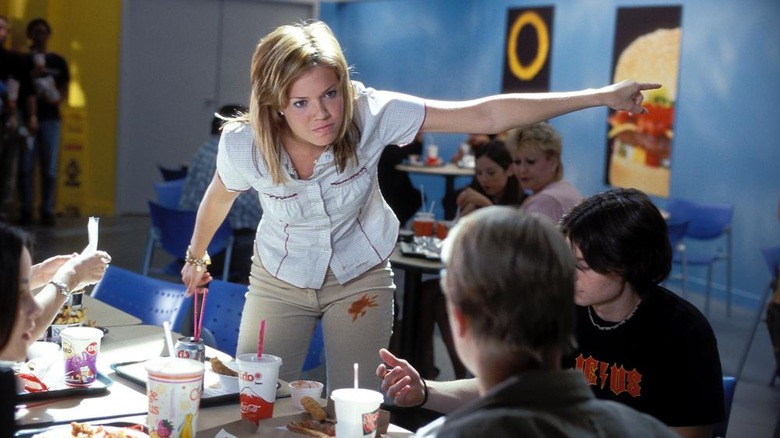 MGM Distribution Co.
"Saved!" and the role of Hilary Faye are among actor-singer Mandy Moore's first several film credits. She's the leader of the Christian Jewels, totally full of faith, and actually a total bully whose intolerance and conceit actually makes her one of the least Christian members of the film's cast of characters. But, like all humans, she's not beyond growth or redemption and finally shows contrition for her spiteful ways during the film's denouement.
After dropping her debut album in 1999, Moore began acting in 2001, with her role as bully Lana Thomas in "The Princess Diaries" serving as her first onscreen film appearance after she provided the voice of a bear cub in "Dr. Dolittle 2." Following "Saved!" she appeared in the coming of age film "A Walk to Remember" the next year alongside Shane West. Moore lent her vocal talents to the Disney Princess Rapunzel in 2010's "Tangled," taking advantage of her singing abilities and prior voice acting. She reprised the role of Rapunzel for 2012's "Tangled Ever After" and 2018's "Ralph Breaks the Internet," in addition to "Tangled: The Series" in 2017. Moore's most recent film credit came in 2019's "Midway" as the wife of E Skrein's Lieutenant Richard "Dick" Best. 
Beginning in 2016, Moore has appeared on ABC's hit family drama series "This Is Us" as family matriarch Rebecca Pearson. The final season of "This Is Us" will premiere in early 2022, according to reports.
Patrick Fugit played Patrick Wheeler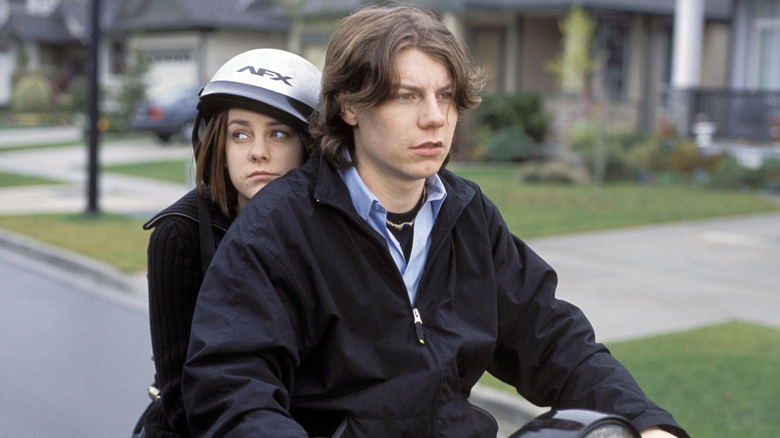 MGM Distribution Co.
Actor Patrick Fugit took on the role of Patrick Wheeler, the cool, skateboarding new kid who also happens to be the son of American Eagle's principal, Pastor Skip (Martin Donovan). Not only has he been popping skateboard tricks around the world on an evangelical tour, he rides a Vespa. Despite his father's vocation, Patrick isn't really into the whole converting heathens thing like you might think. Also, he's totally into Mary and takes her to the prom, because Hilary Faye definitely needed something else to be mad about.
Fugit's career post-"Saved!" includes more than a dozen film appearances. His next big role came in 2009's thriller "Horsemen," starring Dennis Quaid, in which he took on the role of Corey, aka the horseman of death. Fugit also appeared in 2011's "We Bought a Zoo" as Robin Jones, the owner of Crystal the monkey; the film marked another outing with writer-director Cameron Crowe, with whom Fugit worked for his breakthrough role as William Miller in "Almost Famous." He also had a memorable role in 2014's "Gone Girl" as Officer James Gilpin, partner to the lead investigator looking into the disappearance of Amy Dunne (Rosamund Pike).
In addition to his film credits, Fugit has enjoyed success on the small screen as well. In 2016, he took on the lead role of Kyle Barnes, a young man who was possessed by a demon in "Outcast," a Cinemax series based on the Robert Kirkman graphic novel series of the same name.
Macaulay Culkin played Roland Stockard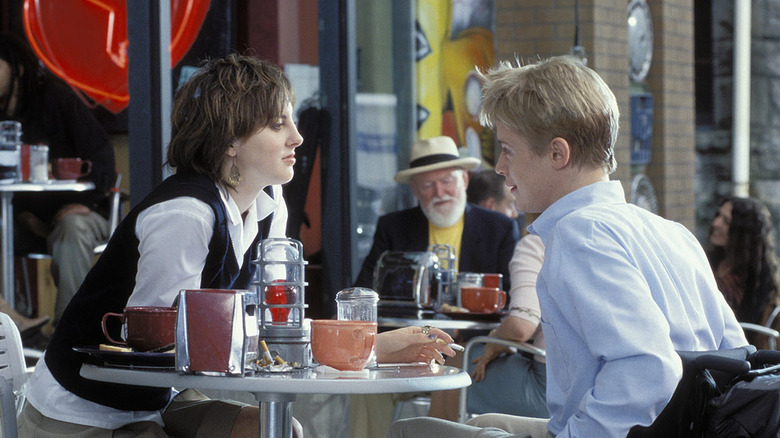 MGM Distribution Co.
If there's any character in "Saved!" that inspires more empathy than Mary, it has to be Roland, as portrayed by Macaulay Culkin. Not only is he confined to a wheelchair as a result of falling out of a tree when he was younger, he only has Hilary Faye to look out for him, but she's far more focused on looking magnanimous while caring for her brother than actually doing it. It's no wonder that Roland becomes rebellious and falls in with the free-spirited Cassandra (Eva Amurri Martino); if nothing else, that was bound to get under Hilary Faye's skin.
"Saved!" is a far cry from the type of film that made Culkin one of the biggest child stars in the history of the entertainment industry. He made a big splash in the "Home Alone" movies of the early '90s but his filmography includes a nearly decade-long gap following his turn as the title character in 1994's "Richie Rich." In 2007, he appeared in the dark comedy "Sex and Breakfast," which followed four couples seeking to reconnect through sexual experimentation. 
Culkin appeared in five episodes of the one-season drama series "Kings," which told the tale of biblical King David in a modern setting. He took on the role of Andrew Cross, the exiled nephew of King Silas Benjamin (Ian McShane). As Looper previously reported, Culkin will appear in Season 10 of "American Horror Story," which is split into two parts and subtitled "Double Feature."
Eva Amurri Martino played Cassandra Edelstein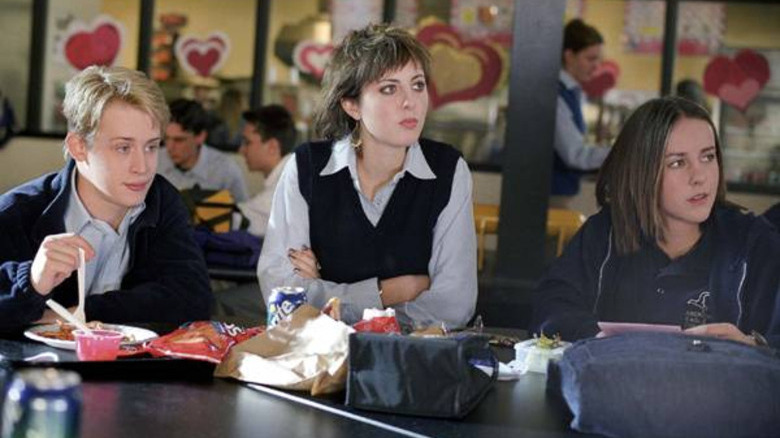 MGM Distribution Co.
If there was a foil to Mandy Moore's Hilary Faye, it would be Cassandra Edelstein, as played by Eva Amurri Martino. For starters, she's not Christian; she's the only Jewish student to attend American Eagle High School. There were even rumors that she was a stripper, which made her the perfect candidate for Hilary Faye to save. Spoiler alert: that didn't happen. In fact, at the end of the day, Cassandra may have helped in Hilary Faye's own deliverance. In the meantime, she served as the rebellious love interest of Roland.
Martino is the daughter of Susan Sarandon and has appeared in multiple projects alongside her. Prior to "Saved!" that included 1995's "Dead Man Walking" — for which Sarandon won the Academy Award for Best Actress; 1999's "Anywhere but Here"; and 2002's "The Banger Sisters." They appeared as mother-daughter duo Rhonda and Grace Berry in 2008's "Middle of Nowhere," and portrayed the same character at different ages in the 2012 Adam Sandler comedy "That's My Boy." Art once again imitated life in the 2016 indie drama "Mothers and Daughters," in which Amurri and Sarandon played characters Gayle and Millie in the titular dynamic in the former's last credited role (via IMDb).
On the small screen, Amurri had a recurring role as Jackie, a seductive student under the tutelage of guest professor Hank Moody in Season 3 of "Californication." She also recurred during the first season of the sitcom "Undateable," appearing as lead character Danny Burton's (Chris D'Elia) ex-girlfriend.
Heather Matarazzo played Tia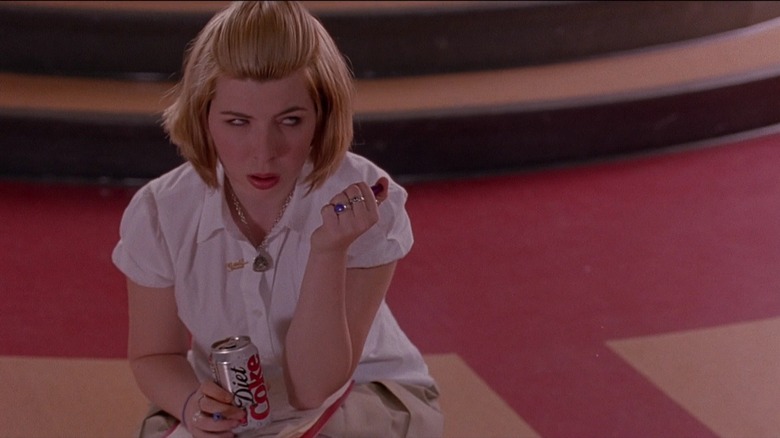 MGM Distribution Co.
Actor Heather Matarazzo brought sidekick Tia to life in "Saved!" Tia is a bit of a wallflower, at times awkward and try-hard, and seems to be the only member of the central cast who has a job. Her social stock rises when Mary is ostracized from the Christian Jewels, though Hilary Faye warns her she could easily go back to being "invisible girl with bad hair."
"Saved!" served as a reunion for Matarazzo and Mandy Moore, who both appeared in "The Princess Diaries." After their second outing together, Matarazzo appeared in the "Princess Diaries" sequel, reprising her role as Lilly Moscovitz, best friend of Princess Mia Thermopolis of Genovia (Anne Hathaway). In 2007, she appeared in a different kind of sequel, having taken on the role of traveling art student Lorna Weisenfreund in "Hostel: Part II." As you could probably guess, it doesn't end well for Lorna, who's kidnapped and wakes up hanging from the ceiling, only to have her throat slashed by some crazy woman who bathes in her blood.
On the small screen, Matarazzo has appeared in a few LGBTQ-friendly series, starting with 2006's "Exes and Ohs," in which she played a young queer musician named Crutch. She also appeared in four episodes of the Showtime series "The L Word," as part of the show's fourth season. Matarazzo plays lesbian writer Stacey Merkin, who interviews Jenny Schecter (Mia Kirshner) about her book and ultimately did not have nice things to say. She also appeared on the HBO Max docuseries "Equal" as feminist and gay-rights activist Phyllis Lyon, one of the founding members of the Daughters of Bilitis.
Martin Donovan played Pastor Skip Wheeler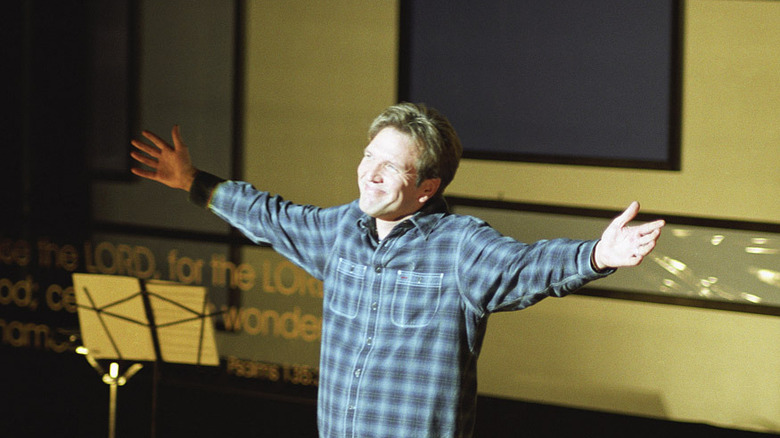 MGM Distribution Co.
Actor Martin Donovan took on the role of American Eagle High School principal Pastor Skip Wheeler. He's a charming, funny, totally affable dude who appears great with kids — well maybe not his own — and a positive role model for young people. As viewers, however, we're inherently opposed to authority figures, especially when those authority figures are hypocritical and carry on adulterous affairs with our mothers — rather, Mary's mother Lillian (Mary-Louise Parker). Pastor Skip might seem easygoing but he was a far cry from walking the walk.
Donovan is a prolific character actor with more than 100 credited roles to his name, according to IMDb. A few years after appearing in "Saved!" he took on the recurring role of corrupt DEA Agent Peter Scottsman, who marries Nancy Botwin (Mary-Louise Parker) on the Showtime drug-centric dramedy "Weeds." Donovan also took on the role of Illuminati member Malcolm Janus on the Anthony Michael Hall-led series adaptation of Stephen King's "The Dead Zone.
Fans of the Marvel Cinematic Universe should recognize Donovan as Mitchell Carson, the agent of SHIELD who Hank Pym (Michael Douglas) memorably punched in the face at the beginning of "Ant-Man" and who later showed up as a member of HYDRA. He took on the role of Fay, the Protagonist's (John David Washington) boss a the Central Intelligence Agency in Christopher Nolan's 2020 thriller "Tenet." Donovan recently appeared in the Netflix drama series "Firefly Lane" as Tully Hart's (Katherine Heigl) boss Wilson King.
Mary-Louise Parker played Lillian Cummings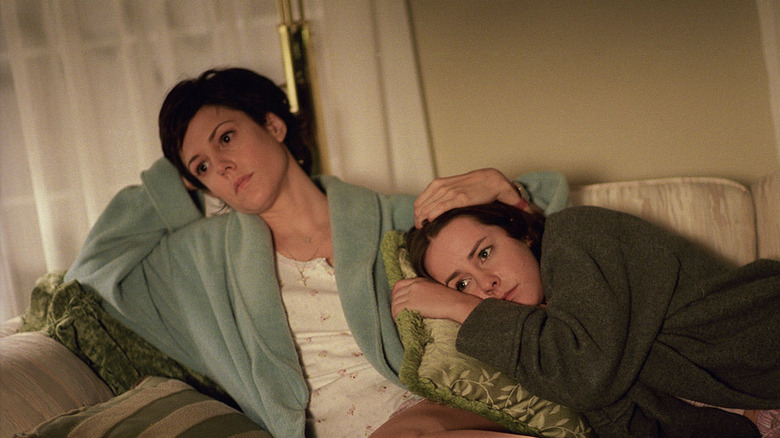 MGM Distribution Co.
Mary-Louise Parker took on the role of Mary's conflicted mother, Lillian Cummings. She knows something is up with her daughter, but can't quite figure it out. And it's no wonder, considering the affair she's having with Pastor Skip has her plenty distracted. Of course, when Mary's pregnancy becomes public knowledge, Pastor Skip insists she be sent to Mercy House and makes it clear the future of Lillian's relationship with him hangs in the balance, which is probably the grossest potential power move of which we can even conceive — pun not intended.
Fans of the cannabis-centric Showtime drama "Weeds" should recognize Parker as lead character Nancy Botwin, a role she took up following "Saved!" As the widow is left high and dry — pun intended — she begins to sell marijuana as a means to support her family. Parker's onscreen romance with Martin Donovan in "Saved!" just wasn't enough, as he appeared on "Weeds" as DEA Agent Peter Scottsman and their respective characters got married. Speaking of marriage and corruption, Parker later appeared in four episodes of "The Blacklist" as Naomi Hyland, the ex-wife of lead character and notorious international fugitive Raymond Reddington (James Spader).
Back on the big screen, Parker appeared in the 2010 action comedy "Red" as Sarah Ross, the GSA employee Bruce Willis' Frank Moses keeps coming up with reasons to talk to — before he kidnaps her, that is. She reprised the role for "Red 2" in 2013, with Sarah now as Frank's official girlfriend. In more colorful spy action, Parker appeared in 2018's "Red Sparrow" as Stephanie Boucher, an American political operative who sells classified intelligence to Jennifer Lawrence's femme fatale character, Dominika Egorova.
Chad Faust played Dean Withers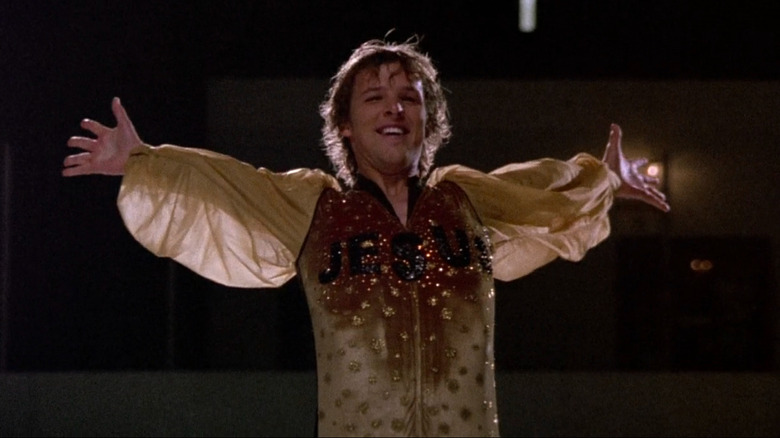 MGM Distribution Co.
The role of Mary's boyfriend Dean Withers is brought to life by actor Chad Faust. He spends most of the movie at Mercy House, a Christian treatment center at which you can pray the gay away, among other ridiculous notions. Dean makes his triumphant return on the night of American Eagle High School's prom, showing up with his date Mitch (Kett Turton) and a handful of other Mercy House residents who've broken out. When Pastor Skip tries to eject Mary and the Mercy House kids from the dance, Dean defiantly tells him "I know in my heart that Jesus still loves me."
Much of Faust's career following "Saved!" has been comprised of independent films and one-off television roles, though he did take on the main cast role of Kyle Baldwin in "The 4400." Fans of the series will recall Kyle was the son of the series lead character Tom Baldwin (Joel Gretsch) and a member of the titular contingent who's possessed by a person from the future and serves as a communication conduit between the future and his father. Faust appeared as Jared in the disturbing-yet-gripping 2007 thriller "Descent" alongside Rosario Dawson, serving as both victimizer and victim to her character Maya. 
In addition to his work onscreen, Faust has gotten into filmmaking as well. He wrote and directed the 2020 thriller "Girl" — which starred Bella Thorne and Mickey Rourke — in addition to appearing in the film as Charmer, a man who turns out to be anything but.
Elizabeth Thai played Veronica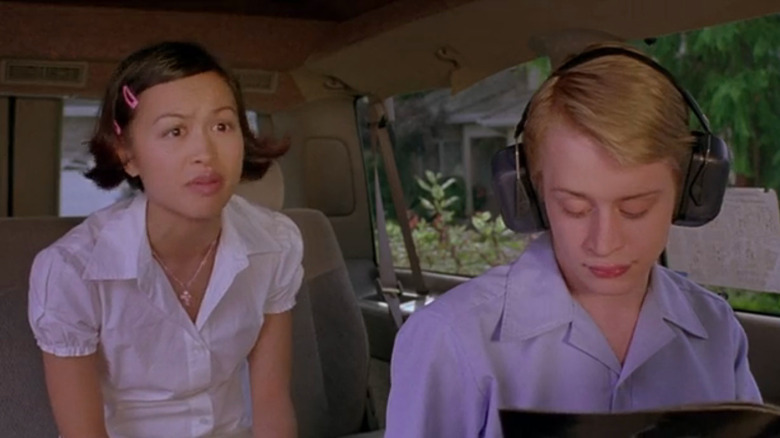 MGM Distribution Co.
Actor Elizabeth Thai's character Veronica is something to behold, a dyed-in-the-wool Christian who was adopted by American missionaries, taking her out of her native Vietnam. To say some of her takes are extreme would be an understatement. Hilary Faye seemingly makes Veronica's life complete when she allows her to be a member of the Christian Jewels during the film's first act. 
Much like Chad Faust, much of Thai's body of work comes in the form of minor film and television roles. Also much like Faust, she appeared in "The 4400" after the release of "Saved!" though, rather than enjoying a role as a member of the main cast like he did, her turn as Mary was for a single episode. Thai appeared in the 2006 Harrison Ford-led thriller "Firewall" as a neighbor to Mary Lynn Rajskub's character Janet Stone. 
In 2012, Thai moved behind the camera to direct a documentary short film entitled "Shark Truth: Saving Sharks to Save a Culture." Most recently, she's enjoyed a recurring role as June in the series adaptation of "Snowpiercer."