If You Like Gone Girl, Watch These Movies Next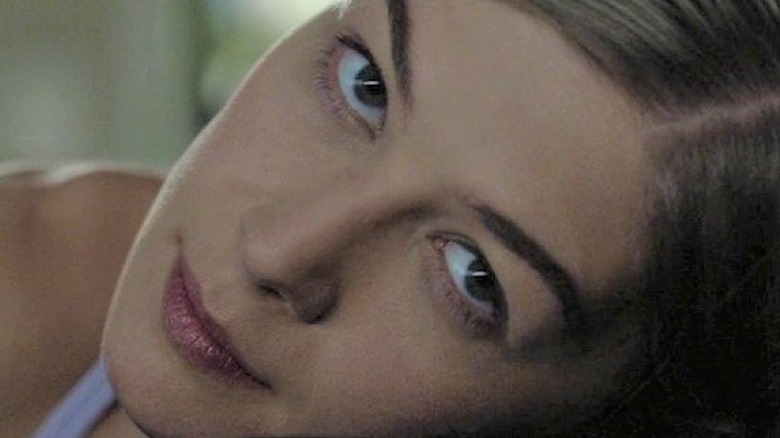 20th Century Fox
In 2014, as the follow-up to his Oscar-nominated film "The Social Network," acclaimed director David Fincher made the wise choice to adapt one of the most popular novels of the decade — "Gone Girl," a thriller penned by former pop culture writer Gillian Flynn. A story of a marriage gone horribly wrong — where husband Nick Dunne (Ben Affleck) becomes the main suspect after his wife, Amy (Rosamund Pike), disappears — "Gone Girl" is a searing, biting indictment of long-term relationships, and it ultimately features one of the best twists in literary and cinematic history.
With its innovative structure, its huge plot twist, and its unforgettable characters and performances — to say nothing of its pitch-perfect script, adapted by Flynn herself — there's no other movie quite like "Gone Girl." However, there are plenty of movies you should check out if you list this as one of your favorites. From other Fincher films to female-led thrillers to Christopher Nolan mysteries, here are all of the movies you should watch if you loved "Gone Girl."
The Girl on the Train is perfect for Gone Girl fans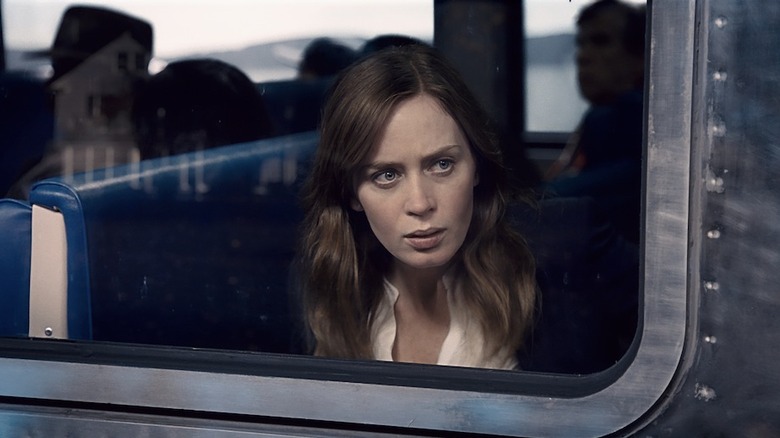 Universal Pictures
In the years after "Gone Girl," plenty of films have tried to mimic its success, and for the most part, 2016's "The Girl on the Train" comes fairly close. Based on Paula Hawkins' debut novel of the same name, the film is led by Emily Blunt as Rachel, a woman with a crippling alcohol addiction. After losing her job, Rachel spends her days riding a train between New York City and its suburbs with no aim whatsoever, fixating on a perfect couple she passes every single day. However, when the wife (Haley Bennett) is found dead, Rachel finds herself involved in the mystery.
Between the unreliable narrator, Rachel's extraordinarily dark past and broken marriage, and a twisting narrative with a ton of characters, "The Girl on the Train" is a thrill ride from beginning to end. If you're looking for a version of "Gone Girl" with even more intrigue, this 2016 mystery is definitely for you.
The Girl with the Dragon Tattoo is another great film from David Fincher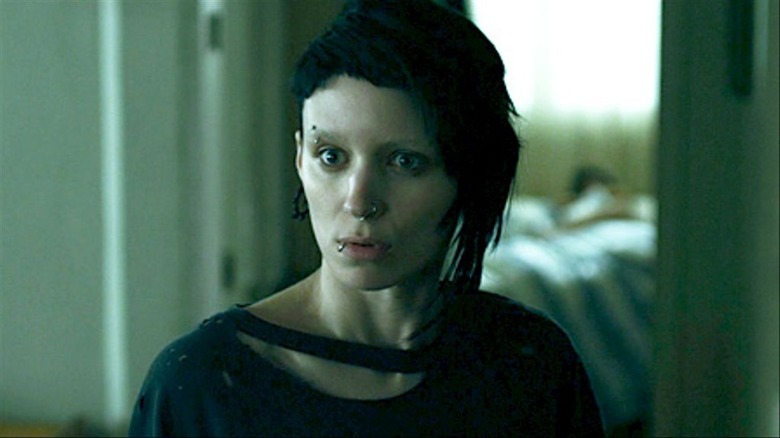 Sony Pictures
Before he took on "Gone Girl," Fincher adapted another huge literary bestseller with the word "girl" in the title when he directed Rooney Mara in the title role of 2011's "The Girl with the Dragon Tattoo." Adapted from a novel of the same name by the late Stieg Larsson, the film focuses on disgraced journalist Mikael Blomkvist (Daniel Craig), who receives an interesting proposal. If he helps wealthy businessman Henrik Vanger (Craig's future "Knives Out" co-star Christopher Plummer) find his missing grandniece, Vanger will help clear Blomkvist's name.
With Rooney Mara as the feminist vigilante Lisbeth Salander, who ends up teaming up with Blomkvist to find the missing woman, "The Girl with the Dragon Tattoo" is a disturbing, gripping drama, and there's definitely a ton of shared DNA between this film and "Gone Girl." If you want to see what potentially led Fincher to his next literary adaptation, you should definitely check out this ice cold thriller.
Se7en is a truly disturbing thriller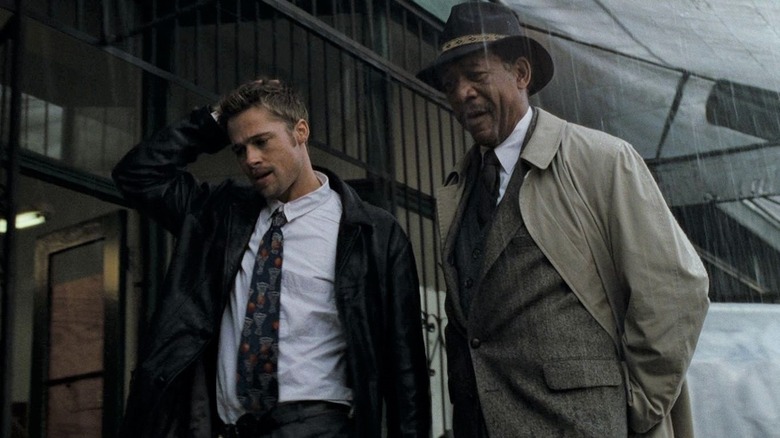 New Line Cinema
Long before "Gone Girl" was even on his radar, Fincher was no stranger to intense thrillers. For proof, see 1995's "Se7en." An extraordinarily dark flick, this thriller finds Brad Pitt and Morgan Freeman playing detectives — David Mills and William Somerset, respectively — trying to solve a disturbing string of murders. They're up against a serial killer whose crimes are all based on the seven deadly sins. As the two men descend into the darkness, they become friends and grow to respect one another ... before everything goes south very quickly, making them question whether or not the world is even worth fighting for.
If you enjoyed Fincher's brilliant direction in "Gone Girl," then "Se7en" is definitely worth a watch, as it's yet another masterclass from an acclaimed filmmaker. Plus, similar to his 2014 flick, "Se7en" shines a light on some truly gruesome crimes, and it also focuses on a relationship between Mills and his wife (Gwyneth Paltrow). And while their marriage is a whole lot healthier than Nick and Amy's, there is a big secret there — one that definitely pays off in a shocking way. For anyone who's looking for a crime thriller just as twisted as "Gone Girl," complete with phenomenal performances, "Se7en" is a perfect bet.
Zodiac is one of the all-time great mysteries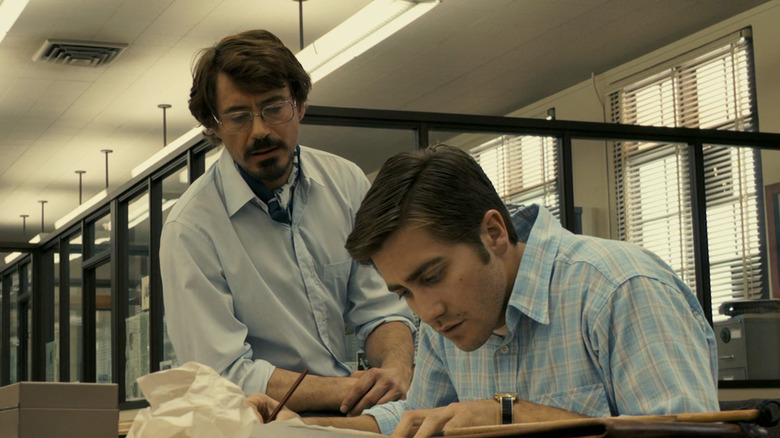 Paramount
David Fincher's films are rarely lighthearted, but one of his most stark, disturbing movies is 2007's "Zodiac." In this particular crime story, Fincher tackles the real-life mystery of the Zodiac Killer, a serial murderer who preyed on citizens in the San Francisco Bay area through the 1960s and 1970s. And to make matters worse, the unidentified man also teased detectives and police officers by sending them mementos from his victims and weird letters in unsolvable code.
With a star-studded cast that includes Robert Downey Jr., Mark Ruffalo, and Jake Gyllenhaal as a journalist, a detective, and a writer trying to solve the case, "Zodiac" dives deep into a mystery that, in real life, remains unsolved. True crime buffs, Fincher fans, and even Marvel Cinematic Universe fans who want to see Downey Jr. and Ruffalo's first collaboration will all love "Zodiac," which is still regarded as one of the best movies of the 21st century by critics across the world.
Like Gone Girl, Memento tells a twisty, complex story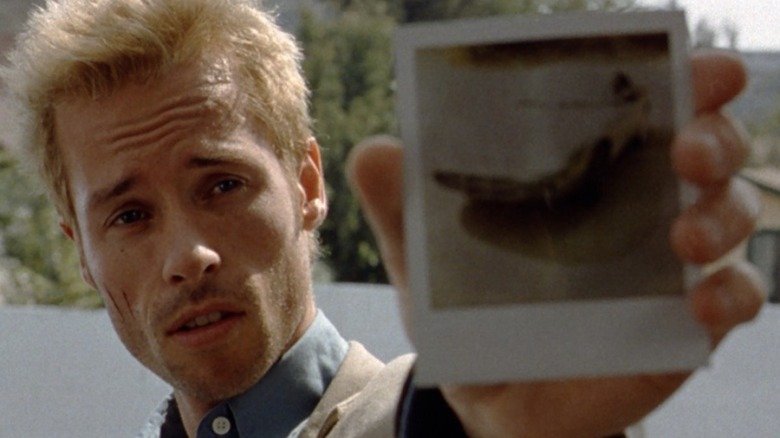 Newmarket
From the very first moments of "Gone Girl" — where Nick discovers, on the morning of his fifth wedding anniversary, that his wife has gone missing — the film sets up an intricate mystery told throughout multiple points of view and flashbacks. Plenty of movies use unconventional narratives to tell their stories, but one of the most famous and most original is Christopher Nolan's 2000 neo-noir "Memento," which put the now-acclaimed filmmaker on the map in a big way.
Using two different narratives — a black-and-white one that moves chronologically through time and a color one that goes backwards — "Memento" tells the story of Leonard Shelby (Guy Pearce), a man trying to figure out who killed his wife while also suffering from retrograde amnesia, meaning that he loses his memory every 15 minutes. To try and solve the mystery, Leonard employs some unconventional methods, including multiple tattoos and Polaroid photos that serve as his memories, which weaves the narrative back together as the audience discovers it with him. If you love the way "Gone Girl" tells its complex story, you'll also love "Memento."
A Simple Favor is a fresh take on the Gone Girl formula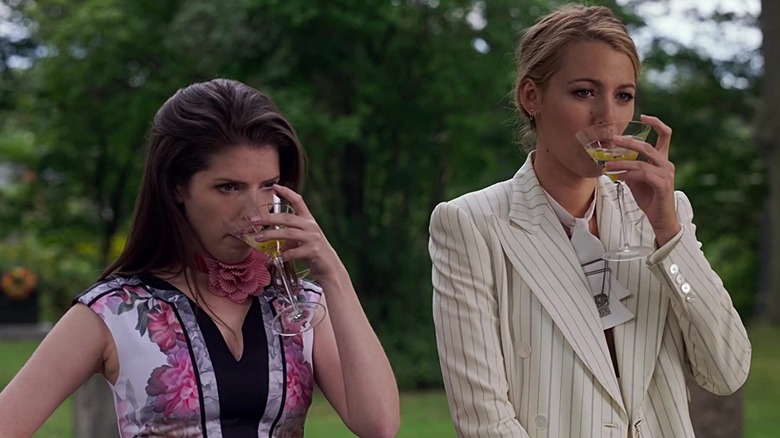 Lionsgate
When Darcey Bell's campy, suburban noir novel "A Simple Favor" hit shelves in 2017, it seemed like a pretty standard take on the "Gone Girl" formula. But when Paul Feig adapted the story for the big screen in 2018, it definitely adopted a style of its own, setting itself apart from "Gone Girl" in a huge way.
The central mystery of "A Simple Favor" will definitely remind fans of David Fincher's thriller. After befriending a sweet mom blogger named Stephanie (Anna Kendrick), the beautiful and mysterious Emily (Blake Lively) goes missing, only for her disappearance to take a seriously dark turn. However, there's much more to Emily's story beneath the surface, and after Stephanie gets romantically involved with Emily's bereaved husband, Sean (Henry Golding), she finds herself inextricably involved in Emily's life and deception. "A Simple Favor" might have the same initial setup as "Gone Girl," but the movie's very different ending and delightfully campy sensibility makes it feel fresh and new.
Nocturnal Animals is one dark, unsettling movie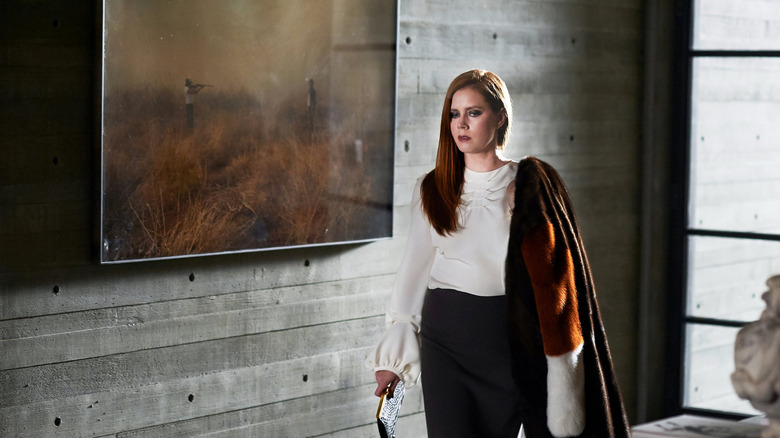 Focus Features
After making a name for himself in the fashion world, Tom Ford turned to film, using his sharp eye and considerable talents to direct movies. And after debuting with the acclaimed drama "A Single Man" in 2009, he followed that with the crime noir "Nocturnal Animals" in 2016. Led by Amy Adams as art gallery owner Susan Morrow, the movie tells Susan's story as she finally reads the debut novel written by her ex-husband, Edward Sheffield (Jake Gyllenhaal). However, when she realizes that Edward has basically written the story of their marriage in his incredibly messed-up book, the similarities reveal secrets to Susan, as well as a disturbing mystery.
Using a unique narrative where Edward's novel drives Susan's story, "Nocturnal Animals" echoes the unstable, unreliable trajectory of "Gone Girl" while infusing the story with its own disturbing and fascinating plotlines. If you loved the twisty, dark story "Gone Girl" tells, you'll definitely want to check out Tom Ford's sophomore film.
Gone Baby Gone blurs the line between good guy and bad guy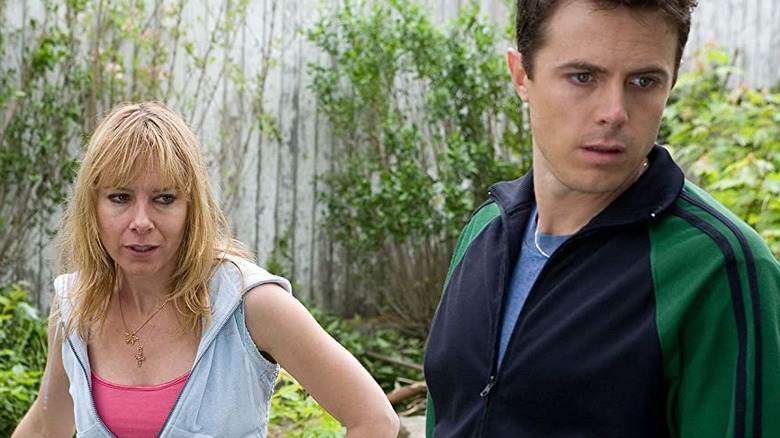 Walt Disney Studios Motion Pictures
Ben Affleck might star in "Gone Girl," but his fans know that the actor is also an accomplished screenwriter and director. His 2012 film, "Argo," even beat out a competitive group to win the Academy Award for Best Picture. But long before he snagged Oscar gold with "Argo," Affleck made his directorial debut with 2007's "Gone Baby Gone." Based on Dennis Lehane's 1998 novel, this Boston-based mystery has plenty in common with "Gone Girl."
A crime thriller about an abducted child, "Gone Baby Gone" stars Amy Ryan (who earned an Academy Award nomination for Best Supporting Actress for her role) as a bereft mother, Helene McCready, whose 4-year-old daughter has been kidnapped from their home in a rough Boston neighborhood. However, as private investigator Patrick Kenzie (Casey Affleck) investigates the case, he realizes Helene may not be telling him everything. "Gone Baby Gone" is a deceptive, smartly told film where the line between victim and criminal gets seriously blurred, just as it does for Affleck in "Gone Girl."
Be warned ... Prisoners is a really tough watch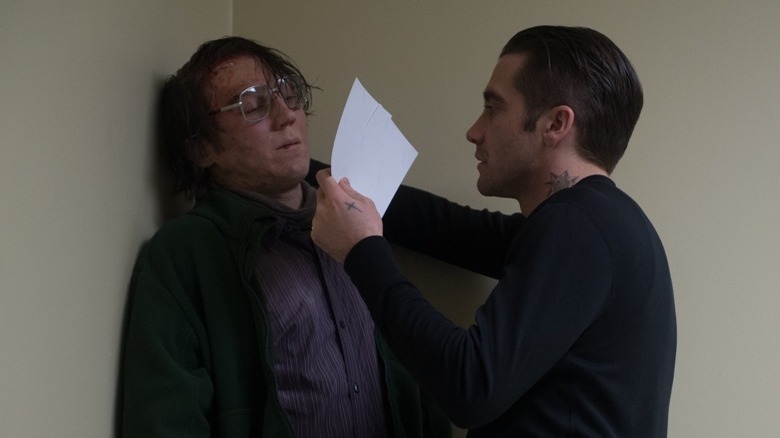 Warner Bros. Pictures
Throughout "Gone Girl," Rosamund Pike's Amy Elliott Dunne often takes matters into her own hands, no matter how dangerous her circumstances are or how devious her plans. And if that's appealing to you, you'll definitely like "Prisoners." 
An extraordinarily dark and often disturbing film from Denis Villeneuve, this 2013 movie tells the story of two girls in rural Pennsylvania who go missing and become the subjects of an ensuing manhunt. The story then turns to grieving fathers Keller Dover (Hugh Jackman) and Franklin Birch (Terrence Howard), who take matters into their own hands in the most distressing way possible. Meanwhile, local officer Detective Loki (Jake Gyllenhaal) tries to find the two missing girls, and both storylines have their fair share of horror.
An unrelentingly bleak tale of disturbed individuals and evildoers, "Prisoners" shows what people will do when they're desperate for a twisted form of justice, just like Amy does in "Gone Girl." There's no question that "Prisoners" is a pretty tough watch, but if you can handle "Gone Girl," you'll be able to make it through Villeneuve's upsetting thriller.
If you like complicated characters, watch Nightcrawler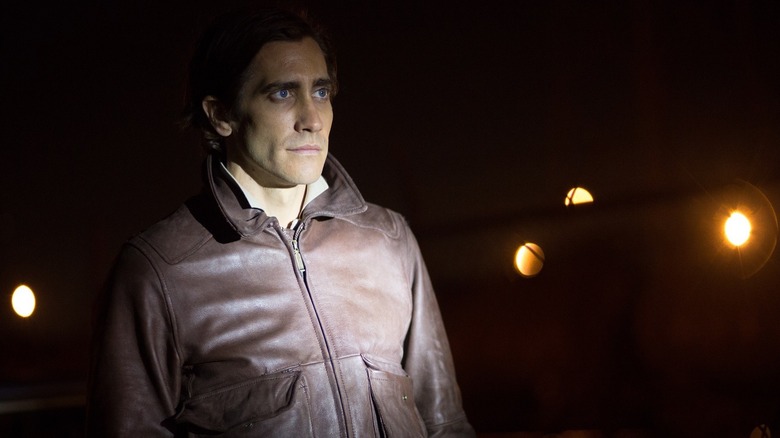 Open Road Films
Written and directed by Dan Gilroy, the unsettling story of 2013's "Nightcrawler" seems simple at first, but like "Gone Girl," it delves into the psychology of its characters to a borderline horrifying degree. Using an antihero as its main character — a similarity it also share with "Gone Girl" — "Nightcrawler" focuses on Lou Bloom (Jake Gyllenhaal), a stringer (a type of freelance journalist who works for news broadcasts) who discovers that filming footage of violent accidents and brutal murders is incredibly lucrative. However, as he starts making more and more money and becoming a more successful stringer, Lou starts meddling with crime scenes as he gets too deeply involved in his new line of work.
Like Amy Elliott Dunne, Lou is a complicated and tricky character to pin down, eliciting both disgust and sympathy from the audience as the story continues. If you love a super complicated main character — even when they commit criminal acts — you'll love the twisted tale of Lou Bloom in "Nightcrawler."
I Care a Lot features a wonderfully devious Rosamund Pike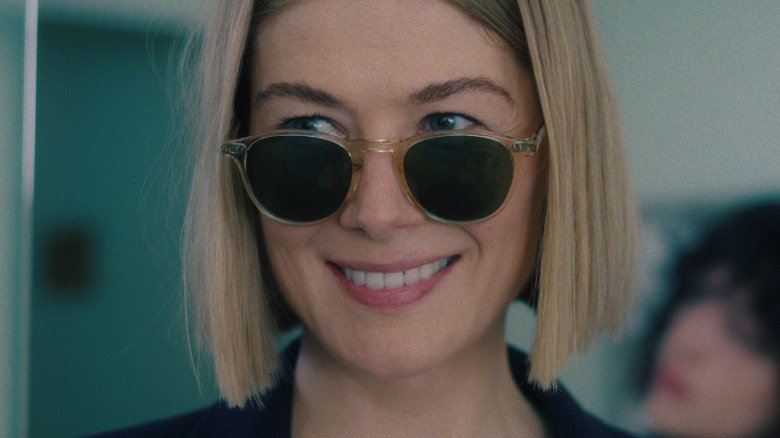 Netflix
Clearly, after "Gone Girl," Rosamund Pike was no stranger to devious female antiheroes, a talent she displays perfectly in the 2020 Netflix film "I Care a Lot." With Pike at the helm as the devious Marla Grayson, writer-director J Blakeson devised a story about Marla's elder care scheme, which sees the character assuming legal guardianship of elderly people in nursing homes, only to rob them blind and take control of their finances without any input from their families. However, when Marla runs afoul of Russian mobster Roman Lunyov (Peter Dinklage) after she tries to scam his mother (Dianne Wiest), she finds herself in over her head.
Though critics took issue with the uneven tone of "I Care a Lot," there's a ton of shared DNA with "Gone Girl," from Pike's gripping central performance to her character's rampant deception and unsettlingly smart instincts. Fans of Pike's turn as Amy will absolutely love her as Marla in "I Care a Lot."
Gillian Flynn fans should visit Dark Places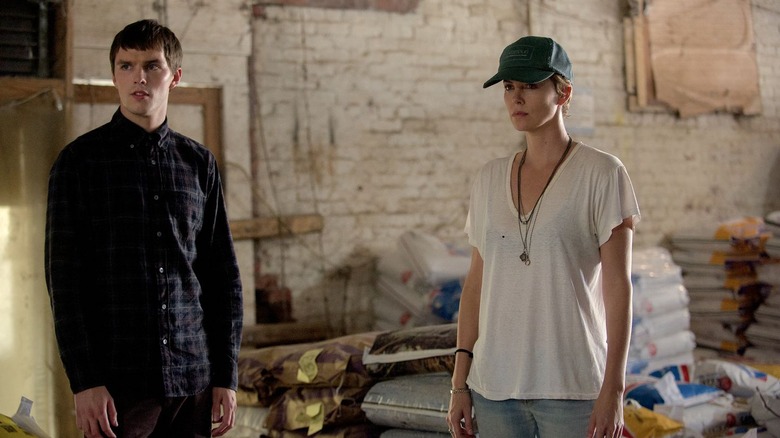 A24
Gillian Flynn has only written a few novels aside from "Gone Girl," and while her 2006 literary debut "Sharp Objects" was turned into an HBO miniseries starring Amy Adams, her second book, "Dark Places," was adapted into a 2015 film featuring Charlize Theron in the leading role. Alongside an all-star cast that includes Nicholas Hoult, Christina Hendricks, Drea de Matteo, and Chloë Grace Mortez, Theron plays Libby Day, who, at just 8 years old, witnesses the murder of her mother and sisters. In the immediate aftermath, she tells police that her brother, Ben (played in adulthood by Corey Stoll), is the murderer, but once Libby grows up, she discovers a group of truth-seekers who want to exonerate Ben, believing that somebody else entirely was responsible for this violent crime.
"Dark Places" never got quite as much attention as either "Sharp Objects" or "Gone Girl," but Theron is gripping in the central role, and the mystery is just as twisted as either of Flynn's other stories. If you're a completionist when it comes to Flynn's work, you won't want to miss "Dark Objects."
The Prestige is a perfect magic trick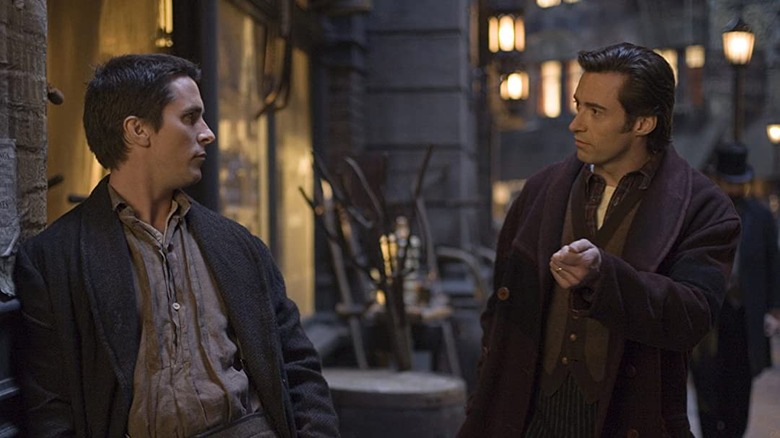 Buena Vista Pictures
Christopher Nolan loves a good mind-bending story just as much as Gillian Flynn, and his body of work contains plenty of films that fans of "Gone Girl" will definitely love, including his 2006 thriller "The Prestige." 
Led by Christian Bale and Hugh Jackman, this Nolan film focuses on two rival magicians, Alfred Borden (Bale) and Robert Angier (Jackman), who are obsessed with discovering each others' techniques and tricks. As they compete to craft the perfect illusion and outshine the other, Angier goes crazy trying to figure out how Borden pulls off his most legendary bait-and-switch ... and eventually discovers the dangerous truth.
The twist within "The Prestige" is too good to spoil here, but if you love the twist in "Gone Girl," this one blows it out of the water. If you're looking for another tale of deception, intrigue, and lies, "The Prestige" is a perfect pick for you.
Widows is an intense heist film from the same mind behind Gone Girl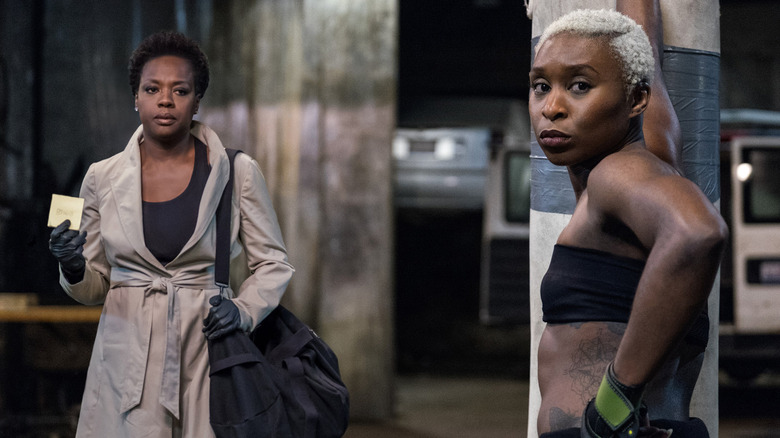 20th Century Fox
Beyond her handful of books, Gillian Flynn dabbles in screenwriting with some frequency — she adapted "Gone Girl" herself for Fincher's film — but one of her other notable screenplays is "Widows," a 2018 heist film she penned for Academy Award winner Steve McQueen ("12 Years a Slave"). 
As the film opens, Harry Rawlings (Liam Neeson) and his criminal cohorts try to pull off a huge robbery, ripping off a powerful crime boss (Brian Tyree Henry), but they lose their lives in the process. In the aftermath, the crime boss targets Harry's grieving widow, Veronica (Viola Davis). Spurred by revenge and anger, Veronica seeks out the other widows of the criminals who lost their lives during the robbery — including Linda (Michelle Rodriguez) and Alice (Elizabeth Debicki), along with getaway driver Belle (Cynthia Erivo) — and asks for their help to pull off one of Harry's most ambitious and unfinished heists.
"Widows," sadly, never really got the attention it deserved during the 2018-2019 awards season, but the central performances by Davis, Debicki, Rodriguez, and Erivo are spectacular — to say nothing of a few terrifying supporting roles by Henry and Academy Award winner Daniel Kaluuya. Flynn's screenplays always come to life on the big screen, and "Widows" is no exception.
Monster examines the life of a complicated killer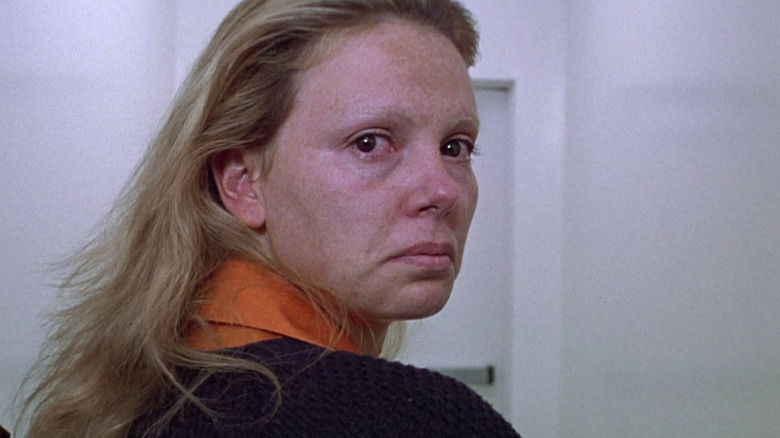 Newmarket Films
Films about difficult, troubled women can be a tough endeavor, but in both "Gone Girl" and the 2003 crime biopic "Monster," the filmmakers are smart enough to make these extraordinarily dangerous women real, layered, and fascinating. 
Directed by future "Wonder Woman" visionary Patty Jenkins, Charlize Theron — who ultimately won an Academy Award for the role — grounds "Monster" as real-life serial killer Aileen Wuornos, who murdered several men during her time as a sex worker. As Aileen tries to recover from numerous incidents of sexual assault at the hands of violent clients, she unexpectedly falls in love with Selby Wall (Christina Ricci), and she does her best to hide her criminal acts from the woman she loves while financially supporting them with money from her victims.
Thanks to her transformative role, which included some pretty unbelievable prosthetics, Theron's acclaimed turn as Aileen Wuornos put her on the map in a big way. And when all is said and done, Wuornos definitely has a few things in common with Amy Elliott Dunne. If you're into seriously twisted leading women, add "Monster" to your queue.