Is Mike Richards The Permanent Host Of Jeopardy?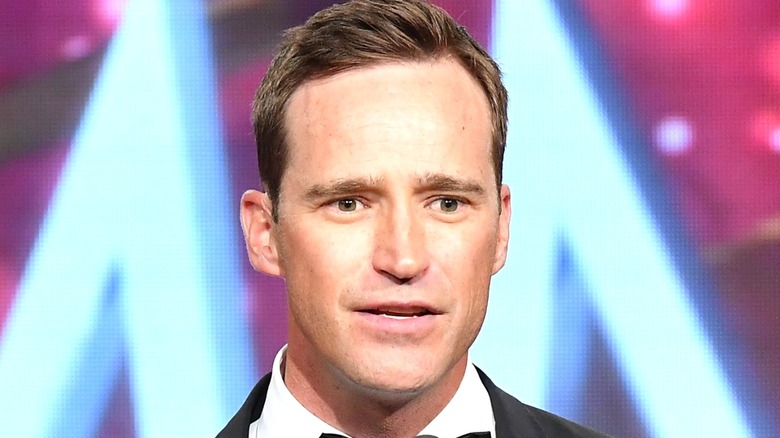 Earl Gibson III/Getty Images
It's now been more than half a year since Alex Trebeck's final episode of "Jeopardy!" aired, and while fans still feel his absence, the search for the next permanent host of the long-running game show is well underway. While fans have seen a variety of guest stars host "Jeopardy!" over the course of 2021, it appears that the show's executive producer, Mike Richards, might be close to securing the spot that made Trebeck a household name.
The news comes as a surprise to some, considering that Richards was arguably one of the least widely known individuals to guest host in recent memory. Big names like Anderson Cooper and Ken Jennings served as hosts for varying lengths of time, and many viewers were particularly partial to LeVar Burton, the adored former host of "Reading Rainbow," who drove Twitter wild when he guest-hosted "Jeopardy!"
While some fans might be disappointed that the job isn't going to someone with more name recognition, Richards has a lot of history with "Jeopardy!" and a connection to Alex Trebek. Here is what fans curious about the next permanent host of "Jeopardy!" should know about Mike Richards.
Mike Richards is reportedly in final negotiations to become the permanent host of Jeopardy!
The field for the next permanent host of "Jeopardy!" still seemed wide open when Variety reported that negotiations to give the job to Mark Richards had reached an advanced stage. However, a source close to the process said that nothing was set in stone and that all guest hosts considered for the permanent gig remained in the running.
However, there seem to be a couple of essential factors that may help Richards land the job. In a ranking from The Wrap of guest hosts ordered by their average ratings, Richards scored second place, right behind Ken Jennings, although it is worth noting that the list does not include LeVar Burton. Jennings was another front-runner for the spot, although some worried that the reigning "Jeopardy!" champ might overshadow his contestants, and several unfortunate Tweets recently resurfaced and caused a stir that the show may want to distance itself from.
Richards, who has served as the executive producer of "Jeopardy!" since 2020 and has previously hosted game shows such as "The Pyramid" and "Divided," has been a critical part of the show throughout this period of transition subsequent to Trebeck's departure. The executive producer was the one to introduce the tearful tribute to Trebeck after the host passed, and his success in guiding the show without its signature star seems to have impressed the executives of Sony Pictures Television. 
A formal announcement should be forthcoming, unless one of the underdogs manages to come from behind. The position right now sounds like it's Richards' to lose.