John Cena Gets Candid About The Ayer Cut Of Suicide Squad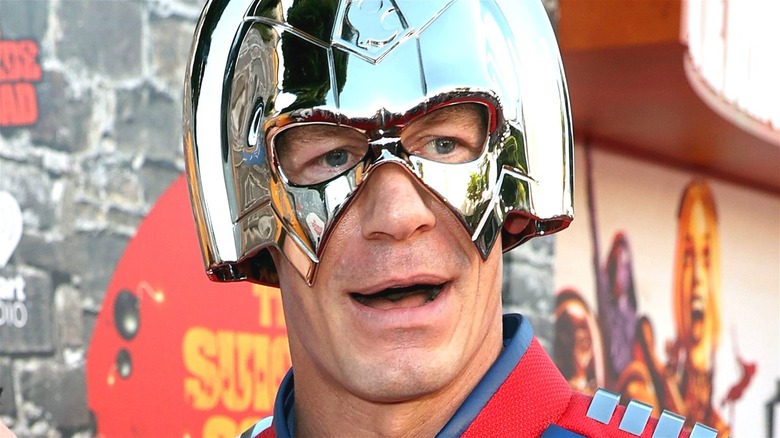 Kevin Winter/Getty Images
The premiere of James Gunn's "The Suicide Squad" is quickly approaching, and the excitement is palpable. The first critic reviews are already hitting Rotten Tomatoes, and it sounds like the exciting film lives up to the hype — critics have overwhelmingly positive things to say about the action-packed flick. While "The Suicide Squad" isn't the first time we've met most of the Task Force X crew, its predecessor, "Suicide Squad," famously underperformed at the box office.
Recent controversy struck the DCEU when "Suicide Squad" director David Ayer posted revealing tweets about his version of the film: "The studio cut is not my movie," he wrote. "Read that again. And my cut is not the 10-week director's cut – It's a fully mature edit by Lee Smith standing on the [incredible] work by John Gilroy. It's all Steven Price's brilliant score, with not a single radio song in the whole thing. It has traditional character arcs, amazing performances, a solid 3rd Act resolution."
Fans are now taking to social media to petition for the release of the Ayer cut of "Suicide Squad." One of the stars of the new "The Suicide Squad," John Cena, commented on the situation at the premiere of "The Suicide Squad," and fans are loving his answer.
John Cena supports the Ayer cut
John Cena arrived to the premiere of "The Suicide Squad" fully decked out in his Peacemaker costume, and candidly answered one of the most pressing questions on fans minds — if he thinks Warner Brothers should release the Ayer cut. He replied to Variety's question, saying, "You know, I think it's in a company's best interest to listen to their audience. And if it's something that's so in demand and they got it, why not?"
Fans responded to the clip in droves, mainly praising Cena's support for Ayer. A Twitter user named @tcallerman wrote "Whatever you think of the Ayer-cut, this was a classy and correct response," which many fans echoed in their tweets.
A different user with the handle @MichaelBuckelew hilariously tweeted "What's he trying to be? Some sort of peacemaker?" which earned plenty of likes, and served as a great reminder of the upcoming "Peacemaker" series starring Cena himself.
It's great to see artists supporting one another, and we'll keep you posted on any Ayer cut updates.