Was Amber Heard Really Almost Fired From Aquaman And The Lost Kingdom?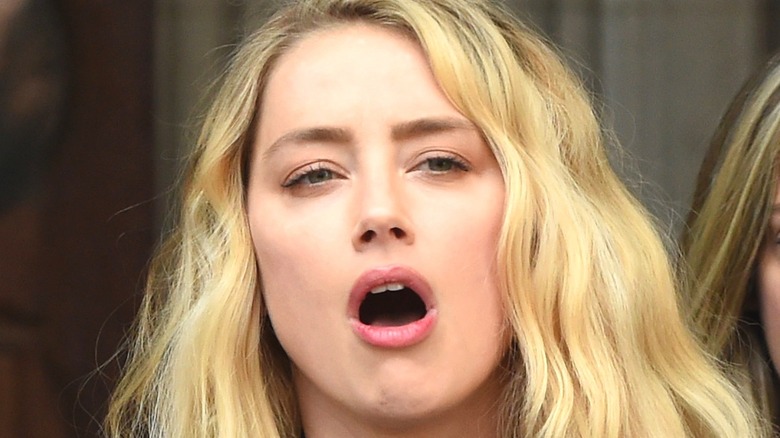 Stuart C. Wilson/Getty Images
DC's "Aquaman" was a swashbuckling success when it debuted in 2018, raking in $1.148 billion worldwide (via Box Office Mojo), so it wasn't surprising when Warner Bros. gave the go-ahead for director James Wan to start working on the sequel. The title was kept under wraps until 2021, whereupon it was announced as "Aquaman and the Lost Kingdom." Since Atlantis is made up of six kingdoms, it'll be interesting to see what the seventh is ... not to mention, why it's become, well, lost. As mysterious as this element of the plot might be, what's not so mysterious is the talent involved in the film, with returning actors including Jason Momoa (Aquaman himself), Patrick Wilson (Ocean Master), and Amber Heard (Mera).
Work recently got started on the sequel, but if you look around online, you'll find that there are many fans think one of its leads shouldn't be in the film — and that's Heard. The character of Mera was first introduced in "Justice League," but since then, many of the headlines involving Heard in the last few years have been due to her recent legal battle with her ex-husband Johnny Depp, as both parties have accused one another of abusive behavior. This ultimately led Depp to step down from his role as Gellert Grindelwald in the upcoming "Fantastic Beasts" sequel, and many fans of Depp started an online campaign to also remove Amber Heard from her role, to make things equal.
Clearly, it seems that Warner Bros. ended up having Heard reprise her role in the sequel, because work recently started on "Aquaman and the Last Kingdom" with her returning as Mera. However, did the studio consider firing her, at any point?
Firing Amber Heard was never an option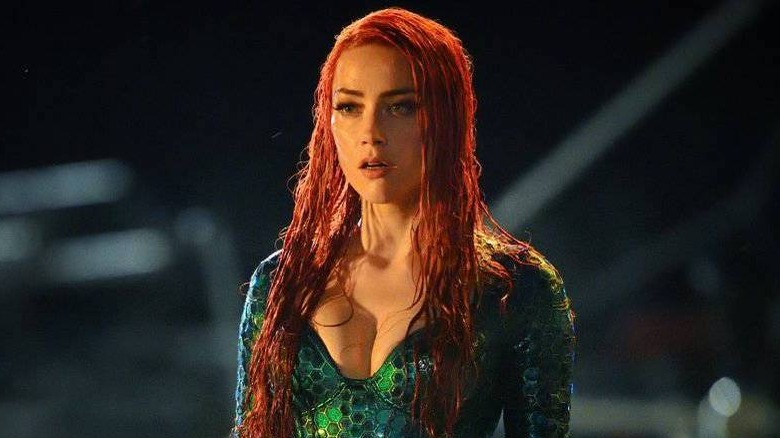 Warner Bros. Pictures
"Aquaman and the Lost Kingdom" producer Peter Safran recently spoke to the Deadline Hero Nation podcast about whether Warner Bros. ever entertained the idea of firing Amber Heard — and the answer is a definitive no. The producer explained "I don't think we're ever going to react to — honestly — pure fan pressure." 
That's not strictly the case, of course. "Zack Snyder's Justice League" was practically willed into existence thanks to a long-running fan campaign to see the director's original vision for the DC team-up movie. However, Safran went on to explain that because Heard's role as Mera is so closely tied to the "Aquaman" franchise, she should be in the sequel, stating: "You gotta do what's best for the movie." He also added, "We felt that if it's James Wan, and Jason Momoa, it should be Amber Heard. That's really what it was." 
It's not clear how big Heard's role will be in "Lost Kingdom," but it's likely she'll be a main character alongside Momoa's Arthur Curry again.
Safran also pointed out that Warner Bros. hasn't been ignorant to the situation saying, "One is not unaware of what is going on in the Twitter-verse." He noted that the studio isn't obligated to do anything about the ongoing conversation, "But that doesn't mean you have to react to it or take it as gospel or accede to their wishes." It seems like Warner Bros.' main priority is making sure the "Aquaman" sequel is as good as it can be, as Safran briefly stated: "You have to do what's right for the film, and that's really where we landed on it."
So expect to see Amber Heard return as Mera when "Aquaman and the Lost Kingdom" arrives in theaters December 2022.