The Touching Story What If...?'s Jeffrey Wright Shared About Chadwick Boseman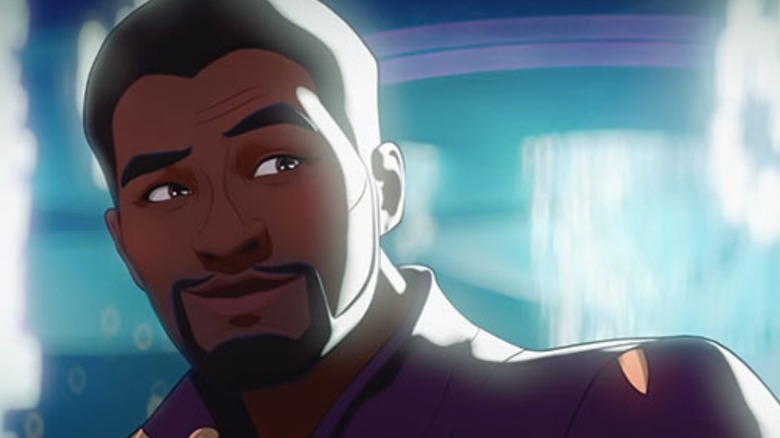 Marvel Studios
Looper recently attended a press conference for "What If...?," the upcoming Disney+ animated series exploring what would happen if events in the Marvel Cinematic Universe went differently. "What If...?" will feature the last ever performance by Chadwick Boseman, who recorded lines for an alternate universe story about T'Challa before his untimely death. In attendance was Jeffrey Wright, who plays The Watcher and had several things to say about Boseman.
Wright was once in line to star alongside Boseman in "Ma Rainey's Black Bottom," but scheduling conflict kept him "tied up with another film" and prevented them from ever working together in a live action capacity. As such, it was "a lovely surprise" for Wright to get to work with Boseman on a project that would turn out to be especially meaningful and "moving[.]" Wright also shared the touching story of his first encounter with Chadwick Boseman, which happened in a decidedly unusual place.
Where Wright first met Boseman
Marvel Studios
Wright first met Boseman not on a studio set, but in — of all places — the bathroom at Comic Con (where Boseman was in attendance for Marvel's "Black Panther," and Wright for HBO's "Westworld"). The two ran into each other several more times throughout the event, and Wright remembers his co-star with genuine reverence. He says that what struck him most about Boseman was "that the mythical quality he brought to these performances paled in some way to the mythic quality that was his life ... the grace, the dignity, the power." 
Thanks to Boseman's efforts, and the writers' and creators' desire to ensure the episodes honor the actor, fans will have one more opportunity to see him bring the incredible T'Challa to life. "What If...?" debuts on Disney+ beginning on August 11. The first season will contain ten episodes, narrated by Wright as The Watcher.