Marvel's What If...? TV Series Release Date, Cast And Plot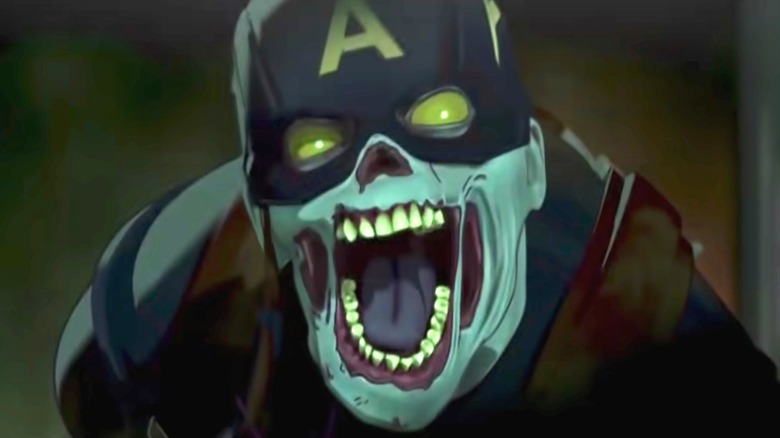 Disney+/Marvel Studios
The Marvel Cinematic Universe is finally diving into the world of animation with its newest Disney+ series, "What If...?" The project was announced in early 2019 at Disney's Annual Investor Day, and the bulk of the animated series will be a spin on classic MCU stories that the fandom has already witnessed and transform them by altering a pivotal point in the plot. The episode will then go into detail about what would've come from this massive change and how it could've affected the MCU as a whole.
Such a great premise was taken to new heights when Feige revealed that most of the actors who portray many of our favorite heroes would be lending their voices to the characters in the series to make it feel more natural to the viewer. After the massive success of "WandaVision," "The Falcon and the Winter Soldier," and "Loki," "What If...?" should be a triumph for Disney+ as the MCU fandom is ready to get their hands on an animated project. As with many upcoming MCU series and films, not a whole lot is known about the specifics of what we're going to see in the series, but we did some digging to give you the best glimpse of the show everyone is excited for.
When will What If...? be released?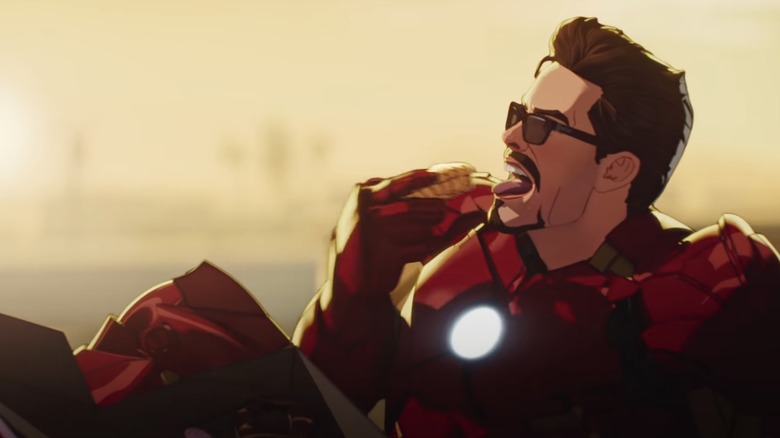 Disney+/Marvel Studios
For quite some time now, we've all been asking two important questions: "what if" and "when?" Well, we definitely know the answer to the latter. On July 8, 2021, Marvel dropped the first official trailer for their new series and promised that the show would start streaming on August 11. For those without their calendars nearby, that's a Wednesday — a tradition that was started with the first episode of "Loki" back in June. And taking a cue from the God of Mischief, all Disney+ MCU series will air on Wednesday going forward.
As for how many episodes we can expect, in 2019, ComicBook.com reported that Kevin Feige said we're getting 10 episodes for Season 1. So, if you can't wait to explore the multiverse and visit alternate versions of Killmonger, Yondu, and Loki, then prepare yourself for the 10-episode series to kick off on August 11.
Who are some of the key crew members?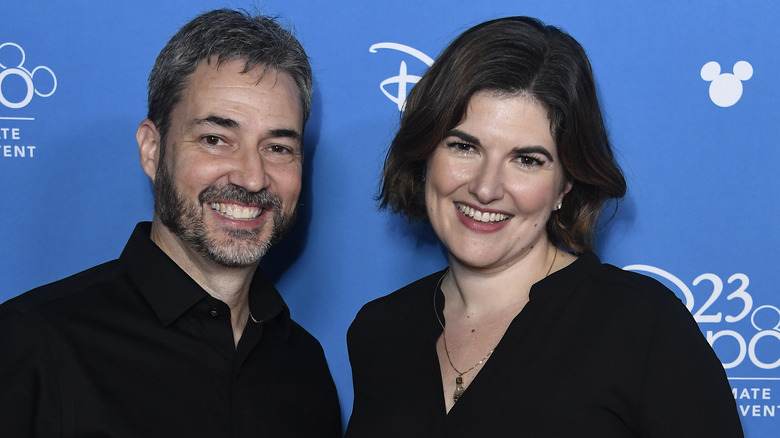 Frazer Harrison/Getty Images
At the D23 Expo in 2019, Bryan Andrews was announced as the director of "What If...?." You may not have heard of him, but he's someone with an impressive MCU history. Andrews worked in the art department drawing storyboards for "Ant-Man," "Doctor Strange," and "Avengers: Endgame." "What If...?" will mark his first directing credit in 20 years, since directing the animated series "Jackie Chan Adventures" in 2001. Andrews is widely known for his work on "Samurai Jack," which earned him two Emmys for Outstanding Individual Achievement In Animation in 2005 and 2017.
A.C. Bradley serves as the lead writer on "What If...?" and has a relatively short résumé in the business. Bradley wrote one episode of "Arrow" in 2014, in addition to 23 episodes of Netflix's "Trollhunters: Tales of Arcadia" and 26 episodes of "3Below: Tales of Arcadia." As is normal with any MCU project, Kevin Feige serves as an executive producer. Additionally, Laura Karpman was tapped to create the score for the "What If...?" episodes. The composer has worked on the critically acclaimed HBO series "Lovecraft Country."
Who is voicing characters in What If...?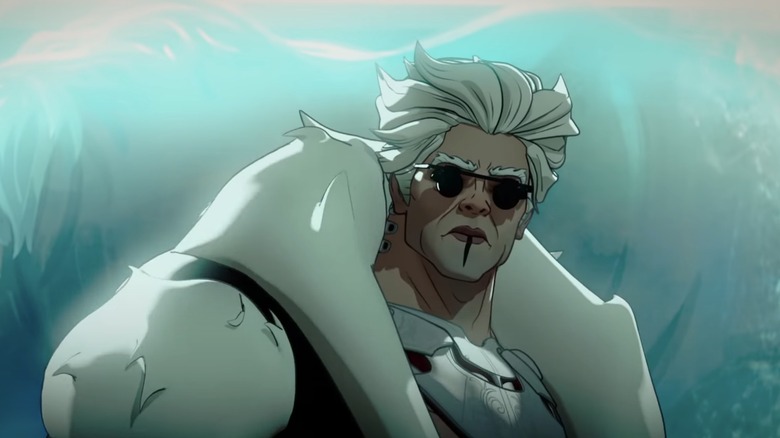 Disney+/Marvel Studios
Something MCU fans were delighted to hear when "What If...?" was announced was the confirmation that almost every actor we know and love from the universe would be voicing the characters they portray onscreen. At 2019's San Diego Comic-Con, the following actors were announced for the project: Hayley Atwell, Michael B. Jordan, Sebastian Stan, Josh Brolin, Mark Ruffalo, Tom Hiddleston, Samuel L. Jackson, Chris Hemsworth, Chadwick Boseman, Karen Gillan, Jeremy Renner, Paul Rudd, Michael Douglas, Neal McDonough, Dominic Cooper, Sean Gunn, Natalie Portman, Taika Waititi, Toby Jones, Djimon Hounsou, Jeff Goldblum, and Michael Rooker.
Sadly, we know that Robert Downey Jr. will not be returning, and someone else will be voicing Tony Stark instead. And at this time, Benedict Cumberbatch, Chris Evans, and Scarlett Johansson aren't confirmed in the series to voice their characters of Doctor Strange, Steve Rogers, and Black Widow, even though we know those characters are returning in some form or another (an undead one for ol' Cap). At the same time, rumors suggest there will be an exciting story surrounding Natasha Romanoff. Who ends up voicing these characters will be quite the surprise when their respective episodes air.
Who is the narrator?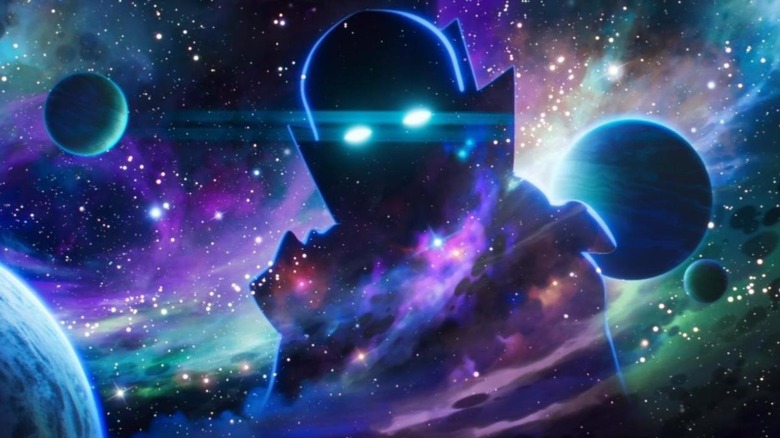 Disney+/Marvel Studios
One of the first big reveals that came with the "What If...?" official announcement at SDCC 2019 was the identity of the series' narrator. For 10 episodes, "Westworld" star Jeffrey Wright will lend his voice to the series as Uatu, the Watcher. We got our first look at Uatu, who's a mysterious bald being who resembles a man, in the Disney+ featurette "Expanding the Universe" (via ScreenRant).
We know from the comics that Uatu is a part of an ancient race known as the Watchers, who simply observe all events throughout history. First appearing in 1963's "Fantastic Four" #13, the Watchers' goal was to help less evolved species since they were so technically advanced. After sharing nuclear technology with the people of planet Prosilicus, the population decimated themselves, prompting the Watchers to never intervene with civilizations again. Wright, known for his smooth voice, will voice Uatu as he watches over these what-could-have-been events on Earth that involve many of our favorite heroes.
What is What If...? based on?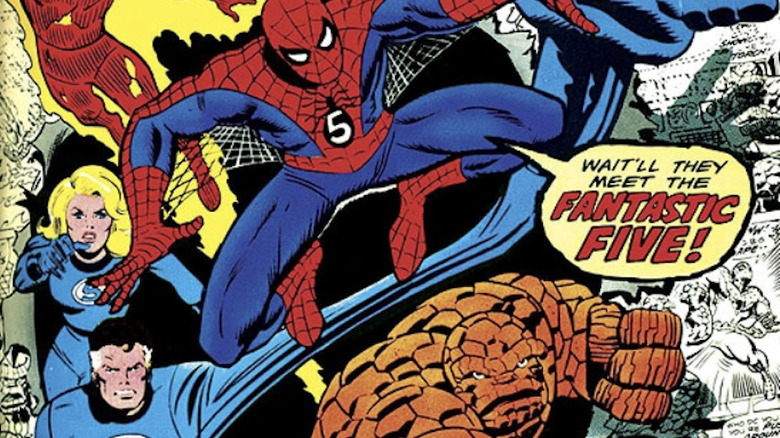 Marvel Comics
The "What If" comics have been around for quite some time, with the first issue being released in 1977. "What If" #1 had the subtitle "What If Spider-Man Had Joined the Fantastic Four?" and kicked off a successful run of alternate storylines with famous characters. The volumes are also narrated by Uatu, who, at the beginning of the issue, details canonical events readers are familiar with and then introduces a "what if" moment that changes the story entirely. The rest of the issue follows that new alternate story, as Uatu continues to narrate what never was.
In the second volume of the "What If" comics from 1989 to 1998, Uatu continues to narrate but breaks out of his role and destroys a fellow Watcher, and he's subsequently removed from the series. We fully expect the 10 episodes of the series to stay within the first volume, since Wright is confirmed for each one. There are dozens upon dozens of stories for the MCU to pull from when it comes to the "What If...?" series, but some will be off-limits based on whether we've seen the characters onscreen before. For instance, the aforementioned Spider-Man issue likely won't appear since we haven't seen the Fantastic Four yet.
Will there be a second season?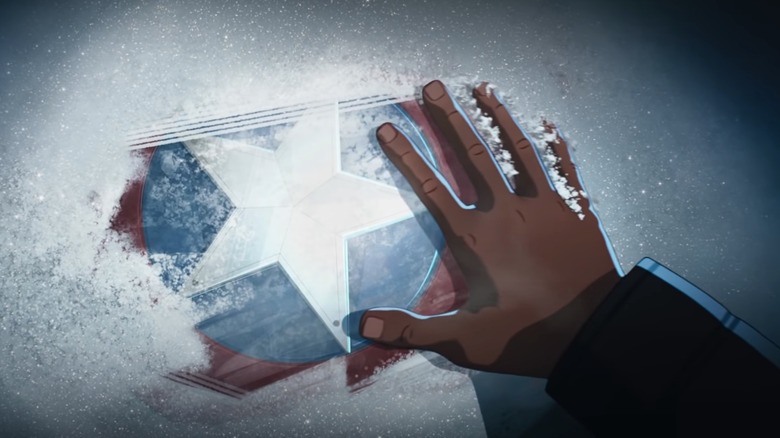 Disney+/Marvel Studios
Season 1 of "What If...?" will consist of 10 episodes, and, as mentioned, there are way more than 10 stories in the comics. That being said, a second season has been confirmed. In a 2019 interview with BuzzFeed Brasil, Kevin Feige confirmed that the "What If...?" series would go beyond 10 episodes, and he's very excited at what the studio has put together.
"I'm very happy that we're doing a 'What If...?' series for Disney+ right now, and I've seen most of them. We have 10 for Season 1. We're already working on the next ten for Season 2," he told the outlet. This is the first MCU Disney+ series to confirm a second season, and it seems like the show could go even further past that. As the MCU evolves and more characters are introduced to us on the big screen, it opens the door to even more "What If" comics storylines the studio can draw from. Feige also added what we can expect to see in the very first episode. This opens up the second half of our breakdown: What stories will appear in Season 1?
Peggy Carter will kick things off in What If...? Episode 1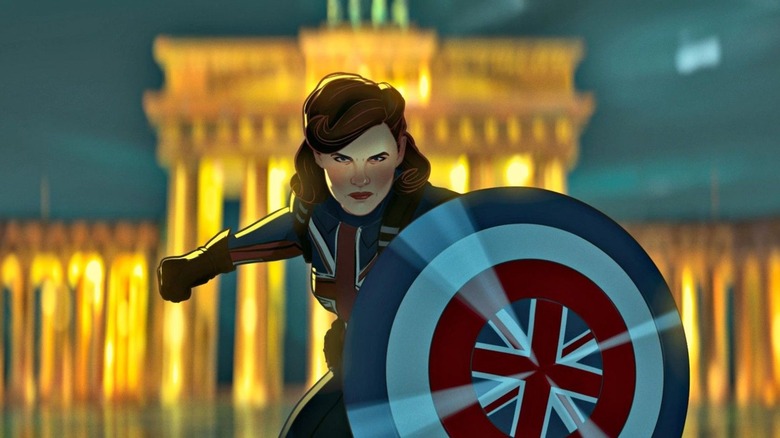 Disney+/Marvel Studios
Here's one thing that we know 100% right out of the gate — Episode 1 will follow Peggy Carter, voiced by Hayley Atwell. "We've revealed one that is very exciting. We've talked about it for years, which is the one where Peggy Carter gets the Super Soldier serum and becomes Captain Carter. That's the very first episode, and I'm excited for people to see that. I'm excited to see the finished version of that, and I'm excited for the world to see it," Feige also told BuzzFeed Brasil.
Part of this storyline can be seen in the trailers for the series, where we get a glimpse of Peggy coming out of the injection chamber in Doctor Erksine's lab. After receiving the serum, Peggy bulks up, and we see her in a Union Jack-adorned ensemble. Additionally, Peggy will find herself flying around atop an Iron Man-esque suit (one that resembles the original version Tony built in a cave), which is designed by her pal, Howard Stark.
Doctor Strange will also make an appearance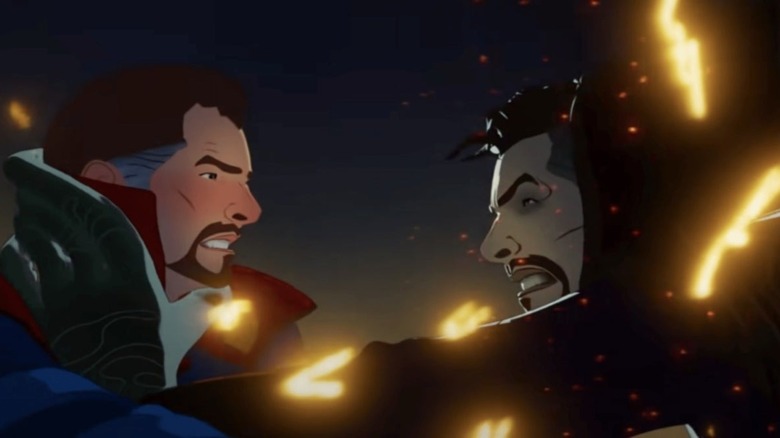 Disney+/Marvel Studios
Also detailed in the "What If...?" trailers is a battle between two Doctor Stranges. This particular episode will follow what would have happened if there was an evil Sorcerer Supreme, but we expect the plot to have a much more precise point of divergence, which causes the shift in the story. According to a Funko Pop leak (via ScreenRant), this character will be known as the Evil Sorcerer Supreme, but his motives are unknown at this time.
We suspect this particular episode will pull from "What If?" Vol. 1 #18, where Doctor Strange becomes a disciple of Dormammu. Released in 1979, the comic follows an arrogant Stephen Strange whose hands are healed by Baron Mordo through black magic. Mordo works for the interdimensional being as his follower, and he introduces Strange to the baddie. The story takes Doctor Strange through a long journey through self-discovery, which he finds much quicker in the character's introductory MCU film.
Chadwick Boseman's T'Challa will appear in What If...?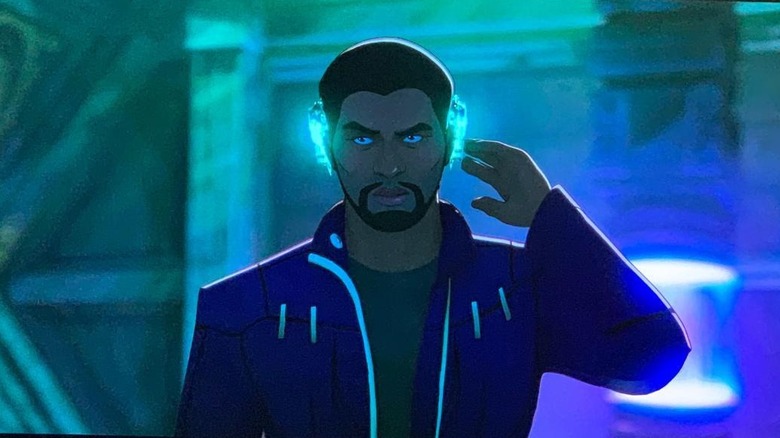 Disney+/Marvel Studios
Before his untimely death in 2020, Chadwick Boseman participated in "What If...?" by lending his voice to T'Challa. There are a few glimpses of the Wakandan in the trailer for the series, and it looks like this retelling will imagine what would happen if the Ravagers from "Guardians of the Galaxy" kidnapped T'Challa from Earth and not Peter Quill. Instead of becoming Black Panther, T'Challa would take on the role of Star-Lord, eventually leading the Ravagers, according to The Illuminerdi.
In another bizarre twist, this story suggests that this new Star-Lord wouldn't be the leader of the nasty and shifty criminals we met in "Guardians of the Galaxy" and its sequel but a reformed group of criminals who work for good as they hop across the galaxy. This won't be the only appearance of T'Challa in "What If...?," however. Kevin Feige revealed to Emmy Magazine (via ComicBookMovie.com) that Boseman came into the studio and recorded his voice for four different episodes, so we can expect multiple MCU heroes to pop up more than once in the animated series.
Bucky Barnes and Captain America will go toe-to-toe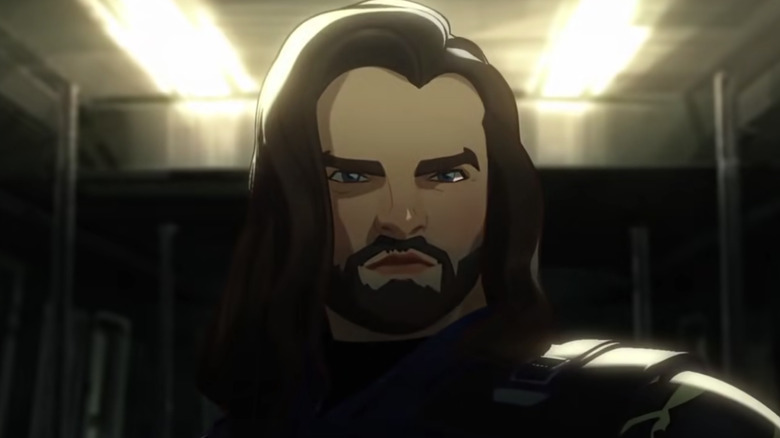 Disney+/Marvel Studios
We're also going to be getting a zombified version of Steve Rogers, according to the insight we were given in the "Expanding the Universe" featurette. Taking down this Captain America terror will be his best buddy, Bucky Barnes, whose mission is to prevent the spread of this zombie virus. 
It should be noted that there are no zombie storylines in the "What If" comics, but the undead did have a run on the Marvel pages in 2005. "Marvel Zombies" Vol. 1 was a limited series that saw the entire superhero population zombified, and they subsequently ate the entire human race. There have since been other volumes and spins on the five-story series, all equally as terrifying. While there is no apparent connection between zombie Cap and living Bucky, it'll be exciting to see how this story plays out on "What If...?" and what event this deviated from in the duo's history.
There's a new ending for Killmonger in What If...?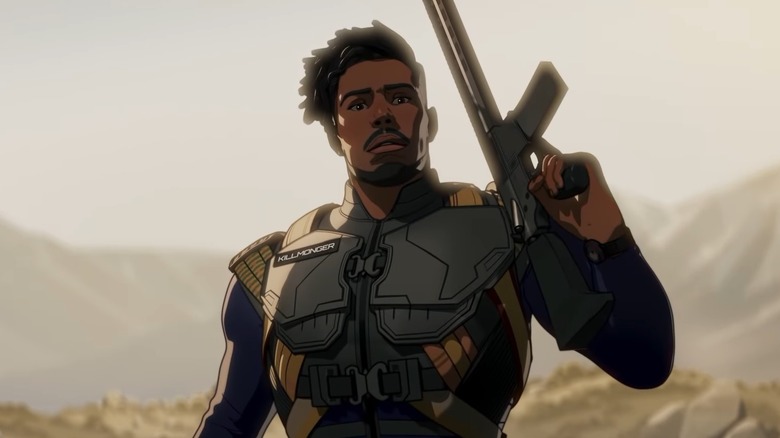 Disney+/Marvel Studios
T'Challa won't be the only nod to Wakanda in "What If...?" In the series' official trailer, we witness the young soldier save Tony Stark from the missile the filled the businessman's chest full of shrapnel over in Afghanistan. We then watch as Killmonger rides on a rhino and seemingly fights in a war for Wakanda. However, this time, it appears that Killmonger will be the rightful heir to the throne. According to ScreenRant, a toy leak has revealed a Funko Pop figure that displays the "Black Panther" villain as king of Wakanda, but it's not just his new title that's shocking. He's holding a blade in one hand and the severed head of what's suspected to be Ultron in the other.
We can't wait to see how this one plays out and what scenario could have caused an instance where Killmonger and Ultron came face to face. In the MCU, "Avengers: Age of Ultron" and "Black Panther" are set a year apart, with the vengeful AI being destroyed before we took a trip to Wakanda. Killmonger was obviously around at the time of Ultron's creation, just a bit younger, and it's likely he sought out the AI once he learned of its creation by Tony Stark and Bruce Banner. If he is a force for good and a strong king of Wakanda remains to be seen, but it would be a nice twist to see him as a hero and not the villain.
What else might happen in What If...?
Disney+/Marvel Studios
The series' official trailer delivered all sorts of superhero goodness, and while we aren't exactly sure where the series is headed, we're definitely excited to find out.
For example, at one point, we see Thor fighting off Ultron's legions ... in Las Vegas of all place. We're assuming this might be connected to some interesting merch details that were leaked in April 2021. According to CBR, there's evidently an official T-shirt and hat that both bear the image of "Party Thor." While there are more than a handful of Thor stories from the "What If" comics, nothing seems to fall in line with whoever the heck Party Thor is. No matter what this story is about, it's going to be a riot.
The trailer also shows us a young Shuri in action, Spider-Man arriving on the scene, Ego the Living Planet giving us a villainous grin, and the return of Howard the Duck. On top of all that, it appears that Clint Barton has somehow received a heavy dose of gamma radiation as it appears Hawkeye is turning into the Hulk. It also looks like Loki is leading an army of Asgardians against Earth, and perhaps most interestingly, there's a shot of Thor, Black Panther, Star-Lord, and Gamora (holding Thanos' double-bladed sword) striking an "Avengers"-style pose in the middle of a desolated city.
As for Thanos' favorite daughter, we've definitely heard some interesting theories about her character. According to The Illuminerdi, Gamora's storyline may follow her as she tracks down her new enemy — Tony Stark. This plot point hasn't been confirmed yet, but if that does indeed pan out, that would be a fascinating twist. 
Last but not least, as we previously mentioned, Natasha Romanoff is showing up in the series, alongside some version of the Hulk. And according to another Illuminerdi report, this episode will allegedly see Black Widow as one of the only survivors after Ultron successfully destroyed Earth in 2015. No matter how crazy these stories seem, "What If...?" is going to be one of the most unique MCU properties to date.