Sylvester Stallone Says He Wouldn't Exist Without This Suicide Squad Co-Star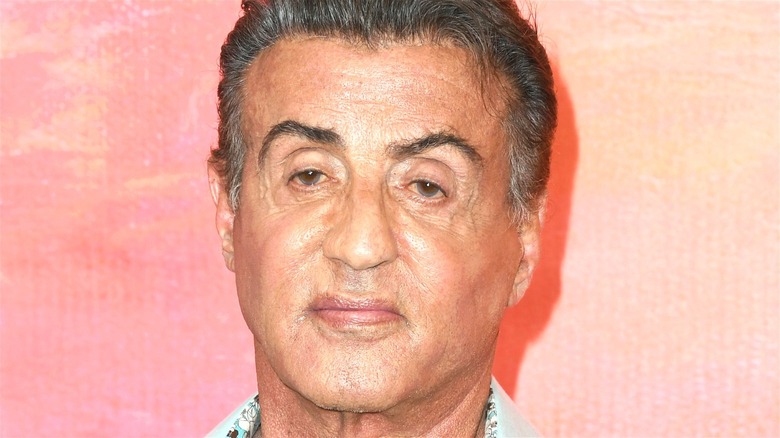 Jon Kopaloff/Getty Images
It's fair to say "The Suicide Squad" is bringing some strange DC Comics characters to the big screen. One of the most bizarre characters that fans have already fallen in love with is King Shark (Sylvester Stallone). The anthropomorphic shark has had something of a resurgence in the last few years, appearing on the small screen in both "The Flash" and the animated "Harley Quinn" show while also showing up in "Justice League Dark: Apokolips War" as John Constantine's ex-partner. And thanks to director James Gunn, King Shark is finally getting his cinematic outing.
Although DC fans have already fallen in love with King Shark's goofy mannerisms, the thing that makes him so great is that he's voiced by Sylvester Stallone. It's just an incredibly wacky pairing that works so well. But during "The Suicide Squad" press conference that Looper attended, the "Rambo" and "Rocky" star opened up about working with Gunn and the rest of the cast. The star even joked that King Shark "is more intelligible than I am, which is nice," before also promising to put Gunn in the next "Rambo" movie.
However, when looking back on one of his previous movies, Stallone also revealed that he owes a great debt to one of his co-stars in the new DC film.
Stallone can't function without Michael Rooker and his 'huevos'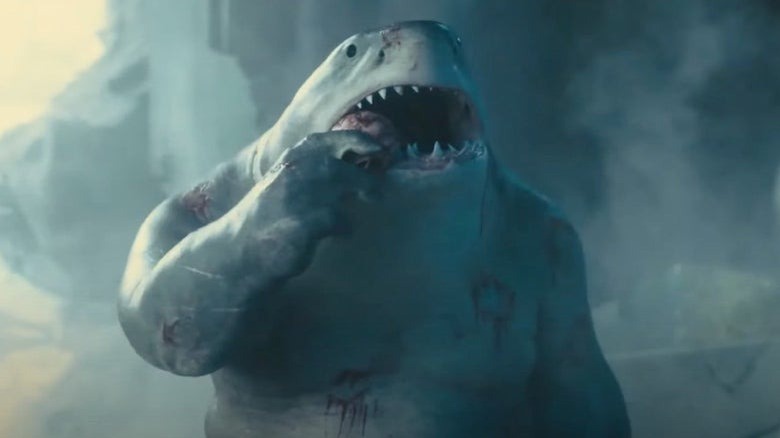 Warner Bros. Pictures
When Sylvester Stallone promised to make James Gunn the "first victim" in the next "Rambo" movie, Michael Rooker chimed in, jokingly asking if he can be the one to kill the director because many of his characters have been killed off in Gunn's previous films. Many Marvel fans still haven't recovered from Yondu's meaningful sacrifice at the end of "Guardians of the Galaxy Vol. 2," which is understandable — so many emotions. But with all that in mind, Stallone loved the idea of Rooker killing Gunn in a "Rambo" movie saying, "You know what, seriously, I cannot function without you. So, you are in, for sure."
With such a sprawling cast, it isn't surprising that some of the Squad members have previously worked together. Surprisingly, Stallone called back to the time that he and Rooker both starred in Renny Harlin's intense thriller, "Cliffhanger," saying that his co-star "would be hanging on the harness sliding back and forth, 4,000-foot gap for fun" during production. He also added that "This guy here has got more huevos than I have ever seen."
It'll be interesting to see the "huevos" on Rooker when he appears as the villain Savant in "The Suicide Squad." It's definitely a shame he won't physically share the screen with Stallone since King Shark is a CGI character, but at least the camaraderie between cast members is still there.