What To Remember From iCarly While Watching The Reboot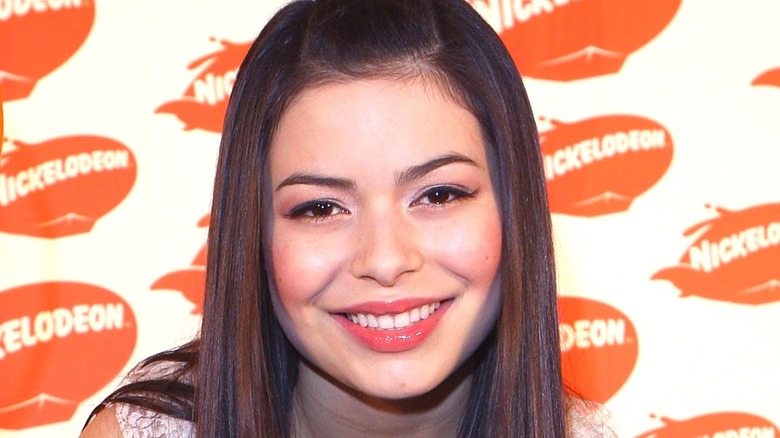 Cameron Spencer/Getty Images
The "iCarly" reboot released on Paramount+ on June 17, 2021, bringing the teenage internet star back to television screens after a gap of about nine years. The original series aired on Nickelodeon between 2007 and 2012, following the adventures of the Seattle-based Carly Shay (Miranda Cosgrove), her friends and broadcasting partners Sam (Jennette McCurdy) and Freddie (Nathan Kress), and her wacky older brother Spencer (Jerry Trainor) over six seasons. The new series, also a family-friendly sitcom (with the exception of a bad word or two), brings the group back together — minus butter sock-wielding, meat-lover Sam — to the same building and situation, but navigating a more modern internet landscape with a proliferation of influencers (still a novelty at the time of iCarly's debut).
Honestly, this is not a show you need to scour old episodes to understand. You'll find that the new "iCarly" is pretty true to the original in tone, spirit, and plotting, except that everyone has grown up and Freddie has several failed marriages and an 11-year-old stepdaughter, Millicent (Jaidyn Triplett). Carly's new roommate, Harper (Laci Mosley) is an aspiring stylist who was once rich and never has trouble getting a date. Spencer is rich now, but he's living in that same multi-floor apartment in Bushwell Plaza and still creating 3D art that sometimes results in spontaneous fires. 
Here's what you else you should remember from "iCarly" as you're getting ready to watch the rebooted series. 
Carly is an internet influencer who shut down her web show in 2012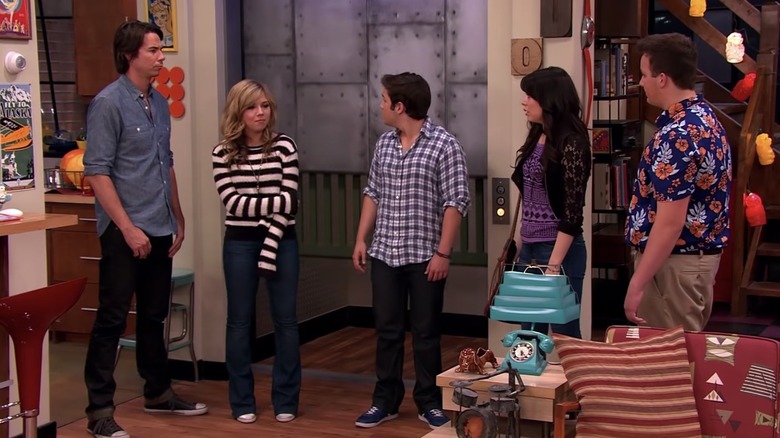 Nickelodeon
In the series finale of "iCarly," Carly ended her status as one of TV's first internet stars by shutting down her web show, which predated Instagram and TikTok and predicted the influencer culture we know and love today (via MTV). She chose to go to Italy in "iGoodbye," where her father Colonel Steven Shay, a U.S. Air Force official who apparently worked in a submarine (this disparity was made fun of in the reboot) for much of the show, was now stationed. After the final episode of her web show, Sam rides off on her new motorcycle into the events of her spin-off show, "Sam and Cat," while Freddie shuts everything down after a goodbye kiss from the girl he's had a crush on since "iPilot." Carly goes off to Europe after a tearful goodbye with her pals.
The new series picks events up 10 years later. The internet influencer space is more crowded and competitive these days, so it remains to be seen how "iCarly" finds her online audience. As she starts up operations again, she's back in that loft space of Spencer's and using those weird but hilarious bits from the old show. So if you recall some of those jokes, you're going to love the old props that were apparently stored for years on the top floor after Carly left. And you'll enjoy the return of some popular gags as the series continues, too, like the skits with Baby Spencer.
Nora Dershlit kidnapped the iCarly crew twice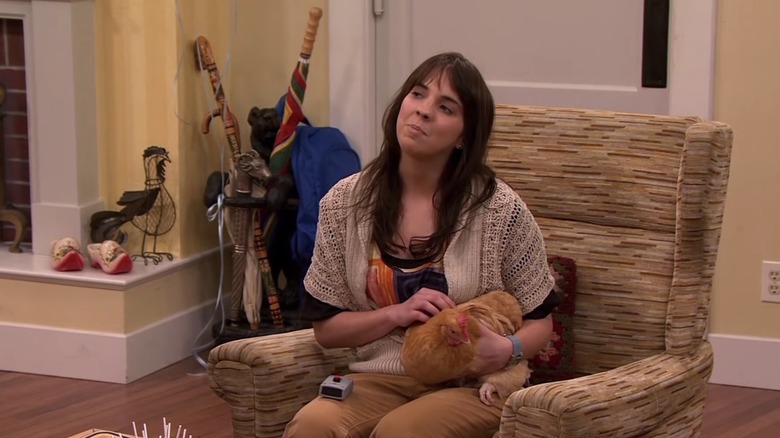 Nickelodeon
In the third season of the original show, the kids of "iCarly" tried to help out a geeky, unpopular girl in an episode based on Alfred Hitchcock's "Psycho." Nora (Danielle Morrow) is having a sad 16th birthday without parents, guests, or entertainment (the clown dies of an aneurysm). After Carly, Sam, and Freddie try to help her, she traps them in her basement recording studio and makes sure no one is expecting them anywhere. Their attempts to escape fail during the special double episode, until they are able to send a coded message to their friend Gibby (Noah Munck).
In Season 4's "iStill Psycho," Nora returns after a stint in prison. The iCarly gang is invited to make statements at her parole hearing — and against her better judgment, Carly is moved to forgive the girl. Nora and her parents invite Carly and friends (including Spencer and Gibby) to a Norwegian welcome-home supper. Mrs. Dershlit (Margaret Easly) traps Spencer in the basement and makes it impossible for the group to leave the house; she wants to make up for Nora's last party that got her into prison. "You children are going to be here for quite a while," Nora's mother says. 
Nora even returned in a Season 1 episode of "Sam and Cat," kidnapping Dice after escaping from prison and setting a plan for revenge into motion. "#SuperPsycho" also brought back another "iCarly" fan-favorite recurring villain, and you're going to want to know him, too. 
Nevel Papperman has been an iCarly villain since Season 1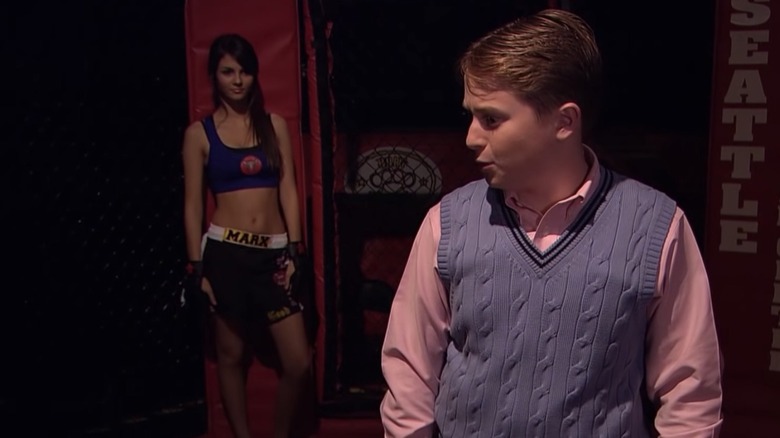 Nickelodeon
Nevel Papperman (Reed Alexander) first makes an appearance in Season 1, in the episode "iNevel." He plays an internet influencer himself — a young 11-year-old genius whose website reviews can make or break a site. Carly meets with him for an interview, but gets creeped out by his flirting and his attempt to kiss her. He writes a bad review, leading the "iCarly" gang to try tricking him into writing an honest piece. Eventually, they tell on him to his mother, which gets the desired result.
Nevel appeared in eight episodes over the course of "iCarly." At different points, he bought the website and tricked the iCarly gang into giving away a car through her show that doesn't exist. In Season 2's "iFight Shelby Marx," he tricks female fighting champion Shelby Marx (Victoria Justice) into attacking Carly for real during an exhibition match for charity. And in a Season 4 episode, "iPity the Nevel," the friends help him out when he ruins his own reputation over a video that shows him in a bad light. In the "Sam and Cat" episode "#SuperPsycho," Sam actually turns to him for help and his intelligence saves the day. So he isn't a one-note character, and it's only natural that the "iCarly" reboot would go back to revisit several of the show's iconic enemies.
Freddie's mom is a bit neurotic — but now she's a grandma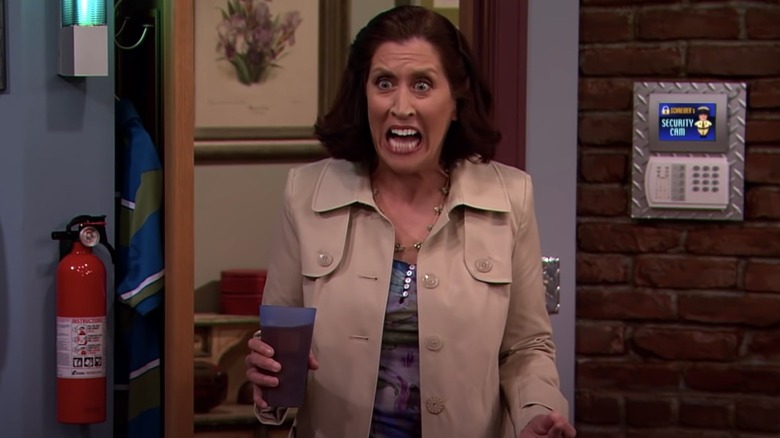 Nickelodeon
If you watched much of the original show at all, you remember supporting character Marissa Benson (Mary Scheer), Freddie's somewhat neurotic mom who is mentioned often and appears in 28 episodes of the show. She is portrayed throughout the series as Freddie's sole parent, who lives across the way from Spencer and definitely has an overprotective vibe when it comes to her only child. Sometimes, she freaks out. That's usually played for laughs, often revealing embarrassing aspects of Freddie's life, but has occasionally turned out to be helpful to the crew, as in the conclusion to "iStill Psycho." She's pretty much the only mother-like character on "iCarly."
Scheer also appeared in a one-hour "Sam and Cat" episode, "#TheKillerTunaJump," in which both "iCarly" and "Victorious" characters returned: specifically, Matt Bennett as Robbie, Elizabeth Gillies as Jade, and Kress. In the revival, with Freddie having moved back home after two failed marriages and having an adopted daughter who seems to have bonded with grandma, it's natural that Freddie's mom could end up playing a role on the new "iCarly." So, her history might be something you want to remember as you watch the reboot.